iRobot has replaced their older Roomba 900 series models of robot vacuums with their new affordable robot vacuum – the Roomba i3+ and the base Roomba i3. The headline for the Roomba i3+ is that they've just made the Cheapest Self-Emptying Robot Vacuum out there now. 
The higher-end Roomba i7+ and s9+ are more expensive robot vacuums, so the Roomba i3 and i3+ are ones to get if you don't have a high budget. The i3/i3+ give you many of the same smart features, including the great Auto-Emptying Clean Base station with the Roomba i3+.
If you're in a hurry and choosing between the Roomba i3 vs i3+, go with the Roomba i3+ for the self-emptying dock and the feel of home cleaning automation. If you're choosing between the Roomba i3+ vs i7+, go with the i3+ again because iRobot has stepped up their game to provide amazing value and performance in the Roomba i3+.
On Sale
iRobot Roomba i3+ (3550) Robot Vacuum with Automatic Dirt Disposal Disposal...
EMPTIES ON ITS OWN - Forget about vacuuming for months at a time with the Clean Base Automatic Dirt Disposal that allows the i3+ to empty itself for up to 60 days.
A CLEAN UNIQUE TO YOU - Take vacuuming off your mind with Roomba i3+ Robot Vacuum's personalized cleaning suggestions powered by the unique intelligence of iRobot Genius that learns your habits and your routines.
Last update on 2022-01-24 / Affiliate links / Images from Amazon Product Advertising API
On Sale
iRobot® Roomba® i3 (3150) Wi-Fi® Connected Robot Vacuum Vacuum - Wi-Fi...
A CLEAN UNIQUE TO YOU - Take vacuuming off your mind with Roomba i3+ Robot Vacuum's personalized cleaning suggestions powered by the unique intelligence of iRobot Genius that learns your habits and your routines.
CLEAN WHEN YOU'RE AWAY - Now with iRobot Genius, you can choose to set your robot to start cleaning when you leave and stop when you come home, so you only notice the clean, but never the cleaning.
Last update on 2022-01-24 / Affiliate links / Images from Amazon Product Advertising API
Read more below to find out why iRobot's new midrange vacuums, the Roomba i3 and i3 Plus, should be high up on your list of the best Roomba robot vacuums. 
Roomba i3 and i3+ Features
I am reviewing the Roomba i3 and i3+ together because they're essentially the same robot vacuum. The main difference is the self-emptying Clean Base unit that allows the Roomba i3+ to empty dust and debris itself. 
That's similar to the Roomba i7 and i7+, as well as the Roomba s9 and s9+. The + Plus is important to have if you want the flexibility of not needing to be around to empty the Roomba to let it keep cleaning. The self-emptying base is the best thing I love about my i7+.
Let's start off with the common features between the two affordable models, before getting into the details of the advanced features. 
Design and Size Dimensions
The Roomba i3 and i3+ are about the same size as the other mid-price robot vacuums from Roomba with the familiar circular design.
What I'm loving with the design on the top is that cool, textured gray circle that's plastic, but feels modern to the touch. On top is the traditional Clean Button with buttons for Home and Spot Cleaning. The Power button is the same button for Cleaning.
They're 13.26 inches wide by 3.63 inches tall, and weigh 7.44 lbs. Both are slightly smaller than the Roomba i7, but only by 0.05 inches. 
Battery and Capacity 
They both come with 1800 mAH lithium-ion batteries like the other Roomba vacuums to help it with recharging. They'll clean for up to 75 minutes in testing and take about 2 hours to recharge.
Depending on the layout of your house with furniture and obstacles, the i3/i3+ should be able to clean a 600-800 square foot area on a single charge. There are other variables like floor types (carpet vs tile vs hardwood floors) that will affect the time it takes to clean.
Brushes and Rollers
iRobot's patented, unique dual multi-surface rubber brushes make the Roomba i3 and i3+ great for homes with pets. The i3 picks up where the 960 left off with being great at picking up pet hair. 
If you have pets at home who like to shed their hair all over your floors and living room carpet, the i3's green rubber carpet rollers get the pet hair so it doesn't get tangled. The rubber on the brush rollers help to prevent entanglement of pet or human hair in the brushes and wheels. 
The brush rollers will adjust to different types of floors to stay in contact to pick up pet hair and other dirt and debris.
A specially designed edge-sweeping brush is also there to get dust balls along the sides and edges of walls and corners.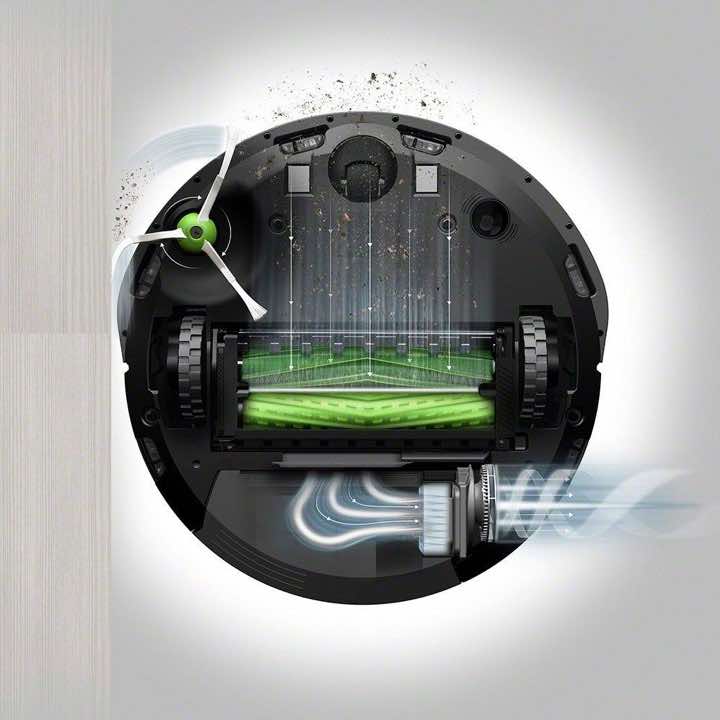 Suction Power, Cleaning Technology and Filters
iRobot's 3-Stage Cleaning System continues to power the Roomba line in the latest Roomba i3 and i3+. 
While the Roomba 960's suction power was 5x the suction of the Roomba 600 series, iRobot stepped up the performance for the 960 replacement.
The i3 and i3+ have 10x the suction power, making this one of the many standout features. That puts it on the same level as the higher cost Roomba i7 and i7+. The s9 and s9+ robots have the strongest suction power.
That's going to come in handy if you have multiple floor types like carpet and hard floors. Carpeted floors could use some extra juice when it comes to carpet, especially high-pile carpet. 
These two Roomba's also have iRobot's patented Dirt Detect Technology to find those dirtier areas in your house. The sensors will recognize more dirt and run over those areas more to ensure it's clean. 
The i3 and i3 plus come with iRobot's standard High-Efficiency Filters that trap 99% of dirt, dust mites, and cat and dog allergens. It's not quite the 99.9% of HEPA filters, but it does do enough for me. 
Introducing the Roomba® i3+ | iRobot®
Navigation and Mapping
The Roomba i3 and i3+ come with Smart Navigation, but not Imprint Smart Mapping abilities like the i7/i7+ and s9/s9+. I was personally hoping they'd bring these Smart Mapping capabilities to the i3/i3+ robots too. It's definitely a nice feature to have, but I understand as it's one of the premium features.
Smart mapping lets the Roomba map your house and save that map for future cleanings and customizations. With mapping, you have custom cleaning control and you have customizable cleaning maps. It's location-based cleaning.
Maybe the children's bedroom gets dirtier quick. That's where Room-Specific Cleaning is a great additional feature you might want.
One of the more sophisticated features is the ability to draw "Keep Out Zones" on the customizable floor maps. E.g., You don't have to put away the dog food dishes before the cleaning job starts. You can now draw a square around it on iRobot's mobile app and the Roomba will avoid that area. 
While you can't draw virtual walls for zones, you can get iRobot's Virtual Wall Barrier Accessory that creates Keep Out Zones. These virtual walls are able to be used across iRobot's Roomba product line.
When it comes to navigating homes, the i3 and i3+ have Smart Navigation with iAdapt 2.0 techniology, similar to the past Roomba 960 model. The intelligent navigation tracking sensors allow the Roomba to navigate and map your home to create the most efficient cleaning paths. Imagine neat vacuum lines, rather than the random lines from Roomba's budget-friendly robot vacuum cleaners, the Roomba 614 and 675. 
All rooms have furniture and other obstacles, but its Reactive Sensor Technology helps the i3 and i3+ avoid obstacles and getting stuck. You'll need to worry less about it getting stuck under your couch or other furniture.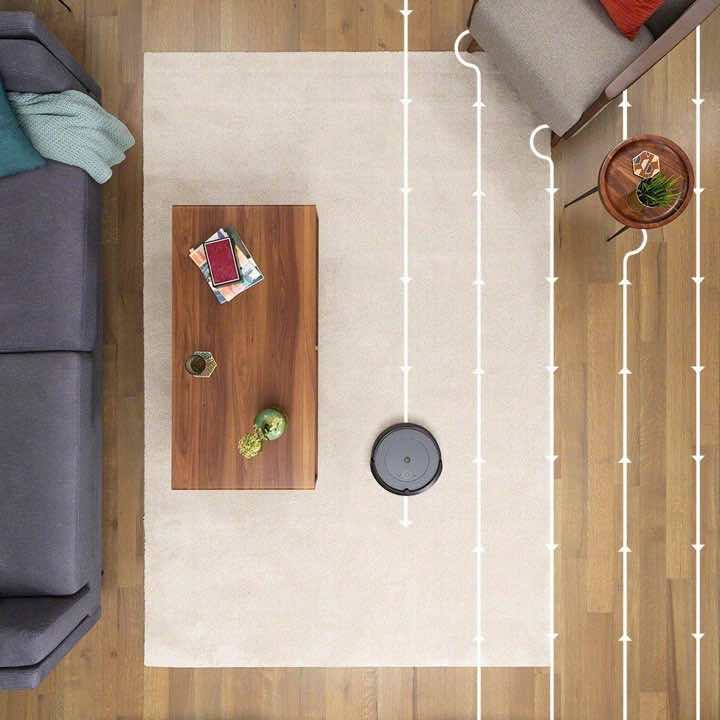 The navigation is also used for the Recharge and Resume function. When the battery is running low, the Roomba i3 will find its way back to the charging station and recharge. Once it's finished recharging, the i3 will pick up from where it left off.  
One other great feature is that the mapping with sync across other iRobot products like the Braava jet m6 for mopping to bring an extra level of cleanliness. The Braava will know what areas have been vacuumed, so it can mop those areas.
iRobot Genius, Home App and Voice Control
The iRobot Genius Home Intelligence app is iRobot's latest innovation to personalize the cleaning experience for users, from the convenience of their phone screens. The Genius app is a redesigned iRobot Home App with more features and functions to make it easier to keep floors clean. 
The Genius App for iOS and Android acts as your home cleaning command and control center. The app gives you cleaning reports and maps for a comprehensive cleaning history.
The scheduling feature gives users the ability to schedule cleanings and cleaning intervals for an automatic cleaning process.
iRobot Genius will suggest cleaning schedules and Clean Zone areas to you based off what it's learned from your past cleaning habits. It can also make cleaning suggestions, which is great if you have allergies.
Voice commands are easy with voice assistants like Amazon Alexa and Google Home through compatible smart devices.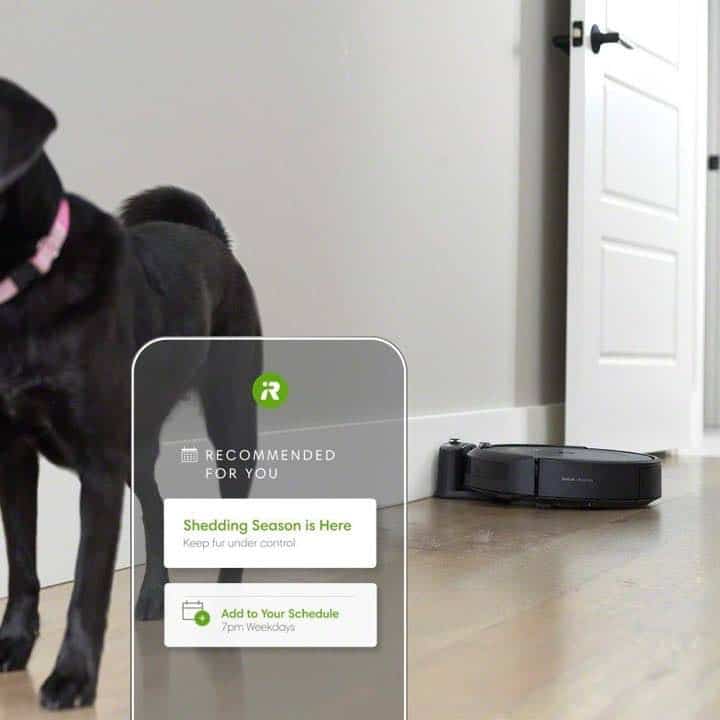 Smart home automation is what I'm constantly striving for and the Genius app helps with that. You'll be able to integrate with other smart home devices like smart locks if you want, including cleaning routines with IFTTT. 
Imagine leaving your home, the August Wi-Fi Smart Lock locks the door behind you, and now that the Roomba i3+ knows you're not home, the robovac automatically starts cleaning. 
Self-Emptying and Clean Base Station
Self-emptying only pertains to the Roomba i3+ because the Clean Base Automatic Dirt Disposal emptying station is needed. 
The 19-inch tall Clean Base Tower will need a couple feet of clearance when the lid is open. Best not to place the robot vacuum docking station in a low-clearance area, because it'll make it tough to empty the Clean Base.
The Roomba i3+ will automatically empty its dustbin when full and like the i7, i7+, s9, and s9+ Clean Bases, it will hold up to 60 days worth of dirt and debris. The automatic dirt disposal feature allows these automatic dust collectors limit users' exposure to dust.
That's a long time, weeks and a couple months, before you'll need to empty the AllergenLock bags. These bags that hold the dirt and debris uses four layers of material that blocks and traps 99% of allergens, including pollen and mold. 
If you ever need more dirt disposal bags, they're sold on Amazon in packs of 3 for a low price.
Cleans up after you, and itself | Roomba® i3+ | iRobot®
Pros
Roomba i3+ brings top performance and Self-Emptying capabilities to a mid-priced robot vacuum
iRobot Genius app update is exciting with the personalizations
Home automation integration with other smart home devices
Cons
The Roomba i3 vs i7 and Roomba i3+ vs i7+ comparison may seem unfair, but there aren't that many differences between the two. The main difference is the i7's Smart Mapping features that allow it to remember your home's floor layout for future, customized cleanings.
If you don't need to draw Keep Out Zones on a map and can relocate breakable items off the floor, then the Roomba i3+ is the easy choice. 
When the choice was Roomba 960 vs i7+, I preferred the i7+ easily because it was night and day with features and offered the better overall value. But the price difference and value derived were more significant between the 960 and i7+.
Read the Roomba i3 vs i7 and i3+ vs i7+ full comparison review article here.
Final Thoughts
iRobot has done it again with the Roomba i3 and i3+ robot vacuums. If you have a slightly higher budget, the self-emptying solution on the Roomba i3+ is well worth it. 
I hope that this is the trend to provide more affordable self-emptying lineups of robot vacuums to the world. 
Last update on 2022-01-24 / Affiliate links / Images from Amazon Product Advertising API
Last update on 2022-01-24 / Affiliate links / Images from Amazon Product Advertising API
Also, if you're looking for this in Costco, the Costco version is named the Roomba i4 (4150) model. Read the full Roomba i4 review. Costco's i4 does not come with the Clean Base Automatic Dirt Disposal docking station though. So if you want the Clean Base, you'll need to buy it on Amazon.
As I continue to do more reviews of standard robot vacuum companies, iRobot options just stand out. iRobot continues its development of models that help to bring the robot vacuum market up. Traditional robot vacuums and the old-school standing vacuums don't really stand up to iRobot's performance quality in making the robot vacuum space.
FAQs Frequently Asked Questions