Renters across the nation are fed up with overspending on their utilities due to their inadequate thermostats. In apartments, renters are more often than not left with an old, inaccurate thermostat that leads to energy overconsumption and outrageous bills. 
With recent technology, our world is shifting towards convenience and comfort so that we can spend more of our time (and money) focusing on what matters in life. Brands like Honeywell, Sensi, Ecobee, and Nest are revolutionizing how we heat and cool our homes, RVs, and apartments.
Apartment tenants often ask, "can I install a smart thermostat in my apartment?"
Luckily, smart homes are no longer home-owner specific; renters can easily get in on the action. Turning your apartment into a smart home is now easier than ever with things like the smart light bulb, the smart lock, Roomba robot vacuums, and yes, the smart thermostat!
What is a Smart Thermostat?
Smart thermostats have ease and functionality. The WiFi-compatible gadgets are simple to use and provide you with a plethora of features to make controlling the temperature in your home a breeze.
Regular thermostats can be over complicated and confusing. A study on energy efficiency and programmable thermostats reveals that most people have thermostats with settings on them but don't know how to use them properly. Smart thermostats are easy to use and take out most of the guesswork that comes with adjustments on standard, programmable thermostats.
Smart Thermostat Features
While the features on smart thermostats may vary based on the brand and price range, some of the most common features and capabilities include:
Smart thermostats can be programmed on your phone. You can download an app that allows you to adjust the temperature settings in your apartment from anywhere in the world.
They save energy and in turn smart thermostats save you money each month.
They learn from you. Smart thermostats adjust your temperature settings over time based on what you use.
They turn off the air conditioning early and keep the fans running while the air is still cool, so you don't waste any of the cold air you have paid for.
This smart device provides reports of your daily energy use to you to see how much you are using and when.
Nest thermostats have a motion detector that can automatically light up when you enter the room and the thermostat displays time, temp, humidity, weather, and more.
Smart thermostats can compile a greenhouse gas reduction report to see how your carbon footprint is reducing over time.
Smart thermostats have a long lifespan and can last up to 20 years.
Nest thermostats in apartments can sense when you are home or away and automatically adjust your temperature accordingly.
They enhance safety by sending you alerts when there are dangerously low temperatures, when your CO2 detectors go off, or when your furnace malfunctions!
They are compatible with other smart devices and voice assistants like Siri, Google Home, and Alexa, allowing you to adjust your temperatures simply with voice commands.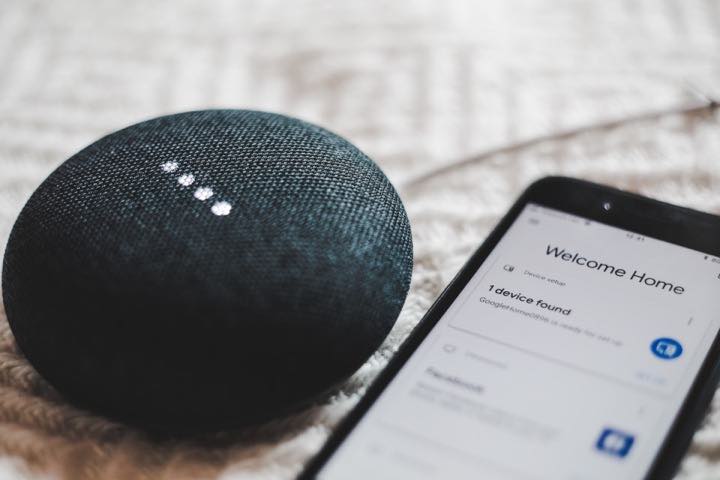 What's the Best Smart Thermostat for an Apartment? 
Do your research on the best smart thermostats for apartments before you invest in one. Each has slightly different features, and once you install the thermostat, it is there to stay (or until you move)!
The ecobee SmartThermostat with Voice Control is a favorite, in fact, all the ecobee thermostats are great. That's actually what I have in my house. Besides working as advertised, it also looks sleek and modern. Another option that with great feedback is the Nest Learning Thermostat.  
Read the Best Smart Thermostats for Apartments article to see the other great options.
Make sure you know what will be the most useful for your apartment's specific needs. Double-check that the one you get is compatible with your phone and any other smart home products that you own.
Also, smart thermostats work with central air conditioning so if your apartment building doesn't have central heating and air conditioning, a thermostat won't work. If you have air conditioner wall units, you can get the Sensibo Sky Smart Air Conditioner Controller. It's voice command compatible with Amazon Alexa and Google Assistant to give you smart features like smart scheduling. 
If you have a number of smart gadgets, you might already have a smart home hub like Samsung's SmartThings. The hub will help you connect all your smart devices, so they work hand-in-hand, rather than individually, like a Universal Remote Control. 
When it comes to energy efficiency in the apartment, you most likely won't be able to install larger smart home devices like a smart heater or smart air conditioning unit, but you'll be able to get small things like smart cameras, smart locks, smart light bulbs, smart light switches, smart plugs, and a number of other smart home connected devices. 
How Do I Install a Smart Thermostat?
Smart thermostats are installed right where your apartment thermostat currently is. If you are a renter and ask yourself, "can I install a smart thermostat in my apartment?" the answer is yes!
But first, did you ask your landlord if you can install a smart thermostat?
The first step to installing a smart thermostat in your apartment is to check with your landlord if it is okay. Most landlords are open to property improvements and are willing to help their tenants save money and energy.
The landlord may ask that you save the existing thermostat because when you move out, you might be taking the current thermostat to your new home. You already have the smart system, so just take it with you to your new home. 
Next, find someone to help you install the thermostat if you're not an expert on heating and AC electrical wiring. Although many people can install them themselves using an instruction manual and even YouTube tutorials, make sure you know what you are doing with thermostat wires.
Proper knowledge and a comfort level with understanding corresponding wires is best. For example, the existing thermostat might have thick wires, which means you have a strong voltage system. It could also be labeled 120V or 240V. If you see either, that represents high voltage systems and you Do Not want to attach those wires to the nest thermostat yourself. 
How to Install a Smart Thermostat | Ask This Old House
Each apartment complex has a different heating and cooling setup. You'll want to check with property management because they might have a handyman who can do the thermostat installation. Or maybe your landlord has someone already. 
Whoever is doing the replacement needs to understand the current wiring system and don't forget to go to the circuit breaker control panel and turn off the power!
How Much Money Can I Save with a Smart Thermostat?
Nest reports that their smart thermostats can save people 10-12 % on heating and around 15 % on their cooling bills each year. That averages around $131-$145 per year. That means by installing a Nest thermostat in apartment units, you can usually pay off the initial cost within a year.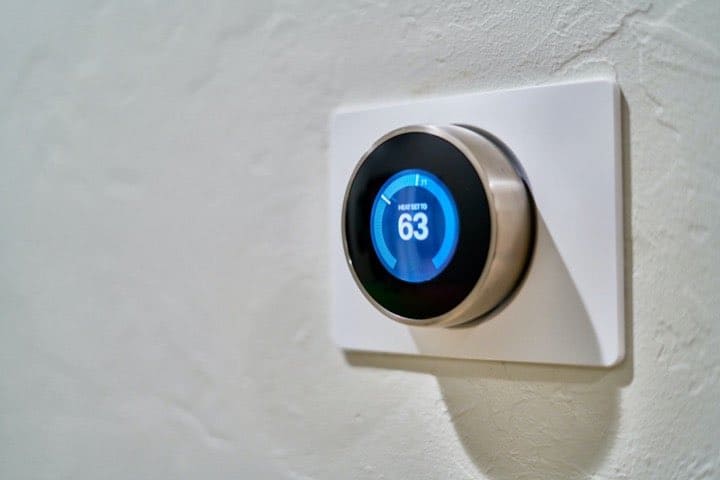 Over the lifespan of the thermostat, these savings add up! Nest thermostats will even alert you if there are potentially more energy-efficient steps you could be taking to save you more money. 
Other factors that will impact how much money you save include how much energy consumption you usually have to cool and heat your apartment. People with larger apartments in more extreme climates will find that a smart thermostat saves them more money. 
The type of heat and the efficiency of the HVAC system in the apartment will also determine how much savings you will receive.
Consider if a smart thermostat is right for your apartment. If you use large amounts of energy to heat and cool your living space, then an upgraded thermostat is the perfect money saver. If you have a small apartment and don't use your thermostat much, then the investment might not be right. 
Install Smart Thermostat in Apartment Final Thoughts
If you're wondering, "Can I install a smart thermostat in my apartment?" the simple answer is yes!
With a plethora of new and innovative features, a smart thermostat is a sleek and modern way for added comfort and energy and cost savings for your apartment. As long as your landlord approves of course.
I'm sure your landlord will be happy to make your home more secure with a smart lock for your apartment, while also maintaining your household budget easily.
Smart thermostats make your heating and cooling experience personal and customizable. With so many incredible smart climate control features, there are very few reasons not to install one for yourself!