The iRobot Roomba name has been the King of robot vacuum cleaners since 2002 and it's no different this year. There are many vacuum brands out there now, but iRobot's Roomba is often the first go-to smart device for those looking to build a smart home.
It's hard to choose which Roomba models are best without a lot of research, and that's why I've done a full comparison of the Best Roomba Models for you. 
This is a comparison of all the Roomba models that are currently out on the market now. Based on my experiences and extensive research, I'll be comparing their features, specifications, runtime, navigation system, charging stations, floor types, dirt, debris, pet hair, and more. 
If you're in a hurry, here's the cheat sheet: 
Best Overall – Roomba Combo j9+, no other robot vacuum matches its cleaning performance
Best 2-in-1– Roomba Combo j7+ is the best dual-purpose vacuum and mop
Best Value – Roomba Combo j5+ for the best balance of smart features and money
Best Budget-Friendly – Roomba 694, is a great entry level, basic model
Overview – Best Roomba Model Comparison Chart
I always find it handy to start with a comparison chart for a quick glance at the different features that different models have. I'll explore each of the models in more detail, along with Roomba features, buying guide, and answers to frequently asked questions. 
I'll also mention some of the past models that I've compared before on the site because you'll still be able to buy some of them on Amazon and elsewhere.
The ones not in the chart below are technically discontinued as iRobot won't be making more of them in favor of these models. If you already have an older model Roomba, this will also help you with deciding whether or not to upgrade from previous Roombas. 
| Life on AI | Check s9+ Price | Check j7+ Price | Check i3+ Price |
| --- | --- | --- | --- |
| Roomba Model | Roomba s9+ | Roomba j7+ | Roomba i3+ |
| Bottom-Line | Best Overall | | Best Value |
| Wi-Fi and App Connectivity | ✓ | ✓ | ✓ |
| Cleans Carpet & Hard Floors | ✓ | ✓ | ✓ |
| Suction Power (based off 600 series) | 40x | 10x | 10x |
| Navigation Methods | Visual Nav + Smart Mapping | Visual Nav + Smart Mapping | Visual Nav + Smart Mapping |
| Ideal for Homes with Pets | ✓ | ✓ | ✓ |
| Entire Level Cleaning | ✓ | ✓ | ✓ |
| Recharge and Resume | ✓ | ✓ | ✓ |
| Clean or Schedule by Room | ✓ | ✓ | ✓ |
| Keep Out Zones | ✓ | ✓ | ✓ |
| Clean Base + AllergenLock Bags | ✓ | ✓ | ✓ |
| Self Emptying Bin | ✓ | ✓ | ✓ |
| Best Corner Cleaning | ✓ | | |
| Battery Life | 120 min. | 75 min. | 75 min. |
| Bottom-Line | Best Overall Value | | Best Value |
| | Roomba s9+ | Roomba j7+ | Roomba i3+ |
| | Check s9+ Price | Check j7+ Price | Check i3+ Price |
Similarities of Roomba Models
Let's go through the similarities and features that each of these robotic vacuums have to save me from writing (and you reading) the same thing again and again. I'll also make note of some key differences here, so you can see them side-by-side like in the comparison chart. 
All Roomba vacuums have a premium 3-Stage Cleaning System that uses power lifting suction, dual multi-surface brushes, and an edge-sweeping side brush for a premium cleaning experience at home.
Powerful Suction for Cleaning
The power lifting suction is more powerful as you go up the Roomba lineup to more expensive models.
Starting with the 600 series, 614 and 675, is the baseline of suction power. The e5 and 960 are 5 times more powerful. The i3, i3+, i7, and i7+ are 10 times more powerful. The s9 and s9+ are a Hulk-like 40 times more powerful. 
The suction power becomes more evident when it comes to smooth floors like tile and hardwood flooring. That's because vacuums rely more on suction to pick up dirt and debris on smooth surfaces.
The i and s series models' suction across floor types will also vary automatically as it senses different needs.
In terms of cleaning performance, generally the higher the suction power, the better. The extra suction will also come in handy to get the dirt in the crevices of tiles and uneven floors.
Patented Dual Brush Design
They all have two brush rollers, while other brands might only have one brush. That design makes Roombas the best with carpeted floors. If you have carpeting all over your house, you'll want to focus on Roomba vacuums. 
Most Roomba vacuums are great with pet hair due to their dual multi-surface rubber brushes. Animal hair is not a big issue with rubber rollers, because it's easy to detangle the hair from rubber. So if you have pets at home, a Roomba will be a good option.
The 614 and 675 have the older style dual brush system, so one of the brushes is a bristle roller and the other brush is a rubber brush.
The bristle roller's drawback appears when you, your family, and/or pets have long hair. Cleaning hair out of the bristles can be a pain and will test your patience (at least it tests my patience). 
The other Roomba models all have dual rubber brushes, so there's less concern with cleaning hair off the brushes. 
Cheaper models from other manufacturers will sometimes be equipped with a pair of bristle brush rollers. I generally avoid those robot cleaners. There are better budget options.
Another great thing about the dual brushes is the adjustable cleaning head that will automatically adjust its height to stay in constant contact with floors.
For homes with different floor types and unevenness, these cleaning brushes are super helpful.
Dirt Detect Technology
All iRobot Roomba Vacuum Cleaners come with Dirt Detection sensors to keep clean floors in yoru home.
Dirt Detection is a standout feature that helps to avoid dirt buildup in certain spots you know to regularly have tracked-in dirt and messes.
When the Roomba goes over an area and detects that there's a large amount of dirt there, it will go over that area again and again to pick up the remaining dirt on the ground. Once it senses a clean floor, it'll move on to the next area.
This feature is great when you have dirt on tile grooves, because they're recessed and at a lower level than the tile itself.
High-Efficiency Filters
All Roomba vacuums are equipped with High-Efficiency Filters that will block and trap 99% of the allergens in the air. These irritating allergens come from dirt, dust particles, dust mites, and pets who shed hair like dogs and cats.
These are quite able to match a HEPA filter that traps 99.7% of allergens, but they still do a great job.
If you or loved ones at home have allergies, even if just seasonal allergies, these filters standout from traditional vacuums that don't have 99% high efficiency filters. Many owners with allergies like me are happy not having to come in contact with allergens.
If you do have seasonal allergies, the i3+, i7+, and s9+ will make personalized cleaning schedules for you based on when seasonal allergies arrive. Smart cleaning recommendations will be based on your local area and the environment. As long as it's connected to the internet, it can help schedule cleaning sessions.
Size Dimensions
They're all 3.6" in height, except for the s9/s9+ which are 3.5". That means they're all going to get into and under the same places.
There's no advantage or disadvantage when it comes to size among the different models. When it comes to furniture height, you'll want to watch out for chairs with bars on the legs, low tables, and any other furniture pieces around the house.
Cliff Detect Sensors
Have a multi-story home? Cliff detection is one of the essential features that all smart vacuums need.
When the Roomba comes close to the staircase, the cliff detection sensors will notice that there's no more floor for the Roomba move to. So it will stop and change directions to keep it from falling down any stairs. 
There are three main iAdapt Technology versions that have come out over the years.
iAdapt 1.0 Navigation: 614, 675, e5 (5150), e6 (6134, 6198)
iAdapt 2.0 Navigation: 960
iAdapt 3.0 Navigation: i3, i3+, i4, i4+, i7, i7+, s9, s9+, i6+, i8+, j6, j6+, j7, j7+, j8, j8+, j9+ Combo j5, Combo j5+, Combo j7+, Combo j9+
The 614, 675, e5, and e6 navigate in random cleaning paths, which means they'll keep moving around your home until it bumps into a wall or obstacle. It'll remember the obstacle and continue on in another direction until it encounters another obstacle. 
They'll move in random cleaning paths until it gets low on battery power and needs to dock to recharge. It'll look for the Home Base docking station's Infra-red signal and go to dock. 
The 960, i3, i3+, i4, i6+, i8+, i7, i7+, j6, j6+, j7, j7+, j8, j8+, s9, and s9+ all have cameras and sensors that will map out your house and rooms using its vSLAM navigation technology. Combined with adaptive technology, it learns the layout of your home to know how to clean most efficiently each time.
You'll notice these models will mostly move in straight lines, neat rows in a logical fashion, resulting in better cleaning patterns.
I like that it cleans in neat rows because it also gives me a better idea of the cleaning progress. Many Roomba owners also say they love the clean rows when cleaning on carpets.
iAdapt 3.0 Imprint Smart Mapping
Only the Roomba i3, i3+, i4, i6+, i8+, i7, i7+, j6, j6+, j7, j7+, j8, j8+, j9+ Combo j5, Combo j5+, Combo j7+, Combo j9+, s9, and s9+ models have Imprint Smart Mapping.
Both iAdapt 2.0 and 3.0 will create Clean Map Reports after each clean, so you can use the mobile app to see where the Roomba has cleaned this time and on previous cleaning jobs.
The difference between iAdapt 2.0 vs 3.0 is that 2.0 will not remember the map for future cleaning sessions. Except for when it's mid-way through a room and it gets low on battery, at which point it'll engage the Recharge and Resume cleaning feature. It'll recharge its battery and then pick up where it left off in the room.
iAdapt 3.0 has the Imprint Smart Mapping feature that allows Roomba to remember the rooms by names you create. That mapping technology allows you to tell Roomba what rooms to clean and not to clean.
What the Roomba models with Smart Mapping will do is create a three-dimensional map of your house and with the map, you'll be able to draw specific "Keep Out Zone" areas that you don't want it to clean each time. 
These no-go zones you can create are great to keep any items safe.
Battery Power
Each Roomba comes with a lithium-ion battery and iRobot doesn't disappoint here with battery times ranging from 75 to 120 minutes.
Here are each Roomba model's run time on a single charge: 
120 minutes: s9, s9+, Combo j7+
90 minutes: 614, 675, e5, e6, i4, i8+
75 minutes: 960, i3, i3+, i6+, i7, i7+, j6, j6+, j7, j7+, j8, j8+, Combo j5, Combo j5+, Combo j7+, Combo j9+
You might be wondering why the smarter 960, i3, i3+, i7, and i7+ models have lower battery life. It's because they have the Recharge and Resume Cleaning Feature.
The Recharge and Resume feature will send the vacuums back to the charging dock when it's at low battery life, and after recharging, it'll pick up cleaning from where it stopped.
Battery life is less important with those Roomba models because they'll return to their charging stations to recharge and then resume cleaning again.
If you have carpet in many rooms of your home, battery juice may get drained quicker, because the suction power will be on high. So, you'll want to get a Roomba with Recharge and Resume or you'll need to manually restart cleaning yourself.
You won't need to worry about them vacuuming over previously cleaned areas either, so they're efficient with cleaning your home's square footage.  
iRobot HOME App
The iRobot Home App received a major refresh update by powering it with iRobot Genius. The Home App looks at your cleaning habits and offers personalized cleaning schedule suggestions.
By integrating with other smart home devices like smart home hubs, smart thermostats, smart locks, and more, your cleaning really will be automated.
Imagine leaving your house, your smart lock automatically locks your door, and your Roomba starts cleaning. That's what smart home systems and smart home integrations are all about.
With the exception of the 614, all the other models have Wi-Fi capabilities to take advantage of iRobot's HOME App. The app is available on Android and iOS (iPhones) and allows you to: 
Start and stop cleaning jobs from anywhere
Schedule cleanings up to 7x per week. 
See your Roomba's remaining battery power
See Clean Map Reports (below image) of where your robovac cleaned (only for 960, i3, i3+, i7, i7+, s9, s9+, i6+, i8+, j6, j6+, j7, j7+, j8, j8+, j9+ Combo j5, Combo j5+, Combo j7+, Combo j9+). 
Cleaning Reports will include areas that were extra dirty and the robots needed to go over again
Custom cleaning preferences with Keep Out Zones (more later in the s9 and i7 sections)
Issue voice commands through smart devices with voice assistants like Amazon Alexa (Amazon Echo smart speakers) and Google Assistant (Google Home speakers)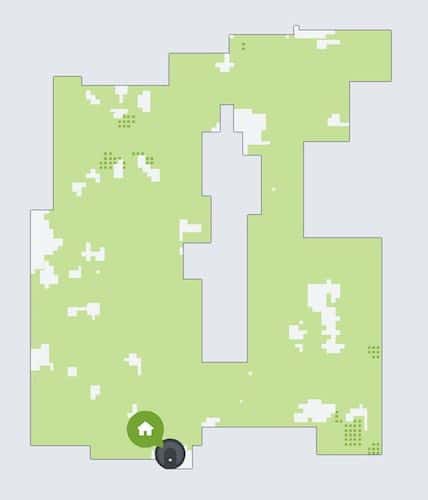 Dust Bin and Clean Base Unit
The dirt, dust, and hair have to go somewhere and they go right into the dust bin. Here's how big each model's bin is: 
300 ml: 614, 675, 694
400 ml: s9, s9+
500 ml: e5, e6, i3, i3+, i4, i4+, i6+, i7, i7+, i8+, j6, j6+, j7, j7+, j8, j8+,
600 ml: 960
Are you wondering why the top-of-the-line s9 models have relatively small bins? That's because there's the "+" for the Clean Base Dirt Disposal units. The have self-emptying dust bins built-in when paired with the Clean Base dock.
The i3+, i4+, i6+, i7+, i8+, j6+, j7+, j8+, and s9+ models will self-empty their dustbins into the dirt disposal stations. You can now enjoy that extra time with family and friends, while Roomba vacuums. It's as much of an independent vacuum as you can get.
In addition to the self-emptying feature, the Clean Base unit has anti-allergen technology that traps 99% of pollen and mold allergens. The Clean Base is also a good option for those who are more sensitive to dust allergies as it traps 99% of the allergens that'll put your allergies into hyperdrive.
The unit's bag will hold up to 30 days of dirt, dust, and hair, so you'd be able to go weeks without needing to empty it. But it's still good to empty the dustbin regularly to keep your vacuum running smoothly longer. The good thing is the Plus models will do that.
There are some users who say they don't like the loud cleaning base, but I can't say that's one of my biggest cleaning concerns. It can be loud because it's using a power suction to suck the dirt and debris from the dustbin into the Clean Base disposal bag.
If you're worried about it or want to save some money initially, you can always buy the i3, i7 or s9 first, and then purchase the Clean Base separately later.
From test results, there's one advantage to the Clean Base. Floors are cleaner when the i3+, i7+ and s9+ are used in conjunction with the Clean Base.
They will self-empty the bins more regularly, which stops the bins from overflowing. That will help in air flow, especially when carpet cleaning.
Pair With iRobot Braava Jet m6 Robot Mop For Complete Cleanings
iRobot has a lineup of Braava robot mops that will spray and mop floors for the messes that vacuums can't suck up.
The iRobot Braava Jet m6 (6110) Ultimate Robot Mop uses Imprint Link Technology to pair with the i7+ or s9+ to create a dream team of automated cleaning for you.
As the i7+ and s9+ cleans, the Braava m6 will follow up with spraying and mopping to ensure the floors are clean. That's definitely helpful for those sticky areas caused by liquids that have dried up.
Now, let's get into the major differences between each Roomba model and what makes each one special.
Or get the brand new Roomba Combo j7+ that has the vacuum and mop features built-in. Read the full Roomba Combo j7+ review.
Individual Roomba Models
Roomba Combo j9+ – Best Overall Roomba
If you want the best of the best and you have a higher budget, the Roomba Combo j9+ is the one for you. The Combo j9+ is the most advanced in every way – smart technology, power, and cleaning ability.
The top 5 benefits of the iRobot Roomba Combo j9+ are:
Exceptional Dirt and Dust Pickup: The iRobot Roomba Combo j9+ is designed to provide superior cleaning performance on both carpets and hard floors. It features three levels of suction power and an automatic Carpet Boost, ensuring thorough and efficient cleaning of different surfaces.
Powerful Vacuuming and Deep Clean Mopping: This 2-in-1 robot not only vacuums but also mops floors effectively. It offers up to 100% stronger suction compared to the Roomba Combo i Series robots and employs SmartScrub for the most effective mopping solution.
Hands-Free Cleaning Experience: The Clean Base Auto-Fill Dock is designed to provide up to 60 days of automatic debris emptying and 30 days of water or solution refilling, reducing the need for manual intervention.
Fully Retractable Mop to Prevent Wet Carpet Messes: The Auto-Retract Mopping System lifts the mop to the top of the robot when transitioning from hard floors to carpets, ensuring that the carpets remain dry and clean.
Smart Scrub with Deeper Cleaning: The SmartScrub technology enables the robot to mop back-and-forth with consistent pressure, achieving 2 times deeper scrubbing compared to standard vacuum and mop modes. This feature is particularly effective for cleaning areas with heavier soiling, such as mudrooms or under kitchen tables.
Read the full review of the Roomba Combo j9+.
Roomba j7 and j7+ (Similar to j6, j6+, j8, j8+)
Both the Roomba j7+ and j7+ are excellent robot vacuums and give you a big bang for your buck. A couple of the key features and functions are different from other models.
The new Roomba j7+ avoids pet waste and offers the P.O.O.P. guarantee, which is recommended for pet owners.
The Roomba J7+ has Precision Vision Navigation, which enables the Roomba to avoid obstacles like pet poop, toys, cables, and more on the ground.
The Roomba j7 is a top choice for individuals on a tight budget because you save a couple of hundred dollars without the Clean Base unit. You can also benefit from the iRobot Select Membership and pay on a monthly basis.
Read more at the Roomba j7+ Review.
Check out these other version too: Amazon version Roomba j6+ and Costco version Roomba j8+.
Roomba i7 and i7+
The Roomba i7+ is a great option with its smart features and a Clean Base unit similar to the s9+, while at a lower price point and providing much better value. 
The main features you'd be losing from the s9+ are: 
No D-Shape: The i7 and i7+ are in the traditional circular shape, but still has good coverage around the walls and corners. 
No 40x Suction Power: The i7 / i7+ comes with 10x suction power compared to the 600 series. The i7+ might need to go over an area 1-2 more times if there's a lot of dirt, but that's not a big deal.
The i7 / i7+ doesn't have the Corner Brush that the D-shaped s9+ has, but it's Edge-Sweeping Brush at a 27-degree angle still does a great job. 
The s9 offers the best cleaning results, but if you pair the i7 with the Clean Base, you'll get similar enough cleaning results. If you compare the s9 vs i7+, the i7+ is much better valued at the lower price point. 
You may have seen the Roomba i6+ and Roomba i8+ series robot vacuums floating around. That's because those two are made to sell exclusively to certain shops. The i6+ is on Amazon and the i8+ is at Costco. The technical specifications of those vacuums are the same as the i7+ though, so I'm adding them here.
If you want to learn more about the i6+ or i8+, check out the Roomba i6+ review and the Roomba i8+ review.
Roomba Combo j5+ – Best Value Roomba
iRobot has changed the rules of the smart robot vacuum game with their affordable, mid-range Roomba Combo j5+ that vacuums and mops.
The top five benefits of the iRobot Roomba Combo j5+ Self-Emptying Robot Vacuum & Mop are:
Vacuum and Mop Capabilities: This device combines powerful vacuum technology with a mopping function, allowing it to tackle both dust and spills on hard floors. Users can easily switch between vacuum and mop options.
Smart Mapping and Room Specific Cleaning: The Roomba Combo j5+ features smart mapping technology, enabling it to navigate and clean specific rooms with precision. This ensures efficient and thorough cleaning throughout the home.
Obstacle Avoidance and Pet Waste Detection: It is equipped with advanced sensors to identify and avoid common household obstacles, including pet waste, cords, and other items, ensuring worry-free cleaning.
Self-Emptying for 60 Days: The robot vacuum can automatically empty its bin into an enclosed bag within its charging base, holding up to 60 days of debris. This feature significantly reduces the need for frequent manual emptying.
Voice Control Compatibility and App Integration: This model is compatible with voice control devices like Alexa and can be operated using the iRobot Home App, offering convenient control and customization of cleaning schedules and preferences.
Read the full review of the Roomba Combo j5+.
Roomba 960
The 960 was my previous choice for the best bang for your buck. It comes with the same, advanced camera sensors and vSLAM navigation technology of the i7 and s9 series to create a map of your home. 
But then the i3 and i3+ came along knocking it out of that top position and at the same mid-range price point.
The 960 has the Recharge and Resume, so there's no concern about losing efficiency when compared to the i7 and s9. While the 960 will remember where it left off in a room before recharging, it won't remember the room maps for future cleaning cycles. 
Unlike the i7 and s9 models, you can't draw Keep Out Zones nor can you designate rooms to tell the 960 to go clean. 
The 960 and other models use virtual wall barriers that are physical devices you place on your floors. The virtual wall accessory creates invisible barriers that only Roomba can see.
There are two modes: Virtual Wall and Halo modes. Virtual Wall mode acts like a wall and you're able to put it down facing in one direction. Halo mode puts a halo wall about 24 in. from the device in all directions. 
The virtual wall barrier devices are sold separately, but readily available on sites like Amazon.
There's also no Clean Base unit that comes with the 960. At 5x the suction power of the 600 series, it's still strong with suctioning.
You lose some of the cool, smart features of the higher-end models, but for advanced robot vacuums at this price point, it's the best balance of features vs cost. 
iRobot Roomba e5 (5150) and Roomba e6
The e5 and e6 are good robot vacuums, but this is where you start stepping down with the smart features. The e5 replaces the Roomba 890 from the previous generation. 
There're no cameras and sensors, so you get random cleaning navigation with the e5/e6 and the two in the 600 series. 
The e5 and e6 have a longer battery life of 90 minutes, but there's no Recharge and Resume like the other models.
That means if it's low on battery life, after it recharges, it will need to go over areas that it already went over. That's not a big deal as those areas will be cleaner, but that's a loss of efficiency. 
The e5 and e6 do have 5x the suction air power of the 614 and 675, so that'll provide better cleaning if you have more smooth flooring surfaces. The e5 and e6 also have dual rubber brushes that will save you from hair entanglements as you'd get with the 614 and 675. 
The little extra costs on the e5 vs 675 would be worth having less hassle. But if you're able to take another step up in the budget, get the 960 with better smart features all around. 
Read the full Roomba e6 review.
Roomba 694 – Best Budget-Friendly
Discover the innovative cleaning solution for your home with the iRobot Roomba 694 Robot Vacuum. Engineered to provide a smarter, more efficient way to clean, this vacuum features Wi-Fi connectivity, personalized cleaning recommendations, and compatibility with voice assistants like Alexa, making your daily cleaning routine effortless and more effective.
The top five benefits of the iRobot Roomba 694 Robot Vacuum, as listed on the Amazon product page, are:
Personalized Cleaning Suggestions: The Roomba 694 uses the unique intelligence of iRobot OS to provide personalized cleaning suggestions. It learns your habits and routines to offer customized cleaning schedules.
3-Stage Cleaning Power: This vacuum features a 3-Stage Cleaning system that lifts dirt, dust, and debris from carpets and hard floors. It also includes an Edge-Sweeping brush for corners and edges, and an Auto-Adjust Cleaning Head that adapts its height to clean carpets and hard floors effectively.
Advanced Dirt Detection: iRobot's patented Dirt Detect Technology allows the Roomba 694 to identify dirtier areas in your home and clean them more thoroughly, ensuring focused and efficient cleaning.
Smart Home Integration and Ease of Use: The vacuum can be controlled using the iRobot Home App or voice assistants like Alexa, making it convenient to schedule and manage cleaning tasks.
Advanced Navigation: The Roomba 694 is equipped with advanced sensors for navigation around and under furniture and along edges. It also has Cliff Detect to prevent falls down stairs.
Read the full review of the Roomba 694.
Roomba 675
The 675 replaces the previous generation's popular 690. It has the patented dual-brush system for deep cleaning with the ability to control it remotely due to its wireless connectivity. 
When you compare the 675 vs 690, the 675 is virtually the same as the discontinued 690. They differ in color and the dual-mode virtual wall barrier that's compatible with the 675. 
The 675's suction power is the baseline, regular vacuum power for iRobot. But it still provides enough air power to effectively clean your floors and low-pile carpets of dirt and pet hair. 
The 675 has Roomba's patented dual-brush system, but one of the brush rollers is a bristle type, while the other is rubber and brushless, like the more expensive models. When using this and the 614, you'll need to regularly clean the bristle roller of stuck hair. 
If there are long-haired family members and/or pets, you might be cleaning more often. You may want to opt for the e5 in that case. You'll save yourself from regular detangling, but also potentially the life of the 675 or 614 itself from breaking down.
The 675 is the last model to have wi-fi connectivity, so you'll still be able to control the Roomba remotely and utilize the Home app. 
Roomba 614 – The Cheapest and "Dumbest" Roomba 
The Roomba 614 has many of the great Roomba features but doesn't have the smart features of its older siblings. If your budget is tight and you're ok with no frills, the 614 is a good option. 
The 614 is basically the same as the 675, except that it doesn't have any wireless or smart capabilities. There's no wi-fi connectivity, app, remote controlling, nor scheduling, 
Like the 675, It will pick up human and pet hair, but if you or pets have long hair, this is one you're going to need to clean out more often.
Just put the 614 down where you want it to clean and press the big button to turn it on. It will run until its low on battery life and look for the Home Base to charge. If it can't find the Base's infrared signal, it will try and return to its original starting location. 
The 614 is the cheapest one, but the upgrade to the 675 is the better option for its wireless capability that allows for remote control and scheduling. 
Final Thoughts on The Best Roomba Model 
There you have it, the best Roomba models out in the market now. They're all great robot vacuums and you just need to think about your needs at home. Each household is different, so I hope that there's enough information above to help you pick the right one for you. 
I will note one obvious downside to robovacs in multi-floor homes – they don't clean stairs. Until they learn how to climb stairs, you may want to get a handheld or upright traditional vacuum.
There are many Roomba alternatives out there now from small and large companies like Samsung POWERbots, Xiaomi Roborock, eufy from Anker, Ecovacs Deebots, Neato, iLife, and more.
Roomba vacuum cleaners all have great features and aren't always the flashiest ones out there. But Roomba is still the Standard with the highest marks for brand reputation and quality.
Bonus Mini-Review for Robot Mopping Pairing
Frequently Asked Questions
Which is the Best Roomba Model to Buy?
The Roomba s9+ is the best one out there. The s9+ is the smartest and most powerful while giving you the most automated hands-off experience. The price is high, but it will last you a long time and save you time from regularly cleaning out its dustbin. 
Which is the Best Roomba Model for Your Money?
The Roomba j7+ and Roomba i3+ give the best values at two different price points. The j7+ has smart features and deeper cleaning at a good price-to-feature ratio. It also has the new feature to avoid obstacles, like power cords and pet waste, by itself. The i3+ is at a lower price point, but provides the best bang for your buck. If you have pets, a higher budget, or a larger house, go with the j7+ and enjoy more automated cleaning. If you have a tighter budget or a smaller house, the i3+ will get the job done.
What is the Newest Roomba Model?
The Roomba j7 and j7+ are the newest iRobot Roomba Models. They slot right in between the top of the line Roomba s9+ and the great value Roomba i7+. The Roomba j7+ provides a new feature of automatically avoiding obtacles like dog poop and electrical wires on the floor.
Which is the Best Roomba for Hardwood Floors?
The i7 or i7+ is best with hardwood floors as it provides10 times the suction power of the 600 series. That's enough power to clean floor surfaces like hardwood floors. They're both the same vacuum and the '+' in i7 Plus signifies that the Clean Base unit is part of the package.
Which is the Best Roomba for Tile Floors?
The i7 model is the best with tile floors with their 10x suction power. The extra suction power is useful because tiles are smooth, so it will rely more on suction power. Tile floors also have divots between the tiles that will need the extra suction.
Which is the Best Roomba for Carpet?
Which is the Best Roomba for Pets?
The s9+ will do the best job with pet hair all over your floors and carpet. You'll be able to turn it on remotely and the s9+ will empty itself into the Clean Base unit. If there's a lot of pet hair, you're going to be thankful that the s9+ will clean its bin automatically. 
Are Roombas Worth the Money?
Yes, yes, and yes! Roombas are worth the money. When you think about the time that you spend vacuuming with upright vacuums, what else could you be doing with all that time? Roombas give you all that time back and iRobot is the leader in robot vacuums. 
Do Roombas Make Noise? 
All vacuums make noise, so yes, Roombas will make noise. But they're not as loud as most upright vacuums. The suctioning of the Roomba is what makes all the noise. 
Which is the Most Powerful Roomba? 
The s9+ is the most powerful Roomba at 40x the suction power of the 600 series models. There is simply no comparison when it comes to the s9 series. In fact, it's 4x the suction power of the next most powerful Roomba, the i7+.
What is the Best Roomba for a Large House? 
The s9+ is best for large houses because its smart mapping and navigation features are on full display when it needs to Resume and Recharge. You'll want to get a Roomba that can recharge in the middle of cleanings without forgetting which areas have already been cleaned. 
What is the Best Roomba for a Small Apartment? 
The i3+ provides the best value for small apartments. It has the Resume and Recharge feature, but doesn't need to map and remember your home's floor plan because it's not a large house. 
What is the Best Roomba for Multiple Floors? 
The s9+ will remember multiple floor plans and with its advanced camera sensors, the s9+ will know which floor it's on. You don't need to do anything other than the initial setup of marking Keep Out Zones and placing the Roomba on the floor.
What is the Best Roomba for Corners?
The s9's D-shape and Corner Brush is the best for corners. The flat side allowed Roomba to place wider brushes closer to the edge of the Roomba, which allows for more suction power and better access to the corners. 
How to Tell Which Roomba Model You Have
Turn the Roomba over and look at the underbelly of the Roomba. Depending on your model, the model number will be in slightly different places. The model number will usually stand out with larger font and might have "Roomba" in front of the number.
If you have any of the latest models, look for (Roomba) 614, 675, e5, 960, i7, or s9.
What's Better: Roomba i6+ vs i7+ vs i8+ Difference?
The Roomba i6+ and i8+ are the same as the i7+ in terms of the robot vacuum's technical specifications and features. The main difference between the Roomba i6+ vs i7+ vs i8+ is where you can buy each one.
The Roomba i6+ is exclusive to Amazon. The i7+ is the base model that's available in most locations online and offline. Costco sells the i8+ exclusively.
There're also slight differences in the color and what comes in the package.