So you want to step up your game when it comes to home security and safety? Take that first step with this latest list of the Best Smart Locks and a Complete Buyer's Guide.
Smart locks are one of the first smart home products that people buy when building their smart home, but with so many smart lock options out there –
How do I choose a smart lock?
I'll be answering that question in the buyer's guide section below. There are a number of different locks and the type of lock that's best for you and your home depends on various factors: deadbolt vs lever style, lock and unlock access, remote access, wireless connectivity, voice commands, and more.
I'll be going though the list of the best smart locks for various scenarios, smart home platforms, smart home ecosystems, and more. 
First, let's start with the list of 13 popular scenarios where you'd be looking for the best smart door lock. 
Smart Locks for 13 Different Situations
Yale is one of the oldest and most trusted brands in home security products.
Their Yale Assure Lock SL Key-Free Touchscreen Deadbolt is one of the more popular smart door locks in the market. The minimalist design of a simple numeric keypad lock is a favorite of mine. I'm not a fan of bulky hardware.
The Yale Assure Lock SL comes with three base ways to open unlock the door: a keyless entry touchscreen, a keypad with keyhole, and touchscreen keypad with keyhole.
The Assure Lock replaces your existing deadbolt with a simple installation process, only requiring a screwdriver and your hands. 
Yale's Assure Lock SL still comes with physical keys if you ever need an old-school backup key. Otherwise, smart door locks are meant to replace the traditional door locks by offering keyless entry methods.
The Assure smart lock design comes in a variety of styles for you to choose from, so you're sure to find a style that fits your home decor. 
Yale has partnered with August to offer the use of the August app, which gives you smartphone controls of all the Yale Lock's functions. That includes the auto unlock and auto lock features, door activity monitoring, and the management of user PIN codes as electronic keys. 
August makes sleek keyless locks that work with your existing deadbolt door locks, making the setup process easy. People outside wouldn't even know that you have a smart lock. 
I like to say that August is the Apple of Smart Locks.  August brings simplicity and sleek design aesthetic to locks like Apple does to devices. If you're a fan of Apple, you'll probably also like August. 
The August Wi-Fi Smart Lock is the newest model from August and the lock body is 45% more compact than the previous generation August lock. Despite it's smaller size, the 4th Gen. model still packs a lot of features, including built-in WiFi. The 3rd Gen. model requires a Wi-Fi bridge for a Wi-Fi connection. 
One of the best features is the auto unlock feature. All you need to do is walk up to the front door with your smartphone in your pocket, while carrying those large grocery bags. There's also an auto-lock feature that will lock the door behind you, so you never need to worry about forgetting to lock the door. 
Through the August smartphone app, you can create virtual keys for your family members, temporary access or even permanent guest access.
If you do prefer to have a physical touch keypad, there's the August Smart Keypad you can pair with the August lock. You'll need to purchase it separately on Amazon or elsewhere. 
The August lock will also automatically lock behind you on a timing that you set through the August app. The same app allows for remote locking/unlocking, as well as sending virtual keys to your family and friends for temporary or permanent access. 
When the August is paired with the DoorSense Open-Close Sensor, the August app will give you access to lock activity and lock status from the convenience of your smartphone.
DoorSense has built-in sensors to detect whether the door is open or closed, so you have less additional security concerns.
Many August owners like to have the sensors, because it allows them to check if the front door is closed from the bedroom before hitting the sack.
The August Smart Lock Pro (3rd Generation) is the older, previous version of the one above. There is additional hardware with the 3rd Gen model, but the features are similar.
The August 3 model has many of the same benefits as the 4th Gen one, so it provides top features at a lower price. You get the same walk-up auto unlock, virtual keys, Smart Keypad compatibility, auto lock, and more.
But it's larger and needs a separate Wi-Fi Connect Module that acts as a Wi-Fi bridge to be able to have access via the mobile app. As long as the Wi-Fi Module is plugged into a wall outlet near the August lock, it'll perform like the newer model.
Read the article with the full list of the Best Smart Locks for Google Home.
Read the article with the full list of the Best Smart Locks for Alexa.
Read the article with the full list of the Best Smart Locks for HomeKit and Siri.
Read the article with the full list of the Best Smart Locks for Ring.
Read the article with the full list of the Best Smart Locks for Nest.
Read the article with the full list of the Best Smart Locks for SmartThings.
Read the article with the full list of the Best Smart Locks for SimpliSafe.
Read the article with the full list of the Best Smart Locks for Vivint.
Read the article with the full list of the Best Smart Locks for Airbnb Rentals.
Read the article with the full list of the Best Smart Locks for Apartments.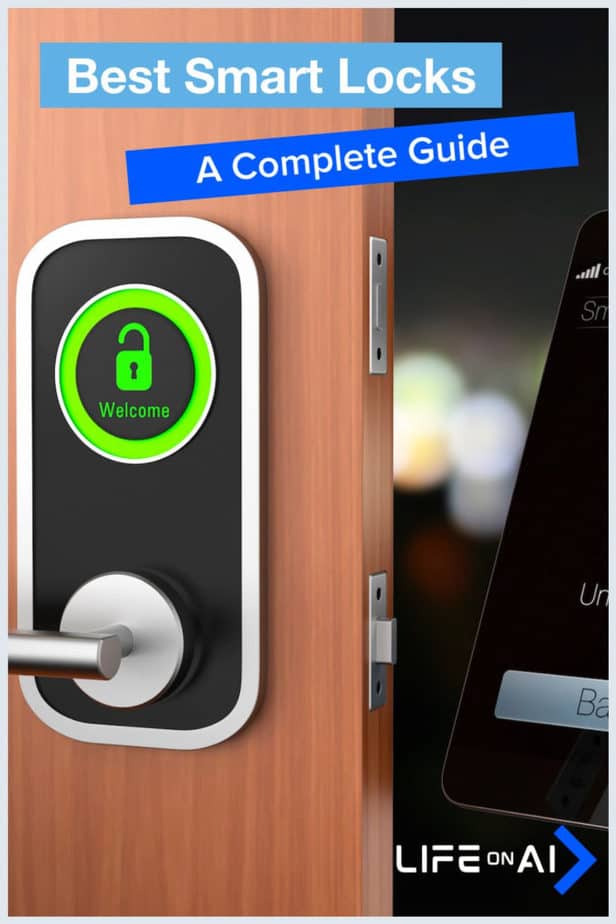 Buyer's Guide: How to Choose a Smart Lock
Choosing a Smart Lock for your door can be difficult, particularly if you have no real understanding of how they work. As smart lock technology continues to improve, choices and variations continue to increase. 
I hope to help you to make an informed choice when making that smart lock purchase with the information here. 
How Do Smart Locks Work?
Smart locks use wireless technologies like Bluetooth, Wi-Fi or low power wireless protocols like Zigbee or Z-wave.  They use these protocol technologies to connect to smart devices, such as your Wi-Fi router, mobile phone or smart home hubs that utilize voice assistants like Amazon Alexa or Google Assistant
Many locks run on battery power, so installation is relatively simple with no extra wiring for most locks. Most use 2-4 AA batteries or a 9V battery, and can last 6-12 months, depending on various factors and the lock model.
One tip with batteries, be sure to have battery backups. I recommend using rechargeable batteries and having extra, fully charged batteries at the ready. Most locks will notify you with a push notification that battery power is running low.
Once set up and connected, the locks can be operated through a variety of means, including mobile devices, keypads, or by voice control through smart speakers.
Smart Locks can be integrated into smart home systems and other connected home devices for smart home automation. 
Best Smart Lock Brands
Some of the brands that are currently the market leaders in providing secure hardware are Yale, August, Schlage, Ultraloq, and Kwikset.
These and many other major manufacturers producing high-quality hardware have strong and weak points that you'll want to look into.
Choosing the best smart lock will vary depending on factors and features that are important to you. You may want to consider things like voice control and compatibility with existing smart home systems.
The content of this article will help you decide which is the best make and model for specific circumstances. 
Types of Locks Deadbolt vs Lever Style locks
Smart locks with deadbolts are designed to replace existing deadbolt locks. The internal locking mechanism is controlled by the smart lock instead of the physical key, but the physical key can still be used.
The lever type of lock is becoming increasingly common as these are more stylish and can fit with home decor. These door locks utilize a lever to activate the locking mechanism.
The lever locks are increasing in popularity, because the lever style works well with traditional and modern style doors and homes. Touchpads only really pair well with modern door styles.
Lock and Unlock Access
The beauty about a smart lock is the number of convenient options there are for unlocking or locking your door, forgetting your key need never be a problem again.
Examples of methods you can use are geofencing, a mobile app, PIN access codes, touch screen keypad, voice control, one touch locking, fingerprints, key fobs, and more. Some can even use facial recognition to activate the door lock. 
Touch screen touchpads and keypads are one of the more common security features to unlock doors. Punching PIN key codes is quick and easy, as long as you remember the numerical code.
The advantage to using keypads is you'll be able to use the companion apps to create individual user codes for different family members. You can also create one-time temporary codes for friends, guests, and even service providers.
Amazon has been working on providing Amazon Key delivery services. The service will help keep your Amazon packages safe by allowing delivery drivers to place the packages inside your home, garage, or car at specified times.
The downside to this is the keypads become unusable if they were to run out of battery power. Power failure will be a common theme, because smart features will require some form of electrical power.
Built-in fingerprint readers are easy to use and you don't have to worry about losing your key, because your finger is the key. There is one problem with fingerprint readers though. If there's a power failure, the fingerprint sensor won't work. 
Safety and Security
No lock can truly consider itself absolutely secure and that applies to smart locks just as much as traditional locks.
There are arguments that say by using a wireless technology hackers can get access to your lock and activate the locking mechanism.
But by taking proper precautions like using strong Wi-Fi keys and user passwords, the user can protect themselves against this happening. Also be careful downloading unofficial apps that may contain malware.
Watch engineers hack a 'smart home' door lock
When used in conjunction with smart home security systems, you can receive push, text, and email notifications of possible break-in attempts.
At the end of the day, a smart lock is part of a system that includes the user. Keep your home safe and secure with good security practices.
Wireless Connectivity
Just about every Smart Lock on the market uses wireless connectivity in one form or another for additional smart features. Commonly they use the following methods: 
Wi-Fi Connection
This is one of the most common and convenient methods that smart locks use to connect, most homes will have an existing Wi-Fi network installed. This method is great for accessing features like remote access and for connecting to voice assistants. One drawback of this method is that Wi-Fi connectivity will consume more battery power than the other wireless protocols below. 
Bluetooth Connection
Bluetooth consumes less power than Wi-Fi but Bluetooth has limited range, so usually offers limited remote access options. Access to these locks is done through a smart device or computer. For those not requiring remote access and live in a smaller home or apartment then Bluetooth may be all that is needed.
Zigbee or Z-Wave 
Z-Wave and Zigbee are two low-power wireless protocols that are used frequently in smart home devices. These will require the addition of a separate hub to function.
Although they are lower power devices they communicate with all other devices using the protocol to effectively act as a Mesh Network. That increases the wireless connection range as each device acts as a repeater.
If you already have devices that use either of these protocols, then a smart lock using the same protocol will allow it to slip seamlessly into your smart home's ecosystem.
Remote Access and Mobile Apps
Typically, each smart lock will have a mobile app for Android and iOS devices. These apps give you features like remote access, lock and unlock options, geofencing, remote monitoring, door status, door activity, programming of keypads for instant access, and more.  
Remote Access is generally only available on systems that hook into an existing Wi-Fi network. Although depending on the configuration, this can also be achieved through Zigbee and Z-Wave.
Voice Assistants and Voice Control
Many current smart locks add convenience features that will allow you to use voice commands to control and check the status of your lock.
Depending on the lock, you'll be able to use voice assistants like Apple Siri, Amazon Alexa, and Google Assistant.
Voice commands can be: "Alexa, Lock the Front Door" or "Siri, check if the front door is locked."
Smart Home Integration Ecosystem and hubs
A smart lock can be integrated into an existing home ecosystem such as Amazon Alexa, Google Home, Apple HomeKit, Samsung SmartThings or IFTTT as the platform for connections. When integrated they act as part of the entire home ecosystem and can be linked to other smart devices.
Once integrated they can be used in conjunction with devices like a smart alarm system, video doorbell, smart thermostat, and even smart smoke alarms. 
Geofencing
The Geofencing feature that many smart locks have uses the location of the user to lock or unlock the door. By using the GPS on the user's phone, the lock can be programmed to unlock when the phone is within a certain range and to lock once it moves out of this range. 
Installation
Most locks are relatively simple to install and the job can be tackled by most people. Many locks can be fitted over your existing deadbolt mechanism and can normally be installed within 15 minutes or so. 
Others are slightly more complicated and may require the complete replacement of your old lock, deadbolt, and strike plate. If your new lock comes with an exterior component and an internal escutcheon, you'll need to remove your existing hardware.
The exterior component could be a keypad, touchpad, or a keyed cylinder. The escutcheon is the housing that's installed on the inside of the door.
The ease of setup for some doors are easier than others. With a reasonable set of DIY skills, setup can be easy with the given instructions, as well as instructional videos online.
If you aren't comfortable with installation, you can hire a professional locksmith who should have no trouble with installation.
How to install the August Wi-Fi Smart lock in under 5 minutes
FAQs Frequently Asked Questions
Are Smart Locks Worth It?
Yes, smart locks are worth it for the many features like keyless entry and remote locking/unlocking that offers the ultimate convenience and peace of mind that you you'll never leave the door unlocked again.  Also imagine walking up to my front door with six full grocery bags and never needing to search for keys, because the door will automatically unlock.  
Do Smart Locks Require a Smart Home Hub?
No, but they may lack some features that a smart home hub can offer, such as voice control and integration with other smart devices like smart lights and video doorbells. Apart from losing these functions, a smart lock will work without a smart hub.
How Secure are Smart Locks?
Physically, they are as secure as a standard lock. Concerns about Wi-Fi security and passwords can easily be addressed by the user strengthening passwords and limiting access to the security settings. 
Can Smart Locks Be Hacked?
Unfortunately, any connected digital device can be hacked and smart locks are no different. However, steps can be taken to minimize these risks with strong passwords.  
Can I Use a Regular Key With a Smart Lock?
While not every lock offers this option, many do. A high percentage of the locks on the market will be retrofitted over an existing lock and still allow a key to operate the lock. The August smart locks are examples of those locks. Others that come with a new locking mechanism may still have the function depending on make and model. 
How Much Do Smart Locks Cost?
Depending on the make and model prices start around $100 and can cost up to $1200. On average they cost around $200 with the most common price ranges purchased between $150 and $400.
Can Alexa or Google Assistant Control Smart Locks?
Depending on the lock then Yes. Wi-Fi connectivity is required for this, unless you are attached to a third party Zigbee or Z-wave smart home hub, which in turn is hooked into your Wi-Fi network.
How to Install a Smart Lock?
Installation varies from lock to lock, but in many instances, only a screwdriver will be needed. All lock manufacturers provide detailed instructions with locks. Some will provide videos too, if not, you can usually find installation videos on YouTube.com. 
Do I Need a Smart Doorbell With My Smart Lock?
Not necessarily, but smart doorbells can work in conjunction to increase the safety and security of a home. Video doorbells can let the home owner see who's at the door and use the smart lock app to unlock the door, no matter where they are.