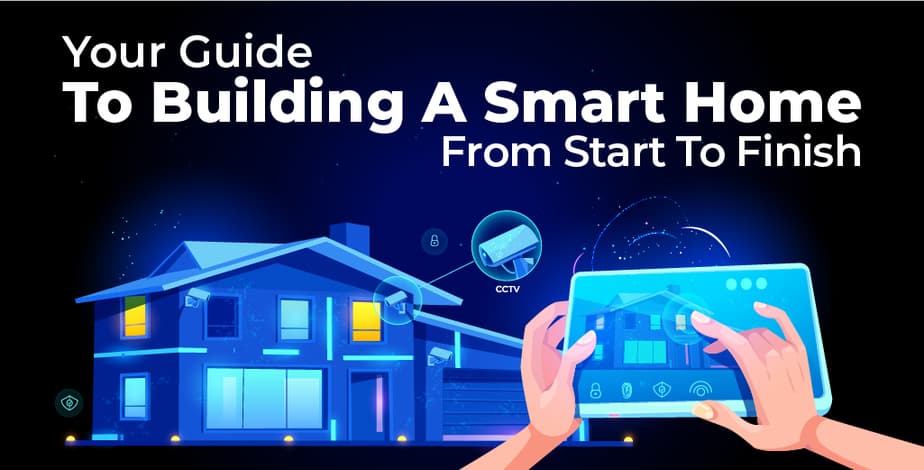 Technology has evolved beyond recognition over the past few years. The futuristic devices used in sci-fi movies and television shows that were once deemed almost magical have now become real-life appliances that are abundantly available to us.
Amongst all of this new technology, it's Smart Home devices that are becoming increasingly popular. Companies including Google, Amazon, and Apple all have their own voice-activated assistants eagerly waiting for you to command them into action.
Sitting stylishly in your house, these assistants are the key to creating a fully functioning Smart Home. Think of a virtual assistant as the brain that's connected to the rest of the technology in your home, sending signals to different appliances and devices. They will bring them to life and enable them to carry out any command you ask.
Where do you begin when it comes to designing and setting up a Smart Home though? With multiple devices available to us, there's no denying that it can become a little confusing. Choosing your devices is only half the battle too. Once they've arrived at your front door, setting them up can be a seemingly daunting task. 
Don't worry – we're here to help!
We've put together this ultimate guide to building a Smart Home from start to finish. Here you'll find everything you need to know about setting up your Smart Home and the benefits of creating one. 
You'll even find some creative ways to get the most out of your Smart Home devices, and we'll explain in a little more detail some of the misinformation surrounding your privacy when using a virtual assistant. 
So, take a seat, relax, keep reading, and pretty soon you'll be enjoying everything a Smart Home has to offer. 
What Is A Smart Home?

Before we start looking at how to build your Smart Home, let's take a moment to look at what a Smart Home actually is. 
Put simply, a Smart Home is any household that is fitted with appliances and devices that can be controlled through an internet connection. This can include lighting, security systems, and energy. You can even use Smart Home devices to start your kettle boiling without ever having to leave the comfort of your favorite armchair. 
Smart Home devices can be controlled remotely through voice-activated assistants as well as cell phone apps. You can also integrate the two, giving you the power to activate your appliances both at home and when you're away. 
Contrary to popular belief, creating a Smart Home isn't that expensive either. Depending on the aspects of your home you'd like to control remotely, you can achieve an effective Smart Home without having to spend very much money at all. 
Building a Smart Home isn't an overly complicated process either. A lot of Smart technology is incredibly user friendly and can be set up in minutes, which only adds to their appeal and the convenience they are designed to provide us with. 
What Are The Benefits Of Having A Smart Home?
There is a common misconception that building a Smart Home is a bit of a fad. Sure, there are certain elements that bring a lot of fun features to your home that may not be entirely necessary for day to day life, but there are many benefits of having a Smart Home too. 
Security is one of the biggest benefits. Smart cameras work via an internet connection and allow you to keep a close eye on your property when you're away from home. A smart thermostat gives you the ability to monitor your home's energy consumption and ensure you're only using what you need. 
These are just a couple of the benefits a Smart Home comes with and we'll go into further detail on those a little later on, but the list of possibilities and benefits is virtually endless. 
One benefit of having a Smart Home that you might not expect is that it can save you money. Monitoring your energy consumption and only powering certain appliances when you need to use them keeps more money in your wallet and the balance on your household bills low. 
A Smart Home is also super useful for anybody with a disability and who may need that extra bit of help around the home. Whether it's adjusting a thermostat, controlling a kitchen appliance, or setting a smart robot vacuum to work cleaning your carpets, a Smart Home setup can help to give more independence to those that need it most. 
Building a Smart Home is incredibly beneficial to busy families as well. A quick request to add something to your shopping list and it'll be noted down for you, preventing any of those frustrating "I forgot to buy…" moments from occurring after a trip to the grocery store. 
You can even set up multiple users on the same Smart Display/Speaker, and it will use voice recognition technology to allow that person to create their own personalized playlists or remind them of something. Examples include the Echo Show 8 vs 10 vs 15 Smart Display/Speakers.
4 Key Components Of Any Smart Home
When you start looking into building your Smart Home you'll find that there are many exciting smart gadgets available. However, before you get too carried away, it's a good idea to think about the 4 key components that any Smart Home needs. 
If your voice-activated assistant or cell phone is the brain of your Smart Home, think of these key components as the skeletal system of your set up. Any other gadget you invest in will more than likely run from one of these aspects. 
Below, we'll discuss each of these key components in a little more detail. We've also got some great examples of the types of devices associated with each of them. 
Security

The first, and arguably most important, key component of your Smart Home is security. We're all spending more time at work and, when we're not in the office, we want to spend as much time with family and friends as possible. 
These things add up to an increased amount of time away from home, which often leaves our properties unattended and potential targets for home intruders. However, with Smart Home security devices, you're given the opportunity to monitor your home when you're away and prevent any break-ins. 
Wi-Fi enabled security cameras placed in and around your property allow you to check in whenever you like. Simply log on to the relevant app using your smartphone and you'll be able to flick between rooms and view the perimeter of your property directly on the screen.
Smart security cameras also act as a very effective deterrent and just their presence is often enough to make any potential intruders think twice about entering your property.
Another fantastic device that can be used with home security in mind is a Smart Doorbell. These feature a camera that activates as soon as somebody presses the doorbell, alerting you to their presence. 
This is ideal for keeping your property secure when you're away from home as you'll be able to see who is at your front door through your cell phone's screen. It's also an effective deterrent as any potential intruders will be aware that you can see them. You'll also be able to alert a neighbor or your local police if you believe there is a suspicious person in the area.
You might be surprised to learn that some insurance companies will offer you a discount on your home insurance once you've installed a Smart Home security system and Smart security devices. So, not only will your family and property remain protected, you'll be saving yourself a lot of money in the long run. 
Lighting

The next key component to consider is your lighting needs. This is more than pure aesthetics though, and your lighting setup can also help to enhance your home security. Away from home? Simply click your lights on through your smartphone to give the impression that your property is currently occupied. 
You can even use Smart Home devices to create a lighting schedule. Again, this is ideal when you're away from home and want to give the illusion of somebody being there. You can even get Smart security lighting that allows you to illuminate the perimeter of your home to act as a deterrent. 
Moving away from security and focusing a little more on aesthetics, a Smart lighting system is a fantastic way to create different ambiances in each room. You're also given the ability to adjust your lighting levels whenever necessary. 
For example, perhaps you'd like a warm, welcoming glow in your kitchen to help provide a relaxed dining experience. However, once your guests have vacated you'll need to be able to see a little more clearly when it comes to cleaning up.
A quick "Hey, Google…" or "Alexa…" and your kitchen lights can be brought up to full brightness. You can use your smartphone to adjust brightness too, giving you the ability to easily create the perfect levels of lighting. 
Some lights even allow you to switch between different colors. This isn't only ideal for creating different ambient effects throughout your home, but can also be used as a night light for children. 
Being able to adjust your lighting in this way comes with a hidden benefit too. Lighting, along with other electronic devices, takes up the second-largest share of energy use in the majority of US homes. By being given the ability to dim brightness, change colors, and create schedules, you'll notice a reduction in your monthly energy bill and you'll be reducing your carbon footprint. It's a win-win situation! 
Energy

Traditionally, monitoring energy consumption has required complicated meter readings that only a trained professional can understand. However, thanks to Smart Home devices, this is now a thing of the past.
But why is keeping an eye on our energy consumption important? There are two main reasons for this – climate change and personal finances. The more energy your household uses, the more of an impact it has on the environment. You'll also be left with a fairly large energy bill if you're unable to keep your levels in check too.  
By creating a Smart Home you're able to reduce both of these things and, luckily, there are devices that can help us achieve that. 
A smart thermostat is the most effective of these devices and also comes with multiple benefits. First of all, you'll be able to use energy much more efficiently than before by setting your heating to come on when you're on your way home, instead of warming an empty house all day long. 
You can also create a heating schedule that is much easier to set up than some of the confusing thermostat settings traditional heating systems use. No more sliding between dates, times, and different temperatures. It can all be done very quickly and simply from your smartphone or tablet. 
Having this control over your energy consumption has a direct impact on your carbon footprints, so it's ideal for the environmentally conscious person. 
It's not just the planet that benefits from a smart thermostat either. Having more control over your energy consumption means your energy bill could be a lot cheaper too. This keeps your bank balance looking healthy and gives you the opportunity to save a little more of your hard-earned cash. 
Another important thing to mention is that a lot of power companies will offer you a rebate when you buy a Smart thermostat. This puts money directly back into your pocket and allows you to start saving money straight away. 
Appliances

The final key component for any Smart Home is to start thinking about what appliances you want to make smart. This is where you can really start to have fun with your chosen devices. Want to preheat your stove on your way home from work or start a load of laundry when you're out of the house? It's all achievable with a Smart Home device!
There are two main options available to you when you're considering appliances for your Smart Home. The first of these is Smart appliances. These feature technology that will link directly to your voice-assistant and smartphone and give you the ability to power them on and off. 
The second option is a WiFi plug. This connects directly to your power outlet and allows you to continue using any of your current appliances by connecting them to the WiFi plug instead of the wall socket. 
WiFi plugs can be used with voice-activated assistants and smartphones in the same way that a Smart appliance can, they are just a little less feature-packed than Smart appliances. They come with the added bonus of being cheaper though, which means you wouldn't have to invest in new appliances straight away when setting up your Smart Home. 
Where To Start?
Before you dive straight in and begin purchasing a wide variety of Smart Home devices, it's a good idea to start by creating a 'dream list' of what you'd like your Smart Home to be capable of.
Try breaking it down into 'needs' and 'wants'. You need home security. You want to be able to stream your favorite TV show simply by asking your voice-activated assistant on a Smart TV. 
This is a great way of budgeting your switch to a Smart Home too. By focusing more on the things you need and that you'll actually use, rather than purchasing a device you might only call upon every so often, you'll definitely save yourself some money. 
With that being said, it can be difficult to fight temptation, so it's worth making yourself a wishlist too and revisiting it when you've got a little extra cash. With devices such as a Smart thermostat installed, that probably won't take too long either!
Once you've figured out what you need from your Smart Home, you'll need to get yourself a virtual assistant / smart home ecosystem. Think about which brand works best for you. There are a few to choose from, but the two giants in Smart Home technology are Google and Amazon, offering you 'Google Home' and 'Alexa'. 
Both of these are powerful home assistants and, while there are some devices that can only be used with certain brands, the majority of appliances and devices are compatible with both. This means that the choice you make will ultimately come down to personal preference. 
Bear in mind, however, that you don't necessarily need to stick to just one brand. You can use both Google Nest and Alexa throughout your home. By using both you'll be able to take advantage of any brand-specific devices you come across during a sale too.  
Whichever assistant you decide to choose, one thing you need to be absolutely certain of is that you've got a strong WiFi signal throughout your home. Smart Home devices are powered by WiFi and any weak spots or dips in connectivity will cause your assistant to not function properly, and cause you untold frustration in the process!
Now is the time to contact your internet service provider and ask them to do a line-strength check. They will also be able to advise you as to whether you need any kind of upgrade in order to keep your Smart Home working effectively.  
A good general rule of thumb when looking at your internet speed is to allow 5 mbps for every 10 Smart devices in your home. If you're installing Smart security cameras, add another 5mbps per ten. 
How To Build Your Smart Home

Once you've decided which assistant you'll be using and that your internet speed is up to standard, it's time to start building your Smart Home.  
There are two factors to building your Smart Home. First of all, you need to install your chosen devices. Secondly, you need to create some 'routines'.
Start by installing your 4 key components (security, lighting, energy, and appliances) and then build the rest of your Smart Home around these. Next, you can start figuring out the routines and automation available to you across your devices.
You might be wondering what a 'routine' is. Put simply, a routine is a sequence of tasks your Smart Home will carry out once programmed to do so. Don't worry – it's not as complicated as you might think!
Apps, such as Google Home, allow you to create and adjust routines easily with fairly self-explanatory, user-friendly operation. These include drop-down menus and the option to name voice-commands in a way that is most natural to your vocabulary. 
The first thing you need to do to get your routines up and running is to name your devices. We're not talking about humanizing them, although there's nothing to stop you from doing that if you wish! Simply naming each one after the room it's located in is more than suitable. 
Names such as 'Kitchen Speaker', 'Living Room Lights', and 'Kettle', will give your overall Smart Home set up everything it needs to understand what you want it to do. It'll also make creating your routines much easier.
You can even create groups of speakers which is particularly useful if you're listening to your favorite playlist and moving between rooms while carrying out some household chores. Collating all of your speakers into an 'Everywhere' group will keep the same tracks playing at the same speed across all speakers in that group. 
When you start building your routines, think about certain situations you find yourself in on a daily basis, and the way in which your Smart Home will be able to help you.
Let's use waking up in the morning as an example. You can build a routine that best suits your morning needs by powering a couple of lights on, boiling the kettle, getting the day's weather report, and playing your favorite radio station. 
Another example would be your journey home. Perhaps it's a cold, dark, winter evening. You can use automated sequences in this situation by turning your heating and your lights on, and preheating your oven ready for a delicious, warming meal upon your return home. 
As we mentioned above, you'll have the ability to command these routines into action through a chosen phrase. This means that when you wake up you can simply say 'Hey Google, good morning", and your routine will power into action.   
Likewise, the phrase "Alexa, I'm coming home", spoken into the corresponding smartphone app will get your personalized routine started. 
Using voice-activated technology can take some getting used to, and you can feel a little ridiculous when vocally commanding a stationary object. It doesn't take a long time to feel comfortable with it though and, after a short while, it'll feel perfectly natural. 
Essential Devices You Should Have
While there is a Smart device available for practically anything you can dream of, there are a few essential devices that every Smart Home should have. These lay within the 4 key components and will offer you security and help save you money on your household bills. 
Keeping the 4 key components in mind, let's look at the most essential devices for each category. Keep in mind that budgets vary from person to person too and that you don't necessarily need to install all of the recommended devices. A couple across each category is a fantastic place to start.
Security
Smart Security Cameras
Smart Doorbell
Smart Security Lighting
Smart Security Alarm System
Lighting
Smart Bulbs
Smart Light Switches
Energy
Smart Thermostat
Smart Power Outlets
Smart Air Conditioner 
Power
Smart Appliances
WiFi Plugs
It's important to remember that what might be deemed as essential for one household might not be essential for yours too. So, as with setting up your Smart Home, give a little thought to the devices you need before purchasing the devices you want. 
There are also certain Smart systems that can integrate with your chosen virtual assistant to make things even easier. The majority of these require apps to be downloaded to your smartphone, but once you've paired them with your Smart Home platform, you'll be unlikely to use them again. It's worth keeping them on your phone though, just in case something goes wrong with one of your devices.
Some of the best Smart device brands that can be paired with Google Nest, Alexa, and more include:
IFTTT
Philips Hue
SmartLife
Gosund
Using these third-party apps give you more freedom and control over routines and automation. It is important, however, that you check whether the one you're thinking about purchasing is compatible with your virtual assistant. 
You can add to your collection of essential devices over time too. As life changes, different needs will come into play, so remember to reassess which Smart Home devices are essential for you and your family every so often. 
Creative Smart Home Ideas

The devices above fall into the 'essential' category as they will form the bare bones of your Smart setup. However, once you've got those installed and you're confident with using them, it's time to start having a little more fun!
Using your Smart Home's routines and a couple of chosen devices, there are a ton of creative ways you can use your chosen devices. Below, you'll find some fantastic examples of how you can set your Smart Home up in a way that helps you beyond security and energy monitoring. 
Blink the lights when your Uber arrives
This is a super handy way of knowing when your driver is here and keeping your star rating in good shape! Using a device, such as IFTTT, you can connect your Smart lighting to your Uber app.
When your notification comes through, your lights will start to blink and you'll know they've arrived! This is also really useful if you're away from your phone when your car shows up.
Schedule your holiday lights
Why not step up the neighborhood holiday light rivalry a little more by using your Smart Home's routine to schedule your holiday lights. Devices such as the GE-Z Wave allow you to program what time your lights come on and what time they switch off. You'll also be able to use your cell phone to power them on using your smartphone when you're counting down to the big reveal. 
A WiFi plug will allow you to schedule your indoor holiday lights too. This is ideal for creating a dazzling interior light display that only comes on when you want it to, saving you energy and money in the process. 
Find out when the mail is delivered
The boredom and frustration that comes with waiting for your postal worker to arrive can now be a thing of the past with a multipurpose sensor. The magnetic design works by installing one half of the sensor to your mailbox and the other half to your door. As soon as the sensor is triggered, you'll receive an alert letting you know that your mail is delivered.
This is also a great way of intercepting any special packages you may be waiting for as part of your holiday shopping, allowing you to get it out of sight before another member of your family spots it!
Soak your lawn if a house fire is happening
Some Smart Home devices are so clever that they can even help to protect your home and your family in the event of a fire. You can do this by connecting Smart sprinklers installed on your lawn to your Smart smoke alarm. If the alarm isn't silenced in the allocated amount of time, the sprinklers will start spraying water all over your lawn as a way to prevent the fire from spreading. 
This is a good way of ensuring your neighbors are protected should a fire breakout and will help to contain it and prevent it from spreading from house to house. 
Create home cinema lighting
Why not try using your Smart lighting to enhance family movie night? Set a routine for the lights to dim or change color, power up the popcorn maker, and turn on your surround sound system with a simple command like 'Movie night'. 
This is great in a variety of situations. Kids will love the cinema-like experience, and it's perfect for a cozy night in front of a good movie with your partner too. 
Pet monitoring when you're away from home
Do you ever wonder what your pet gets up to when you're not at home? Well, now you can know for certain with your Smart Home devices! Interior security cameras will allow you to keep a close eye on your furry friend and their antics while you're away. 
You can even install a Smart treat dispenser to give them the occasional snack while you're at the office. These often come with integrated cameras too, giving you another angle to see what your pet is up to when you're not there.  
Announce to other rooms
One really useful thing you can do if you have multiple virtual assistants placed throughout your house is to make announcements into other rooms. For example, you're in the kitchen serving up dinner and the kids are upstairs doing their homework. 
A quick command to announce that dinner is ready to the relevant named speakers, and you're no longer yelling up the staircase in an attempt to gather people at the dinner table. 
Privacy and Security In Your Smart Home

There is a lot of fear around installing Smart Home devices. From government surveillance to targeted advertising, the rumors and conspiracy theories that come with building a Smart Home are in no short supply. 
Are any of them true though? And is your privacy and personal security really at risk of being compromised through your Smart devices? 
The first thing you should know is that there is no evidence at all of a government agent sitting at a desk, waiting with bated breath for you to speak into your chosen virtual assistant. It's a safe bet that the CIA and FBI have better things to do than listen to you as you ask for your lights to change from green to red. 
One thing that a virtual assistant, such as Google Home or Alexa will do, is listen to your most common commands and use those to learn and anticipate your needs. It does this by not only listening to what you say but recording it too. With this in mind, it is possible that your virtual assistant might then mistake certain words and phrases as commands and begin recording. 
It's these recordings, however, that allow for advances in technology to continue. Building a Smart Home isn't without its security risks, so it's important that you're comfortable with what it's listening out for. 
If privacy is something that concerns you greatly, there are some things you can do to keep yourself as protected as possible.
Research: Different brands have different privacy settings, so it's worth contacting the sales team of the brand you're considering using and asking them to talk you through their privacy policy. There is no obligation to purchase at this stage, you're simply gathering information.
Update Your Devices: We're all aware of the notification that flashes up on our smartphones from time to time asking us to update the software. The same thing happens for Smart Home devices. while this might be a little annoying, updating when prompted will help to prevent any security breach that's been found in an earlier version. So, stay up to date and your privacy will be much safer.
Replace Devices: As technology evolves, older models of Smart Home devices will be unable to support new software upgrades. Once this happens to your current Smart Home set up, it's time to replace it. This will help to protect your privacy from any potential threats that might come from older versions of software.
Personal Information: Don't provide any personal information, such as your address, date of birth, or social security number when you're setting up your Smart Home devices. They don't need them to function. 
Turn Off The Microphone: If you don't want your virtual assistant listening to you unprompted, the best thing to do is switch the microphone off. You'll need to remember to turn it back on when you want to use it, of course, but at least you'll be able to rest assured that it won't be able to hear you.
For the most part, privacy and security aren't too much of a threat when you're building a Smart Home. Your chosen devices are there to help you and make life a little easier. The benefits of a Smart Home set up far outweigh any security issues, but there are certain steps you can take to protect your privacy if you're particularly concerned. 
Building a Smart Home Final Thoughts
It's fair to say that, in the modern world, it's almost impossible not to have a Smart Home. All technology is starting to evolve with Smart Home integration in mind, and it's not without good reason.
The convenience of a Smart Home is unparalleled. Routines and commands allow us to live in a way like never before, making daily activities easier and more manageable. Whether it's simply boiling a kettle or turning on a light, we can achieve almost any household task with ultimate ease.
Smart Home devices can also help us become more environmentally conscious. We're now able to monitor our energy consumption in a clearer way than traditional thermostats and meters ever allowed us. We can use this to keep a close eye on our energy expenses too, putting more money back into our own pockets. 
It's important to think about your privacy before you decide whether building a Smart Home is the best option for you. Research your chosen devices thoroughly and make sure you're comfortable with what they're listening out for.  This isn't as scary as you've been led to believe and there's not really anything to be too concerned about. Remember, you've always got the option of personalizing your privacy settings too.
In conclusion, building a Smart Home is a fantastic way to bring your household into the future. It's a great tool for people of all ages and can be an invaluable asset for anybody that requires a little more assistance in their daily life.