It is not easy keeping your home clean. When you lead a busy life, getting some help from a robot vacuum can save you some time. You just have to choose the best one, and the iRobot Roomba 690 vs Ecovacs Deebot 500 are two viable options.
It is inevitable that your floors are going to get messy no matter how hard you try to prevent messes. Because of this, most people will need to sweep and vacuum their floors several times per week. This can take a lot of time, and it is the last thing that you want to do after a long day at work.
A robot vacuum can be the solution to this problem. When you are at work, these vacuums are working too. They function on their own, helping to save you time.
The only choice you need to make is which one is best for your space. Exploring the iRobot Roomba 690 vs Ecovacs Deebot 500 gives you two good choices.
Quick Comparison: iRobot Roomba 690 vs Ecovacs Deebot 500
Features
Run Time
Filter
Voice Control
Scheduled Cleaning
Spot Mode
Weight
#1. iRobot Roomba 690
Our Best Pick

Check Price

60 Minutes
AeroVac
Google Assistant and Alexa
Yes
Yes
7.8 Pounds
#2. Ecovacs Deebot 500

Check Price

110 Minutes
High-Efficiency
Google Assistant and Alexa
Yes
Yes
4.4 Pounds
Brand
Ecovacs vs Roomba – both of these brands are top robotic vacuum brands. You could try to say that Ecovacs is a newer company, but they've been around for 20 years in China and over half the market share in China. That background should make them serious contenders against the legendary iRobot and its line of Roombas. Let's take a look and see if that's the case.
Charging and Battery
Both of these vacuums use lithium batteries, ensuring that they can be recharged often without losing any of their power. Each vacuum gets a solid run-time, ensuring that by the time you get home from work, your floors are fully vacuumed.
When each vacuum's battery gets too low, the units know that they need to return to their base. Here they will recharge in three to four hours. If further cleaning is needed, they will go back out into your home to finish it.
Navigation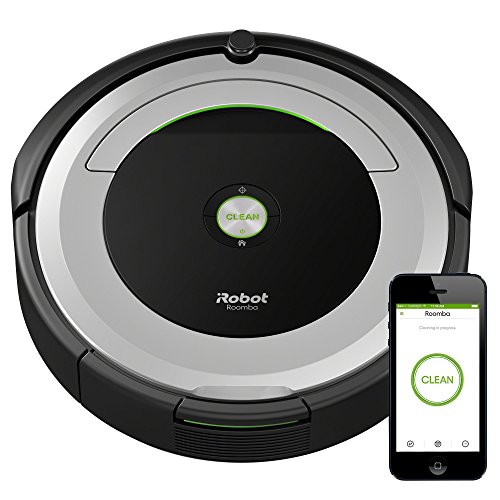 Neither the Deebot 500 nor Roomba 690 have advanced mapping technology.
The Roomba 690 has a variety of sensors that help it know where it is going. They can detect obstacles and tell the vacuum the areas of your floors that it has already cleaned. This helps the vacuum to keep moving through your home as efficiently as possible.
The Roomba makes approximately 60 choices for every second that it is operating. It also will not fall down any stairs due to its cliff detection sensors.
The Deebot 500 is also able to get around obstacles in your home with ease. It has sensors that prevent it from falling down your stairs and others to prevent collisions with walls and other obstacles. These help it to keep moving to ensure all of your floors get the same level of cleaning.
iROBOT Roomba 690 Vacuuming Robot with WiFi!
Brushes and Cleaning
The Roomba 690 works well to loosen debris before it sucks them into the dust bin. This is thanks to its multi-surface brushes. These brushes are equally effective on all floor types, from lush carpeting to hardwood floors.
It has strong suction power. Because of this, the Roomba 690 is able to efficiently pick up dust and other small debris so that your floors are as clean as possible.
The Deebot 500 has a brush on either side of the unit and a primary brush. It is able to tackle all sides of the track that it is traveling. Like the Roomba, these brushes are able to lift debris so that the vacuum sucks it into the dust bin.
The edge mode on the Deebot gets up against the walls in your home to remove accumulated dust. This helps to pick up what is usually left behind by a traditional vacuum.
Maintenance
Both of these vacuums will require that you perform routine maintenance to ensure that they are always ready to use. Both of them have a removable dust bin that you simply dump out to remove the debris that the vacuums pick up.
The Deebot 500 is a bit easier to work with regarding this task. While the Roomba 690 usually requires that you manually remove some of the debris from the dust bin area, this is typically not an issue with the Deebot 500.
With the Roomba 690, you may need to use your finger to loosen any accumulated debris so that it comes out before you put the dust bin back into its compartment.
Pros and Cons
In the Deebot vs Roomba comparison, the iRobot Roomba 690 vs Ecovacs Deebot 500 are both solid robot vacuums. By looking at their pros and cons, you can make it easier to pick the one that best fits your needs.
iRobot Roomba 690
Pros
This vacuum has a solid run-time
If you have pets, it removes their hair efficiently
You can maintain this vacuum within minutes
Cons
Similar vacuums operate more quietly
Ecovacs Deebot 500
Pros
It is compatible with Alexa and Google Assistant
The max suction mode increases its cleaning power
You can clean a large area on a single battery charge
Cons
Similar vacuums have better navigation
Conclusion
Now that you have a thorough comparison of the iRobot Roomba 690 vs Ecovacs Deebot 500, it is easier to see which of these robot vacuums will best serve your needs. Both of these devices have their benefits, but the iRobot Roomba 690 has a little more to offer.
The iRobot Roomba 690 has more cleaning power, making it a better choice for pet hair and floors that get messy often. Its brush system efficiently pulls debris from your rugs so that you get a deep cleaning. This vacuum also navigates better, allowing it to get more of your floors clean in less time.