Shark is known for making good, affordable upright vacuums before making their first robot vacuum, the Shark IQ. Will the Shark eat the incumbent leader iRobot Roomba in this battle of the old vs new?
I compare the Roomba 960 vs Shark IQ to see which one will eat up the dirt and debris in your home more.
In a hurry and want to know the answer?
The Roomba 960 wins this matchup of the Roomba 960 vs Shark IQ. The newcomer Shark IQ does a good job by packing many features into its robot vacuum, but it doesn't match up to iRobot and its best-selling Roomba 960.
iRobot and its lineup of Roomba models is the leader in the robot vacuum industry. Let's dig into the details of how and why the Roomba 960 comes out on top.
Features
Size Dimensions
The dimensions of the Roomba 960 are 13.8" wide by 3.6" tall, which means that it is low enough to go under sofas and other furniture easily. The top panel is of the Roomba standard design, with SPOT CLEAN, CLEAN and HOME buttons right where you'd expect them to be.
The color of the Roomba 960 is space gray on the top panel, a black highlight in the center where the buttons are, and the gray is surrounded by black all around the robot vacuum unit itself.
The Shark IQ is designed rather similarly to the Roomba 960 – circular with buttons on the top panel and has a carrying handle. The major difference is in the color – it is completely all-black, and has prominent Shark branding on the top panel.
To be honest, it looks a little dull – Shark probably focused more on performance than design for this model. The dimensions are 12.6" in width by 3.5" in height. Smaller and shorter (albeit by a tiny amount) than the Roomba 960.
Weight
The Roomba 960 weighs 8.5lbs and features a carrying handle that makes it easy to transport around the house if you need to. The weight itself is similar to that of a newborn baby so it won't be a back-breaking task to carry it one handed across rooms.
The Shark IQ is lighter by quite a bit, weighing in at 6.9lbs. This lower weight is great for carrying around the house, but it might leave some people worrying about the strength of the unit to withstand knocks and bumps.
Generally, lighter electronics tend to get too flimsy to handle impact. Thankfully according to most users the Shark IQ seems to withstand the rigors of daily cleaning pretty well.
Battery and Capacity
The Roomba 960 features a 14.4v lithium ion battery that powers it through 75 minutes of nonstop cleaning on a single full charge.
A great feature on the Roomba 960 is that once the robot vacuum detects that its battery is running down too low to continue in the middle of a job, it automatically finds its way back to the dock to recharge.
The 960 has a Recharge and Resume feature that allows the 960 automatically recharge and after recharging for 2-3 hours, the 960 will continue cleaning from where it left off.
The Shark IQ has an impressive runtime of around 90 minutes – more than that of the Roomba 960. Like the Roomba, the Shark IQ also has a recharge and resume function that restarts its cleaning job where it left off.
A full recharge from empty takes about 300 minutes on the Shark IQ – much more than the Roomba 960. That's a big consideration if you have a large home and need more than one cycle from the robot vacuum to do a complete clean.
Filtration
The Roomba 960 comes with iRobot's standard High-Efficiency filter that traps 99% of airborne particles such as dust, mites, and harmful allergens from dogs and cats while the Roomba 960 is cleaning. This feature keeps the air quality in your home safe and protects those living with you who are prone to allergies.
The Shark IQ is not one to be beaten – it also features a High-Efficiency filter onboard that offers the same protection for you and your family when it does its cleaning around the house.
Brushes, Suction, and Cleaning Technology
The Roomba 960 offers superior cleaning performance – 900 Pa of suction power allows it to efficiently make short work of anything you can throw at it – from dust and hair, to bigger debris like cereal, rice and other assorted items of similar size.
The proprietary iRobot 3-stage cleaning system uses the Roomba's side brushes in conjunction with the dual rubber brushrolls underneath to create a powerful vacuuming experience. That's become one of the main reasons why Roombas have become such a household name in robot vacuums.
There are 3 cleaning modes you can choose from on the Roomba 960 – single pass mode is when the Roomba is programmed to just make a single round of cleaning around the area. Double pass mode makes it go two rounds instead of one. Automatic mode gives your Roomba full autonomy to gauge how many passes it should take around your home.
Being honest, the Shark IQ's cleaning performance isn't exactly something to rave about. Compared to the Roomba, the lackluster suction power and a tendency to get stuck in random places around the house makes it a little heartbreaking. You'll have to physically restart it where it is currently located by pressing the buttons on the top panel.
Just when you need reliable electronics in your life and you don't want to keep having to check on your vacuum every time it does a job.
One saving grace of the Shark IQ is the fact that it self-empties its dustbin whenever it's full (it takes about 10 full cycles to fill up the dustbin) – making maintenance easier.
The self-emptying version of the Shark IQ is cheaper than iRobot's cheapest self-emptying robot vacuum, the Roomba i7+. But the i7+ is in another class when it comes to being compared to the IQ, so the price comparison isn't fair either.
The Roomba 960 features the iAdapt 2.0 navigation system (with vSLAM) in conjunction with an array of acoustic sensors and a front facing camera. That combination allows it to effortlessly navigate throughout the corners and crevices in your home, avoiding obstacles and dangers such as cliffs and stairs.
Mapping capabilities are built-in to the Roomba 960's internal computer – this means that a virtual floor plan of your home is created to allow the Roomba to clean more efficiently. It's also key to remembering where it's already cleaned when it engages Recharge and Resume.
The IQ Nav navigation system on the Shark IQ leaves a lot to be desired – the navigation can get a little clunky and  the smart mapping system is prone to errors. It's commonly reported that it takes a long time for the Shark IQ to create a virtual map of your home, and even if it does – there's no guarantee that the vacuum will follow the map.
Mobile App and Voice Assistant Control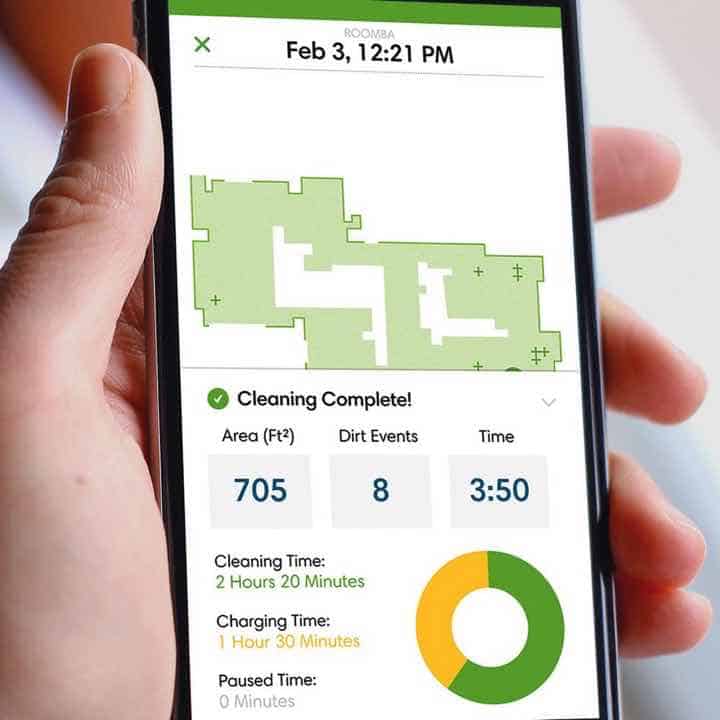 The iRobot HOME app allows you to control your Roomba 960 from your smartphone (iOS or Android). Basic functions such as turning it on or off, scheduling cleaning days and times and also checking the cleaning history and the virtual floor plan of your home can be accessed through the app.
For the Shark IQ, the SharkClean app provides a beautifully designed and intuitive smartphone user experience (for iOS and Android) that will give the user fuss-free control over their Shark vacuum. The basic functions such as turning it off or on, scheduling and spot cleaning certain rooms can be done through the app.
Both the Roomba 960 and the Shark IQ can be connected to WiFi and controlled via voice command through Google Home or Alexa, making for a complete hands-free experience.
Maintenance
The Roomba 960 does not have any self emptying features, so the 600 mL dustbin has to be emptied manually. It normally takes about a week to fill up the dustbin for a normal sized home.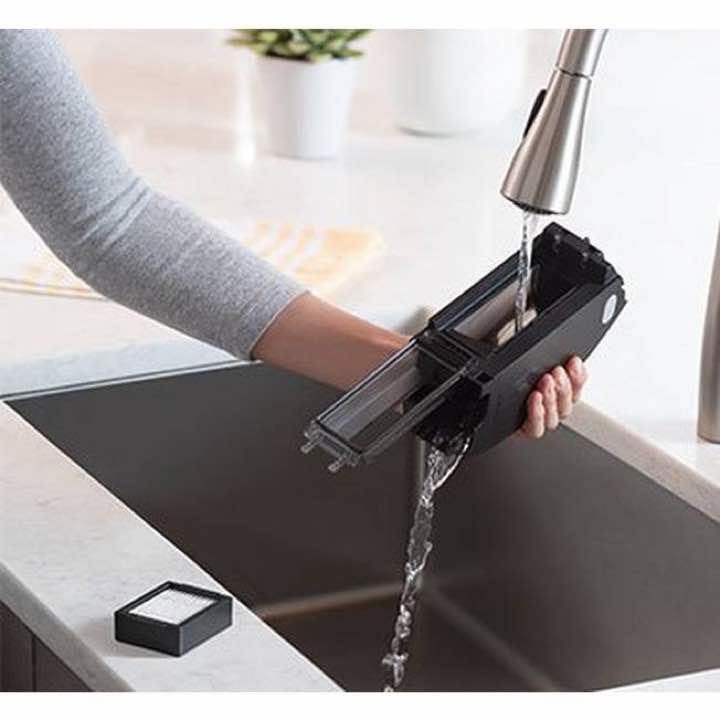 Regular maintenance such as wiping down the electrical contacts to prevent charging issues is recommended. Another maintenance tip is to check for blockages like pet hair entanglement on the brush rolls and side wheels.
The Shark IQ features a self-emptying dustbin that makes maintenance a lot easier. Like any other electronic device, wiping down the unit, electrical contacts and checking for anything blocking the suction system is recommended to keep your robot vacuum working great for a long time.
Additional Features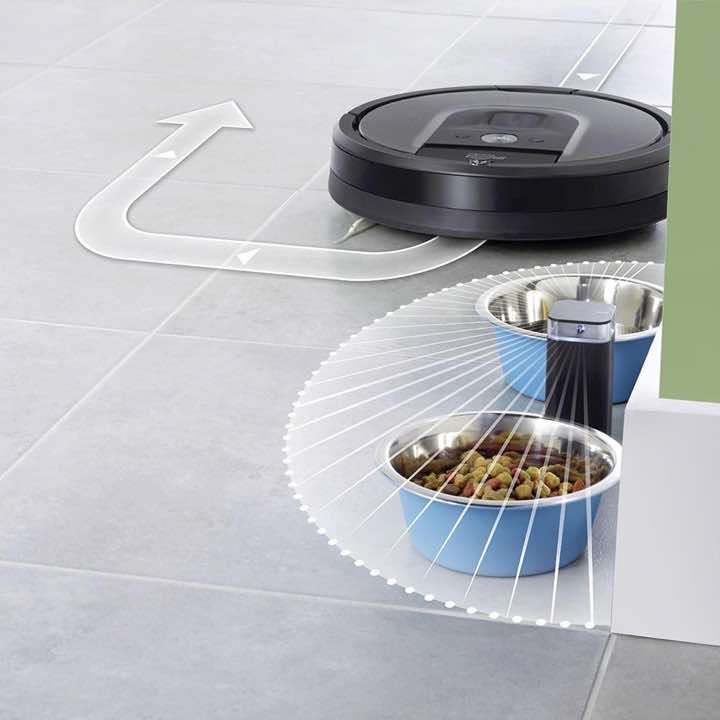 The Roomba 960 comes with a dual-mode virtual wall device, which is a small device that uses infrared rays to block your Roomba robovac's access to certain rooms, hallways or around particular pieces of fragile furniture in your home.
The Shark IQ app allows you to set no-go zones on the virtual floor plan of your home through the app, much like how the virtual wall devices from Roomba does. However, this depends on how efficient your Shark IQ is at creating the virtual map – and by most user accounts, it's just a matter of how patient you are to finally get that virtual map saved into your Shark IQ's memory.
Pros and Cons
Pros
Cleaning performance is great
Navigation system is almost flawless
Cons
Doesn't self-empty
Not very effective at pet hair
Roomba 960 VS Whole House!!! Does the iRobot Roomba 960 have the power and cleaning ability to clean
Pros
Great for homes with pets and pet hair
Intuitive app design
Cons
Not as powerful as Roomba
2 Months with the Shark IQ!!! Shark IQ Review its Pros and Cons 😮
Roomba 960 vs Shark IQ Who is Each For?
Roomba 960 : For those who are looking for a trusted brand (iRobot) of robot vacuums that are reliable and powerful
Shark IQ : For those who want to try new things, new brands and those who like a nice app design to control your vacuum.
Final Thoughts
The Roomba 960 really shines through in this shootout – bringing to the table more powerful cleaning performance, navigational superiority and functionality – even for an aging robovac model.
The self-emptying feature on the Shark IQ is great, but we feel it doesn't really redeem all the less-than-satisfactory qualities it possesses like clunky navigation and poor mapping capabilities. Looks like Roomba wins this round. Which would you pick?