What's the Best Smart Home Ecosystem? What's an ecosystem to begin with?
A smart home ecosystem is a network of smart devices working together to make your home the most comfortable and enjoyable place to be for you and your loved ones. But What's the best smart home ecosystem?
The ecosystem of connected devices is through a central portal that's controlled by you. Whether it's a smartphone app or through a smart home hub, you set your preferences and your smart home takes care of the rest. 
There are hundreds of smart products out there and they're not all compatible with each other. What's the best smart home ecosystem to connect them all together?
So it can be overwhelming and complex when you're just getting started, trying to figure out the best smart home devices and their device compatibility. 
That's why I created the detailed Guide to Building a Smart Home From Start to Finish. The guide helps beginners to figure out where and how to begin with smart homes. 
One of the keys to building a successful smart home is to make sure they can all talk to each other. But what're the technologies that allow them to talk to each other to create a singular ecosystem? 
I'll discuss the various smart home systems and wireless protocol technologies that will allow you to create a routine when you leave your house. 
The ecosystem is what will allow your smart lock to see you've left the house; tell your smart thermostat to turn down the temperature to save on energy costs; turn off the smart lights and smart bulbs; and turn off any smart TV that's still on.
This doesn't necessarily mean that all your devices need to be from a single manufacturer. Some ecosystems and smart products are more flexible than others and have a wider range of smart home integrations.
What Smart Home Ecosystems Are There?
The big players in the smart home ecosystem market are Amazon, Google, and Apple. The ecosystems they offer are Amazon Alexa, Google Home, and Apple HomeKit. 
They have a range of smart home gadgets like the Echo smart speakers, Google Home speakers, Google Nest thermostats, Google Nest Hub, and Apple HomeKit speaker hubs. 
They also offer voice control through their own virtual assistants with Amazon Alexa, Google Assistant, and Apple Siri.
One thing, you'll notice is that words and terms are reused. Eg. Alexa is a voice assistant, but it's also used to reference the ecosystem platform because the devices are controlled by the voice commands you give Alexa.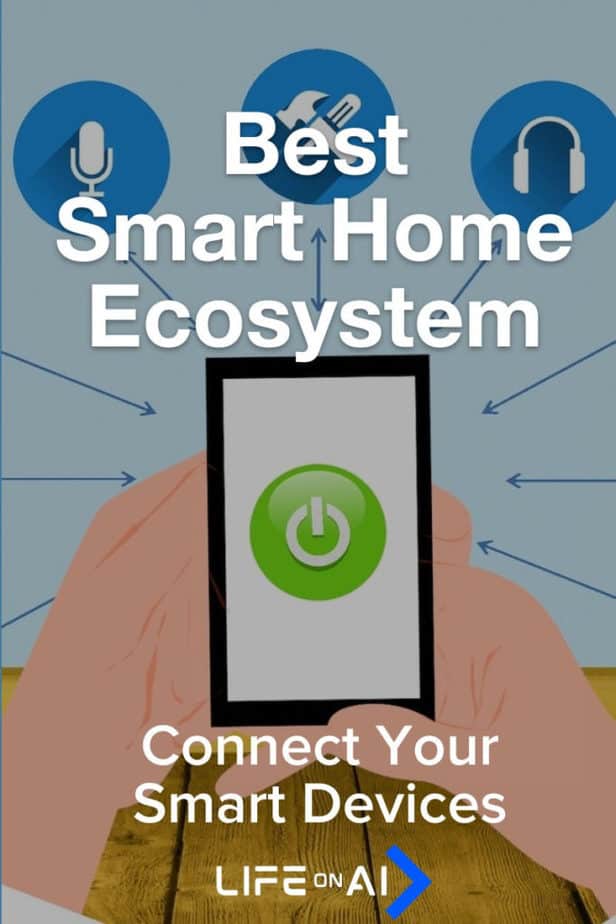 What is the Difference Between a Smart Home Hub versus Ecosystem?
Some might say that a true smart home ecosystem must include a Smart Home Hub, but that's not always the case.
An ecosystem in the generally accepted meaning of the word, is a network of devices that work together in a single environment to create a Smart Home. 
Basically, the ecosystem connects compatible devices together in a single smart home network. These connected devices can be through a physical hub device, but they don't need to be. 
Hubs and ecosystems both provide smart home compatibility to connect smart home devices. 
How to Choose a Smart Home Ecosystem
It's important to think about what it is you want your smart home to do. There are a host of gadgets to provide numerous automation options for you through artificial intelligence. If you have a home security focus, you can also even go with professional monitoring. 
Let's look at the main considerations when choosing the right smart home systems for you. 
What Smart Devices Do You Have?
Maybe you already have some smart devices and now you're looking to connect them all, so you can control them from a single app or platform.
What you'll need to do is see if there's a technology in common already, like digital assistants. 
For example, if you're considering an Apple TV 4K system, then you'll want to make sure that each of your other smart home devices are certified as Working with Apple HomeKit. Apple's speaker offering is the Apple HomePod. 
Another example would be if you have a Google Nest home security system and now looking for a speaker hub setup. Then you'll want to get a Google Home speaker or other compatible Google Assistant devices.
One more example would be if you have an ecobee SmartThermostat with Voice Control, you'll want to learn toward smart home products that are compatible with the Alexa platform.
You can see that you'll want to try and stay within the same smart home technology that your current smart gadgets already have. 
What Smart Devices Do You Want to Add?
The range of devices is massive and growing daily. There are smart lights, smart plugs, video doorbells, smart thermostats, smart home security systems, robot vacuum cleaners, kitchen appliances, etc.
It's best to be clear on what your end goal is and study the market for the range of devices that is closest to your needs. You want to make sure that whatever system you go with, it has the compatibility range to control the devices you need.
The brand names now competing in this market is another list that's growing daily. So, a bit of time is best taken to study the market and make the right decisions. 
Some of the top brands to consider: Philips Hue, Google Nest, Ecobee, Belkin WeMo, Arlo, Eufy, Yale, and August. Of course, there are many more, but that's the point, research into the market is essential.
Budget Considerations
Finally, budget consideration is a huge factor in your choice. There's no need to spend a fortune getting a Smart Home Ecosystem up and running. 
Some of you may already own a hub and just not be aware of it. Any Echo Show smart displays at home? If you have the Echo Show 10 or the 10-inch 2nd generation version, it also acts as a Zigbee smart hub. 
In which case, buying a few smart light bulbs and sockets may well be all you need to get started. Then over time, you can replace and upgrade to get the best smart home devices out there.  
A bit of research is needed to ensure that all your equipment is compatible with your hub. That's what we'll get into in the next section.
Problems with Incompatible Smart Home Ecosystems
Compatibility Issues
Compatibility between different smart hubs and devices is a big consideration. 
If you want to use Alexa, then you wouldn't purchase a Google Home speaker or hub. If you're a Apple fan, HomeKit users should check the third-party devices to see if there's a Works with Apple HomeKit sticker.
Wireless protocols are important to check for compatibility issues. Gear like Samsung's SmartThings can control many devices due to their native support for all popular wireless protocols like Zigbee, Z-wave, Wi-Fi and Bluetooth. 
Systems like Amazon's Alexa and Google Home support a more limited range of wireless protocols, so hardware options might also feel limited. 
But in reality, they have a wide array of products like Echo Dot Alexa speakers and Google Nest Mini speakers that are powered by their respective voice assistants.  
If you're aware of these constraints before you set out on your journey to a fully fledged home ecosystem, the smoother your journey to smart home control will be.
Smart Learning Doesn't Happen
One of the great advantages to having a home ecosystem is its ability to learn from your actions and habits and adapt to suit them. Artificial intelligence helps people offer ultimate convenience through smart home features. 
If your devices from your smart door locks to WiFi routers to smart home hubs don't connect centrally through hubs or digital assistants, you're sacrificing your smart home experience. 
For example, smart thermostats learn your daily routines of when you're home and not home, so it can set the preferred temperatures to save on energy costs. They can turn the heating on too on your way home, so that the temperature is exactly as you like it as soon as you return home.
Or lighting that switches on at a certain time, or smart camera motion sensors that can turn the lights on and off as you move around your home.
For the household functions to happen effectively, the devices and hub need work as one smooth unit. This is less likely to happen, if at all, if you have built a system with individual devices and hubs that don't communicate.
3 Major Ecosystems
1. Amazon Alexa Ecosystem
Alexa, turn on the lights. 
Alexa has come a long way since it was a simple smart speaker that could turn the lights on and off. 
The latest generation Amazon Echo Smart Speakers like the Echo Show 10 can now run your entire home ecosystem. Some smart devices on the market have Amazon's Alexa built in. Including the ecobee4 and the ecobee SmartThermostat with Voice Control.
As far as the number of Alexa compatible products, it's wider than some of its competitors. Amazon's support for the Zigbee wireless protocol also means it can communicate with and control most Zigbee enabled wireless devices. 
This policy of opening its Alexa ecosystem to a wider range of devices also extends to its app and control interface availability.
The range of devices available that work with the Alexa system is staggering and Amazon have made sure that these are controllable from as wide a range of platforms. 
The Alexa app will run on just about smartphone, tablet, or computer. It offers versions of its app that will work on iOS and Android, and can even be accessed from a simple web-interface on any modern browser.
The Amazon Alexa range is one of the most versatile and widely compatible systems on the market.
2. Google Assistant Ecosystem
Hey Google, call my wife. 
Google Assistant and Amazon can be hard to separate, especially since the Google assistant is now available on iPhone. Both offer similar ranges of compatible devices and the latest Google Home products also support the Zigbee Protocol. 
There are certain considerations that perhaps may sway you one way or the others. One being if you have a Nest Thermostat and/or Security System then these are certainly easier to pair with Google Assistant as they're both Google products.
One advantage that Google does offer over Amazon is its ability to accept voice commands from any tablet or phone with Google assistant installed. 
After all, Android smartphones are powered by the underlying Android operating system that Google developed. Google will make sure that Google Assistant is compatible with the wide range of Android devices.
One more advantage that Google offers over Amazon Alexa is familiarity with the underlying Android smart technology. 
If you're already an Android phone or tablet user, then chances are you already have used and know your way around the Google Home app or similar Google smartphone apps. 
3. Apple HomeKit Ecosystem
Hey Siri, schedule dinner for tomorrow night at 6pm.
Apple seems to split consensus exactly down the middle, you're either an Apple user or you're not. Remember these Mac vs PC commercials?
Complete 66 Mac vs PC ads + Mac & PC WWDC Intro + Siri Intro
If you already own an iPad or iPhone then it'll be easy to set up a HomeKit system with a HomePod speaker or Apple TV box. 
If the phone you have in your pocket is an Android phone, then in order to have the Apple system work, you'll need at least an iPad, iPhone, Apple TV, Apple Watch, etc.
This is down to the fact that Apple HomeKit is software that's already integrated into the majority of Apple devices. The downside is HomeKit will only work on Apple devices.
Another result of this is that HomeKit itself is actually a protocol, any device that you want to connect to your Apple HomeKit Ecosystem requires this protocol built in. 
If you're unsure, then check for the Works with Apple HomeKit icon.
Of course, with Siri enabled on any Apple device, the Apple system offers the same advantage as Alexa and Google.
Other Ecosystems
1. Z-Wave Wireless Protocol
Z-Wave is like WiFi, except Z-Wave smart hubs and routers are for home automation devices.
At its heart the Z-Wave system is built around a wireless protocol developed mainly for automating smart homes. The smart products made with Z-Wave run the gamut, so you'll be able to set up your home almost any way you want. 
Z-Wave builds a wireless mesh network of all your different devices using low energy radio waves that can communicate up to 100 meters, 
Z-Wave hubs are easy to set up and can support up to 232 Z-Wave products simultaneously. It runs on a different frequency than WiFi and Bluetooth too, so you won't have any interference with your current home setup. 
2. Zigbee Wireless Protocol
Zigbee is similar in concept to Z-Wave, at its heart is a wireless protocol designed to link low-power, low-data devices in a mesh network on the 802.15.4 standard.  
Its low power consumption results in limited range and depending on the device, it has a range of 10-100 meters line-of-sight. 
However, its mesh networking capabilities mean that data can transmit over longer distances using other network devices as intermediaries.
Zigbee also claims it can support up to an insane 65,000 devices, but who would really have that many devices inside one home? 
Zigbee is supported by Amazon Alexa and Google Assistant home ecosystems.
3. Samsung SmartThings
Samsung provides a hub in the true sense of the word, the SmartThings Hub is a powerful addition to the Smart Home ecosystem range. They also have the Samsung Connect Home that combines the hub and WiFi routers together. 
It's compatible with a massive range of current smart devices and can communicate across the range of current protocols, including Zigbee, Z-wave, Wi-Fi, and Bluetooth.
The Samsung SmartThings ecosystem consists of a hub and an accompanying free app. It's a versatile and popular system and can communicate with a wide range of smart devices. 
This is in no small part due to its support for multiple wireless protocol devices, as well as having its own range of SmartThings devices on the market.
4. IFTTT Recipes
If That Then That (IFTTT) is a unique concept that helps to create connected home ecosystems. 
It isn't really a system. It's a web-based service that connects individual smart devices with individual apps and services. 
For example, if your window sensor detects motion at the window, it will trigger a IFTTT recipe that tells your Nest security camera to start recording and even set off an alarm if you want. 
The Customizable Way to Automate Your Home | IFTTT Review
5. Logitech
Logitech is also worth a mention. Their Harmony Hub is a powerful and capable device that works with over 270,000 smart home and entertainment devices. 
They also provide other devices like the Logitech Circle camera to help keep homes safe. They also offer support for Apple TV and Amazon Alexa devices as well as its own range of smart devices.
Final Thoughts on the Best Smart Home Ecosystems
Smart homes are growing and aren't going away. Not so long ago it was thought of as a bit of a niche market, that is no longer the case. 
With a lot of big players and increasingly more manufacturers getting involved, the future of the Smart Home can only get smarter with AI. 
These brands have made it easier and easier to set up some level of home automation to give you convenience and peace of mind. 
Really, all you need is a smart speaker to start building your smart home.  
Other articles that might interest you: