Vacuum cleaners have come a long way over the last few years, and there are no two better examples of that modern technology than the Dyson 360 Eye vs Roomba i7+.
Both cordless robotic machines are popular among consumers, but which one is truly the best vacuum? Let's take a look at how they stack up against each other and choose a clear winner in the Roomba vs Dyson matchup.
Quick Comparison: Dyson 360 Eye vs Roomba i7+
Vacuum Name
Battery Life
Best For
#1. Roomba i7+
Our Best Pick

Check Price

40 minutes
Homes with lots of dust and small particles that need strong suction
#2. Dyson 360 Eye

Check Price

90 minutes
Pet owners, those looking for a low-maintenance robotic vacuum
Price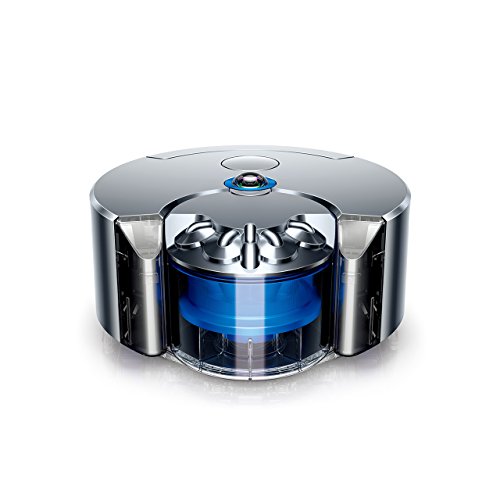 Before we get into the specifics, let's talk about price. Both the Dyson 360 Eye and the Roomba i7+ will set you back more than your average vacuum cleaner. Expect to pay around four figures for both, depending on whether or not they're on sale.
Both vacuums are largely considered worth the price, however, if you have the money to spend. That said, neither is perfect, so take the pros and cons into consideration before you shop.
Size
If size matters to you, the Roomba i7+ is the larger of the two vacuums at 13.4 by 13.5 inches. It's also heavier at 7.44 pounds, and it's 3.7 inches tall.
On the other hand, the Dyson 360 Eye 9.1 by 9.4 inches and weighs merely 5 pounds. The Dyson 360 Eye is also an inch taller than the Roomba i7+ at 4.7 inches.
Battery Life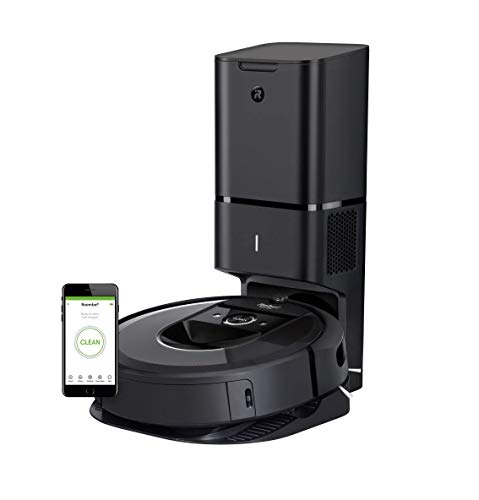 Both vacuums are easily rechargeable, and the battery life is suitable enough to vacuum most homes at least once a day.
The Roomba i7+'s battery lasts for 90 minutes, and it takes three hours to charge it to 100 percent. The Dyson 360 Eye's battery lasts only 40 to 45 minutes but only takes two and a half hours to reach full charge.
Roomba i7+ Pros and Cons
For such a big price, your vacuum cleaner better be something special, and the Roomba i7+ doesn't disappoint.
Take a look at some of its most enticing features:
Thanks to the Clean Base Automatic Dirt Disposal, it empties itself at the dock which can hold up to 60 days' worth of debris.
It adapts to and memorizes your floor plan, thanks to Imprint Smart Mapping. Even if you pick it up and move it, it will get back to its original route.
The vacuum works well on both carpets and hardwood floors.
You can link the Roomba i7+ to work in tandem with the Braava Jet M6.
Power-lifting suction and the 3-Stage Cleaning System are excellent for picking up pet hair, dander, and allergens you can't even see withe naked eye.
AllergenLock bags trap dust, pollen, and other allergens so they aren't re-released into your home.
The vacuum cleaner is wireless and offers many additional features when connected to WiFi.
It works with Alexa and Google Home so you can control it with voice commands.
But the Roomba i7+ still has its faults, even at its steep price point. They include:
It's noisy. Because it works harder than most other robotic vacuums on the market, it makes more noise.
Some users say that in its attempt to learn the routes of your house, it may skip some areas you want cleaned.
Some say it's not worth the money if you can't/wont connect it to WiFi.
The vacuum generally docks itself, but if you do it manually, even the slightest misconfiguration can prevent it from emptying itself.
Dyson 360 Eye Pros and Cons
The Dyson 360 Eye also has its share of pros and cons that are worth a closer look.
Let's start with its best features:
The 360 Eye technology can see the floors in your home and figure out where it's cleaned and where it hasn't. From there, it develops a map of where to clean next.
Dyson claims the vacuum has twice the suction of any other robotic vacuum cleaner on the market, meaning it can pick up even the finest dust and particles.
The vacuum's Radial Root technology separates fine dirt and dust so that it stays in the bin and isn't accidentally redeposited onto your floors.
It's designed to work on both hardwood floors and all types of carpeting.
Add an app to your Android or iOS device to help with scheduling and monitoring the vacuuming of your home.
But like the Roomba i7+, the Dyson 360 Eye isn't perfect. That's especially important to consider knowing how much it costs.
Some users say it doesn't get into hard-to-reach spaces, like under furniture, as well as other robots and wireless vacuums do. Part of that has to do with its height.
Its battery doesn't last as long as other robots on the market.
Dyson 360 Eye vs Roomba i7+ Which One is Best?
If you're looking for a robotic cordless vacuum, you can't go wrong with either product. Both are quite expensive, but if you have the money to spend, they're worth the price to help take some of the stress out of your daily chores.
That said, our selection is the Roomba i7+. While it's the larger of the two, it's shorter, so it can fit under more beds, tables, chairs, and sofas. It also works seamlessly with smart devices, like Alexa and Google Home.
Once the Roomba i7+ memorizes your floor plan, it cleans well without too much maintenance. You can technically go months without having to empty the canister on the dock. It's also a top option for pet owners because of its ability to pick up hair.
Here are other comparison reviews of the Roomba i7+ and Dyson vacuums: