Technology affords you a variety of luxuries and one of these is helping to keep your home cleaner. A robot vacuum works for you so that you do not have to manually maintain your floors. There are multiple options, including the Roomba 985 vs i7+.
We named the Roomba i7+ as the Best Overall Roomba Model, but does it hold up against the 985 that's at a lower price point? That's what we're going to find out here.
Hint: the Roomba i7+ does indeed still hold the title and comes out the Winner in this matchup.
After a long day at work, the last thing you want to do is grab your broom and vacuum to clean your floors. However, when your floors are messy, it is hard to kick back and relax.
A robot vacuum offers a compromise because it will clean your floors when you are at work. When you get home, this is one less thing that you will need to worry about. Just schedule your vacuum and let it go to work.
You have options regarding the robot vacuum that you choose. Two possible choices include the Roomba 985 vs i7+.
Examining these two vacuums allows you to compare their features. This will make it easier to determine which one will be best for your home.
Quick Comparison: Roomba 985 vs i7+
Features
Run-time
Automatic Dirt Disposal
Smart Mapping
Weight
#1. Roomba 985

Check Price

120 Minutes
No
Yes
8.7 Pounds
#2. Roomba i7+
Our Best Pick

Check Price

75 Minutes
Yes
Yes
7.44 Pounds
Battery and Charging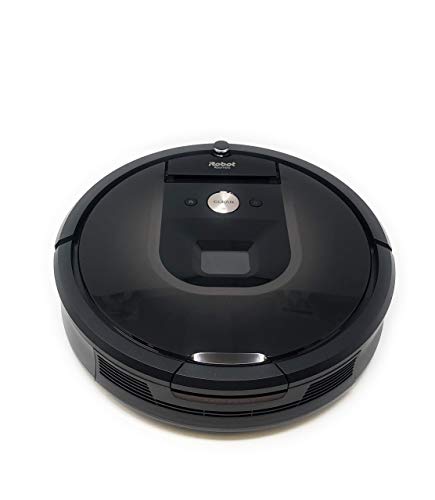 The Roomba 985 works for about 120 minutes in between recharging. This allows it to clean about 1,800 square foot for each full charge.
The i7+ runs for about 75 minutes. It can clean about 1,100 square feet on a single charge.
Both robot vacuums take an average of three hours to recharge once the batteries They both have lithium ion batteries, allowing for numerous recharges before you have to think about replacing the battery.
In most cases, the vacuums run for the longest time on hard floors compared to carpeting.
Both vacuums will automatically go to their charging stations when they need to recharge. Once the recharge is complete, they will go back to cleaning if more vacuuming still needs to be completed.
Filter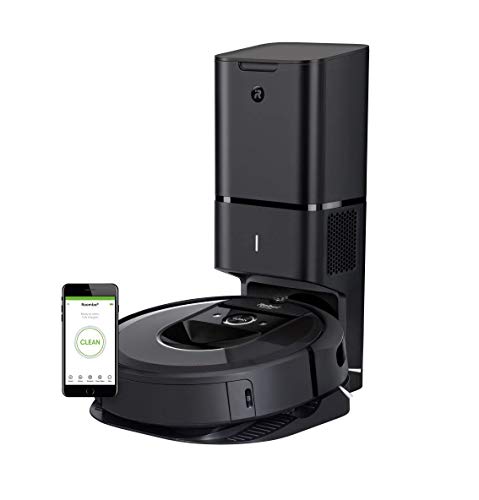 Both vacuums use a high-efficiency filter. They work well to collect and hold onto pet hair and allergens. According to the specifications of the filter, they are able to trap approximately 99 percent of allergens.
Due to how the filters work, once your vacuum pulls debris and allergens into the filter, they are locked into it. This ensures that your home's air becomes cleaner while the floors also get freed of debris and dirt.
The i7+ comes with a Clean Base unit that is self-emptying and will automatically dump the dust, dirt, pet hair, and other allergens. The Clean Base will hold up to 30 dust bins worth.
The filters will last an average of three months when you are using the vacuums regularly. Then, just change them out for new ones to continue to get the high-efficiency filtering capabilities.
Cleaning
Both of these vacuums can work on hard and carpeting flooring. The brushes are able to adjust automatically so that they maintain contact with your floors at all times.
The dual brushes work together to pull debris up from your floors and push it into the dust bin of the vacuum. They are able to essentially separate the carpet fibers to pull up dirt that has been pushed down into the fibers.
They both have 10 times suction. This means that the air power is strong to pick up even the smallest particles of dirt and debris.
Sine the vacuums are short, they are able to fit under most furniture to clean effectively. The Cliff Detect sensors will help them to avoid falling down the stairs when they are moving around your home.
Each of these vacuums have Dirt Detect technology. This allows them to concentrate more on areas of your home that could use additional vacuuming to thoroughly clean your floors.
Both vacuums use iAdapt technology. The i7+ uses 3.0 while the 985 uses 2.0. Another difference is the Smart Mapping technology used by both vacuums.
The Smart Mapping allows the vacuum to know where it cleaned already so that it knows where to start cleaning once it recharges. This also helps the vacuum to preserve its battery power since it will not waste power cleaning the same spot twice.
The i7+ uses Imprint technology, which is a form of smart mapping. It knows where it started and stopped cleaning like the 985. However, it is also able to learn about areas in your home that it needs to avoid, allowing for a customized cleaning. 
Pros and Cons
As you compare the Roomba 985 vs i7+, looking at the pros and cons can help you to see which model will help with your house cleaning the most.
Roomba 985 Pros and Cons
Roomba 985 Pros
It cleans carpet and hard floors
You can schedule cleanings
It is good for picking up pet hair
Roomba 985 Cons
The debris is smaller than similar models
Roomba i7+ Pros and Cons
Roomba i7+ Pros
Self-Emptying Clean Base Unit
Ideal for high-traffic rooms
It picks up pet hair effectively
It moves under furniture easily
Roomba i7+ Cons
Conclusion
The Roomba i7+ wins out if you have a higher budget. The Clean Base unit is a major benefit to consider with the Roomba i7+. This allows for easy dirt disposal and will make your robot feel like the automated cleaning service you deserve.
Comparing the Roomba 985 vs i7+ shows you that both models have many good traits. It's not as cut and dry though with as they're at two different price points. 
If you have a lower budget, the Roomba 985 is still a good option. The run-time is almost twice as long as the i7+, and the operation is simpler. The 985 also has two virtual wall barriers.
If you're looking for other comparisons with either of these two vacuums, take a look at one of the posts below: