If you've ever been confused about the differences between one iRobot Roomba model and another, you're not alone. Most people prefer to read a comparison guide like this short one for insight before making a final purchasing decision.
Here you will find details about the Roomba 670 and how it stacks up against the Roomba 675. By the time you're done reading about the two robotic vacuums, you'll have a better understanding of which model best addresses you and your home's needs.
iRobot's Roomba has come a long way since iRobot introduced it to the public. The company responded to its customers' needs by offering enhanced features, longer battery life, and more automated controls to save them time and money.
The differences between one model and the next can be subtle, making it confusing to decide which offers a more superior level of clean when used.
The following guide compares the Roomba 670 to the Roomba 675 by highlighting both machine's most notable features, exploring what makes them similar and different, and providing insight on the pros and cons of owning each. By the time you're done reading the review, you'll have a better idea of which serves the greatest purpose in your life.
You can then buy the Roomba model of your choice and watch it work its magic inside your home.
Quick Comparison: Roomba 670 vs 675
Product
Weight
Filter Type
Scheduling
Remote
Voice Control
#1. ROOMBA 675
Our Best Pick

Check Price

7.8 pounds
AeroVac
Yes
No
Yes
#2. ROOMBA 670

Check Price

6 pounds
AeroVac
Yes
No
Yes
Let's delve into what makes the Roomba 670 the machine that it is.
#1. Roomba 670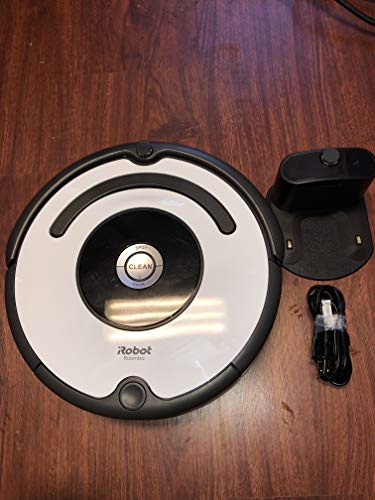 Fully functional and easy to schedule, the Roomba 670 delivers an hour and a half of continuous cleaning capabilities before needing to be docked and charged once again. The round-shaped robotic vacuum clears areas under furniture that are hard to reach without crouching on the floor. It comes with an app that you use to schedule regular cleanings with the machine.
With its low profile and ability to clean floors of all types, it's easy to understand why it remains a popular model despite newer models existing. It weighs six pounds and measures 13 inches in diameter. The machine is 3.6 inches tall, making it perfect to go under sofas, buffets, and beds with ease.
Roomba 670 Features
Feature-rich, the Roomba 670 makes cleaning a breeze. Some of its most useful features are listed below for your consideration.
Dirt and dust are no match to the sensors the machine contains. Its intuitive design makes the robot know which areas of the home to give extra attention to. It senses debris on the floor and moves over it several times to loosen it up and remove it from the surface.
iRobot Home App
For scheduling purposes, the mobile app is a must-have. While on-the-go, you can make it, so the robotic vacuum takes care of business.
You can be at work or the grocery store while your home gets vacuumed. It's a great way to prepare for guests because you can set up a regular cleaning schedule at times of the day where your house is empty.
Status Monitoring
Keeping track of the progress made while the Roomba 670 cleans is easy. Monitoring takes place through the mobile app. If you have any issues with the robotic vacuum while away, you can send it back to its dock until you have a chance to look at it. Sticking to a regular cleaning schedule for brushes and filters is highly recommended by the manufacturer because it keeps the machine working without incidence longer.
#2. Roomba 675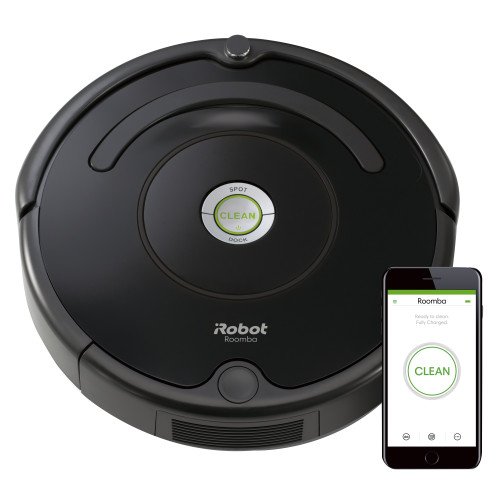 The Roomba 675 offers exceptional cleaning power and notable convenience. The robotic vacuum has the same sleek round design as earlier models as well as its standard black casing. It's 13 inches in diameter, 3.6 inches tall, and weighs 7.8 pounds, making it easy to pick up and dock when the machine has a low battery.
The main benefit that comes with a robotic vacuum is its automated cleaning cycles. You're removed from the equation because you're not forced to push the Roomba around the way you would a traditional upright vacuum cleaner. The machine senses the areas of flooring that are the dirtiest and goes into overdrive to clean them thoroughly.
Roomba 675 Features
There are many features offered with the Roomba 675. Learn more about its different capabilities below.
Brushroll Style Sweeper
Much like many models of traditional upright vacuums, the 675 has a brush roll style sweeper.
It works well on hard surfaces but has trouble picking up large debris on carpeting and rugs. It comes with a cleaning brush to help unwind hair and threads that get caught around the bristles.
AeroVac Filtration System
The Roomba 675 high efficiency filters lock in 99% of dust, dirt, and debris, so the machine doesn't release pollutants into your home after a thorough vacuuming session. To continue to use it, you'll need to clean the filter regularly. Otherwise, you may notice that the 675 isn't picking up as much debris as it usually does.
1,800 mAh Battery
You get 90 minutes of continuous cleaning action with each charge of the Roomba 670s 1,800 mAh battery. A charging station allows the robotic vacuum to be docked and recharged at any given time. A button on the top of the machine returns it to the dock automatically.
The Clear Winner
It's difficult to declare a winner between the two because they're so similar in design and features.
If you're more of a traditionalist, you may find the 670 preferable because it paved the way for the 675. If you like having the newest model because of enhanced support and fewer bugs, you'll love the 675 better despite its more expensive price tag.
Either way, you'll wind up with a robotic vacuum that you'll need to care for diligently to keep it running. You won't want hair or threading to get tangled in the brushes or dirt, and dust clogging up the Roomba 675 filter and prevent it from sucking up debris from the floor.
If you're looking for other comparisons with these two vacuums, check these other posts: