Two popular iRobot robot vacuums go head-to-head in this matchup: Roomba 960 vs e5. Which one provides the better value for the money? Which one should you buy to keep your house clean?
If you're in a hurry, the Roomba 960 provides the better value over the e5. Even though the 960 costs more money, the extra features detailed here will keep your house cleaner.
Features
Size Dimensions
The Roomba 960 is measured at 13.8" in width by 3.6" in height. The three buttons on the top panel CLEAN, SPOT CLEAN and HOME can be used to control the Roomba manually and it features a space grey color scheme and black highlights on the unit itself.
The Roomba e5 is 13.3" wide by 3.6" tall, which makes it smaller than the Roomba 960 by fraction of an inch. This little robot vacuum is more sleek in design however, with an all matte-black color scheme that is both stylish and understated.
There is a little protruding knob attached to the front of both Roomba units that gauges the height of any furniture it is going under so it doesn't end up getting stuck.
Weight
At 8.6lbs, the Roomba 960 is easy to transport around the house thanks to the attached carrying handle.
The Roomba e5 weighs 7.2lbs – a pound lighter than the Roomba 960 and also has a carrying handle that lets you easily carry it around the house.
Battery and Capacity
The Roomba 960 has a runtime of 75 minutes. The Recharge and Resume function is a great feature that instructs the robot vacuum to go back to the docking station to recharge when the battery is running too low.
The Roomba will then pick up right where it left off after charging back up to 90% to finish the job. A full recharge from empty to full battery takes around 3 hours.
90 minutes of runtime is what the Roomba e5 offers to users. This is great for those who have bigger homes and want more running time from their robot vacuums.
Unfortunately, the Recharge and Resume feature is not available on the Roomba e5.
Filtration
iRobot's High-efficiency filters are used on both the Roomba 960 and the Roomba e5. These filters will trap 99% of the allergens, dust mites and other airborne particles that may potentially be harmful to you and your family that live with you.
Brushes, Suction, and Cleaning Technology
The Roomba 960 has 900 Pa of suction power to complement its 3-stage cleaning system. That makes for a great cleaning ability on carpet and hardwood floors alike.
The dual rubber brushes work well to reduce any form of pet hair tangling on the brushroll, which can be a common occurrence with robot vacuums.
On the Roomba e5, the impressive cleaning performance is why it's quietly gained a following. It also
The e5 does well on high-pile rugs and cleans hardwood floors – making it a good workhorse for your cleaning needs in the home.
Both Roombas use Dirt Detect Technology to locate dirty areas of your home and focus its cleaning efforts on those areas until they are completely spotless.
The optical camera and acoustic sensors on the Roomba 960 give it eyes and ears to navigate around its surroundings. The iAdapt 2.0 navigation system that is built into its internal computer allows it to vacuum efficiently in straight lines while avoiding obstacles.
These 2.0 sensors also create a virtual map of your home that it refers to when it cleans – making for a more efficient cleaning job in your home.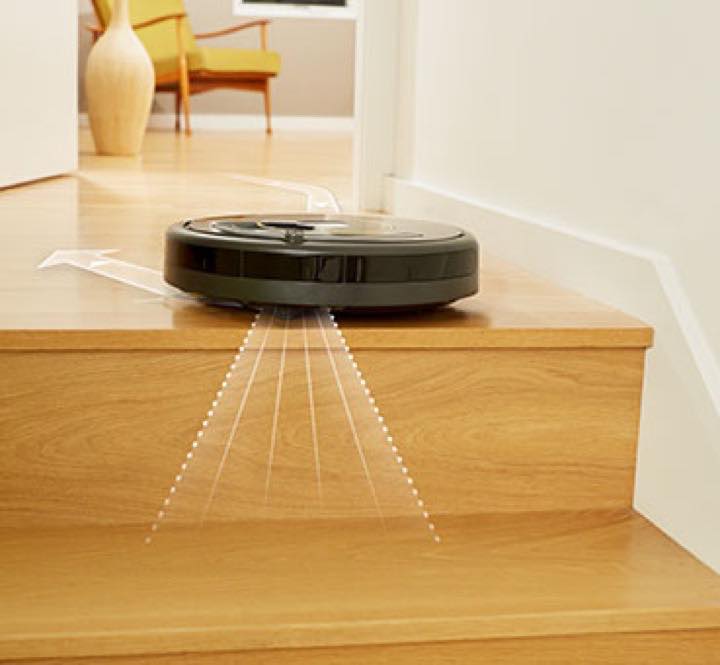 The Cliff Detection system stops it from falling down stairs or big gaps that may otherwise cause it to malfunction.
The Roomba e5 doesn't have a camera onboard as it's on the iAdapt 1.0 navigation system. The e5 will seem a bit wacky to see as it cleans in a random pattern. But rest assured, the performance is still fantastic and areas that need to be cleaned are left clean.
Since there is no optical sensor, it can't create a virtual floor plan and thus all of its cleaning jobs are totally random and new every time it starts a new job.
Mobile App and Voice Assistant Control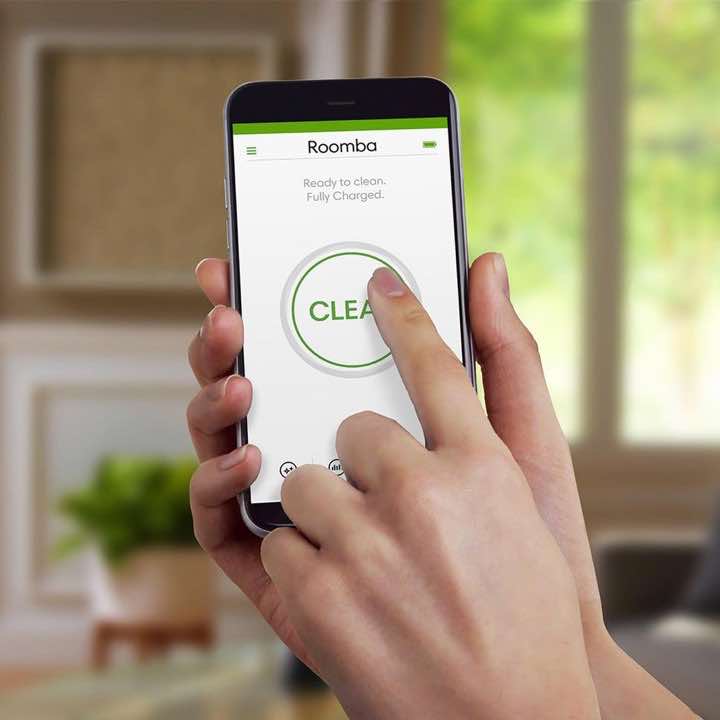 The Roomba 960 and the Roomba i7 have WiFi connectivity and can be controlled via the iRobot HOME app (available on both iOS and Android).
The Home app will allow you to start and stop your Roomba, schedule cleanings in advance, as well as look at the past history of cleanings.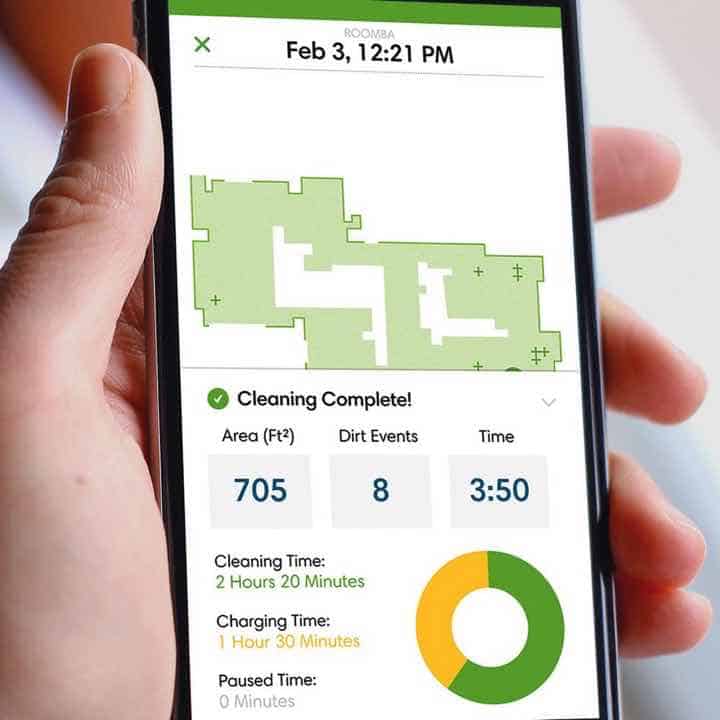 On the Roomba 960 specifically, you can also use the app to check the virtual map on your smartphone.
Both Roombas can be linked to voice assistants like Google Home and Alexa for complete hands-free cleaning experience.
Maintenance
The dustbin on the Roomba 960 holds 600 mL (21oz) of dust and debris – which in normal sized homes takes about a week or so to fill up. Once it's filled up (in the middle of a job or otherwise), the app will notify you to empty the bin before it can start work again, which is great.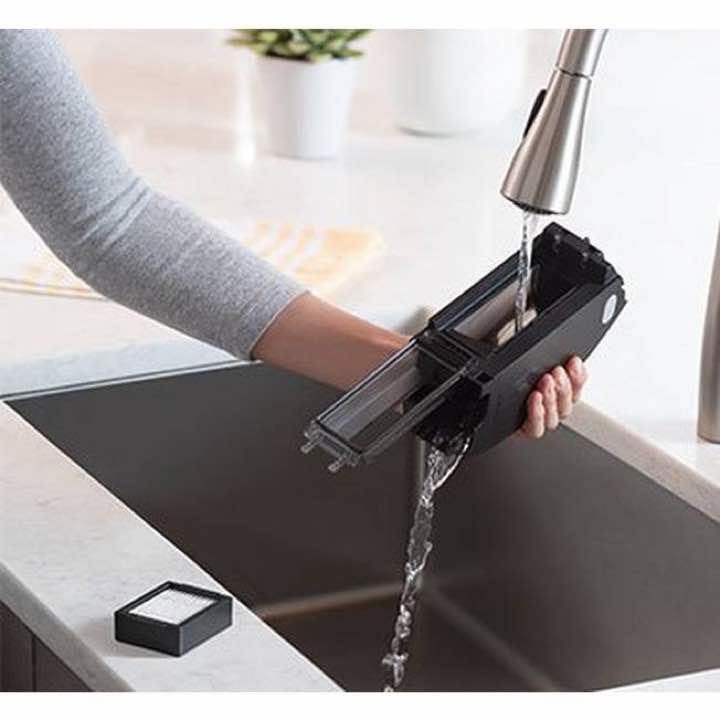 On the Roomba e5, the dustbin holds 500 mL a little less than the 960. It also informs you through the app to empty the bin if it's full.
To avoid any form of blockage that may overheat either robot vacuum's motor, always empty out the bin when the app notifies you. An overheated motor may cause irreparable damage to your robot vacuum.
It's also recommended to wipe down the electronic contacts on both the robot vacuum and the dock regularly to prevent charging issues.
Good idea to regularly check for any pet hair or other debris that could get tangled in the brush rollers, side brushes, or side wheels.
Additional Features
The Roomba 960 and the Roomba e5 purchased on Amazon both include a dual-mode virtual wall barrier device.
The virtual wall device creates infrared rays of no-go zones for your Roomba in areas of your home like rooms and hallways that you don't want it to enter. The first mode creates a wall that the Roomba can't go through.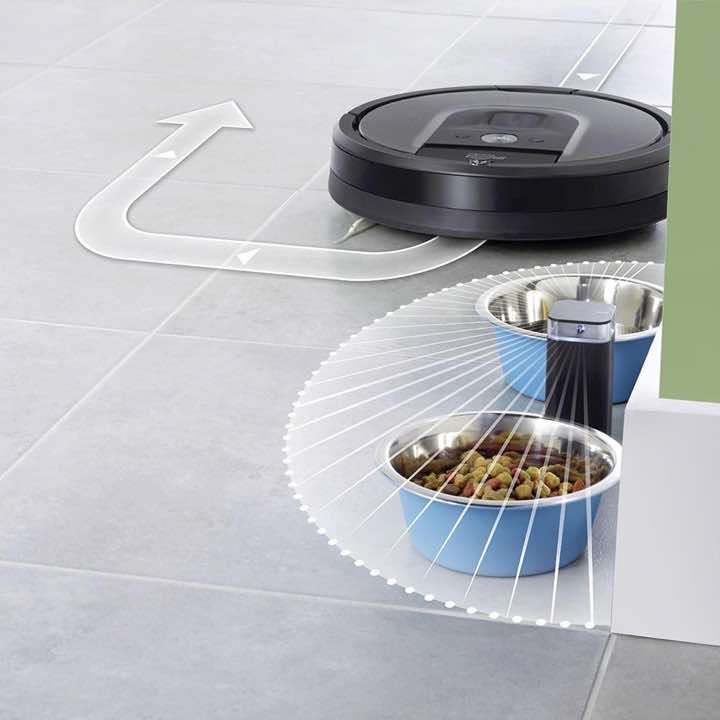 The second mode of the virtual wall devices is halo mode that creates a ring of infrared barriers around smaller pieces of furniture in your home that you want your Roomba to avoid.
Pros and Cons
Pros
Can create virtual maps for the current cleaning session
Cleaning performance is great as expected
Cons
Doesn't remember mapping for future cleanings
Roomba 960 review: Is it worth the hype?
Pros
Great workhorse robot vacuum
Washable dustbin with more capacity
Cons
No recharge and resume function, have to manually restart job
Roomba 960 vs e5 Who is Each For?
Roomba 960 : For those who are looking for a good robot vacuum that can do the job well.
Roomba e5: Those who want to spend less on an entry-level robot vacuum that can do much more than the rest of its competitors
Final Thoughts
The Roomba 960 wins this comparison of the Roomba e5 vs 960. Even though the 960 comes in at a slightly higher price, it's well worth it. The price you pay for the virtual mapping function and the Recharge and Resume alone is worth the difference.
The Roomba e5 sadly does a basic job at cleaning your home – that's not to say that it's useless. It's just compared to the better 960, the e5 doesn't do as well. If you're more conscious about spending on your entry-level Roomba, the e5 will certainly do a great job for the money you spend on it.
Check out the latest Roomba e6 robot review.