The iRobot Roomba Combo j7+ is the latest innovation in 2-in-1 floor-cleaning robots. With a full retractable mop, it can both vacuum and scrub floors in a single pass – with no risk of wetting carpets.
It has all the features of the standard Roomba j7+, including self-emptying, AI-powered obstacle avoidance, and a poop-evasion guarantee. Plus, its mopping abilities make it an ideal choice for homes with both hard floors and carpeting.
The Roomba Combo j7+ is more expensive than most other robotic floor cleaners but delivers superior performance for keeping your home clean and looking its best. 
With its sleek aesthetic design and easy-to-use features, this robot is sure to become an integral part of any household. Whether you're looking for a way to take some stress out of your daily chores or just want something that looks great in your living room, the Combo j7+ is here to help.
iRobot® Roomba Combo™ j7+ Self-Emptying Robot Vacuum & Mop -...
THE WORLD'S MOST ADVANCED ROBOT VACUUM AND MOP COMBO – Introducing Roomba Combo j7+, the only robot vacuum and mop combo that seamlessly transitions from carpet to hard floors and vacuums, mops, and empties itself in the same mission without any intervention from you. It cleans your floors without needing to avoid carpets or requiring you to change cleaning modes.
KNOWS WHEN TO MOP AND WHEN TO VACUUM - On hard floors, it mops and vacuums at the same time. On carpet, it lifts its mop pad safely away and continues with powerful vacuuming avoiding wet carpet messes.
SMART TECHNOLOGY FOR DRY CARPETS - Only from iRobot, your carpets stay dry with D.R.I. (Dry Rug Intelligence): The Roomba Combo j7+ robot and Auto-Retract Mopping System lift the mop high away from carpets.​
Last update on 2023-05-20 / Affiliate links / Images from Amazon Product Advertising API
By giving you back more time in your day, it'll allow you to focus on what matters most – spending quality time with friends and family. 
Roomba Combo j7+ TL;DR Review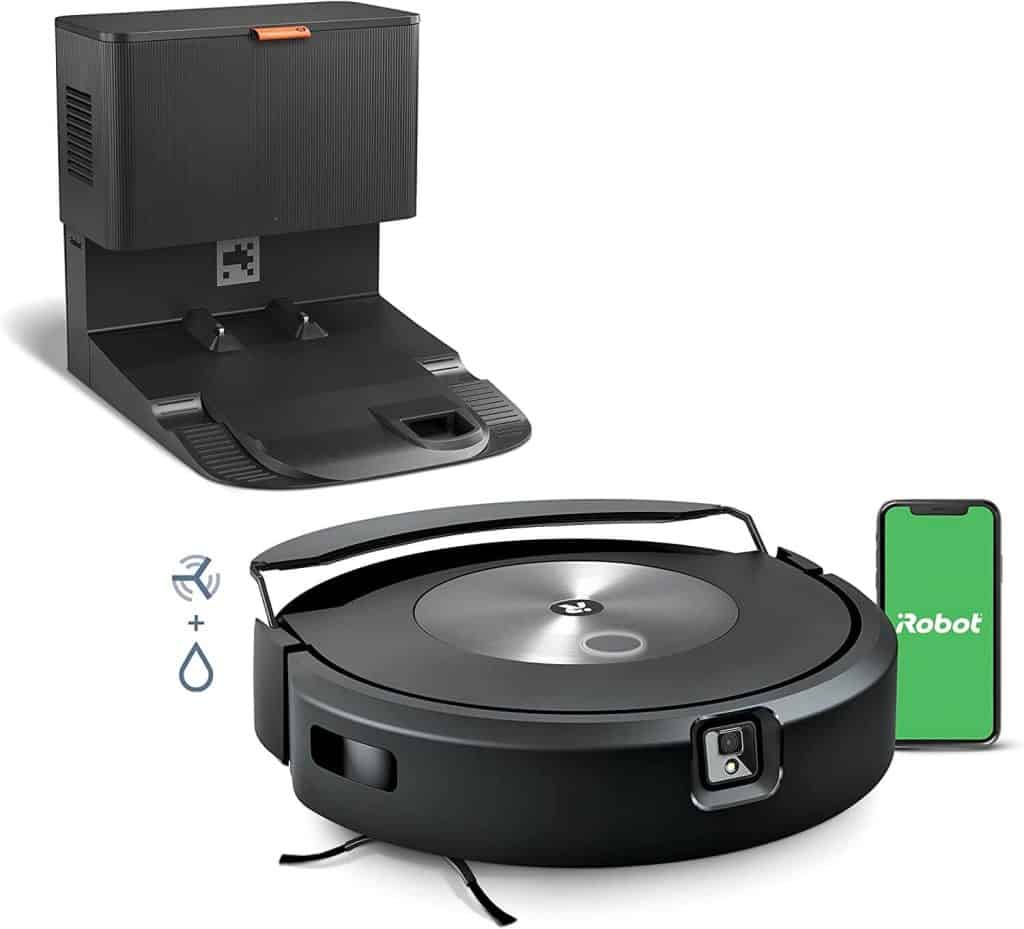 The iRobot Roomba Combo j7+ is a top-of-the-line robot vacuum, mop, and self-emptying bin in one. It's ideal for powerful vacuuming and mopping of all floor types, thanks to its retractable mop pad and intelligent obstacle avoidance system.
This remarkable robovac can sense and recognize carpets, then fully retract the mop on its own to keep the carpet clean. With Clean Base Automatic Dirt Disposal, you also won't have to worry about emptying it yourself either.
In terms of performance, the Combo j7+ has an impressive debris removal rate that makes cleaning your home easy and straightforward. Plus, with iRobot OS software providing thoughtful intelligence, this clever device knows when to change settings based on where it is in your home.
Whether it's navigating around furniture or making sure not to drag wet floors over carpeted areas, users can rest assured their space will be left spotless every time.
Overall, this appliance offers convenience without sacrificing power or quality. From eliminating manual labor to ensuring cleanliness no matter what kind of flooring you have at home – the Roomba Combo j7+ provides an effortless solution for households looking for a reliable robotic assistant.
Roomba Combo j7+ Pros
Overall, I've been thoroughly impressed with the Roomba Combo j7+. Its combination of advanced technology and convenience makes it a great choice for any home or office space needing some extra help with keeping up with housework.
Ultra powerful suction and advanced navigation sensors for thorough cleaning.
Obstacle avoidance feature that allows the robot to move around furniture.
Voice commands for easy control over cleaning preferences.
Retractable mopping pad and auto-empty charging station for added convenience.
Combination of advanced technology and convenience makes it a great choice for any home or office space needing help with housework.
Roomba Combo j7+ Cons
Overall, while the Roomba Combo j7+ provides a great cleaning experience, these drawbacks are important to consider before making a purchase decision. It's worth noting, however, that these cons don't significantly detract from the Roomba Combo j7+'s excellent performance.
The charging station doesn't clean, fill, or dry the device, so routine maintenance is required.
Long hair can sometimes get tangled around the edge spinning brush, which can impact the vacuum's performance.
Here's a quick video introducing the Roomba Combo j7+ with a more in-depth unboxing down below: 
Introducing the new Roomba Combo™ j7+ Robot Vacuum and Mop.
Roomba Combo j7+ Features
The Roomba Combo j7+ is the perfect example of how a robotic vacuum can get your home cleaner and easier.
With two cleaning brushes specifically designed for hard floors and carpeting, this robot mop will take care of dirt and dust in no time. Plus it comes with Google Assistant compatibility so you can control it from anywhere via voice commands.
The Roomba Combo j7+ has all the features you need to make sure your entire house stays fresh and clean. It's equipped with advanced navigation technology so it won't miss any spots while cleaning. And if it needs help getting around furniture or tight corners, its powerful suction helps it maneuver more efficiently.
The j7+ Combo offers the best of both worlds: strong suction and reliable mopping power combined into one easy-to-use device. From spotless carpets to shiny floors, there's nothing this combo j7+ won't do for your home – and without breaking a sweat!
Whether you're looking for an efficient way to keep up with daily maintenance or deep-cleaning every few weeks, investing in the Roomba Combo j7+ is definitely worth considering. With its intuitive design and smart capabilities, this robot mop will become your new go-to tool for keeping things spick & span in record time.
Roomba Combo j7+ Specifications
The iRobot Roomba Combo j7+ is the perfect cleaning solution for any home. With its lithium-ion battery, this robot vacuum and mop covers a large area quickly and efficiently.
Here are some of the specs that make the iRobot Roomba Combo j7+ stand out:
Powerful suction to pick up dirt, dust and debris from carpets and bare floors
It has the longest battery life in the series at up to 120 minutes per charge
Dual rubber brushes provide excellent deep cleaning on different types of surfaces
Advanced sensors detect obstacles & furniture to avoid collisions
Voice assistants like Google Home let you control your Roomba with voice commands
Long lasting battery life for extended cleaning sessions
4 stage cleaning system ensures complete coverage of your flooring surfaces
This powerful combo cleaner easily handles everyday messes in no time at all. It's also compatible with other popular robotic vacuum systems so you can always upgrade if needed. Plus, it's small size makes storage easy when not in use.
The included Bona Hardwood Floor Cleaner Concentrate works wonders on hardwood floors while the reusable microfiber mopping pad leaves tile and linoleum sparkling clean.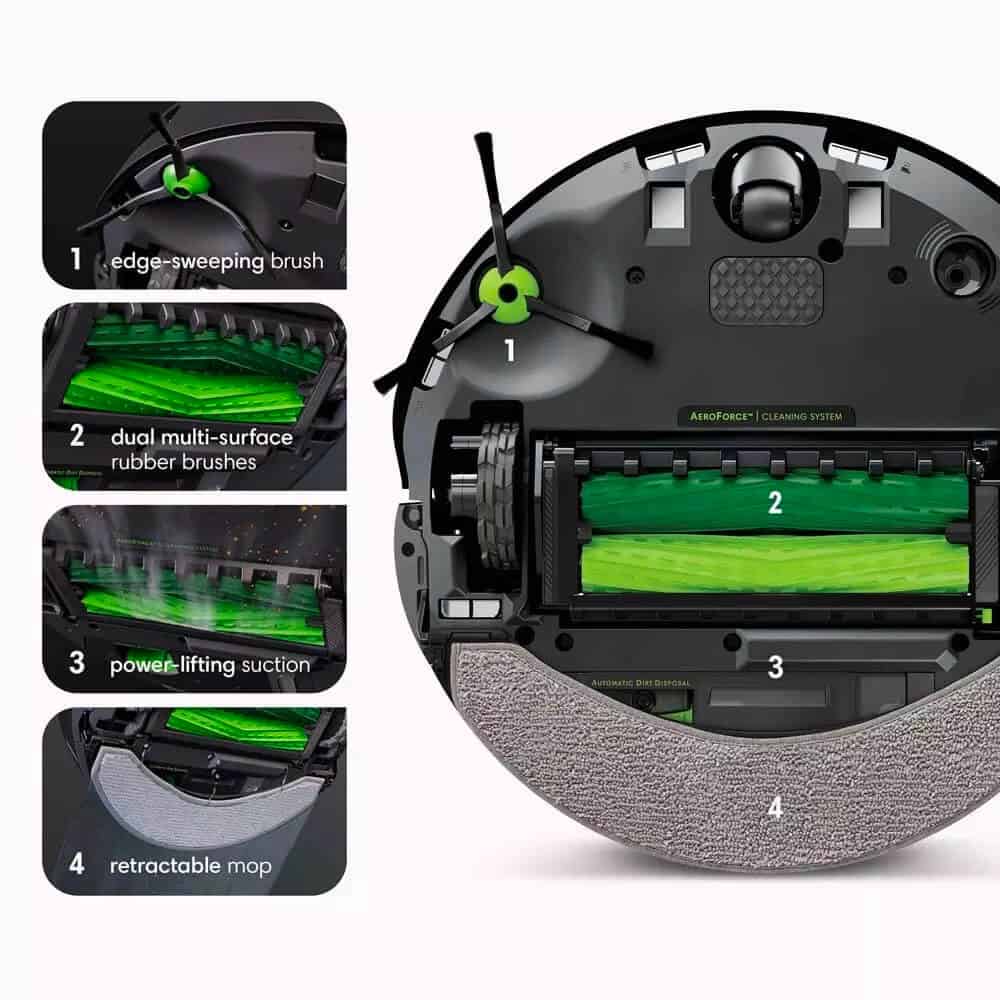 Combo j7+ 4-Stage Cleaning System
The iRobot Roomba Combo j7+ is an impressive robot vacuum cleaner with all the bells and whistles.
It comes equipped with a 4-Stage Cleaning system designed to deliver a thorough clean, no matter what type of floor you have. The system includes a mopping plate, dual multi-surface rubber brushes, Power-Lifting Suction, and the first-of-its-kind iRobot OS that allows it to customize cleaning cycles for your home's needs.
The Roomba also has some incredible features like obstacle detection so it can avoid objects on the floor, plus its retractable mop when you need it feature ensures that your carpets won't get wet from accidental contact with the mopping pad.
Furthermore, there's even a poop evading guarantee in case any furry friends decide to make messes around the house!
Overall, this robotic vacuum cleaner is sure to give you peace of mind as well as sparkling floors without having to lift a finger! With its powerful suction capabilities and easy setup process, you'll be able to keep your home looking spotless without breaking a sweat.
Combo j7+ Retractable Mop When You Need It
The iRobot Combo j7+ takes mopping performance to the next level with its retractable mop. No longer do you need to worry about wet messes or manually attach and detach your mop pads – this robot has a convenient sliding mechanism that makes it easy for you to get started right away.
You'll also receive two cleaning solutions to try out, one for hardwood floors and another for hard surfaces, allowing you to easily keep all of your floorings clean.
When using the Combo j7+, you can also create virtual Keep-Out Zones where the robot will avoid certain areas completely. This is incredibly helpful when trying to protect specific items in our homes from being disturbed by the vacuum cleaner or mop combo.
Additionally, once finished with its job, it returns itself back into the Clean Base so you don't have to worry about putting it away yourself.
This amazing technology offers unparalleled convenience and allows us to effortlessly keep our home looking great without having to lift a finger! And because of this impressive functionality, we are able to save time while still achieving excellent cleaning results every time.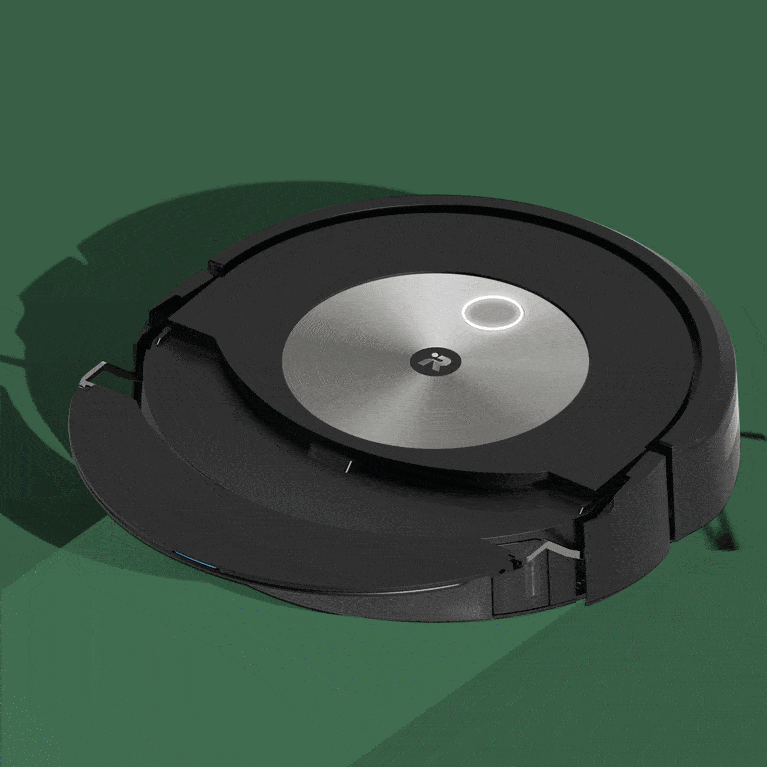 Combo j7+ Obstacle Avoidance
The Roomba Combo j7+ is renowned for its obstacle-avoidance capabilities. It uses PrecisionVision Navigation to detect and avoid objects in its path, from pet messes to charging cables. This feature makes it ideal for households with pets or small children who may leave their belongings strewn about the floor.
I tested the j7's ability to navigate around obstacles such as pet feces, wires, shoes, toys and more. I was impressed by how well the robot avoided all of these items without getting tangled up in any of them.
What really sets this model apart, however, is its voice prompt feature that informs you whenever an object has been detected so you can take action accordingly.
Combined with impressive obstacle detection capabilities and powerful suction, the Roomba Combo j7+ is one of the best robot vacuums on the market today.
Clean Base Station
The Combo j7+ is equipped with a charging station that serves as the robot's base station. It's low profile design allows for a slot to fit an extra bag, so you don't have to worry about finding a replacement if it becomes full.
Plus, its self-emptying base and 2.5 liter capacity make it one of the most reliable models on the market – enough to last up to a month between cleanings for most normal households.
When it comes time for your Roomba to get back into action after emptying out, all you need to do is make sure it's plugged in, add water to the reservoir, and wait for your robotic vacuum cleaner to top off its battery life.
It's important to keep in mind that proper placement of the Roomba dock station will be necessary for optimal performance from your Roomba. Once this is done correctly, though, owners can rest assured their robot will function properly and begin cleaning their home again quickly and efficiently!
iRobot Home App Features
The iRobot Home app is a technology marvel, enabling consumers to take full control of their Roomba Combo j7+. With its intuitive interface and range of features, it's no wonder why this vacuum has become such a hit for those looking for an automated cleaning solution.
One of the most exciting features in the Home app is the ability to monitor your robot's cleaning runs. Using acoustic sensors located near each wheel, you can view how long your robot was running, where it had been cleaning or if there were any obstacles that stopped it from completing its job.
Plus, with the mapping feature you can see exactly which areas have already been cleaned so you don't waste time covering them again!
For convenience, users also benefit from being able to schedule their cleanings in advance as well as set up virtual boundaries – keep-out zones and no-mop zones – to block off specific areas they don't want their robot venturing into.
Additionally, when the battery gets low, the robotic vacuum will automatically guide itself back to its docking station for recharging without needing any assistance from you.
Overall, Combo j7+'s unique set of features helps ensure thorough and efficient cleans every time, all from the app itself:
Easy scheduling capabilities 
Live map creation 
Comprehensive obstacle database
Ability to save maps and levels
Keep-out/No-Mop zones
The iRobot app is easy to use and offers several options for navigation of the Roomba Combo j7+. You can choose from different floor types, objects you want detected, debris types and flooring types. The smart vacuum is able to recognize the type of debris it's cleaning up, allowing it to adjust its suction power accordingly. Additionally, the algorithm optimizes its coverage pattern based on what type of surface it's running on.
It also boasts an impressive object detection system that helps avoid obstacles like furniture with ease. That said, I did notice a few missed spots during my testing which could be due to the aggressive driving style as this model lacks LIDAR technology.
Despite this minor issue, the overall performance was satisfactory given all the features available at such an affordable price point.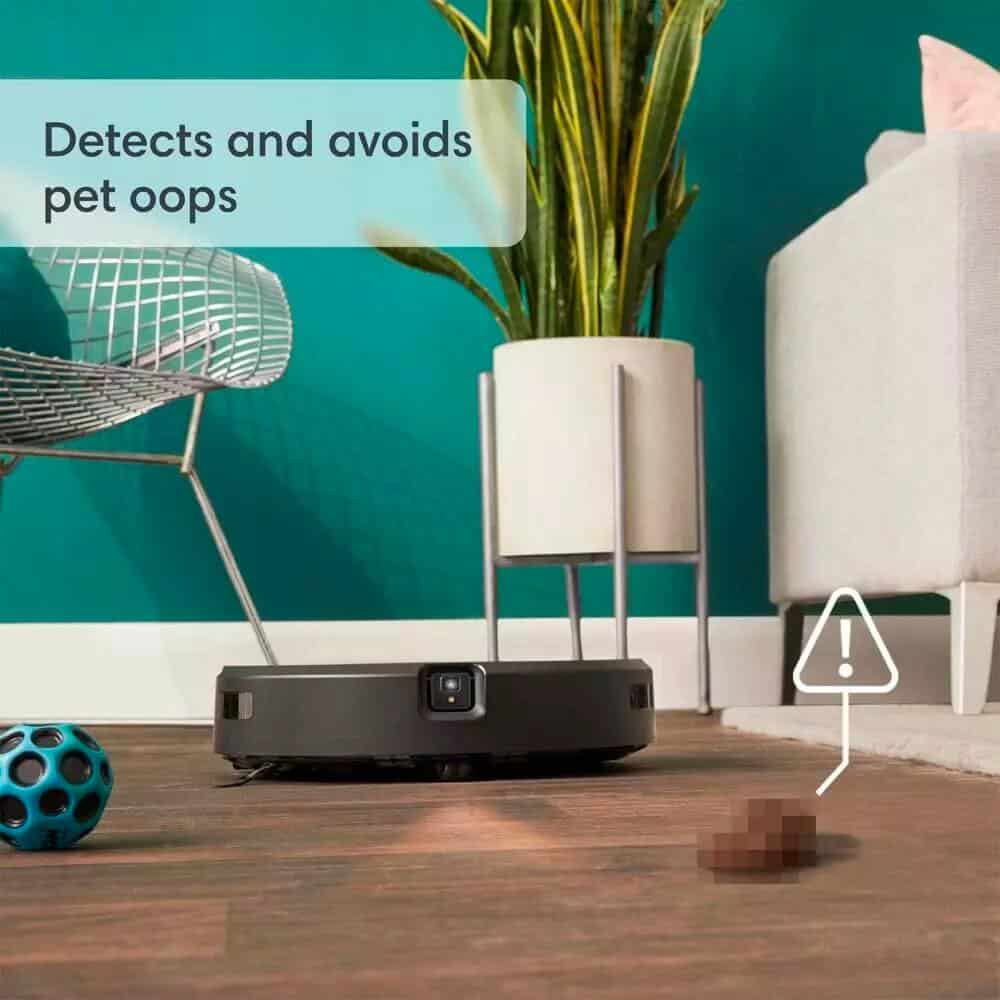 Roomba Combo j7+ Noise
The normal cleaning mode on the Roomba Combo j7+ registers at 69 dB, and the self-emptying dock station suction clocks in at 83 dB.
These measurements are similar to that of a running dishwasher or residential air conditioning unit – meaning it will not disturb those who live in close quarters such as apartments or dorms.
With its mix of powerful suction and cleaning abilities, the Roomba Combo j7+ earns high marks when it comes to being user-friendly, performance efficient, and relatively quiet.  
Roomba Combo j7+ Maintenance
Maintaining the Roomba Combo j7+ is essential for optimal performance and to keep your robot vacuum running smoothly. There are a few maintenance tasks that should be done regularly.
First, you'll want to check and clean the dustbin and filter monthly, as well as empty or replace the bag when it's full.
Additionally, make sure to wipe down the drop sensors and wheels every month, as well as remove and wash the mopping pad after each cycle.
Finally, check the auto-empty port for any blockages to ensure uninterrupted use of this feature along with its powerful battery system which helps power all functions from vacuuming to mopping.
With these simple steps in mind, you can rest assured that your Roomba Combo j7+ will provide years of reliable service while keeping your home free of dust particles on floors and carpets alike!
Roomba Combo j7+ Final Thoughts
The iRobot Roomba Combo j7+ is the perfect robot vacuum for those seeking an all-in-one cleaning solution. It comes with a one year limited warranty, has an impressive battery life and can work on carpets of any type. Plus, it's surprisingly affordable!
Last update on 2023-05-20 / Affiliate links / Images from Amazon Product Advertising API
But how well does it actually perform? After testing out the Roomba Combo j7+, I was extremely impressed by its power and suction capabilities – definitely strong enough to tackle messes big and small. Cleaning it is also incredibly easy; just pop open the dustbin after each use and you're good to go.
Roomba Combo™ j7+ Unboxing Video
Check out these other Roomba articles that might be of interest:
Frequently Asked Questions
What Kind Of Warranty Does The Roomba Combo j7+ Come With?
One of the most important things to consider when purchasing a new vacuum is the warranty. The Roomba Combo j7+ comes with a 1 year limited warranty – giving you peace of mind and assurance that your investment has been well-protected.
What Is The Battery Life Of The Roomba Combo j7+?
The iRobot Roomba Combo j7+ has an impressive battery life, which can last up to two hours on one charge. That's more than enough time for your robot vacuum to clean even the biggest homes with ease – so you don't have to sweat it when it comes to cleaning power and convenience.
How Much Does The Roomba Combo j7+ Cost?
The Roomba Combo j7+ is an impressive robot vacuum and comes with a price tag to match. It's not the most expensive on the market but it does come at a cost, as you can expect from a top-of-the-line model.
At around $1099 USD Retail for the basic package, this robot vacuum is sure to please any serious home cleaning enthusiast who's looking for something reliable and long lasting. The Roomba Combo j7+ offers great value by combining powerful suction and navigation capabilities in one convenient device.
So, if you're looking for a high-end robotic vacuum cleaner without breaking the bank, then this could be the perfect choice for you!
Does The Roomba Combo j7+ Work On Carpets?
The Roomba Combo j7+ is like a carpet-cleaning super hero, effortlessly tackling carpets and rugs of all sizes.
As an expert in the field of robot vacuums, I can confidently say that this model works on carpets as well as it does on hard floors.
It has adjustable suction control so it won't get stuck or overwhelmed by thicker fabrics and its powerful motor leaves no dirt behind.
With one press of a button you're ready to go – no need for any complicated setup procedures!
This makes cleaning your home quick and easy, giving you more time to spend with family or friends, creating memories that will last forever.
How Often Should The Roomba Combo j7+ Be Cleaned?
Cleaning your robot vacuum is an essential part of the maintenance process. The Roomba Combo j7+ should be cleaned every few weeks to ensure optimum performance and longevity.
You'll want to check for dirt, dust or debris that might have gotten stuck in any crevices or around the brush rolls. To do this, carefully remove the top cover panel and clean off the brushes with a damp cloth.
Vacuum out any clogs from the filter and make sure all vents are clear for proper airflow. Taking these simple steps will help keep your Roomba running smoothly for years to come!