Even the best robot vacuum models in the past would meet their match when it came to accidents from pets.
The top Roomba models are relatively good at avoiding obstacles, but when it comes to a Roomba and dog poop, there have been a number of horrible Poopocalypse events.  
No need to worry about pet waste anymore as the Roomba j7+ is able to avoid pet poop, cables, cords, and other common obstacles. 
The latest Roomba model j7+ is well worth the higher price tag and is our choice as one of the best robotic vacuums out there. 
For this review, we will cover the base model j7 and the plus model j7+. The main difference between them is the Clean Base docking station that allows the j7+ to self-empty its debris. It's tested and rated to hold up to 60 days worth before you need to empty the Clean Base and Dirt Disposal bag.
Whenever we mention the j7+ features and it's not about the docking station, then you can assume that the base j7 has the same functions and features.
On Sale 18%
iRobot Roomba j7+ (7550) Self-Emptying Robot Vacuum – Identifies and...
THE WORLD'S SMARTEST CLEANING ROBOTS JUST GOT SMARTER - iRobot OS powers your Roomba j7+ to clean the way you want it to. It avoids objects in its way, allows you to schedule multiple cleanings per day by continuously learning and adapting to your home; it also empties its bin so you don't have to.
AVOIDS PET ACCIDENTS ON PURPOSE – WE GUARANTEE IT - Only iRobot brings you P.O.O.P. (Pet Owner Official Promise). You can rely on your Roomba j7+ to avoid pet waste, or we'll replace it for free. Additional terms and conditions apply – see iRobot for full details.
NO NEED TO PICK UP BEFORE YOU CLEAN - The Roomba j7+ robot vacuum uses iRobot OS Technology and PrecisionVision Navigation to recognize and avoid common objects in its way like cords, pet waste, socks and shoes. Picking up before you clean is now a thing of the past.
Last update on 2023-02-18 / Affiliate links / Images from Amazon Product Advertising API
Roomba j7+ Features
Roomba j7+ Design, Size Dimensions, and Weight
The Roomba j7+ and j7 have a modern design with their stainless steel and chrome look that makes sure you get the "high-tech" feel from the Roomba as it cleans. 
Previous iRobot models had 3 buttons on the top of the Roomba – Home, Clean, and Spot Clean. They've made the j7+ simpler by using only one button – Clean. Most of the features and functions are still available on the mobile app that we'll get to them later.
It boasts the well-known Roomba circular shape and similar weights and heights to other models. Here are the specs:
Height: 8.6 cm (3.4 inches)
Weight: 3.4 kg (7.49 lbs)
Shape: Circular
There shouldn't be too many issues with it going under chairs, coffee tables, and other furniture.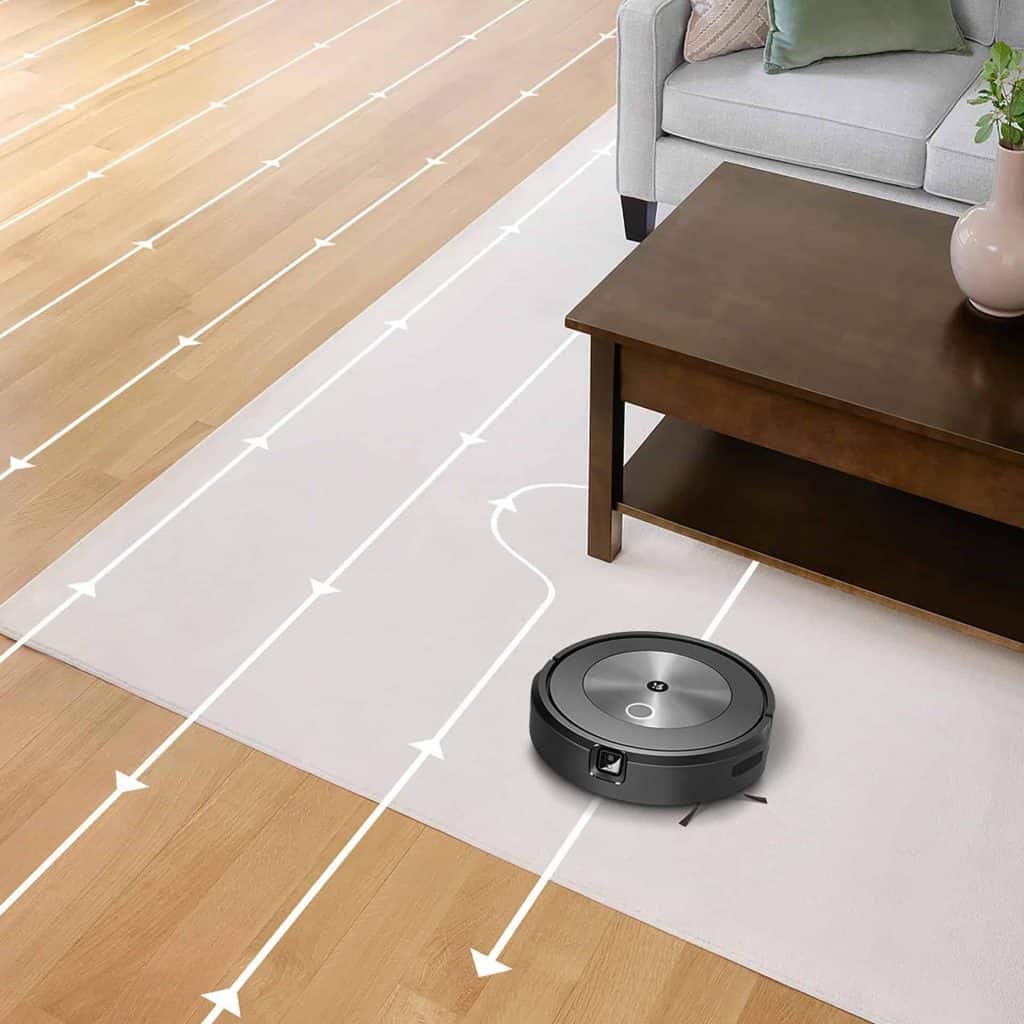 Roomba j7+ Battery and Capacity
The iRobot Roomba j7 and j7+ both come with 2200 mAh lithium-ion batteries that are highly efficient when it comes to charging and maximizing their run time to 75 minutes with a full charge.
Since they both include the Recharge and Resume feature and will therefore automatically recharge when the battery is low, the run time is not a significant consideration. You don't need to think much about it if it'll be enough to clean a large home. 
Once they're finished recharging after a couple of hours, they'll return to where they left off to continue cleaning.
I love that I don't have to manually charge the Roomba during cleaning sessions thanks to the Recharge and Resume option. Additionally, there is no need to manually empty the dustbins if you purchase the j7+ Plus model with the Clean Base.
Roomba j7+ Cleaning Technology System and Suction Power
The iRobot Premium 3-Stage Cleaning System is still one of the top-selling points on the Roomba j7 and j7+ as it loosens, lifts, and sucks up dirt and debris as part of its 3 steps. 
To remove allergies and pollutants from the air, they combine brushes, high-efficiency HEPA filters, and cyclonic technology.
The Roomba j7+ has 10 times the suction power of models from the Roomba 600 series. This enables it to collect dirt and debris from carpets, hardwood floors, and tile floors.
Roomba j7+ Dual Brush Rollers and Edge Sweeping Brush
Dual multi-surface brush rollers are located in the center of the Roomba j7 and Roomba j7+ robot vacuums. The 3-stage cleaning system's initial component is a set of brushes. To make it simpler to pick up dirt and debris, they stir up the carpets and other detritus.
Rubber brushes are less prone to tangle with pet hair than nylon bristle brushes because they are composed of rubber. Using conventional brushes will result in tangles of both human and pet hair that are very challenging to unravel.
Edge sweepers are included with both versions for corners and wall edges. However, due to its circular shape, it won't be able to completely clean every nook, so you might need to use a little manual labor. 
The brush rollers' versatility in adapting to various floor heights, from carpet to hardwood floors to rugs, is another fascinating feature. The roller will automatically adjust to various floor heights.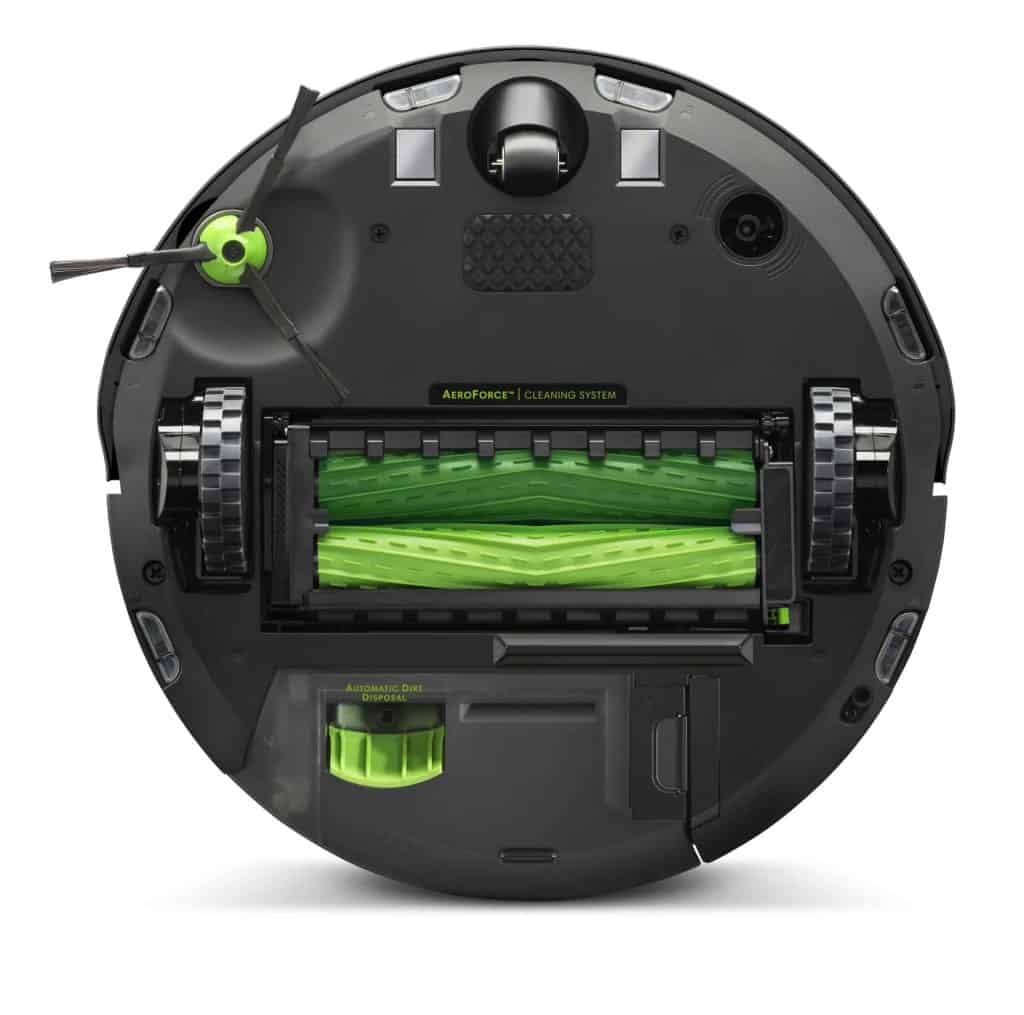 Roomba j7+ Filters and Dustbin Capacity
High-Efficiency Filters are built into the Roomba j7 and j7+ robot vacuums. Although they are rated slightly below HEPA level filters, they nevertheless filter and capture 99% of dust and allergens.
If you still want HEPA filters, they're readily available online on Amazon or other online retailers. You will need to purchase a third-party filter because the genuine iRobot filters won't be as efficient.
Both the Roomba j7+ and j7 feature 500-ml washable dustbins, but since the Plus versions come with Clean Base units, you don't have to worry about the dustbin capacity.
The 500-ml capacity is still one of the largest dustbin sizes that Roomba offers, so there is less hand emptying if you don't get the Plus versions.
Roomba j7+ Plus – Clean Base and Self-Empty Feature
The Clean Base Automatic Dirt Disposal Self-Emptying docking station is the only distinction between the basic model j7 and the plus model j7+.
The Roomba j7 and j7+ base vacuums are identical, however, they recharge and dock on various devices. On the Clean Base unit, the j7+ model will also be able to self-empty into bags.
Up to 60 days of dirt, dust, and waste can be stored at the Clean Base. The fact that you only need to empty the Clean Base once every 60 days is the main benefit of the Clean Base unit and the reason you want the Plus model.
You'll need to empty the Clean Base unit more frequently than every 60 days if you have a big house and use your Roomba every day.
You can first get the normal Roomba j7 without the Clean Base if you have a limited budget. Both the j7+ and the Clean Base can be bought individually later when finances allow for it. 
I've had plenty of friends purchase the Clean Base dock at a later point to save some upfront money. 
The new PrecisionVision Navigation system with an onboard camera is a feature of the Roomba j7+ that helps the robotic vacuum avoid obstacles like pet waste and electrical cords.
Many Roomba owners have been desiring the ability to avoid impediments like dog and cat excrement. Kids who possess a Roomba will also appreciate the j7ability +'s to avoid toys. Before the Roomba begins cleaning as well, you don't need to remember to search for and pick up any pet waste off the floor.
The Roomba j7+ comes with iRobot's P.O.O.P. (Pet Owner Official Promise) guarantee. IRobot will replace your j7+ for free if your Roomba steps in cat or dog waste! The warranty also lasts for a year. 
The Roomba j7+ has Imprint Smart Mapping and iAdapt 3.0 Smart Navigation. Both of them will create a floor plan for your house to clean the areas. You can provide Roomba cleaning instructions by giving them names for the various rooms and locations in your home.
The older and less expensive Roomba vacuums won't allow you to accomplish that. It will take them longer to clean your house because they won't move and clean as quickly. According to how your home is set up, the j7+ will move in straight lines, making the cleaning effective.
In the iRobot app, these two models let you designate "Keep Out Zones" so that you can instruct the Roomba to avoid cleaning.
You may sync the cleaning maps with a Braava jet m6 robot mop using the Imprint Smart Mapping Technology on the j7 and j7+. That will enable the m6 to begin mopping any areas that the Roomba has already cleaned with its vacuum.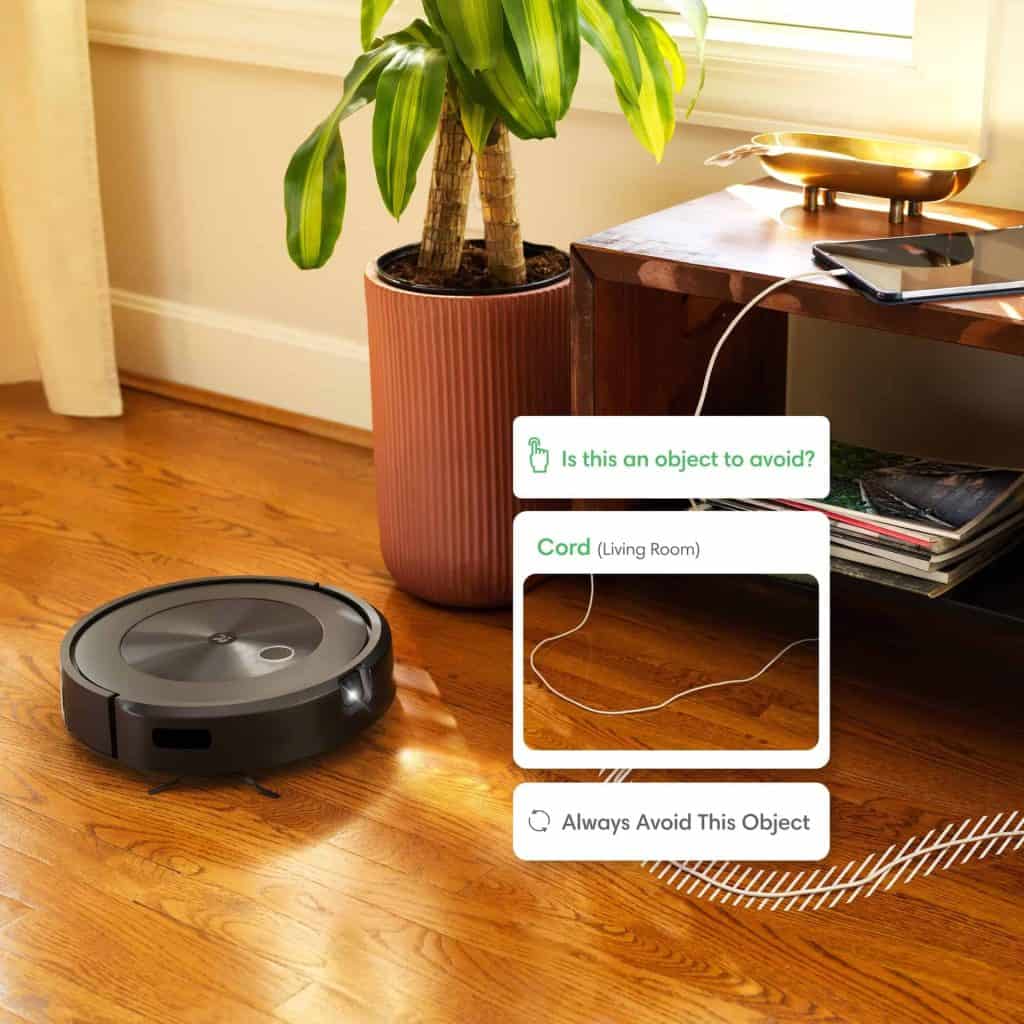 iRobot Home App Powered by iRobot Genius
You may connect to Wi-Fi-connected Roombas using the iRobot Home app to schedule cleanings and create custom cleaning routes.
Now that iRobot Genius has received an update, you may make routines for both the Roomba j7+ and j7. Genius will examine your individual cleaning practices before making cleaning plans just for you.
Additionally, it will use the internet to research and prepare for events like local pollen levels, pet shedding season, and the best times to schedule extra cleanings to keep your home pristine.
The iRobot Home app gives you a bunch of extra features including:
Voice control (with an Alexa smart device)
Start, Pause, Stop Cleanings
Smart Maps
Zoned Cleaning
Cleaning History
Send Robot Back to Charge
Care and Maintenance
It's crucial to continue using the Roomba robot vacuum in order to keep it functioning efficiently for as long as feasible. Long-term, it will enable you to save time and money.
Leaving it unused for months at a time could cause the battery to drain and no longer work correctly. 
Here are key Roomba maintenance tips to keep your j7 running in tip-top shape:
Empty and Clean Dustbin – After cleaning sessions, don't let the dust and debris build up in the dustbin. If the Roomba doesn't empty itself because it's not full, you can sell it to self-empty or empty your Roomba vacuum manually.
Clean the Filters – Clean the Roomba filters regularly, so they don't lead to clogging. It's a good idea to replace filters every few months. Make sure to clean the Roomba's filters if you use them frequently or if your home is dirtier than normal.
Clean the Brush Rollers – In order to prevent the motor from overheating, remove pet and human hair from the brushes. The rollers will get stuck and will overheat as it can't turn.
Clean the Edge Sweeping Brush – Make sure to clean the side brush, just like you would the main brushes, of hair and dirt.
iRobot Select Membership
You may purchase a more pricey Roomba with the new iRobot Select membership program on a monthly payment schedule. If you don't have enough cash on hand right now to pay the item's full price, it's a smart move.
The Roomba Select program only works with the Roomba j7 and j7+, which started in October 2021.
A premium protection plan and the option to upgrade your robot vacuum cleaner every three years are two advantages of a select membership. You'll always have the most recent technology for effective and efficient cleaning with iRobot!
To ensure you're never short on replacement accessories, iRobot also offers an accessory replenishment feature.
The accessory option involves a monthly payment of $29 in addition to a $99 activation charge for the Roomba j7+ or a $0 activation fee for the Roomba j7.
Select members will also have access to the iRobot customer service staff for assistance.
Roomba j7+ Review Final Thoughts
The Roomba j7 and j7+ are both great robot vacuum cleaners. Pet owners should get the new Roomba j7+ that avoids pet poop and gives you the P.O.O.P. guarantee.
Families with kids should buy the Roomba j7+ for the Precision Vision Navigation that will enable the Roomba to avoid obstacles. I have kids and they constantly leave toys all around the house. 
For those on a budget, the Roomba j7 will be the better option. You can also take advantage of the iRobot Select Membership and make monthly payments.
Last update on 2023-02-18 / Affiliate links / Images from Amazon Product Advertising API
For more on the Roomba j7 and j7+, check out these reviews and comparisons:
Roomba j7+ Frequently Asked Questions FAQs
Is the Roomba j7+ Worth It?
The Roomba j7+ is the second most expensive Roomba robot vacuum, but it's still one of the best models available.
If you have pets and are not always home, this is the best model for you. You don't need to worry about pet waste lying around the house and the Roomba rolling over it. You also don't need to worry about being home to manually empty the dustbin and recharge the j7+. All that is automatic.
Roomba j7+ vs s9+ (Roomba j7 vs s9)
The Roomba j7+ and s9+ are both on the top end of the Roomba lineup with the j7+ offering a better value for your money. The Roomba s9+ has an advantage in cleaning corners and along the walls with its D-shape design. The Roomba j7+ is shaped in the classic circular form. The s9+ also has 30x more suction power than the j7+, so it helps if you have more carpets. The j7+ has PrecisionVision Navigation though and has upgraded sensors to detect pet poop and obstacles on the floor. 
Roomba j7+ vs j8+ (Roomba j7 vs j8)
The key differences between the Roomba j7+ and j8+ are the larger battery, extra accessories, and the model number as it's made specifically for Costco. The j7+ has a 2200 mAh battery, while the j8+ is double that at 4400 mAh offering about 150 minutes of run time. The j8+ also comes with an extra 4 dirt disposal bags instead of the 2 extra with the j7+. 
Roomba j7+ Review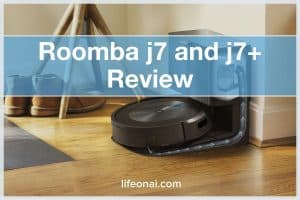 The latest Roomba model j7+ is well worth the higher price tag and is our choice as one of the best robot vacuums out there. No need to worry about pet waste ...
Product Brand: iRobot
Pros
PrecisionVision Navigation for Obstacles
Avoid Pet Waste, Cables, and Cords
Self-Emptying Clean Base Dock Station
Recharge and Resume
Selective Cleaning of Areas
Cons
Initial Cleaning Runs are Slow as it Learns the Floor Layout
Higher Priced