Two of Roborock's top robot vacuums face off in this matchup: Roborock S5 vs S6. The S6 is Roborock's base high-end model and the S5 is the base mid-tier model, but which one provides the better value for the money?
I'll get into the details of each of the models down below to help you choose the better one to fit your needs. If you're in a hurry and want a sneak peek, the Roborock S6 is the more advanced vacuum and will most likely continue to receive firmware and software updates first. 
Last update on 2022-12-24 / Affiliate links / Images from Amazon Product Advertising API
The main difference in the Roborock S5 vs S6 comparison is the S6 will map and store multiple floors. If your home has multiple stories, you'll want to get the S6. There are other minor differences like loudness, so read on to see which one is right for you. 
Preview
WINNER
RUNNER UP
WINNER
Preview
RUNNER UP
Preview
Last update on 2022-12-24 / Affiliate links / Images from Amazon Product Advertising API
The comparison table is only a quick overview. Now let's take a look at the various unique features and benefits side-by-side. 
Features and Benefits
Roborock robot vacuums have many advanced features and benefits that belie the brand's relatively young age in the robotic vacuum industry. You may see similar features from both, like the mopping system, but there are also differences to keep an eye out for.
Size, Weight, Colors
The Roborock S5 and S6 look basically the same and the size dimensions are similar as well with both being 13.8" in diameter and 3.8" tall. 
The S5 and S6 also weigh similarly to each other with the two weighing about 7.9 lbs each. Neither of these have a carrying handle, but they're not too heavy to carry. 
Both Roborock vacuums again are similar with three color options each: Pure White, Black, and a special 3rd color highlight, Rose Gold. 
These two robot vacuums are similar designed and don't have many differences. They look slightly different on the top with the buttons. The S5 has three separated control buttons, while the S6 buttons are in one oval-shaped bevel. 
But the three functions for each are the same: Spot Cleaning, Cleaning On/Off, and Recharge.
Pressing Spot Cleaning will clean a localized area, like a room. Cleaning On/Off will start cleaning the whole house. Recharge will start take the Roborock vacuum cleaners back to the charging station to recharge.
Battery Capacity, and Runtime
When it comes to cleaning large homes, you'll want to have vacuum cleaners that have good battery life and capacity to achieve good runtimes for each session. 
Luckily, the S5 and S6 are equipped with 5200 mAh Lithium-ion batteries that give them runtimes of up to 180 minutes. That's a great battery capacity for robot vacuums.
The S6 also runs about 20% faster than the S5, so even though they both time out at 180 minutes, the faster cleaning time by the S6 will cover more area in a cleaning cycle.
When they're running low on battery power, they'll go back to the charging dock to recharge and resume afterwards.
When the Recharge and Resume feature is engaged and recharging is complete, the Roborock will leave the docking station to pick up the cleaning cycle from where they left off.
Robot Vacuum Air Filters
Similarities continue here with both the Roborock S5 and S6 vacuum cleaners when it comes to the filters. They both have the washable E11 air filters. 
These high-efficiency filters will filter out up to 99.2% of the dust and allergens in the air. If you have allergies, these filters will trap the majority of household dust, pet allergens, mold spores, and plant pollen. 
Cleaning the filters is super simple as well with just running them under water. 
Cleaning Technology, Brushes, Suction Power
Roborock's 3D Cleaning system makes for great cleaning experiences and results for both the S5 and S6 robot vacuums.
From the strong suction to multiple cleaning modes to the main and side brushes, the S5 and S6 will do a great job cleaning due to advanced features. 
Strong Suction Power 
The highlight of both Roborock vacuums is the max suction of 2000Pa that's strong enough to suck an AA battery off the floor. 
The suction varies depending on the type of floor that the Roborock is cleaning, whether carpet or hardwood floors. When the Roborock is on a carpet, the suction will increase to get down deeper into the carpet to suck up dirt. 
Do note that as suction increases, more battery life will be used, so run times will be shorter if you have carpet across your home. 
Cleaning Modes and Noise Levels
The Roborock S5 and S6 vacuum cleaners have four different cleaning modes to choose from: Quiet, Balanced, Turbo, or Max mode. 
Different modes utilize different levels of suction. Balanced is the default mode and the mode that you'd usually use if you regularly vacuum. You won't need as much vacuuming power when you clean regularly. 
Quiet mode is for those times you want to minimize noise levels and don't need as much power for hard, smooth floors. You may want to run an extra pass or two if you use Quiet mode. 
Turbo mode will move the S5 and S6 fast, but you may not get as thorough a cleaning because it's moving faster. 
Max mode will result in the deepest clean due to the powerful suction, but it'll also result in the most noise and decibels. 
The Roborock S5 noise mode on Balanced mode will get up to 71 db and the S6 will get up to 67db. So on Max mode, you may want to be outside when it's cleaning because it might get rather loud. The S6 is made to be 50% quieter than the S5. 
Brushes
The Roborock S5 and S6 both have a floating main brush underneath the robot vacuum cleaner and a spinning brush on the side for good edge cleaning. 
The S6 sports a brand-new cleaning brush that is softer and has a 250% higher bristle density for better cleaning, while being easier on your floors. 
The main brush floats to allow for easy height adjustments depending on the floor. For example, it'll rise up higher for carpets. 
The main brush, side brush, and omnidirectional wheels are made to be tangle-free, so hair won't clog the vacuum's motor leading to overheating and failure. You'll want to be sure to keep the wheels and brushes free of tangled hair for the vacuum's longevity. 
Roborock includes a cleaning tool to help make hair entanglements easier to clean. 
Dustbins
Good-sized dustbins come with both the S5 and S6. They both have 480 ml dust bins to hold a good amount of dirt and debris. 
The dust bins are washable too for easy cleaning. 
Mopping Feature and Water Tank
The Roborock S5 and S6 are two of the rare vacuums that will sweep and mop simultaneously.
Mopping attachments include a microfiber cloth that sticks tightly to the Roborock bottom, so the cloth's edges don't curl up to miss spots.
Both have a water tank capacity of 140 ml of water for mopping. The tank capacity is good for about 50-60 minutes of mopping. 
You'll be able to control and adjust the water flow on both the S5 and S6 Roborock vacuums. The water will uniformly seep out from the water reservoir onto the mop cloth that hooks onto the mop. 
A filter in the water tank helps to prevent debris not caught in vacuuming from clogging parts of the system, scratching the floor, and to keep the mopping cloth clean. 
The Roborock S6 and S5 both use Smart LDS Laser Navigation (laser distance sensor or LIDAR) to accurately scan and map out your home, creating a High Precision Map of your floor plan. 
The data collected by the laser sensors is used in calculations by its SLAM Adaptive Route Algorithm to map out the most efficient cleaning paths. The sensors will look for obstacles to avoid and prevent collisions. 
The smart mapping system of both the S5 and S6 remember the floor maps of your homes so you'll be able to use the Mi App for Selective Room Cleaning, Zone Cleanup, and Scheduled Cleanings. 
Selective Cleaning allows you to use the app to select specific rooms (eg., living room, bedroom) to clean immediately or on a schedule that you set. You can also set it to clean multiple rooms.
The Zone Cleanup function offers great cleaning performance for zoned cleaning with custom suction for each zone.
Scheduled Cleaning cycles allow you to customize when to clean and where to clean. Schedule your Roborock to clean when you're not home, so you can come home to nice and clean floors. 
Even though all the mapping and navigation is the same, there's one key difference. The key difference is the S6 does it for multiple floors of your home. If you have a second floor or basement you want your robot vacuum to clean, you'll want to get the S6.
Smart Home Integration
The smart mapping and navigation features and functions above are all controlled through the simple and easy-to-use Mi Home App. The Mi Home app is available for iOS and Android, and acts as a remote control of your robot vacuum cleaner.
Control and schedule cleanings through the app, turn the Roborock on and off, check the saved maps, and the real-time tracking of the robot vacuum cleaner's location.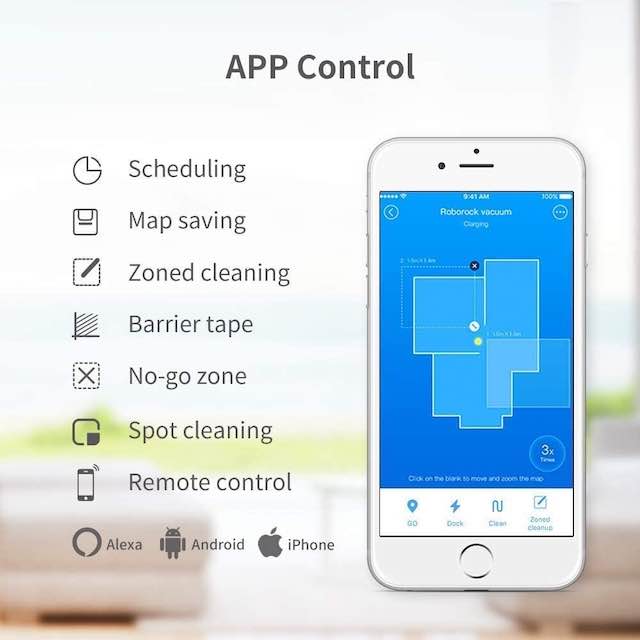 Real-time Robot Location is a useful and unique feature to keep track of where the Roborock is while it's in a cleaning cycle. 
In addition to selecting cleaning areas like single rooms and zones you want to clean specifically, you can select areas you don't want cleaned. Create No-go Zones in the app to prevent the S5 and S6 from entering certain areas that you don't want the Roborock to enter. 
Start and stop cleaning on the S5 and S6 using voice commands through voice assistants Amazon Alexa and Google Assistant (Google Home). 
Voice command control is super-convenient and gives you hands-free operation if you use Alexa. Voice control is one of my favorite useful features.
Dust Bin and Maintenance
Both the Roborock S5 and S6 have 480ml washable dust bins. 
Removing and emptying the dust bin from the robot vacuum is an easy cleaning process. Cleaning is easy as well. Fill it with water, close the cover, and shake the dust bin to clean it, along with the filter at the same time. 
Regular cleaning and maintenance for the S5 and S6 will keep them in optimal condition to run for a long time. 
You'll want to do things like keep the battery charged to prevent over-discharging and battery capacity issues. Using a dry cloth to clean the charging contacts on the charging dock stations. 
Clean out the underside main brush and side sprinning brush from any tangled hair and debris that could cause blockages. Look to replace the side brush every 3-6 months for maximum cleaning efficiency. 
Dry the filters for 24 hours before putting them back into the Roborock to use. You'll want to also replace filters every 1-3 months depending on how regular you clean. The microfiber mop cloth should be replaced every 3-6 months, but you'll also have a good sense of when to replace it based on cleaning and mopping results. 
Roborock S5 vs S6 – Pros and Cons
S5 Pros 
Robot vacuum cleaner that sweeps and mops in one machine
Maps your home and creates efficient cleaning routes with LIDAR navigation
Create schedules for specific, individual rooms and zone cleanings
Works well on any floor type
S5 Cons
Doesn't remember maps for multiple floors of home
Roborock S5 — Introduction
S6 Pros
Mopping feature that works at same time as sweeping
Create specific cleaning sequences
Recognizes and saves maps of multiple levels of your home
Create No-go zones, invisible walls, and No-mop zones
50% quieter than the S5
Suction power varies depending on floor type
S6 Cons
Loud when it uses the maximum suction to clean carpeted surfaces
Higher price point
Roborock S6 | Bring Home Smarter
Who is Each for – Roborock S6 vs S5
Get the Roborock S6 if you have a larger home and/or have multiple floors.
The S5 is your Roborock if you have a tighter budget and/or only have one floor in your home.  
Verdict and Final Thoughts
Roborock has created some good contenders to iRobot Roomba vacuums. Roborock continues to upgrade their robot vacuums to newer models like the Roborock S5 Max, S6 Pure, and S6 MaxV. The new kid on the block is giving the old guard a run for their money, especially with the mopping function.
The major difference between the two vacuums is the Roborock S6 will be able to create and remember multiple floors for more convenience. If you have a second floor, basement, or more, you'll want to get the S6 for multiple floor mapping. 
Last update on 2022-12-24 / Affiliate links / Images from Amazon Product Advertising API
The S6 is at a slightly higher price than the S5, but it is the more advanced vacuum. If you have a flexible budget, the S6 would be the better option because Roborock will update the S6's software-related features earlier than the S5. 
Last update on 2022-12-24 / Affiliate links / Images from Amazon Product Advertising API
It's also not a guarantee that the Roborock S5 will receive an update. The S5 previously didn't have the ability to schedule specific room cleanings, while the S6 already had it. Now, the S5 can specify bedrooms and such, but the S6 had it first. I imagine that Roborock will do the same with any software upgrades in the future. 
Both vacuums are excellent choices amongst the sea of robot vacuum cleaners models out there. But after a detailed comparison of the smart features, the S6 comes out on top for me.
One note about Xiaomi and Roborock. The vacuums used to distribute under the brand Xiaomi, but they're not the same company. Roborock released 1-2 vacuums in the Xiaomi brand and then went out on their own to release their own branded robot vacuums, including the Roborock S4.
Here are more Roborock comparison reviews with these two vacuums.