Roborock has stepped up the robot vacuum cleaner game with its next generation Roborock S7 Robot Vacuum.
Roborock introduces its sonic mopping and intelligent auto-lifting mop for the first time. No longer do you need to wait for your robot vacuum to finish vacuuming before mopping, because the Roborock S7 cleans and mops at the same time for uninterrupted cleaning. 
Combine the S7's cleaning and sonic mopping technologies with the upcoming Roborock Auto-Empty Dock and there really won't be much for you to do. Yet, the S7 will be delivering a deeper clean than you've ever had before with a Roborock.
Last update on 2021-10-15 / Affiliate links / Images from Amazon Product Advertising API
So let's first get into the details of the Roborock S7's features and benefits to help you decide if you should get the S7 or get one of the earlier versions like the Roborock S6 MaxV here. 
Roborock S7 Features and Benefits
Design and Size Dimensions, Weight, Colors
Design hasn't changed much and neither has its size, weight, and colors. The S7 is the familiar circular shape that comes in two colors: black and white.
The S7's size is 353 x 350 x 96.5mm (13.9 x 13.8 x 3.8 in.) and weighs 4.5 kg (9.9 lbs), similar to the S6 MaxV and S5 Max robovacs.  
On top of the S7 are the same three buttons for Spot Clean, Clean On/Off, and Home/Recharge. Spot Clean will start a spot cleaning session, while the Clean On/Off will start and stop a cleaning cycle. The Home button will send the S7 back to its docking station to recharge. 
Battery and Capacity
Roborock vacuums are known for bigger and longer lasting batteries, and the S7 doesn't disappoint here. The Roborock S7 is equipped with a 5,200 mAh battery that has the capacity for up to three hours of battery life in Quiet mode. 
The battery capacity should be good for about 200 – 300 square meters (2150 – 3230 sq. feet) of floor space in a single cleaning session, depending on the cleaning intensity that's set. 
Intelligent Cleaning and Sonic Mopping System
The cleaning and mopping technologies are where the Roborock S7 starts to set itself apart from any other models. The S7 has a powerful vacuum system that's now paired with its first ever mop lift feature, allowing the S7 to clean and mop at the same time. 
Cleaning and mopping at the same time saves a lot of time, because you no longer need two separate cleaning robots, nor do you need to manually mop after the vacuum. 
The S7 has powerful cleaning with suction power at 2500Pa thanks to its HyperForce suction system. Imagine, 2000Pa will lift a AA battery off the floor, so 2500Pa will be able to capture those fine dust particles on your floors. Whether the S7 is on hard floors or carpets, you won't have to worry about pet hairs and even human hair. 
With all that suction power, is the Roborock S7 loud? In balanced mode of cleaning, the S7's noise volume is rated at only 67 decibels (db) as well. That's about the sound level of people laughing and/or a vacuum cleaner.
S7's mopping feature is powered by Roborock's Sonic Mopping Technology with its 300 ml water tank capacity. That allows the mop to scrub up to 3,000 times per minute, breaking up and cleaning the dried-on messes from liquids and dirt on the floor. In one session, the water tank allows for deep cleaning up to 200 sq meters (2150 sq feet). 
In addition to its sonic vibration, the S7 comes equipped with VibraRise, surface recognition technology. The S7 is an intelligent mopping robot that will automatically lift the mop when the S7 detects carpet.
The S7 robot mopping process can vacuum and mop at the same time without worrying about water getting onto your carpet. When the S7 is back onto hard floors, it'll place the mopping pad back down and clean.
The other great thing is the mop with raise itself up by 5 mm (0.2 in) when finished cleaning and returning to the docking station, leaving your floors dry and no water streaks to a dragging mop. That's a common complaint with the mopping experience. 
The Roborock S7 also comes with a washable 470 ml dustbin and a washable E11 rated air filter.
Later in 2021, Roborock will also release the Roborock Auto-Empty Dock that will allow the S7 to self-empty its dustbin. They're finally catching up to iRobot's Cleaning Base units with the Roomba vacuums.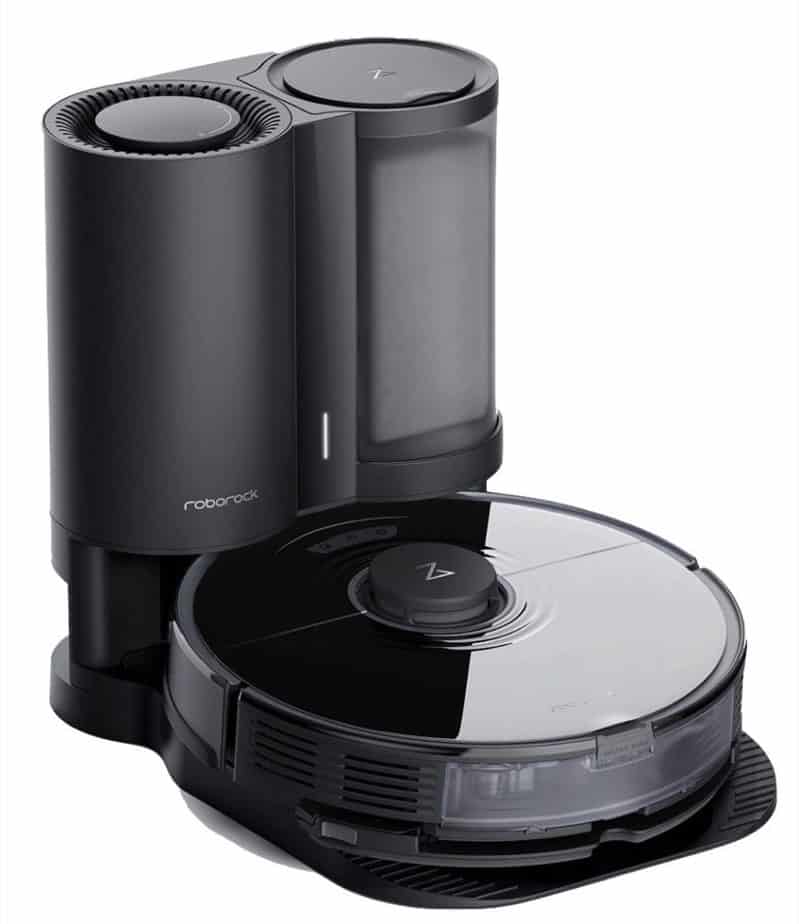 Ultrasonic Carpet Recognition
The Roborock S7 uses ultrasonic sound to detect carpet with incredible accuracy. With VibraRise and its ability to create No-Mop zones you won't have to worry carpets getting wet. 
After the S7 vacuums the whole house one time, it'll remember where the carpets are in your home. From the map created on the mobile app, you can tell the S7 to vacuum carpets, but not mop by creating No-Mop zones on the app. Or VibraRise will automatically raise the mop pad when it detects carpet. 
Floating Rubber Brushes Stays to the Ground
The new, upgraded floating rubber brushes give the S7 the ability to stay as close to the ground as possible to disrupt and agitate the surface dirt and debris on different floor surfaces, especially carpet. There's also the standard side brush that'll help to get the dirt and debris along the walls and corners.
Floating brushes that automatically adjust are great for homes with different floor surfaces and levels. There won't be a need to manually go over some areas again. 
Roborock gets rid of bristle brushes too, making these new brush rolls out of rubber. Rubber allows the brushes more durability and more easily avoid hair tangles, leading to longer lasting brushes. The rubber will also agitate dirt and debris even more than bristles.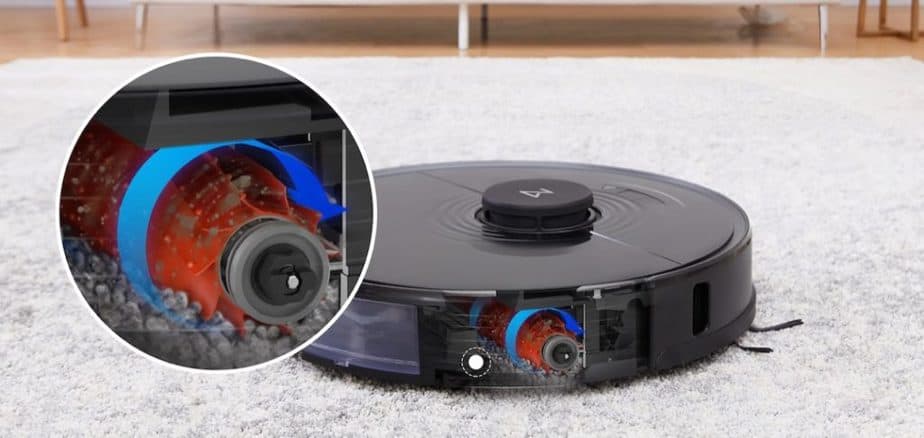 Much like the sonic mopping technology that will break up dried stains, vacuuming also needs brush rollers that are able to get as close to the floor surface as possible to break up dirt to be suctioned up. 
The ultra-low rubber brush rolls and the 2500Pa suction won't leave much debris behind, if at all. The clean will be deeper than in previous models. 
Precision Mapping and Navigation System
Multi-story homes will want the Roborock S7 as it'll map out four levels of your home with LiDAR navigation accuracy. Lasers are used for mapping accuracy to 2 cm (0.8 in) for better maps and cleanings.
The S7's detailed maps identify the various rooms of your house that'll be useful when customizing cleanings on the mobile app. If you only wanted to clean the master bedroom, you can tell the S7 to do that.
With its mapping and navigation technologies, the S7 will use adaptive route algorithms to create the most efficient cleaning routes for itself. There's no wasting cleaning time with the S7, unlike older robotic vacuums with random cleaning paths. 
Smart Home Integration and Mobile App
Roborock S7 comes with Wi-Fi connectivity for the mobile app and integrations with other smart devices on your home network.
Roborock's app gives you control over many aspects of the S7. The app allows you to:
Real-time mapping and monitoring – see where the Roborock S7 is cleaning and mopping
See real-time reports
Use joystick mode to manually control the S7 around the home
Set vacuum suction power strength
Set mop vibration strength and high-intensity scrub settings
Enable different vacuuming modes, including "deep mopping" mode for high-intensity cleaning
See detailed maps of S7 paths for vacuuming and mopping
Create restricted areas to prevent S7 access
Create customized cleaning schedules
Use voice commands with Amazon Alexa, Google Home, and Apple Siri
Creating barriers like No-Go and No-Mop Zones, as well as Invisible Walls will stop the S7 from destroying potentially fragile furniture and items.
Maybe there's a specific area where the pet food and water dish are. Create a No-Go zone to prevent those dishes from being bumped, creating a bigger mess.
Routine Maintenance
Regular cleaning and maintenance will keep the Roborock S7 in good shape.
Empty the dustbin after each cleaning, or in between if the house is dirtier than usual or you have a large home. 
Clean the filters every couple weeks and depending on regular dirtiness levels, filters should be changed out every 2-4 months. 
Regularly clean the mopping cloths, especially if the floors were dirtier than usual. That will help keep floors clean during the next mopping session, as well as prevent dirt and dirty water from flowing back into the water tank. It's a good idea to also change the mop cloth every 3-6 months. 
Level up your cleaning with the new Roborock S7
Roborock Comparisons
Roborock S7 vs S6 MaxV
The Roborock S7 and S6 MaxV are similar when it comes to many of the technical specifications like 2500Pa suction power. The differences are in the new and upgraded features that the S7 has.
The S7 is loaded with sonic mopping that scrubs up to 3,000 times per minutes, floating rubber brushes that gets closer to the ground than ever before, and self-emptying functionality with the Roborock Auto-Empty Dock.
Final Thoughts on Roborock S7
The Roborock S7 looks great and Roborock is stepping things up with sonic mopping technology and Auto-Empty Docks for up to three hours of cleaning.
Last update on 2021-10-15 / Affiliate links / Images from Amazon Product Advertising API
Roomba has come out with their self-emptying robot vacuums for a while now and that's something people love, because there's no need to manually empty the dustbins with each cleaning session.
Two-in-one cleaning robot vacuum and robot mops have left something to be desired, because the mops don't usually do that much cleaning. But with the fast-moving mop, that should actually wipe away those dried stains on the kitchen floors. 
VibraRise will also take away concerns of the mop cloth getting carpet and rugs dirty, because the S7 will detect it's no longer on hard floors and lift the wet pad up. And when it's done cleaning, no more wet streaks or spots as it goes back to recharge.
Check out other Roborock reviews: