When it comes to meshing the latest technologies with home upkeep, iRobot's Roomba series of automatic vacuums are successful examples of this merger.
The manufacturer offers a wide selection of features on these products that allows you, as the consumer, to select a product that fits your needs and those of your home.
What follows is a closer look at two popular models, the Roomba 675 vs 801, providing you with information that you can use to make a more educated purchase with.
Roomba Models At A Glance
Looking At The Roomba 675 vs 801
What You Get
The 675 and 801 packages come with the Roomba, a charging stand, and a lithium-ion battery. It is worth noting that neither comes with the virtual wall barriers found in other offerings from iRobot. While you will get decent filtering with both products, they do not use true HEPA filtration.
Product Build Design
The 675 model offers a smaller system with a bit lower profile that can reach under areas that the 801 is unable to. It should be noted that 801 has a larger diameter as well. Solid black body color is used on the Roomba 675 while the 801 includes a silver-grey on the outer edges.
Vents are placed in a similar area on both units, and the bumper material of both should help to absorb dings without scratching. Control buttons are located along the top of each Roomba.
There are small differences with the button layout, but these control points will act in a similar way no matter which product you own.
Review || iRobot Roomba Vacuum 675
These automatic vacuums use iAdept technology to navigate on your floors and around obstacles. There is little difference in how each system works, offering you the ability to spot clean and auto dock when it is time for a recharge.
If you need to put in navigation input, both models have buttons on the unit itself. The Roomba 801 has the ability to be controlled remotely, but the controller itself will need to be purchased separately.
Lifting Power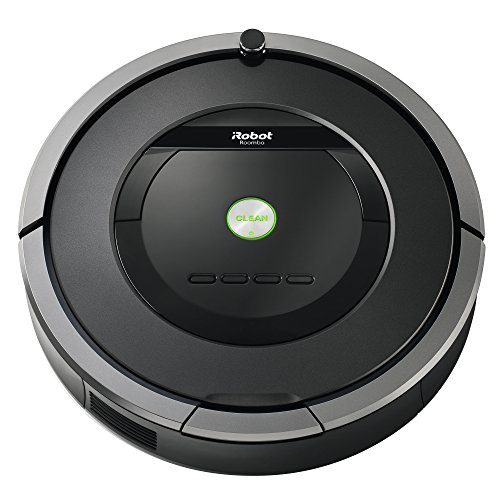 Both products make use of a side brush as well as a dual brush bar. These components work to loosen debris and lift it from cracks or spaces in the flooring material.
The real difference between the models is the AeroForce technology used on the 801. This improves the AeroVac design by using a larger motor that generates more suction. Another feature of the design is its ability to sense when it needs to speed up or slow down the motor.
Those improvements allow it to generate up to five times the lifting power found on the 675. It is one of the reasons that the Roomba 801 comes at a higher price point.
Battery Power
While they both use lithium-ion batteries, there are differences. The 675 uses a smaller design that rates at about 2,400 mAh. It will charge more quickly at the cost of running time.
The 801 makes use of a larger battery that uses the designation of XLife. It generates approximately 3,300 mAh. That will take an extra hour for a full charge, but you will experience up to twice the running time between charges.
Homeowners and renters with smaller spaces may find a smaller battery fine for their floor space. Those who own homes with more rooms and floor space may need the longer running time offered by lithium-ion packs with higher ratings.
Roomba 675 Pros and Cons
This product from iRobot features a more simple design that takes up less room. It still uses the same Roomba cleaning design and can be scheduled for automatic cleaning that will free up more time for other projects.
Pros
The Roomba 675 unit is more compact
It will take less time to fully charge
The model comes at a lower price tag compared to the 801
Cons
The 675 lacks the suction power found on the 801
It has about half the running time
Roomba 801 Pros and Cons
The larger size and weight of the 801 are due to this vacuum's stronger pulling power. It also has the remote ability if you purchase a separate controller.
Pros
The Roomba 801 has been designed to offer up to five times the suction power found on the 675
It can run up to twice as long before it needs to be charged
This design is also capable of performing edge cleaning effectively
Cons
The 801 has a larger body that may not fit into the same places the smaller 675 can
This product has a much larger price tag as well
Selecting The Best Roomba
My recommendation is the Roomba 675 for its better overall value. Even though the 801 has more suction power, it's not as effective and the 675 doesn't require extra accessories like the separate controller.
If you prefer the 801, the larger battery requires an extra hour to fully charge but that charge will allow the 801 to run twice as long before it needs to dock again. Extra power and running time might be worth paying more for too.
Here's another comparison with the iRobot Roomba 801 Vs 650.