Allergy sufferers need a robotic vacuum with a superior filter. Otherwise, they'll be left trying to breathe through household dust, pet dander, and other environmental nuisances that cause their condition to worsen.
When comparing the filtering capabilities of the iRobot 801 vs 650, it's clear to see that one machine is better than the other for filtering out the tiniest particles. Despite having a long list of desirable features, the 801 does not benefit people with asthma as much as the 650 does.
Quick Comparison: Roomba 801 vs 650
Product
Filter Type
Scheduling
Remote
Voice Control
#1. iRobot 650
Our Best Pick

Check Price

AeroForce
Yes
No
No
#2. Roomba 801

Check Price

AeroForce
Yes
Yes (Separate)
No
#1. iRobot 801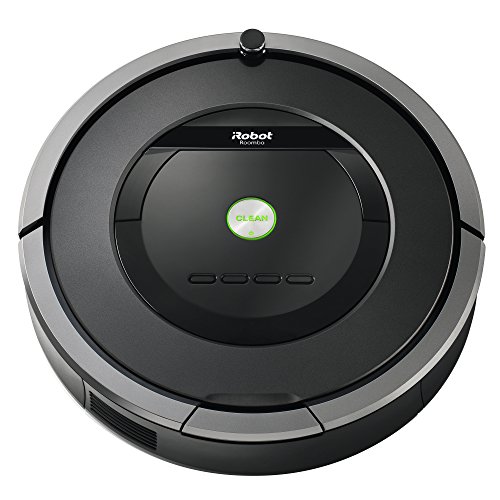 When searching for the perfect robotic vacuum cleaner for your household, you likely have a set of criteria to follow. That way, you know that you're getting the best model for the money spent and won't sacrifice some of your must-haves for the sake of shaving a few dollars off the purchasing price.
People who don't deal with severe allergies can survive using a vacuum like this, but the ones that do have trouble breathing may want to consider the 650 for its filtering capabilities alone.
If the filter isn't much of an issue for your or your family members, you'll find that the 801 is a reliable machine with some pretty good features for its price.
Let's take a look at some of the most standout things about the Roomba model.
Features
120 Minutes of Run Time on a Single Battery Charge
If you want to run your vacuum for hours at a time before recharging it, you can with the 801. It comes with a long-lasting battery that gives you up to 120 minutes of cleaning at once.
That means that if you need to do some last-minute tidying up to prepare for that dinner party, you're hosting, you can use the daily and weekly scheduling button on the machine to set up a time to vacuum.
It allows you to select the day, hour, and minute as well as the frequency with the Roomba running up to seven days a week if you opt to schedule daily cleaning sessions.
AeroForce Technology with Greater Suction Power
Enhanced technology makes the machine better able to suck up debris as it moves along floors. It has five times the sucking capabilities, which makes a real difference when cleaning various hard-to-pick-up substances such as crushed chips, cereal or sugar.
It also has better motor speed and can adjust the brush bars to ensure that no traces of debris are left once cleaning. Hardwood floors are tackled with the brush bars fully retracted. The bars retract once the machine returns to carpeting, though.
Local Controls
This machine does not have voice controls or app scheduling. It does come with local controls, however, which does a satisfactory job of getting things done. Without the optional remote, you'll need to control the machine by using the large 'Clean' button.
If you prefer to schedule your cleaning sessions, you'll use the 'Scheduling' button. If a part of the flooring that you want clean needs extra attention, press 'Spot Clean,' and the vacuum will move in a spiral motion for up to three feet in an attempt to get rid of every trace of dirt in the area.
#2. iRobot 650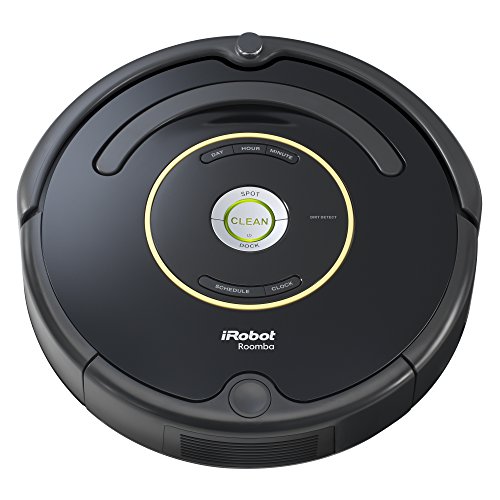 The iRobot Roomba 650 has cleaning capabilities that are superior to many other models made by the company. Using a three-step process for addressing dirt and debris, the robotic vacuum agitates, brushes, and sucks up substances like a champ.
It also has side brushes that help sweep grime out from the hard-to-reach areas of a room, such as up against walls and in tight corners.
It's able to navigate effortlessly thanks to a whole range of sensors it contains. That means that it won't get confused once it approaches furniture, laundry baskets, or even a pet because it knows to go around them to reach the flooring needing cleaned.
Features
Simplicity is key with the Roomba 650. It doesn't have all the snazzy features that you find in other models made by the company. There's no Wi-Fi capabilities or voice access.
What it offers is a user-friendly machine with minimal controls, technologically-advanced sensors that protect the vacuum from damage, and an advanced cleaning process capable of reaching the most dried and caked on substances on a floor. Sucking them up isn't an issue. The machine's filter also does a great job of keeping allergens out of the air and lungs of the people and pets living in your home.
Simple Cleaning Buttons
To get the 650 to do its job, press the cleaning button on the machine and let it do its work. Like the 801, a scheduling button makes automating cleaning sessions easier.
It does not come with an app or voice control, but you can manually schedule it for up to seven days a week of vacuuming. It also returns to its charging dock after a cleaning session so that its battery never runs low.
Cliff-Detection Sensors
Protecting your vacuum from its demise is possible thanks to its Cliff-Detection Sensors. The technology prevents the Roomba from nosediving down stairs or finding other drop off spots that could damage it.
Three-Step Cleaning Process
A completely thorough cleaning process starts with Agitating. Then it moves to Brushing. Finally, it's Suction. More dirt is picked up that way, making each cleaning session more effective.
The Clear Winner
The 650 does a better job of cleaning because of the triple steps it takes to clean floors. It also offers a filter that takes care of the tiniest particles, making homes safer for people with allergies.
This model of Roomba may not be entirely controllable with voice commands and mobile apps, but its straightforward design makes it easy for people who aren't tech-savvy to run it. They're able to schedule regular cleanings, too, because the scheduling button is much like setting the time on a digital watch or alarm clock.
If you're looking for other comparisons with these two vacuums, choose one of the following: