When you try to watch live television on YouTube TV, you get a black screen with a message saying "This video cannot be played" or maybe you don't get any message. 
This YouTube TV black screen of death happens because YouTube TV doesn't support certain types of internet connections, an internet issue, or for various other issues. Sometimes, even though you've got a fast connection, YouTube TV will still not work properly.
This article will cover the common issues and how to fix the black screen on YouTube TV problem yourself on different smart devices. 
YouTube TV can be used on your smart TV, your smartphone, Tablet, and both Mac and PC computers. I will go through common YouTube TV problems and fixes for each of the devices and platforms.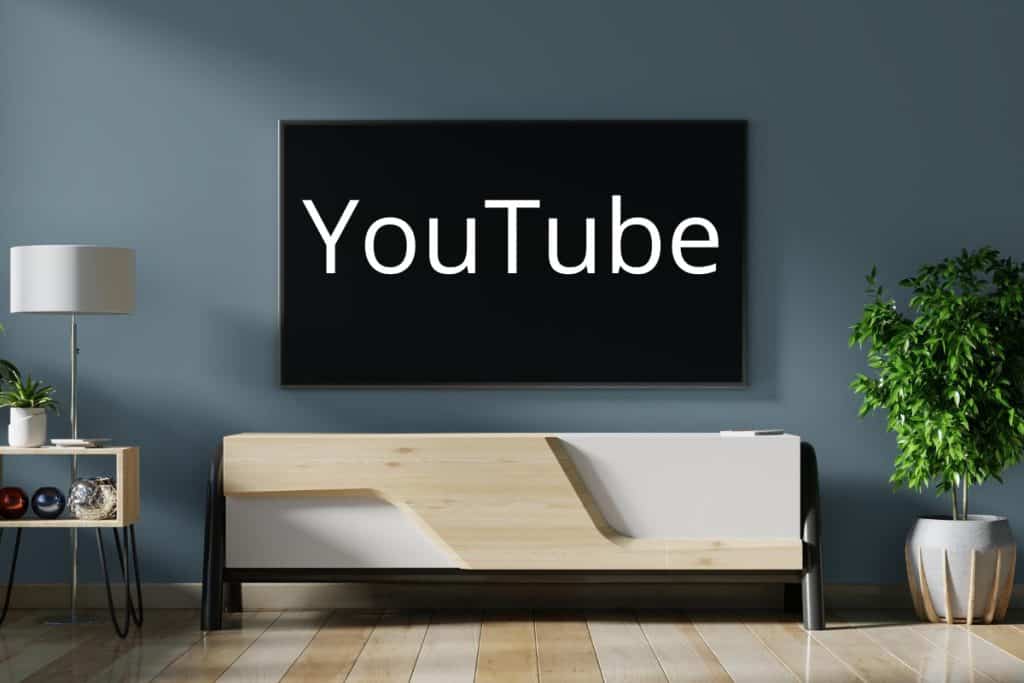 YouTube TV Black Screen on Smart TV
These are the fixes for a YouTube TV black screen on a Smart TV. 
1. Check Internet Speed
When your internet speeds slow down, the YouTube TV app may show a black screen because it's unable to show any video. There might be audio though because it can still be transmitted with slow internet speeds.
Video depends on how fast your internet connection is. Your internet speed should be greater than 5 Mbps if you want to watch HD videos on YouTube TV. 
Another reason YouTube TV is buffering and not displaying any video is if too many people are watching at once. The more people using the same internet connection, the slower the internet speed is for everyone.V.
To make sure you don't miss anything, I recommend checking your internet speed regularly.
You can do this by opening up the Google Chrome browser and typing "speedtest.net" into the address bar. This will take you to a web page where you can test to see what your internet speed is.
If you're using a Wi-Fi Router, you can also try switching to a LAN adapter for Smart TVs to get a more stable and fast internet connection through ethernet cables. 
2. Reset Router and Internet Connection
The reason there's no image from YouTube TV is there might be something wrong with your router or modem. You can try resetting the router and internet connection to fix the problem.
Resetting the modem/router would refresh the internet connection and speed to your internet provider. 
For Wi-Fi routers and modems
Turn the router or modem off
Wait 15 seconds
Then turn the router back on again. 
If the speed isn't improving even after restarting your modem/router, contact your ISP because your internet connection could be down. 
For ethernet connections, unplug the cable for about 10 seconds and reconnect. 
3. Logout and Re-login to YouTube TV Account
A disruption in your connection to your YouTube TV account and your TV could create the black screen on your TV. Logging out and logging back in can fix any glitches caused because in the connection to YouTube TV. 
To log out of YouTube TV: 
Open the YouTube TV app.
Select your Account Profile in the upper-left corner
Select Sign Out to log out.
Now, log back into your account:
Open the YouTube TV app.
Select your Profile in the menu in the upper left corner.
Click the Profile icon.
Log into your account.
You're good to go.
4. Reset the YouTube TV App
Any unexpected conflict in the YouTube app's cache files and cookie can cause the black screen issue. Some changes in settings and preferences can also create problems. 
Clearing out the corrupted settings, cache, cookies, and temporary files can be done by resetting the YouTube TV app. Luckily, the app comes with its own reset option to clear out settings. 
To reset the YouTube TV app:
Open the YouTube TV app.
Select Settings in the menu on the left.
Navigate down to Reset.
Select Reset and confirm to reset the TV app. 
5. Reinstall the YouTube TV App
If resetting the YouTube TV app and logging out/in does not fix your issue, then you can also try to reinstall the YouTube TV app. 
This is because there are chances that the app might have become corrupted due to several reasons like installing updates, third party apps, etc.
However, if the YouTube TV app comes pre-installed on your smart TV, then you cannot uninstall the app without rooting your device. Instead, you can uninstall previous updates and install the latest app update and version.
6. Soft Reset or Reboot Your Smart TV
With smart TVs becoming more complex and powerful, they have the ability to run processes like a computer. A soft reset or reboot of the Smart TV can help clear any corrupted settings on the TV itself. 
A soft reset, or power cycle, will stop any background processes that might be causing black screen issues. Soft resets can also help with other issues like sluggish Wi-Fi speeds and poor Bluetooth connections.
To perform a soft reset on a smart TV, follow these steps: 
Unplug the TV's power cable for at least 60 seconds. 
Plug the cord back into the power outlet.  
That's all there is to a soft reset. 
Another thing to try is to reboot the smart TV, which can also help with various issues.
Unplug the TV. 
On the Remote, Press and Hold the Power button for 30 seconds. 
Plug the TV back into the power outlet.
7. Update Your Smart TV Firmware
Sometimes older firmware can cause the TV to display a black screen. New firmware updates are released periodically by TV manufacturers to fix bugs. It's best to update your TV to get those bug fixes.
Firmware controls how a smart TV works internally. It controls the menus and settings, how images are interpreted and displayed on screen, and much more.
The latest firmware version can be found by going into the TV Settings menu. It should also appear on the manufacturer's website to download, but then you'll need to sideload the update file onto the smart TV..
To update the smart TV firmware through Settings, follow these steps: 
On the remote, Press the Home button to open the Menu. 
Select Settings.
Select Support. 
Select Software Update. 
Select Update Now. 
The TV will reboot, so the new firmware can take effect. 
8. Factory Reset Your Smart TV
So you've tried all the other potential solutions above, but you're still having black screen issues on the smart TV. There is one last potential fix, a factory reset of the TV. 
Factory resetting the TV back to its original factory settings may be able to fix some software issues. This is one of last non-hardware options to try because a factory restore removes any personal information stored in the TV, including saved usernames, passwords, and favorites.
Resetting the smart TV clears all of its settings and removes all of its data. Resetting your TV may fix any issues you're having with it.
Here is how to generally perform a factory reset on your a smart TV with a black screen: 
On the remote, Press the Home button to open the Menu. 
Select Settings.
Select Support. 
Select Self Diagnosis.
Select Reset. 
Enter 0000 for the Security Pin. 
Confirm with the Yes. 
But of course, if you have a black screen, you may not be able to navigate the menus. Here's how to generally perform a factory reset of a smart TV with a black screen using the remote control. 
The first way to reset the TV with the remote : 
On the remote, Press and Hold the Exit button for 15 seconds. 
Press OK to trigger the factory reset. 
YouTube TV Black Screen on Mobile and Tablet
These are the fixes for a YouTube TV black screen on a smartphone or tablet. 
1. Turn Off Any Ad-Blocker Apps
Ad-blocking apps are great tools when browsing the internet. They allow us to surf without being bombarded by popups, banners, and other annoyances.
But while they do offer some benefits, there are downsides too. These ad-blocker apps can cause issues with YouTube TV. Those apps could block the video feed going to YouTube TV and leading to black screens. 
While such apps may help when searching the web, they can actually cause certain apps to stop working properly. This is because many apps rely on advertisements to monetize, and sometimes, ads are blocked by the ad blocker. As a result, some apps may not function properly.
Not only does this make the apps less useful, but it can also lead to slower performance, since the browser needs to load each webpage individually rather than loading multiple ones simultaneously. Additionally, ad blockers can collect information about your browsing habits.
For example, they might record what sites you visit most often, how long you spend on each site, and even what videos you watch. All of this information can be used to target ads towards you.
Thus, if you're using an ad blocker, it's best to disable it if you're having issues with YouTube TV and other apps.
2. Turn Off VPN
VPNs are great tools for protecting yourself online, especially during times when internet access isn't safe. VPNs are also used to change the user's geographical location, allowing the user to use YouTube TV from a certain location. 
Unfortunately, YouTube TV's technical capabilities at testing whether someone is using a VPN continues to get better every day. That means they'll be able to block some VPNs, which can lead to geographical restriction messages and black screens when trying to watch YouTube TV. 
If that's the case, you'll need to turn off your VPN when watching YouTube TV. But if you're not physically watching from the U.S. or where your YouTube TV account is supposed to work from, you may need to try other ways to proxy or change your geographical location. 
3. Clear YouTube TV App Cache
When using the YouTube TV app, it will create cache files to help videos load faster to continue watching or re-watch shows. However, as the cache files build up and gets larger over time, they can slow down the speed and even get corrupted, leading to issues.
It's best to regular clear the cache in the YouTube TV app. Follow these steps to clear the app cache on an Android phone or tablet. 
Open the YouTube TV app on your phone or tablet. 
Select Settings.
Select YouTube. 
Select Storage. 
Select Clear Cache.
For iOS devices, like the iPhone and iPad, you'll need to uninstall the YouTube TV app and then reinstall it. 
4. Update YouTube TV App
The YouTube TV app has been updated several times over the past few months. If you have an older version of the app installed, you may want to update it to the latest version before attempting to watch YouTube TV again. 
To check the current version of your YouTube TV app, open the Google Play Store app on your Android device. Search for the YouTube TV app and tap on the icon to open the app. The version number should appear at the top right corner of the screen and the Play Store will let you know if you have an update available.  
5. Uninstall Faulty Apps
Sometimes, there are apps that don't work properly with YouTube TV, causing problems such as black screens or freezing. In those cases, you may need to uninstall them completely. 
If YouTube TV just suddenly stopped working, see what recent apps you installed. Start with uninstalling those apps as they may be the cause of YouTube TV not working correctly. 
Youtube TV Black Screen on Computer (Mac and Windows)
These are the black screen fixes for YouTube TV on a Mac or Windows computer. 
1. Clear Browser Cache, History, and Data
Some browsers store information about websites in their cache, history, and data. That data can become corrupted. When this happens, it can prevent websites from loading properly, resulting in a blank page. 
Clear browser caches, history, and data depending what browser (Google Chrome, Apple Safari, Mozilla Firefox) you're using. 
2. Uninstall Browser Extensions
Browser extensions add extra features to your web browser. Some of them can interfere with how websites load, causing errors and crashes.
You can remove any unwanted browser extensions by going into the settings menu and selecting "Manage Add-ons or Extensions". Then, select each extension and click the button next to Remove. 
Start with the browser extensions that you most recently installed. Uninstall them one by one until you find the one that's not allowing YouTube TV to load video. 
3. Turn Off Hardware Acceleration
Hardware acceleration is a feature that allows your computer to use more powerful graphics cards to improve performance when playing games or viewing content on the web. It also improves overall system performance.
But sometimes, hardware acceleration can make websites load slowly or crash altogether. The computer is processing using the Graphics Processing Unit (GPU) and not the CPU. 
Turning off hardware acceleration on your computer can help solve these issues.
YouTube TV Black Screen Final Thoughts
There are many ways to fix a black screen issue on the YouTube TV app, no matter the device or platform. You just have to know how to troubleshoot the problem and have some patience as you go through possible fixes. 
I hope this article helps you understand what's going on when a YouTube TV displays a blank screen. I also hope you learned some tips and tricks on how to resolve the issue yourself. 
For more black screen troubleshooting with other TV manufacturers, check out these articles: