We've all seen the meteoric growth in gaming, comics, and cosplay. Did you know 3D printing has taken the world by storm as well? What happens when you mash together the growing gaming and 3D printing industries?
You get the Best 3D Printer for Miniatures! 
If you're in a hurry, here are the Top 5 Best 3D Printers for your miniatures. Keep reading to get the details of how these five 3D printers made it to the coveted short list. 
3D printing is used by everyone from big manufacturing brands, medical research and development companies, and even the semi-pro hobbyist who designs amazing 3D models and then turns them into real things with a 3D printer.
And in this class of hobbyists, there are those who design, plan and build their own miniatures – specifically game miniatures like D&D miniatures or Warhammer miniatures. Even printing miniatures of characters from their favorite comic books, anime, cartoons, films, or even self-miniatures. 
One note: be aware of Intellectual Property (IP) laws in your area. It can be illegal to print copyrighted and trademarked designs for commercial use.
Although 3D printing is not the same as buying from a store, these super detailed 3D printed custom miniatures are customized to your own designs. You can pose, color, dress, and design them however you want. Imagine posting a picture of a one-of-a-kind miniature up on your social media accounts. 
Plus, your 3D printing costs could be 50-80% of a stock miniature figurine that you buy in the store. That's some savings. 
Let's dive in to find out more about how you can make your 3D printed miniature designs a reality. We'll start with the Best 3D Printers to print miniatures and then give you an in-depth buyer's guide so you'll know what to look for when choosing your 3D printer. 
Top 5 Best 3D Printer for Miniatures
AnyCubic Photon UV – Best Overall
AnyCubic makes some of the best printers in the 3D printing industry. The AnyCubic Photon is my top choice for printing miniatures. The Photon is a DLP SLA 3D printer that uses UV light to cure the liquid resin.
As a resin-based 3D printer, the level of detail is amazing, especially at this price point. If you want to print miniatures to use when you're playing games or just to show off, you'll want to have this level of detail at the least. 
The Photon is amazingly affordable and won't break the bank. It's well-built and feels solid. There's a color touch screen to control the printer functions. 
AnyCubic is known for their good customer support as well if you have issues. But the growing 3D printing and AnyCubic online communities are easily accessible to get answers to many common questions. 
One negative about buying the AnyCubic Photon isn't exactly an issue with the 3D printer itself. It has more to do with resin printing in general. 
Printing with resin will give you a great surface finish and high quality 3D printed objects. But printing with resin can get smelly and messy so be sure to be in a well-ventilated room. The cleanup can also be a pain, but it's just a matter of spending time to clean. That's the trade-off, more time cleaning vs high quality miniatures. 
Dremel Digilab 3D20 – Best for Beginners 
Dremel 3D printers are all over in schools, from K-12 to colleges and universities. Since they cater to education, their 3D printers are great for beginners. 
The Digilab 3D20 gives you as Plug and Play 3D printing as possible. The Digilab 3D20 comes already assembled when you unbox it. Dremel includes 0.5 kg of filament so you don't have to buy any initially. 
The Dremel ecosystem of hardware and software is there to guide you in a user-friendly way into the world of 3D printing. 3D printing comes with a steep learning curve and Dremel helps to soften that curve. 
The Dremel Digilab 3D20 also has a large build volume, so you'll be able to print more than just miniatures. For beginners, that's a good thing to have because it allows you to start exploring and try to 3D print different objects. Expand your creativity. 
FlashForge Creator Pro – Best Versatility
For those who want versatility and have some experience with 3D printing, the FlashForge Creator Pro just might be for you. 
Creator Pro's build volume is almost the same as the Dremel Digilab 3D20, but what makes the FlashForge unique is the dual extruder. 
The dual extruder features allows it to 3D print more efficiently because it's coming out of two nozzles now. If you want to use a second type dissolvable filament to support the primary material, a dual extruder gives you that ability. 
Want to print complex miniatures? The dual extruder gives you that in this well-built, sturdy metal frame. The new high heat resistant metal platform and metal support arms provide better thermal stability to prevent bed deformations.
One complaint I've heard is the FlashForge stepper motor isn't the quietest. If you have a separate workshop garage or room, annoying the rest of your family shouldn't be a problem. 
Creality Ender 3 – Best Budget-Friendly
The Creality Ender 3 is known for being one of the cheaper 3D printers that still holds its own when printing. The Ender 3 is reliable and solidly built. 
One of the coolest features is the Resume Print function that allows it to pick up from where it stopped if your power supply goes out. Maybe you lost power and the Ender stopped, don't worry because it'll continue on again once you get your power back. 
When you get the Ender 3, assembly is required. It's not difficult and does come with instructions, but you'll need to spend 1-2 hours putting the pieces together. If you're an absolute beginner and don't want to bother assembling, the Digilab 3D20 mentioned above is more beginner friendly because it basically works out of the box. 
The Ender 3 is a FDM printer, so you'll be printing with filaments like the PLA and ABS. Filaments are cheaper so it continues being a good budget option. 
SD cards are used with the Ender 3. There are inconsistencies with the card reader with higher capacity SD cards, like the 32 GB and 64 GB cards. Try lower capacity SD cards like 8 GB and 16 GB if you have issues reading the cards for your 3D design files. 
Creality's Ender 3 is definitely a great option for the price point and if you're willing to get your hands dirty initially. In fact, assembling a small portion of it will help you understand how a 3D printer works even more. 
Monoprice Maker Select V2
The Monoprice Maker Select V2 is a popular choice for those who want good bang for their buck. Monoprice is known for making quality budget printers for beginners and amateurs.
It has the open-frame design that I generally prefer because I can see the printing progress from any angle. Unfortunately, the open-frame usually means that there'll be some assembly required. 
There wasn't much assembly, so you can get up and running in 15-30 minutes. You're just tightening 6 screws and securing the frame's stability.  
The Maker Select wants you to get 3D printing quickly, so they include a microSD card with some sample 3D model files and some PLA filament. 
The print quality isn't great, but it's also not awful either. The Maker Select V2 is another good option if you're on a budget and the ones earlier don't match your needs.
How to Choose Your 3D Printer – Buyer's Guide
Choosing the best 3D printer, always depends on your needs and situation. For those who want to quickly test designs and produce a prototype, 3D printing is the go-to additive manufacturing investment casting solution. 
Our needs are different here as we want to print miniatures. Let's first discuss what kind of miniatures you want to print. 
Then we'll cover various 3D printer features and benefits so you'll have an idea of the features that will match what you want to print.  
Collectively, they'll affect your 3D printer options to help make sure you'll be able to print what you want to print.  
Why 3D Print Your Own Miniatures?
If you love tabletop games such as Warhammer and D&D, you'll probably already know that collecting the figurines, designing the terrain and putting it all together takes a fair chunk out of your bank account balance.
There's a good reason too as game companies have high-tech manufacturing facilities to produce these plastic models. That enhances the whole game experience for you to enjoy it even while you're not playing. 
But what if there was a way to save some cash, while still enjoying your tabletop games? 
This is where 3D printing steps in – you can use a 3D printer to manufacture your own customized miniatures and terrain pieces that cost you just about $5 – $10 per piece. 
The printing time could also be less time than it'd take for you to drive down to the store, buy a miniature, and drive back home. No fighting traffic or crowds either.  
Types of Miniatures You Can Print
There are all sorts of different types of miniatures that you can print with a 3D printer. Generally the sizes you can print depends on the size and quality of your 3D printer. Large build volume 3D printers end up being more expensive, but it also gives you the freedom to print larger objects. 
Some examples of typical miniatures 3D printed by hobbyists include game characters such as pawns and heroes, and other figurines that are generally about 54mm+ in height. 
Smaller character figurines ranging from 28mm – 54mm are also popular choices for several tabletop games like Warhammer and D&D. Again, it depends on the kind of 3D printer that you have, so your mileage may vary.
Terrain is a popular choice too when it comes to 3D printing miniatures. You're able to design your own terrain in the games themselves. That results in endless creativity potential.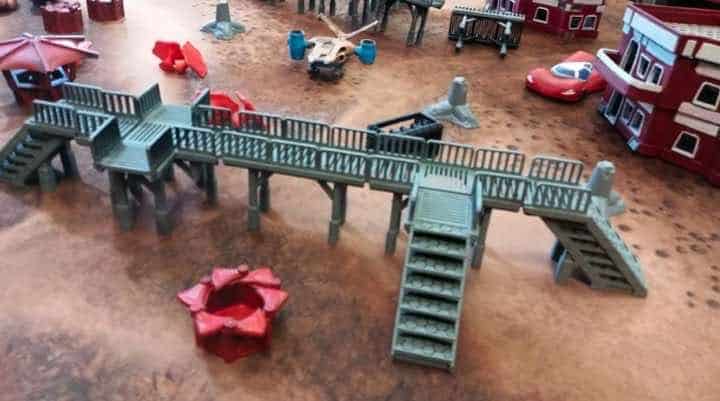 Many gamers have already come up with some awesome terrains that they've uploaded online to share with others to print. Thingiverse is one of the largest online communities of user shared 3D designs. 
Props are another popular choice for tabletop gamers to 3D print. Unleash your creative warfare by creating unique weapons. 
Where To Buy A 3D Printer?
When it comes to buying a 3D printer, there are 3 places to find them easily. 
The first one being through Amazon – which has all types and brands of printers and reviews from customers in the USA. The second option is through a specialty ecommerce site. The third and final option is through your local big box electronics store or small retailer who stocks 3D printers on a by-demand basis. 
We'll look at some of the pros and cons of each option to compare.
Amazon
PROS
Has a large range of products to choose from
Easy to understand website and simple checkout process
Customer reviews are plenty
CONS
Not specialized in 3D printing equipment
You have to do your own research
E-Commerce sites (e.g., Matterhacker.com)
PROS
Specializes in 3D printers and supplies 
Great prices can usually be found here
A wide range of 3D products without middleman markups
CONS
Can be more complicated purchase occasionally vs Amazon
Shipping can sometimes take longer vs Amazon fulfillment
Local Stores
PROS
Personalized, specialist advice from a qualified person
You can check out the products in-person first  
CONS
Usually more expensive than online
Smaller selection than what you'll find online
3D Printer Features and Considerations
Buying a 3D printer is a big investment, even for an amateur hobbyist. Below is a detailed list of considerations that will be useful as a checklist for anyone who wants to take their first steps into learning and using 3D printers.
Reliability
3D printers are machines after all – and the only useful machine is one that is reliable. 
The world of 3D printing requires some complex algorithms that can only be handled by the smartest of machines, so it's best to choose 3D printers that aren't prone to having errors or breaking down.
Build Volume / Bed Size
Are you planning on making just one 3D print a day, or are you planning to turn your home into a full-fledged miniature manufacturing factory? 
There are different production caps to each printer and how long it can run before your 3D printer starts to get a little worn out and the print quality starts deteriorating. 
Look for the ones that suit your volume requirements and can produce the number of miniatures you want at the highest quality levels.
Since we're talking about printing miniatures, you don't really need to look for a large build volume or bed size. You'll want to put more emphasis on the quality and the technical features below.
What a larger build volume will give you is flexibility for the future in case you want to start printing larger 3D objects. For example, cosplay props are common 3D prints nowadays. 
Nozzle Diameter
Your 3D printer's nozzle diameter affects the width of each line in your print, and also affects printing time. 
A smaller nozzle diameter means that you use less filament while printing, but your print will take longer to finish. A bigger nozzle diameter prints much faster at the cost of using more filament than necessary. 
A good middle ground for nozzle diameters for printing miniatures is roughly about 0.4 mm – which is the standard used by most 3D printers on the market today. 
If you want more detailed miniatures and don't mind taking longer to produce them, 0.25 mm is also a common size of 3D printer nozzles. Miniatures are usually small, so the added time won't be too high. 
Technical Features – Precision, Resolution, and Speed
3D printing is a delicate process and requires precise movements from the nozzles in order to recreate your digital 3D image and turn them into real objects. 
Therefore, the ability of your 3D printer to stay true to the measurements specified on your file should be exact. The nozzles should be zeroed to near-perfect accuracy in order to create a great looking miniature. 
Look for 3D printers that feature precision printing and high resolution. If you're looking for faster print speed, note that the higher you want your quality, the longer it will take to 3D print.  
Layer Resolution (Layer Thickness)
This is a measure of each successive layer of material when producing a 3D object in a printer. Simply said, this is the vertical resolution of your 3D printers' z-axis (vertical). 
Layer resolutions can range from 0.025 mm all the way to 0.6 mm. The lower the thickness, the longer it will take to produce your 3D printed object.
Material
There are a number of materials that different printers use to produce 3D objects. 
These are plastics such as ABS (Acrylonitrile Butadiene Styrene) which is a thermoplastic polymer, and the organic and biodegradable PLA plastic material. 
ABS is easier to clean and sanded down, while PLA is tougher and less prone to breakage while handling, sanding or making adjustments to your miniatures.
Resin materials are also used in some 3D printers like the SLA printers. When SLA printing, you're able to actually create molds and then use those to cast metal figurines from those molds.
Ease Of Use
The world of 3D printing itself is a steep learning curve, even for those in the know about this new and exciting technology. 
If you're just starting out, choosing a 3D printer that has a steep learning curve and a whole load of buttons and settings to choose from may lead to more frustration than enjoyment, so take it slow and do your research. 
Get your feet wet with the 3D printers meant for education and beginners. When you start to dive deeper with the knowledge you gain, you'll be more adept at handling the more complex 3D printers on the market and you can produce higher quality miniatures.
Other Features
New 3D printer manufacturers regularly come out with new features to make our 3D printing lives easier. 
Features can include things like
LCD screen or touch screen for operation and status updates
The ability to print offline without being connected to your computer
Smart resume functions that pick up right from where it stopped (e.g. due to power outage)
Extra features and functions don't always make or break your choice of a 3D printer. Take a look at what features you'd find useful. 
I prefer features that make the printing process smoother and faster, without sacrificing quality.
Best Printer Types – FDM vs SLA and Filament vs Resin
The choice of 3D printers is subjective, and varies from person to person – what is best for one may not fit all the requirements of another user. 
However, there are two types of 3D printers which are generally the most popular and widely used  – these are FDM (aka Filament / FFF printers) and SLA (Stereolithography / Resin) printers. 
Let's compare the two types below to see what's better for miniatures. 
FDM Fused Deposition Modeling
FDM 3D printers are also known as Filament printers. The main abbreviation FDM stands for Fused Filament Fabrication, and is known to show constant impressive results. 
FDM 3D printers are great options because of their widespread availability and lower prices. FDM printers and printer filament are both cheaper than their SLA counterparts. 
The printing process is also simpler with filament than resin. For beginners and less experienced people, the user experience will be easier and less hassle. There's also a lively open source, online community if you ever need help.
There are many colors and textures of raw material that are compatible with FDM printers and they are widely available in most stores that sell filaments. 
These raw materials are inert – meaning that they do not give out toxic fumes and are harmless before, during and after printing. 
One of the more notable advantages of FDM printers is that the cost of filament – the material used in its printing – is significantly lower per part than resin used in SLA. So that's one to consider if costs are a higher concern.  
It also takes a lot less space than SLA printing setups as well, needing only about half the size of a full SLA setup, which is great for smaller rooms or homes. 
The learning curve for FDM printing is a lot gentler than SLA printers.
Everything sounds great with FDM, so why would you ever go with SLA instead? There are drawbacks with FDM and it surrounds the quality of the 3D printed objects. 
A downside to FDM printers is you'll be able to sometimes see layer lines when objects are finished 3D printing. 3D printers print layer by layer, so depending on the print process, those layer lines will be there. It's a common occurrence. You can smooth the lines out in post processing, but not everyone wants to spend that time either. 
You'll also need post-processing if you wish to print transparent / clear 3D printed miniatures, which is an extra step as compared to SLA printers that can print transparent objects easily.
SLA Stereolithography
The print quality of SLA printers are known to have a higher level of accuracy and precision. SLA printers use light, laser or DLP (Digital Light Processing) to cure and harden the liquid resin into your designed shapes. 
SLA prints have almost no layer lines, even though it also cures layer-by-layer. That's why SLA is used in professional labs and companies with dedicated manufacturing spaces for 3D printing. 
This is the result of the really tiny and extremely accurate optical spot size of the laser or the projector that uses less force when printing each model. 
This ensures that the surface finish of the 3D printed object is much smoother, and provides unparalleled detail that an FDM printer cannot reproduce easily.
With that said however, there are a few complicated steps to follow when using SLA printers. 
For one, because of the sticky nature of the resin used in SLA printing, the completed model on your print platform becomes a lot harder to remove. You'll need to invest in a good palette knife to carefully remove the base of your 3D object from the platform without damaging either surface. 
After your 3D miniature is printed, you'll need to remove the sticky resin on its surface by bathing it in isopropyl alcohol. You'll need rubber gloves, separate containers and a safe space to dispose of the toxic materials. 
If this is starting to sound like a lot of work – there's more.
Most of the resin used in SLA printers deteriorate in quality after being exposed to UV light. So you'll need to keep your raw resin material away from sunlight or any UV light sources during storage, in order to continue printing the best quality miniatures in the future. 
Conclusion
3D printing is a fascinating world where technology meets art. 
It's definitely a rabbit hole worth going down for those who are both technically and creatively inclined and wish to turn their 3D designs into reality. 
Although the learning curve can be steep, the results are rewarding enough to match the challenges faced. 
The consumer 3D printing industry is set to increase in popularity in the next couple of years. That should help make entry-level 3D printers even more affordable as technology advances. 
Alternatively, there are also 3d printing outsource companies that can do the 3D printing for you. You send them your 3D design files for them to print and deliver your miniatures straight to your doorstep.
Click the arrow to the bottom-right of the screen to go back to the top of this post for the list of best 3D printers for miniatures.
FAQs