Coming home to clean floors is always a nice occurrence, especially if you have pets and children. The Roomba 960 vs Neato D6 comparison matches two popular mid-tier robot vacuums that try to automate the cleaning for you. Who will perform better?
If you're in a hurry, in a tightly contested matchup, the Roomba 960 edges out the Neato D6 due to the 960's lower price point. With similar features and performance, the 960 offers more value for your money.
I'll go through all the details on these two vacuum brands, Neato vs Roomba, to help you in your choice and your home.
Features
Size Dimensions
The Roomba 960's dimensions are 13.8" wide by 3.6" tall. The top panel comes in a space grey color and the operational buttons are right where you'd expect them to be on a Roomba robovac.
On the front of the unit is a little knob that allows the 960 to detect whether it can fit under a certain height of furniture, like couches or coffee tables.
The Neato Botvac D6 has a D-shaped design that's a departure from the majority of circular-shaped robot vacuums, like the Roomba 960'.
The D shape offers an advantage over circular shapes as it allows the D6 to get into hard-to-reach corners and clean more effectively.
It's dimensions are 13.21" (L) x 12.56" (W) x 3.92" (H), which is smaller in diameter than the Roomba, but taller.
If you're wondering whether Roomba has its own D-shape vacuum too, it does and it's the Roomba s9/s9+. See a review of two of the newest Roomba models i7 vs s9.
Weight
The Roomba 960 weighs 8.5lbs while the Neato D6 comes in at 7.5lbs. Both units are light enough to carry around the house if you need to switch rooms quickly.
The 960 and D6 have carrying handles attached as they're a big help if you need a free hand to do something else at the same time.
Battery and Capacity
The lithium ion battery on the Roomba 960 provides enough juice for it to run for 75 minutes non-stop. A great feature of the 960 is its Recharge and Resume functionality.
Once it senses that the battery is running out, it goes back to the dock to recharge and a full charge from empty takes around 180 minutes – then it automatically resumes cleaning again. No need for you to manually restart the 960's cleaning.
For the Neato D6 however, a runtime of 120 minutes is expected every time you fire it up for a cleaning job. This is almost an hour more of runtime as compared to the Roomba 960. That's great news for those with a larger floor plan to cover or homes that are more prone to dirt and dust.
Neato also has their own version of iRobot's Recharge and Resume. Once the battery runs down, the charging time from empty to full takes about 150 minutes. It returns to the docking station once it senses that the battery is running out, and picks up where it left off once the battery is fully charged again.
Filtration
Roomba 960 comes with High-Efficiency filters built into the suction system. The filters will trap up to 99% of airborne particles like dust mites, pollen and harmful allergens that may affect you and your family's allergies and health.
The Neato D6 has their own filter, the Ultra Performance Filter that traps 99% of dirt and debris, as well as eliminating allergens from the surrounding air while it cleans.
Brushes, Suction & Cleaning Technology
Using iRobot's AeroForce 3-stage cleaning performance, the Roomba 960 does a great job at cleaning up and pulling in any kind of debris with strong suction power.
Hardwood floors are its specialty thanks to the side brushes and the dual rubber brushrolls, leaving a clean floor in its wake.
Coming as standard in all Roomba vacuums, iRobot's Dirt Detect Technology ensures that even the dirtiest areas of accumulated dust and debris in your home are spotless. The acoustic and visual sensors built into the Roomba 960's hardware will detect dirtier than normal areas and spend extra effort in cleaning those areas.
The Neato D6 is kind of a jack-of-all-trades, with consistently high ratings across hardwood floors and carpets alike. It's wide side brushes are able to capture more debris, and the brushroll works together with the strong suction motor to clean as much debris as possible to limit the number of passes needed.
The Neato D6 comes with a variety of modes to choose from based on what you need cleaned. You can choose from Eco Mode, Turbo Mode, Extra Care Mode, Spot Clean, and good ole' House Clean.
The D-shaped design of the Neato D6 also plays a huge part in its effectiveness in cleaning. Corners are no concern for this robovac, and the dust that often accumulates in corners around your home will soon be a thing of the past.
The Roomba 960 uses iAdapt 2.0 software with vSLAM navigation technology to navigate across your home when it does its cleaning work.
Coupled with the acoustic sensors and the optic sensor at the front of the unit, the Roomba 960 has a clear view of where it's going. That helps the 960 avoid obstacles and knocking into walls.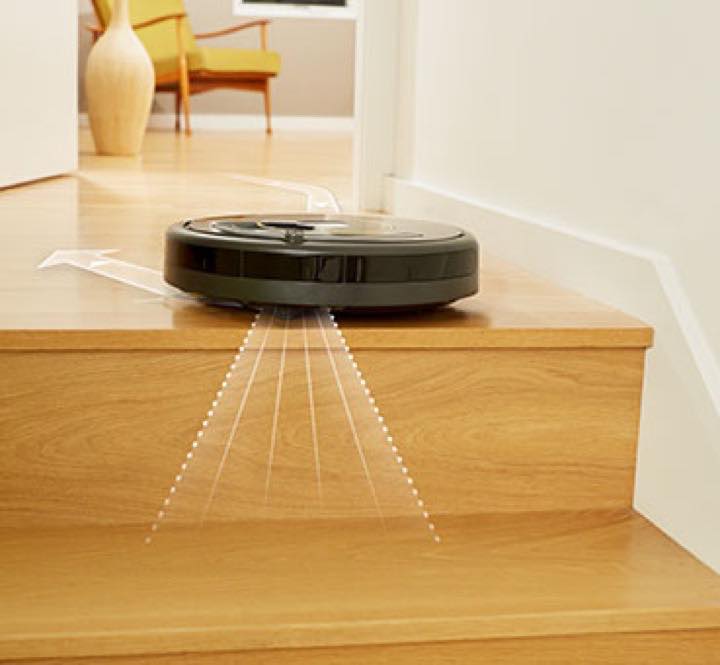 The Cliff Detect system warns the Roomba robovac when it comes close to a drop, like stairs. This avoids a potentially disastrous situation of coming home to see your Roomba in pieces on the floor after it fell down the stairs earlier!
The iAdapt 2.0 software also allows your Roomba 960 to create a virtual floor plan of your home as it cleans, making it more efficient the more you use it.
The mapping capabilities on the Neato D6 are lauded by critics and daily users alike. It uses laser navigation to see where it's going and can even see in the dark. That means you the D6 can clean at night while you sleep without turning on the lights.
One of the more interesting features of the Neato D6 is that by using the Neato smartphone app, you're able to create No-Go lines around the areas of your home that you don't want your Neato D6 to enter. No need for any virtual wall devices.
iRobot has a similar feature with Keep Out Zones for the Roomba i7 and s9 series only.
Mobile App and Voice Assistant Control
All the basic functionalities of your Roomba 960 can be controlled through the iRobot Home App (available for both iOS and Android). Once the Roomba is connected to WiFi, you can use your smartphone to control your Roomba from anywhere, anytime.
The Neato Robotics app (for iOS and Android) allows you to use your smartphone to control the Neato D6's basic functions like the iRobot app.
You'll be able to turn the D6 on and off, and schedule cleanings for the days ahead. You can also access the virtual map and see how much progress it is making in remembering the floor plan of your home.
You can use voice commands via Google Home or Amazon Alexa with both robovacs, making the cleaning experience more hands-off.
Maintenance
The Roomba 960 holds 600 ml of dust and debris in its dustbin. Compared to most other robovac units, this is actually an impressive amount so you'd probably expect to empty it out maybe twice a month or so.
On the other hand, the Neato D6 actually holds more than the Roomba 960 – holding up to 700 ml in the dustbin. It's hard to see what 3 ounces more can do but judging by the figures alone, we know who the winner is for this round.
Additional Features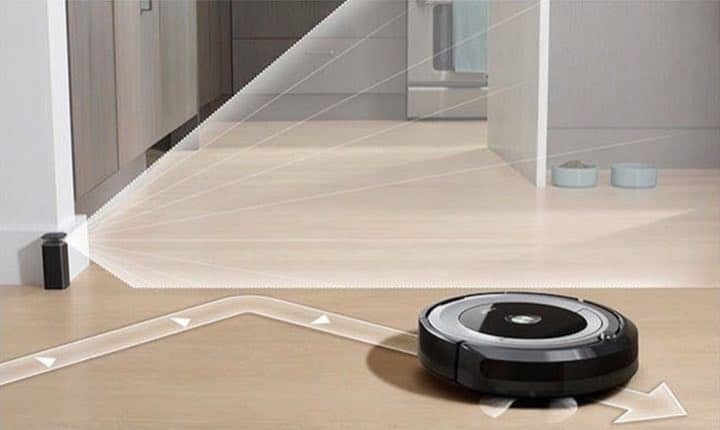 The Roomba 960 comes with a dual-mode virtual wall device which stops it from entering rooms or areas that you don't want it to enter.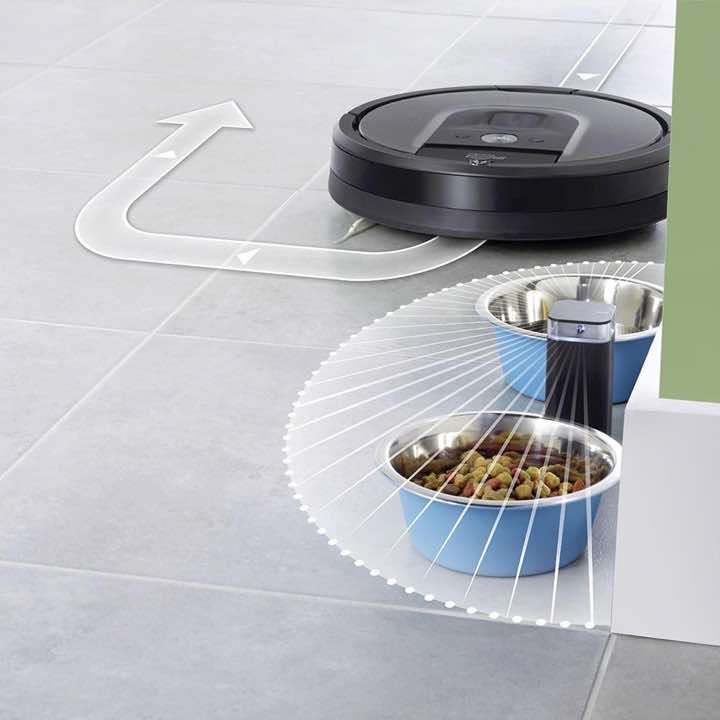 This device uses infrared beams to create a no-entry zone for your Roomba at doorways or around particular objects in your home that you want the Roomba robovac to avoid.
The Neato D6 doesn't have any devices included – but as mentioned above, no-go areas can be set through the smartphone app.
The D6 comes with magnetic tape that is included with every purchase to create no-go lines around your house. Although it might look rather unsightly to have bits of tape stuck around your floors, the tape does do its job.
Price
The Neato D6 comes in slightly higher in price than the Roomba 960, so it's a consideration for those who are more budget conscious.
Pros and Cons
Pros
Trusted Roomba brand
Strong suction power
Cons
Maps aren't saved for future cleanings
Roomba 960 review: Is it worth the hype?
Pros
D-shaped design makes cleaning corners easier
Can clean at night using laser sensors
Cons
NEATO BOTVAC D6 - REVIEW AND INSIGHT
Roomba 960 vs Neato D6 Who is Each for?
Roomba 960 : Those who want to have a robot vacuum from a trusted brand (iRobot Roomba) that can do a great job cleaning.
Neato D6 : For people who want to step out of the popular choice – those who wish to try a more affordable option on the market.
Verdict
The Roomba 960 does a fantastic job at cleaning your home, and with all its bells and whistles – this iRobot creation truly deserves its top place in the world of robot vacuums.
The Neato D6 performs well, but with similar performance and a higher price to the 960, the D6 comes in second. .
But whichever one you choose, it's safe to say that you're getting high quality robovac for the price you pay. Which one suits you best?
And if you want to check out other Roomba vs Neato comparisons, check out these below.