Two of the top mid-tier robot vacuums in the Roomba 900 series go head to head in this matchup comparison – Roomba 960 vs 985. They're similar in feature and function, but with some key differences.
Do those key differences warrant the higher price for the 985?
If you're in a hurry, the answer is No. The Roomba 960 provides the better bang for your buck. The extra suction power and features don't support the additional costs for the Roomba 985.
Read on for all the details and see what the main differences are between the Roomba 960 and the 985.
Features
Size Dimensions
The space gray Roomba 960 measures in at 13.8" wide by 3.6" tall. It has a large CLEAN button nestled in between two smaller buttons on the top panel – the HOME and SPOT CLEAN buttons. Similar to the majority of Roomba models.
There is a little protruding knob attached to the front of the unit to let it know if it's able to fit under furniture, in order to prevent it from getting stuck underneath your couch or cabinet.
The Roomba 985's dimensions are similar at 13.8" wide and 3.6" tall, with exactly the same button placement as the Roomba 960.
The only difference between the two is the Roomba 985 comes in a sleek and darker top plate that has a halo-type finish. Depending on personal preference, I think it's more attractive than the dull space gray on the Roomba 960.
Weight
Coming in at a weight of 8.5lbs, the Roomba 960 is a tad bit lighter than the Roomba 985, which weighs in at 8.7lbs. Both units are easy to carry around thanks to the attached carrying handle that makes transporting your Roomba around the house a lot simpler.
Battery and Capacity
The Roomba 960 can run for up to 75 minutes on a full battery, and it takes around 180 minutes to charge to full from empty. This is just about enough running time to clean an average sized flat and small homes.
There is a much higher runtime on the Roomba 985, almost twice as long at 120 minutes, with the same charging time of 180 minutes from empty.
Both the Roomba 960 and 985 have the Recharge and Resume feature. When the Roomba recognizes its battery power is low, it automatically finds its way back to the docking station to recharge once the battery runs down. After it recharges, it'll resume from where it stopped cleaning.
The Roomba 985 wins this round in for the longer run time and battery life.
iRobot Roomba Filters
High-quality, High-Efficiency filters come standard with every purchase of both the Roomba 960 and Roomba 985.
High-Efficiency filters are commonly found in market-leading air purifiers and can trap up to 99% of harmful particles, allergens, dust mites and even tobacco smoke. That leaves you with a clean and safe home that you and your family can enjoy living in.
Brushes, Suction & Cleaning Technology
The Roomba 960 uses the AeroForce 3 stage cleaning system to effectively pull in dirt, dust and debris with suction power that is around 5 times as powerful as the 600 series of Roomba.
The Dirt Detection sensors detect places around your home that have accumulated more dust than others. The Roomba will then focus additional time and cleaning efforts on those particular areas.
When the 960 recognizes the flooring has changed, e.g., hardwood to carpet, the 960 will adjust its cleaning head and the direction of the brushes when it goes on different terrain, ensuring full autonomy when cleaning.
The cleaning performance on the Roomba 985 is great and also uses a 3-stage cleaning system similar to the 960.
One difference between the 985 and 960 is that the 985 produces 10 times the suction power of the older Roomba 600 series. The 960 was 5x the suction. That extra suction helps it tackle anything it meets when cleaning.
When it detects that it's coming up on a carpeted floor, the 985 automatically turns on Power Boost mode, which helps it at deep cleaning high pile rugs and carpets.
A downside of the 985 is that the Power Boost mode can get loud because of more suction power. By loud, we mean you won't be able to have a phone call or conversation in the same room, so that's probably something to consider.
The proprietary iRobot iAdapt 2.0 software with vSLAM (Visual Simultaneous Localization And Mapping) is used in both the Roomba 960 and the Roomba 985 to navigate across your home's floor.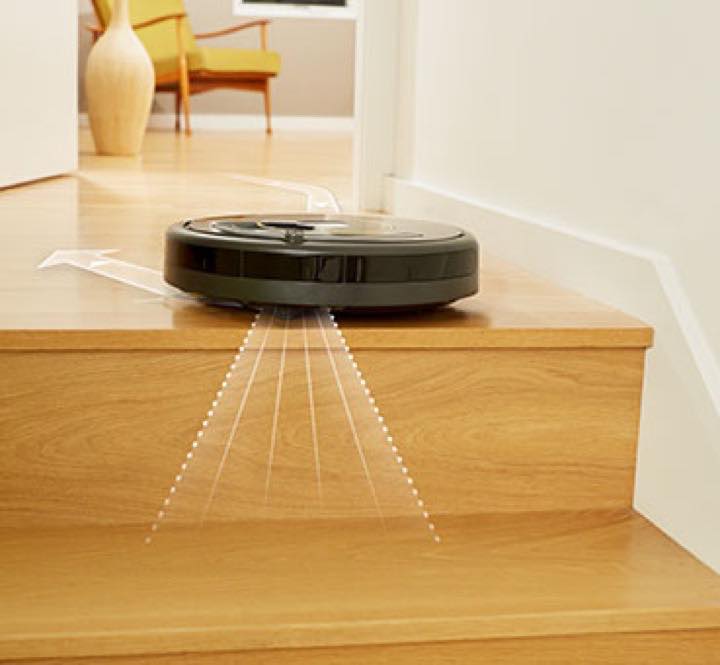 They both have the Cliff Detect system helps it to avoid potentially dangerous places such as cliffs, stairs and obstacles.
In addition to the wide range of sensors built into either Roomba, there is also a camera equipped at the front of the unit on the top plate that gives it a visual sensor to navigate around your home as well as map out a virtual floor plan for reference the next time it has a cleaning job.
Mobile App and Voice Assistant Control
The iRobot Home App (available for both Android and iOS) allows you to connect to the Roomba 985 or Roomba 960 from wherever you are as long as your Roomba is connected to a reliable WiFi network. 
Using your smartphone, you can control the Roomba's basic functions as well as schedule cleaning times and check out its cleaning history, or its virtual mapping progress of your home's floor plan.
For a hands-off experience, you can also use voice commands through voice assistants like Alexa or Google Home to connect to your Roomba.
Maintenance
With 600 mL of dustbin capacity on both the Roomba 960 and Roomba 985, you won't need to empty the Roomba out as much.
Unless you have a lot of pet hair or a lot of dirt and debris at home, you might be emptying the dustbin once every 1-2 weeks for average-sized homes.
For regular maintenance, wipe down your Roomba and docking station's charging ports for potentially less opportunity for charging issues.
You'll also want to clean out the filter or brushroll so there's less risk of entangled or clogged hair.
Cleaning and maintaining your Roomba regularly is good practice and keeps your Roomba working for a long time.
Additional Features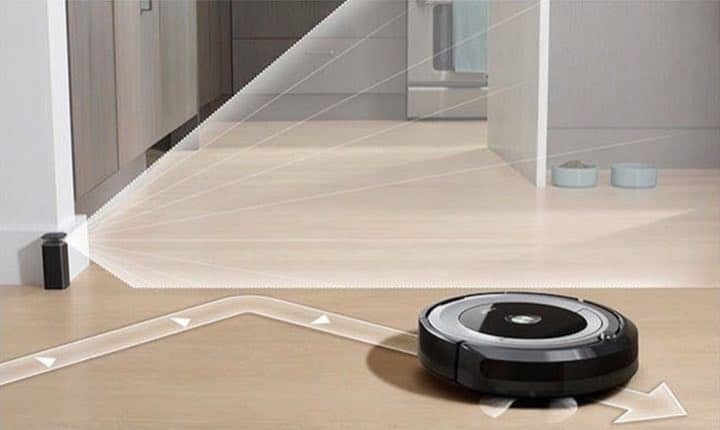 A dual-mode virtual wall device comes with every purchase of the Roomba 960 and Roomba 985. The virtual wall uses infrared beams to create a virtual wall barrier for your Roomba when you don't want it to enter a certain room.
There's also halo mode when you want to protect a specific area around a fragile item like a precious vase or piece of furniture.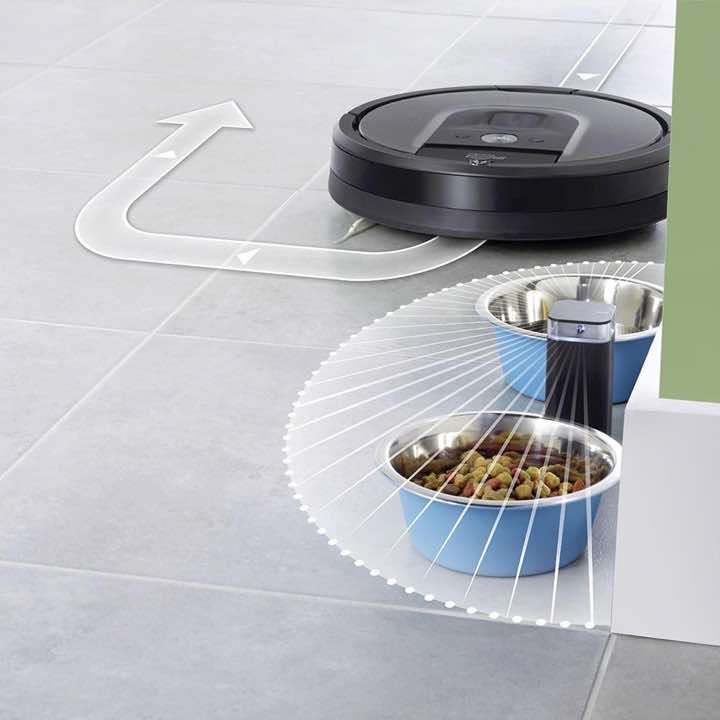 Price
The Roomba 960 is cheaper than the Roomba 985 by one-two hundred dollars. It's expected though due to the fact that the Roomba 985 is a better performing vacuum than the Roomba 960 after all.
Pros and Cons
Pros
Good cleaning performance
Affordable price
Cons
Less battery life
Doesn't have Power Boost mode
Roomba 960 review: Is it worth the hype?
Pros
Attractively designed, premium look and feel
Longer running time
Cons
iRobot Roomba 985 1 Year Later - Robot Vacuum Long Term Review and Demo
Roomba 960 vs 985 Who is Each for?
Roomba 960: People who are looking for a high-performance robot vacuum that does cleaning well for any floor type
Roomba 985: For those who have more cash to splash on a sleek, shiny vacuum with more power and performance.
Conclusion
Although they are basically in the same tier, the Roomba 960 and the Roomba 985 are both fierce individuals in their own right, each offering something to the table.
For me, I'm going with the Roomba 960 because it's better value for the money.
The extra money for the Roomba 985 step up in suction power and performance isn't worth it to me. In fact, if I'm going to spend that much for the 985, I'd rather get the Roomba i7 and get so much more in features for a similar price.
For more comparison reviews of the Roomba 985 and 960, check out some of the articles below.