ECOVACS DEEBOT robot vacuums have been transforming homes for over 20 years. The latest generations in cleaning technology come with new features and improvements that make it easier than ever to keep your home clean.
But even with the latest technologies, there are times when a simple reset is needed due to some issue. Don't worry, resetting a DEEBOT is really easy.
Why Factory Reset the DEEBOT Vacuum?
A factory reset will remove all of the settings and data stored on the DEEBOT back to its original factory default settings, as if it was brand new. A reset will clear the schedules, cleaning history, Wi-Fi settings, and other connections. 
You can usually troubleshoot small issues, so there's no need to perform a reset. But sometimes a factory reset is recommended. Here are some situations where you would want to perform a factory reset:
Moving to a New Home – If you're moving into a new house or apartment, you'll probably want to set up the DEEBOT vacuum at your new location. You might also want to reset the unit before you start using it there or it'll still think you're at your old home. 
Transfer to a New Owner – If you buy a used DEEBOT vacuum from someone else, you'll want to clear all the old settings for the previous owner and their home. 
Last Resort to Troubleshooting – Sometimes, after trying everything else, you just don't know what's wrong. In this case, performing a factory reset will allow us to try something different without having to go through the same steps again. 
How to Reset DEEBOT
ECOVACS makes the resetting process easy across their lineup of robot vacuum models. The reset instructions are relevant for these DEEBOT models: 
DEEBOT X1 Omni, X1 Turbo, X1 Plus
DEEBOT OZMO T10 Plus, OZMO T8, OZMO T8 AIVI, OZMO T5, OZMO U2 Pro, OZMO U2, 
DEEBOT OZMO 950, OZMO 937, OZMO 930, OZMO 920, 
DEEBOT 900, 711, 711S, 710, 622, 601, 600, 500, 
DEEBOT N8 Pro+, N8+, OZMO N8, R95
Here are the steps to perform a factory reset on your ECOVACS DEEBOT
Turn ON the DEEBOT.
Press and Hold the RESET button for more than 6 seconds.
A Music Sound will play and you can Release the Reset button. 
You will hear 3 beeps to confirm the DEEBOT has been reset. 
Now all you need to do is set up your schedules, settings, and Wi-Fi connections again. 
How to Reset DEEBOT N79
These are the rest instructions for these models: DEEBOT N79, N79S, N79SE, and N79W. 
Press and Hold the START/PAUSE button for 3 minutes.
It will ask you to enter and set the current time. 
After that, the N79 will beep three times.
The Indicator Light will turn Blue to confirm the reset. 
If the Indicator Light turns Green, the time and scheduling step failed or was cancelled. You'll need to restart the reset process again. 
If you continue to get failed resets, it could be something wrong with the DEEBOT's motherboard, so you'll need to replace it. You can contact ECOVACS support to see how to get a replacement. 
Where is the ECOVACS DEEBOT Reset Button?
The Reset button on the ECOVACS DEEBOT robot vacuums is a recessed button that's usually located next to the Power button. You'll need a pen, toothpick, or other sharp point that can reach in to press the button. 
If the Reset button isn't next to the Power button, it could be under a hinge cover or at the bottom of the DEEBOT vacuum.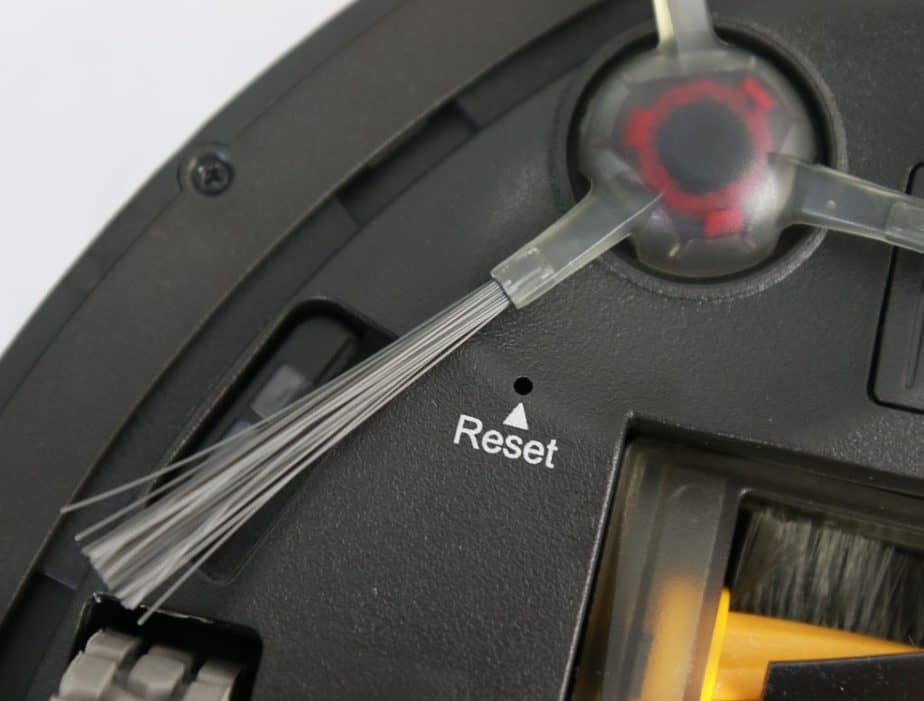 Factory Reset DEEBOT Final Thoughts
Resetting the DEEBOT is very easy and takes only a few minutes. It's important to remember that once you've performed a reset, you won't be able to restore any settings or data. So be sure to save anything you'd like to keep and add back to the robot vacuum. 
Here are some other articles that might interest you: