The quest for the perfect vacuum cleaner often has you comparing different models and brands to determine which is the superior option. No case could be more real than that of the Ecovacs Deebot 500 and the Roomba 891.
Meant to serve the same purpose but distinctly different in many ways, each vacuum has something incredible to offer households small and large.
Upon first glance, both the Ecovacs Deebot 500 and the Roomba 891 look very much alike. They're a similar size and style with very few differences visually.
The logo itself seems to be one of the only tell-tale signs along with the newly added champagne color of the Roomba factoring in. Ecovacs puts less strain on the wallet but does it clean as well as iRobot's Roomba?
You'll soon find out after reading this short but feature-heavy comparison guide to the two robotic vacuum cleaners.
Quick Comparison: Ecovacs Deebot 500 vs iRobot Roomba 891
Feature
Technology
Filter Type
Scheduling
Remote
Voice Control
#1. DEEBOT 500
Our Best Pick

Check Price

Dry
HEPA
Yes
No
Yes
#2. ROOMBA 891

Check Price

iAdapt
10-Micron
Yes
No
Yes
To know which delivers the best value, you must first be made aware of the different features offered by the two vacuums.
Once you're able to compare them side-by-side, you'll then be able to determine the right choice for you. To begin, let's look at what makes the Ecovacs Deebot 500 a contender for your home vacuum cleaner.
#1. Ecovacs Deebot 500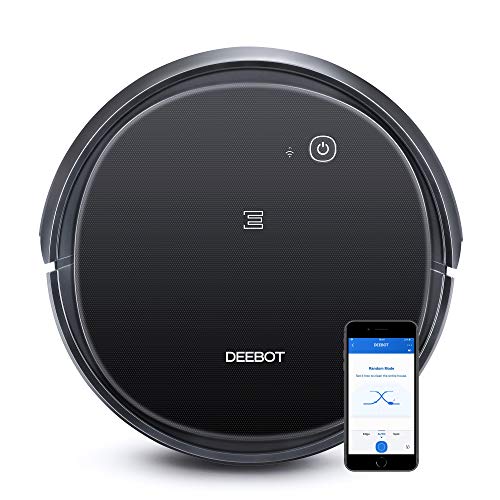 The second model made by Ecovacs, the Deebot 500 doesn't differ much from 601 except for its navigational capabilities. It seems better capable of getting around a home which ensures a deeper, more consistent clean.
Feature-wise, however, there are no real differences offered by the 500 which can be scheduled from its mobile app and commanded to clean using voice controls along with Google Assistant or Amazon Alexa.
The question is, how different are the two machines when it comes to vacuuming different surfaces, and what makes one better than the other in terms of ease of use, suction power, and battery longevity?
Features
Single Bristle Roller Brush Paired with Two Spinning Brushes
This unique design allows more dirt to come up with every cleaning session you schedule. The brushes work to agitate carpeting and rugs so that the woven material releases most of the debris it contains.
The robotic vacuum is then able to suck it up and move over the dirtiest spots again. You'll notice this feature most when you spill something relatively small and grainy on the floor and try to suck it up.
Edge Mode
The 500 moves against wall trim to capture a lot of the dirt and dust that settles there. It's one of the places traditional upright vacuums aren't able to reach without using a hand attachment.
This vacuum cleaner, however, doesn't need any outside assistance from you except for deciding which mode to set it on, Auto, Edge, Spot, and Max.
Ecovacs Home Companion App
Download the app for greater cleaning freedom. You can schedule vacuuming sessions as you're away. You can also use voice commands with Google Assistant and Amazon Alexa once you've got the model set up in the app.
When you're at home and want to the machine to start vacuuming, you say the prompt to your voice assistant and let the vacuum do the work.
#2. Roomba 891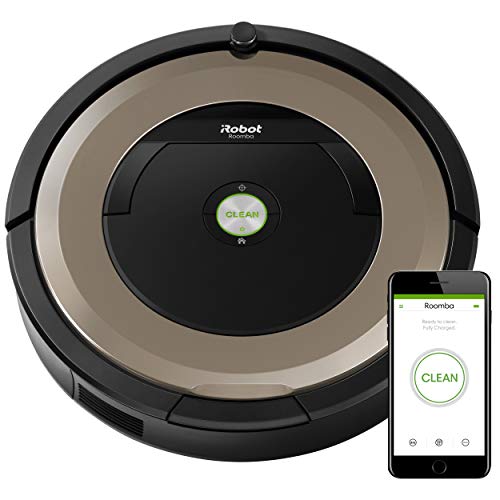 Equipped to do some heavy-duty cleaning, iRobot's Roomba 891 offers a wide range of features that people find appealing. From anti-tangle brushrolls, allergen-trapping filters, and an angled side brush perfect for getting those hard-to-reach corners and areas up against a wall that get dusty and linty,.
Like the Deebot 500, cleaning sessions get scheduled through the app, and the voice control feature allows you to clean on command while at home.
If you like the option of being in total control of your vacuuming schedule, down to the square inch of carpeting or flooring needing cleaning, you'll love what the 891 has to offer you in the way of features.
Features
There are many impressive features to get excited about with the Roomba 891. Here you will find information about the Adjustable Floorplate, Different Cleaning Options, and Clog-Free Dirt Bin.
Adjustable Floorplate
The Roomba 891 has impressive suction. It boasts having five times what older models offered. The dirt-tracking sensors are spot-on, making those extra dirty areas of flooring extra clean.
Also, one of the most notable things about the robotic vacuum is the fact that its floor plate can be raised or lowered to match how tall the carpeting is for a deeper, more satisfying clean.
Different Cleaning Options
Depending on the cleaning schedule you keep, you'll find some vacuum sessions less necessary than others. There are times where you only need to clean a spot. Luckily, the 891 gives you three modes to choose from. There is Auto, Spot, and Scheduling.
Auto is for those days that you're home and need to get a thorough vacuuming done. Spot allows you to clear piles of debris rather effectively. Scheduling is for the times where you're on-the-go and still want to get your floors vacuumed.
You'll come home to a cleaner house and even be ready for guests whenever they arrive.
Dirt Bin That Doesn't Clog Up
With a robotic vacuum, you want to do as little work as humanly possible to use it. Otherwise, you'd buy a cordless or corded upright model and push it around yourself.
The dust bin on the 891 doesn't get clogged up quickly much to most people's surprise. You can monitor how full it is from the iRobot app and dump it as often as needed.
The Clear Winner
After evaluating the design, features, and price of both machines, it was easy to see which came out on top. For the price, Ecovacs Deebot 500 does everything the Roomba 891 does. There is no reason to spend extra money on a machine that has almost all of the same features and cleaning capabilities.
\
Apart from the newly added champagne color, there isn't much else separating the two in terms of appearance or quality. Ecovacs' model has the same cleaning modes, voice control, and scheduling app capabilities as the Roomba 891 at a lower cost.
If you're looking for more comparisons with either of these two vacuums, check these other posts out: