Messy floors can make your entire home feel dirty and uncomfortable. What if you could get the floors clean while you are doing other things around your home to save time? A robotic vacuum can help with this, you just have to decide if you want to use the Ecovacs Deebot 500 vs iRobot Roomba 690.
Keeping your home clean takes a lot of work, and like most people, you likely do not have time to do chores every day. However, you know how important it is to keep up or else you are faced with a major cleaning job on weekends when you are supposed to be resting.
A traditional vacuum gets the job done, but it also requires that you take the time to operate it. The EcovacsDeebot 500 and iRobot Roomba 690 can tackle messes just as effectively as a regular vacuum, but since they operate on their own, you do not have to take the time to use them.
These robot vacuums vacuum your floors fully on their own. Once they are turned on or scheduled, they go to work.
The right one ensures that your floors remain as clean as you need them to be. While these devices are similar, it is important to explore the differences so that you make the right choice for your space.
Quick Comparison: Ecovacs Deebot 500 vs iRobot Roomba 690
Feature
Filter Type
WiFi Support
Alexa Compatible
Navigation Technology
#1. iRobot Roomba 690
Our Best Pick

Check Price

AeroVac
Yes
Yes
Intelligent Sensors
#2. EcovacsDeebot 500

Check Price

High Efficiency
Yes
Yes
Random
Charging and Battery
The iRobot Roomba 690 uses lithium polymer batteries. On a full charge, you get about 90 minutes of cleaning time.
This vacuum knows when it needs to charge, so it goes back to the base when charging is needed. After the initial charge, each subsequent one takes about two hours.
The EcovacsDeebot 500 uses lithium ion batteries. On a full charge you get about 100 minutes of run-time.
When the battery is getting low, the vacuum knows that it is time to go to the docking station. After the initial charge after you get the vacuum, all other charges take about four hours.
The Ecovacs Deebot 500 is able to get around obstacles so that it continues to move around your home to clean your floors. The anti-collision and anti-drop sensors allow for consistent movement while preventing t he vacuum from falling down your stairs.
The iRobot Roomba 690 has dirt detection sensors that allow it to find the areas that need the most cleaning. It is able to move around your furniture and other obstacles so that these do not stop it from tackling the rest of your floor.
Every second, the Roomba 690 is making over 60 decisions that help it to move around your home. It also has cliff detect sensors so that it knows not to fall down your stairs.
Brushes and Cleaning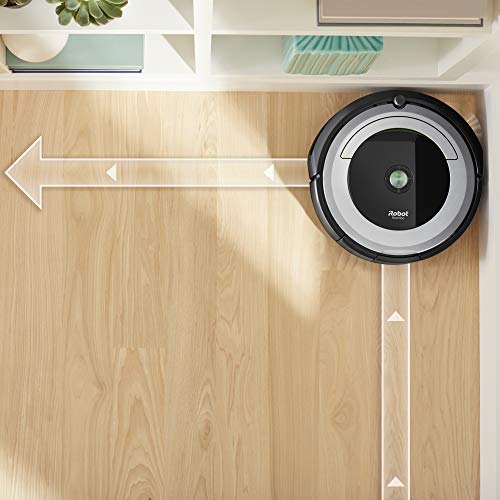 The Ecovacs Deebot 500 has a main brush and two side brushes so that it can tackle all pieces of an area at the same time. These brushes work to lift, vacuum and sweep to loosen and pick on any debris that is on your floor.
The iRobot Roomba 690 has multi-surface brushes that loosen and pick up debris. These work on carpeting and hard floors so that your vacuum can travel unrestricted. Due to the suction power and brush type, it can pick up small and large particles with ease.
App Controls
Both of these vacuums feature app controls. The apps allow you to set the cleaning mode and keep track of cleaning data with both of these vacuums.
Both of the vacuum's apps work on Android and Apple phones. Overall, the apps for both of these vacuums have mostly the same features that allow for more convenient operation and tracking of your vacuum.
Maintenance
The maintenance is something that you need to perform regularly to keep these vacuums operating efficiently. With the iRobot Roomba 690, the dust bin comes out easily. However, dust can accumulate in the compartment that you need to loosen and remove using your hand.
The Ecovacs Deebot 500 also has a removable dust bin. Dust does not tend to accumulate behind it as much as it does with the 690, allowing you to empty debris quickly and with little effort.
Pros and Cons
Considering the pros and cons of each of these vacuums can help you to choose which one is best for you easier.
Ecovacs Deebot 500 Pros
Historical and real-time cleaning data
Get double the power with max suction mode
You can command it via Google Home and Amazon Alexa
Ecovacs Deebot 500 Cons
It does not have room mapping
iRobot Roomba 690 Pros
The run-time is long
It cleans several floor types, including hardwood floors
This robot vacuum is ideal for pet hair
iRobot Roomba 690 Cons
Conclusion
After getting through all of this information, it is time to make your choice regarding the Ecovacs Deebot 500 vs iRobot Roomba 690. The Ecovacs Deebot 500 has all of the important features. However it is edged out by the iRobot Roomba 690.
The iRobot Roomba 690 is more efficient and has greater cleaning power. The brushes pick up dirt more effectively. Its navigation system is also superior, making it the ideal choice for keeping your floors clean.
Haven't decided yet? Check out more comparisons on both of these vacuums: