A clean home is a comfortable home. Most cleaning has to be done manually, but you can use a robot vacuum to keep your floors in good condition. The Roomba 675 vs 890 are two viable options to explore.
When it comes to things like dusting and mopping, you have to take the time to do these manually. Think about how much time you could save if some of your cleaning tasks were automated.
Vacuuming is an essential part of every cleaning routine and it is a task that you can opt to automate. There are numerous options, with some of the best being the Roombas. Consider the Roomba 675 vs 890 to keep your floors clean without limited effort.
You just let these Roomba models go to work so that they are picking up debris while you are at work or doing other important things.
What is important is that you make the right choice. Exploring their features and comparing the Roomba 675 vs 890 will help you to make the best decision.
Quick Comparison: Roomba 675 vs 890
Feature
Navigation
Smartphone Compatible
Power
Filtration
Weight
Battery Type
#1. Roomba 890
Our Best Pick

Check Price

iAdapt 1.0
Yes
Second Generation Motor
AeroForce
8.4 Pounds
Lithium Ion
#2. Roomba 675

Check Price

iAdapt 1.0
Yes
First Generation Motor
AeroVac
7.8 Pounds
Lithium Ion
Charging and Battery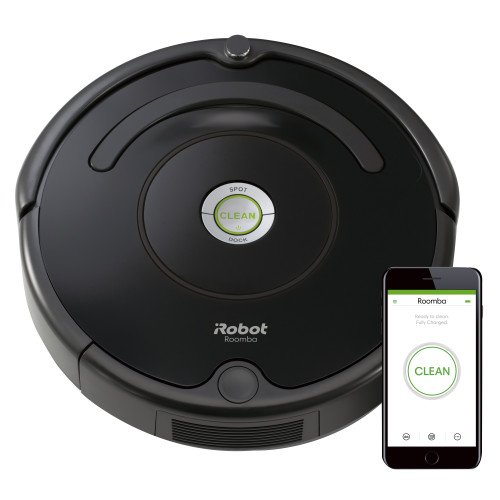 The charging and battery capabilities are about the same with both of these Roomba models. Both of these vacuums have a runtime of about 60 minutes on carpeting and 90 minutes on hard floors. This is based on both having a full charge.
Both vacuums will return to their docking station when the battery level gets to a specific point. They will then recharge and go back out to clean more. On average, they both take about two to three hours to achieve a full charge.
Filtration
The Roomba 675 has an AeroVac filtration system. This is a HEPA-style filter. However, it is not a true HEPA filter, so it does not clear up to 99.9 percent of allergens like a true HEPA filter can.
The Roomba 890 has an AeroFoce filtration system. This is a true HEPA filter. It works to trap the smallest particles as little as 0.3 microns, to not only effectively clean your floors, but also contribute to cleaner air in your home.
Roomba 675, the marriage saver
Motor and Power
The Roomba 675 uses a first-generation motor. This has enough power to propel the vacuum across your floors. It also uses the battery efficiently.
The Roomba 890 has a second-generation motor. It is more efficient and powerful but does not drain the battery. The air power associated with this motor is up to five times more compared to the first-generation motor in the 675.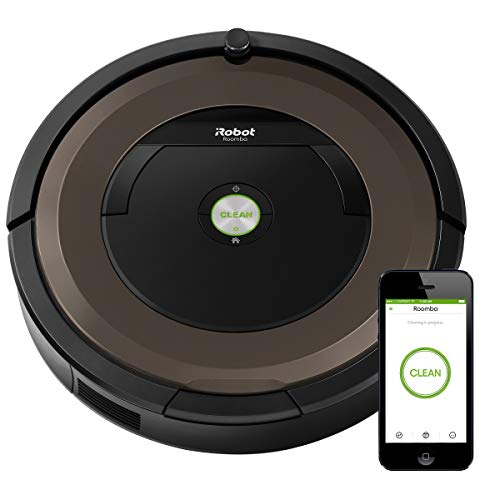 Both vacuums use floor mapping and iAdapt 1.0 for navigation. They have a set of sensors that help the vacuum to move throughout your home without staying in the same area. The sensors are able to detect areas that require more thorough cleaning too.
Some of the sensors, called Cliff Detect sensors, help them to know when they are on a ledge so that the vacuum does not fall down stairs. One difference between the two vacuums is that the 890 is better about knowing where it stopped cleaning before docking to recharge compared to the 675.
Cleaning
Both of these vacuums connect to an app so that you can monitor the cleaning status. You can use the app to schedule cleaning too, allowing you to determine when the vacuums go to work.
In addition, they also connect to Google Assistant and Amazon Alexa, allowing you to use these technologies to control and monitor your Roomba 675 and 890.
They both use dual multi-surface brushes. This allows the brushes to adjust on their own as the vacuum goes from hard floors to carpeting and vice versa. The first brush works to lift and loosen the debris and dirt while the second one helps to propel it into the vacuum's suction channel.
The Dirt Detect sensors help the vacuums know when it needs to work harder to clean an area. The 890 uses a newer Dirt Detect technology that is slightly more effective.
Can it Beat Dog Hair? | iRobot Roomba 890 Review & Demonstration
Pros and Cons
The pros and cons of each of these Roomba models gives you a quick glance at what each of them are capable of and some potential points to think about.
Roomba 675
Roomba 675 Pros
It works for hard and carpeted floors
It goes under furniture with ease
You can use it for pet hair
The app lets you track the cleaning progress
Roomba 675 Cons
The debris bin is small
It is noisier compared to other Roombas
Roomba 890
Roomba 890 Pros
It does not leave pet hair behind
You can use it for homes of various sizes
Roomba works on carpet and hard floors
It does not miss spots
Roomba 890 Cons
It may clog easier than similar vacuums
Conclusion
The Roomba 675 vs 890 both have a variety of features that make them viable for keeping your home cleaner. The overall design and features are largely the same. However, while both are good choices, the Roomba 890 has upgraded technology, making it the better choice.
The Roomba 890 has a better filtration system and advanced Dirt Detect technology. The motor is five times stronger regarding the air power. These all make it possible for the 890 to provide a more effective cleaning experience, especially if you have pets and need to vacuum up hair often.
Browse more comparisons with the two vacuums: