Let's compare the iRobot Roomba 675 vs Samsung POWERbot R7040 in this head-to-head comparison. The specialist robot vacuum company, iRobot, meets a worthy competitor in the huge, consumer electronics company that is Samsung. Who will come out the winner?
For those who don't have the time to read through the details, the better overall vacuum is the Roomba 675.
Read the comparison details below to find out why the 675 is better than the R7040.
Feature
Filter Type
Scheduling
Mobile App Control
Voice Control
#1. Samsung POWERbot R7040

Check Price
Regular
Yes
Yes
Yes
#2. Roomba 675
Our Best Pick

Check Price

HEPA
Yes
Yes
Yes
Features
Dimensions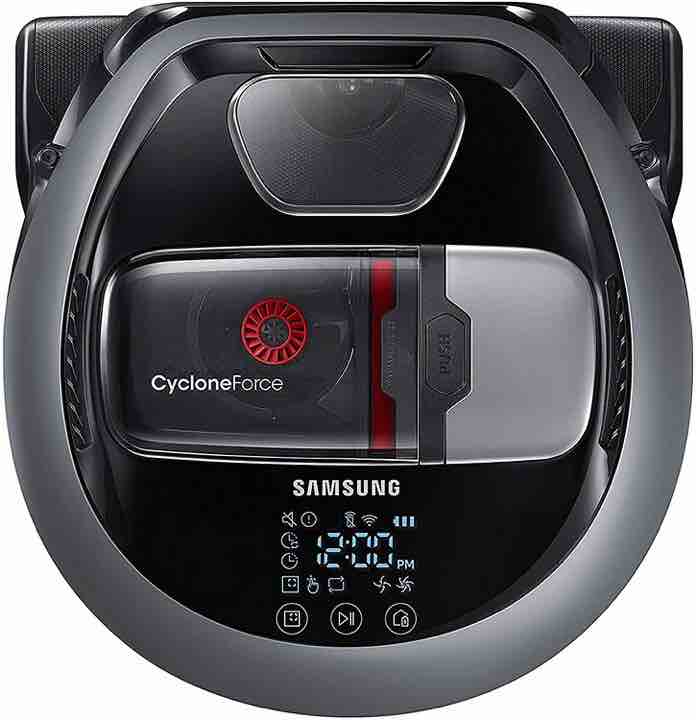 The Samsung POWERbot R7040 follows the standard size of the entry-level robot vacuums available on the market today. It measures up at 13.4" x 13.8" x 3.2".
This gives the R7040 a slightly semicircular shape, which has an edge over round-shaped robot vacuum units as this shape allows it to clean edges and corners around your home more effectively.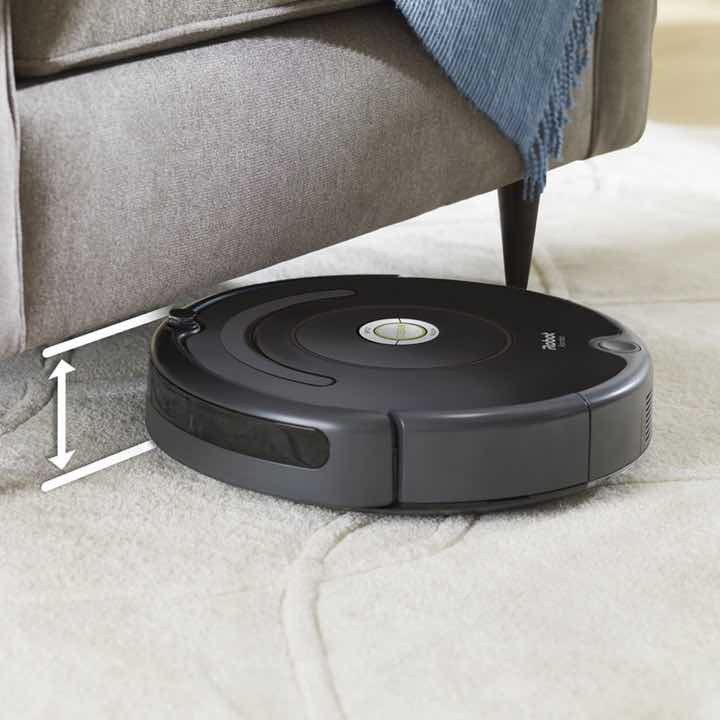 The Roomba 675 is perfectly round, with a diameter of 13.4" and height of 3.54". As compared to the Samsung POWERbot R7040, this might prove to be a slight disadvantage because it can't get as close to walls and corners.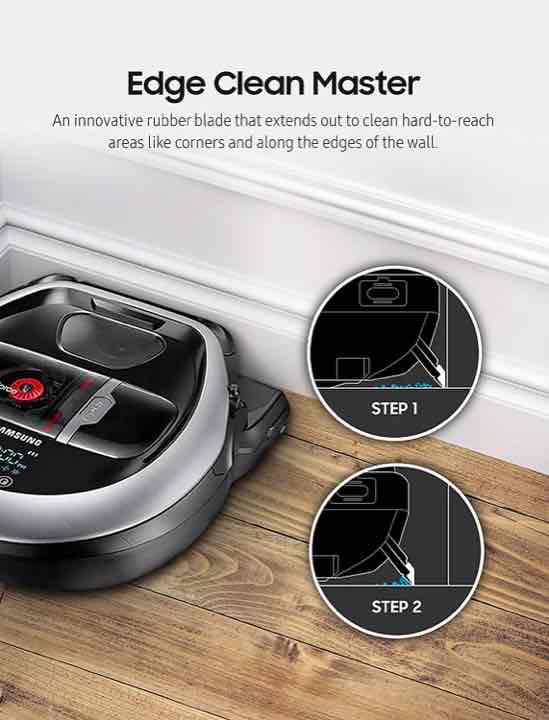 Let's explore the rest of the specs down below.
Weight
Weighing in at 8.8lbs, the POWERbot R7040 is light enough to be carried around the house where you need your vacuuming done. There are no carrying handles available on this unit so this might be inconvenient for some people.
The Roomba 675 weighs 7.8lbs – which makes it a pound lighter than the R7040. A carrying handle is also built into the top lid of the 675 which makes it an easier task to carry it around when you need to.
Battery and capacity
The 2400mAh lithium-ion battery that comes with the POWERbot R7040 has a run time of 60 minutes before needing to be recharged. As compared to most other robot vacuums on the market today, this figure is second-rate.
The minimum run time for most, if not all entry-level robot vacuums hover around 75 to 90 minutes. This makes the R7040 come in at a major disadvantage as compared to the Roomba 675.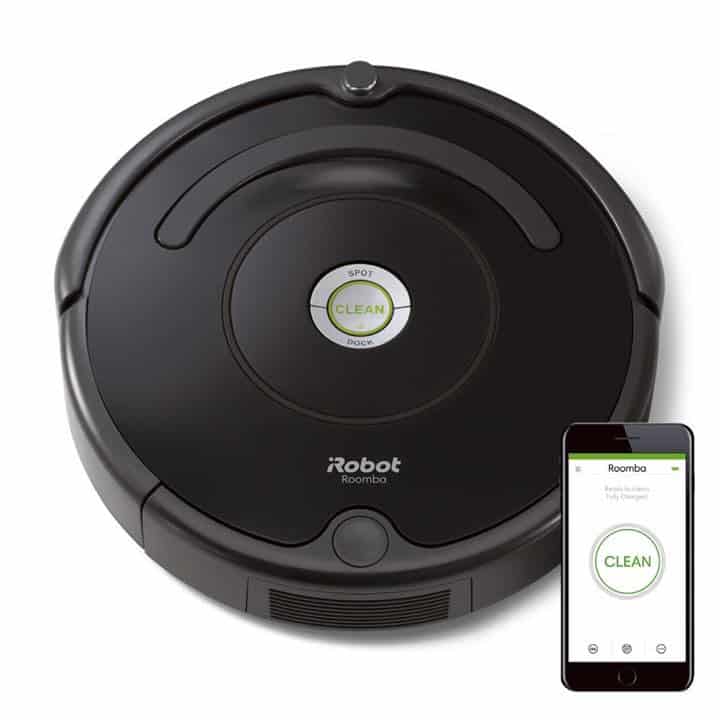 Although the Roomba 675 uses a smaller 1800mAh lithium-ion battery, it features a longer 90-minute run time before needing a recharge, making it the winner in this round.
The POWERbot R7040 and Roomba 675 feature an automatic recharge system. The onboard computers in both units keep track of battery life and automatically stop cleaning when the battery is running low.
The units then automatically find their way back to the home dock to be recharged. It takes 3 hours for a full charge on the POWERbot R7040 while the Roomba 675 takes around 2-3 hours for a full charge.
Filter
The filter on the POWERbot R7040 is nothing too fancy – just a regular filter that blocks airborne particles from entering your home. The filter is not HEPA or allergenic certified.
On the Roomba 675 however, the iRobot Aerovac™ system features a HEPA-style filter that is used in most market-leading air purifiers. This filter blocks up to 95% of potentially harmful allergens and particles from settling down in your home, making it safer for you and the people you live together with.
Brushes, Suction & Cleaning Technology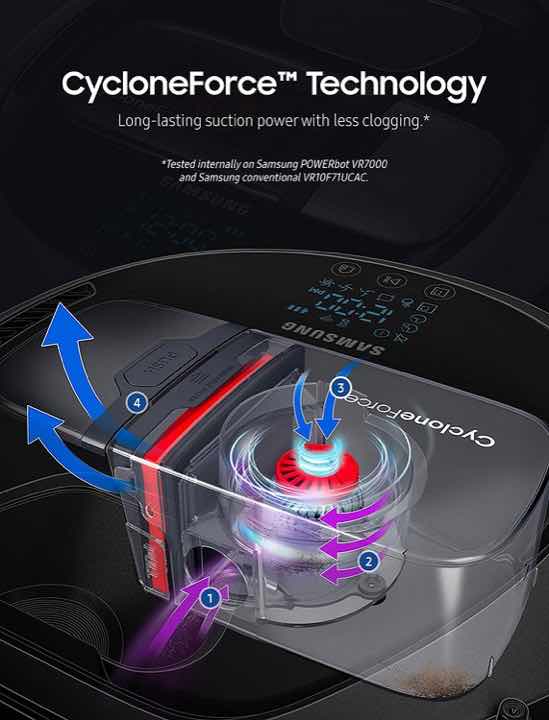 The Samsung POWERbot R7040 uses its trademark CycloneForce™ technology to produce long-lasting suction power while reducing clogging. This is great for those with pets in the house as types of debris like pet hair can cause some serious clogging for conventional vacuum cleaners.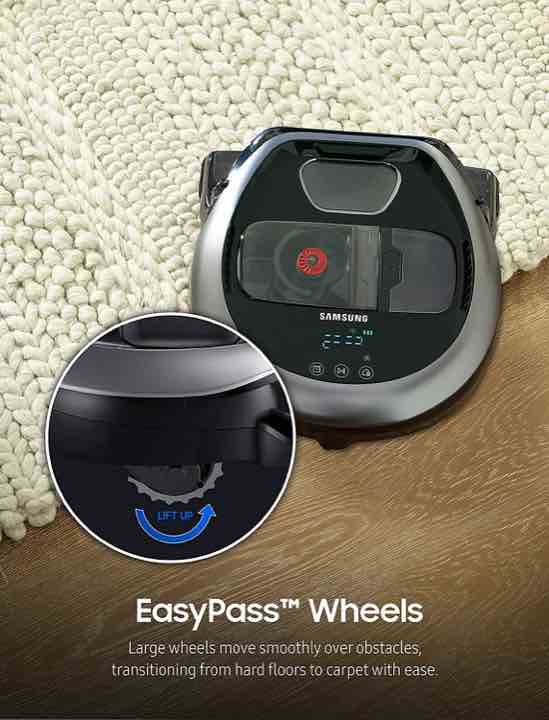 The Roomba 675 delivers about 600Pa of suction power – not exceptionally heavy duty but more than sufficient for lifting a dirt and debris off the floors and carpets in your home.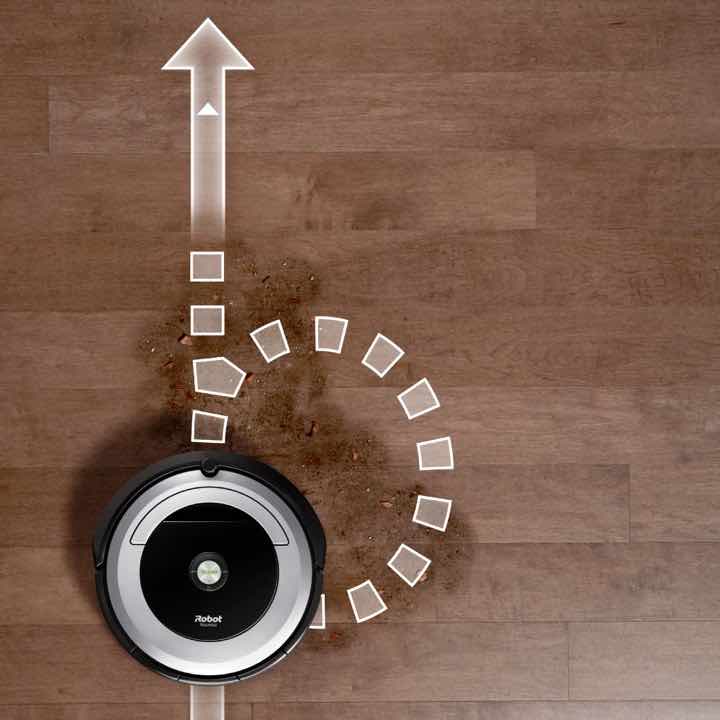 The Roomba 675 uses iRobot's Dirt Detect Technology to ensure a full clean of your home's dirtier areas. It will detect the amount of dirt in an area and repeatedly go over that area until it's clean.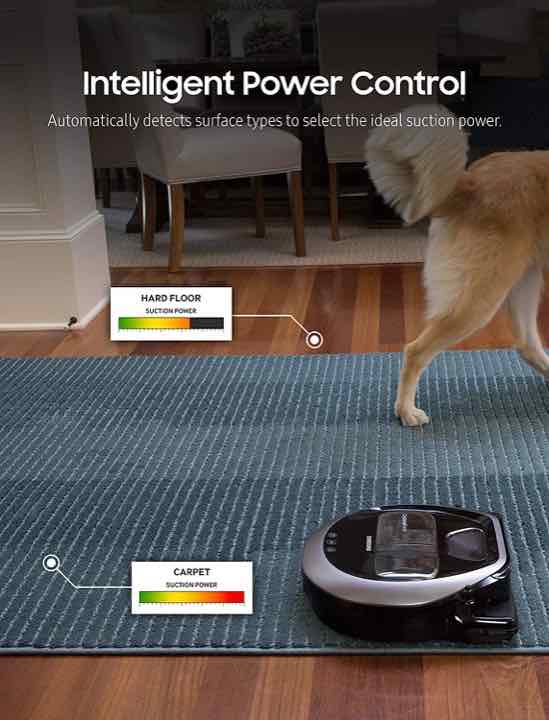 There is no such function available on the POWERbot R7040. Instead, it features a surface detection system which optimizes the suction settings based on the surface it is traveling on – whether it is carpet or hard floors.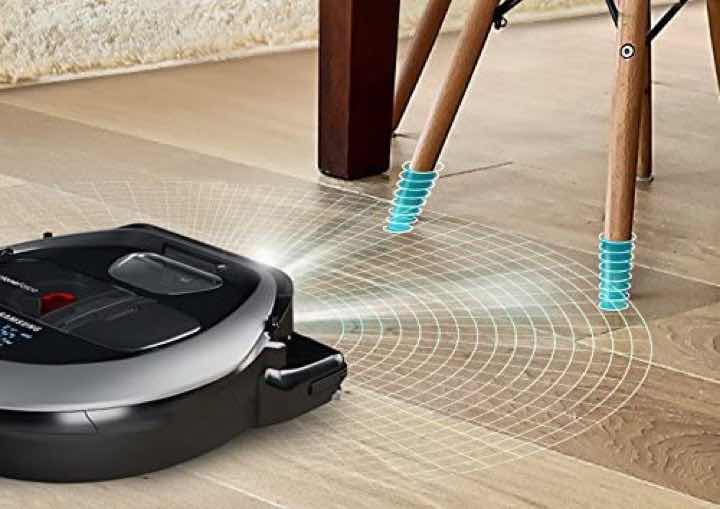 The POWERbot R7040 navigates through your home with precision using algorithms that allow it to detect and avoid obstacles in its path early. It barely touches anything while cleaning and the semi-circular shape allows it to clean along edges and corners of your home more efficiently without risk of bouncing off the walls and potentially leaving a mark on your baseboard.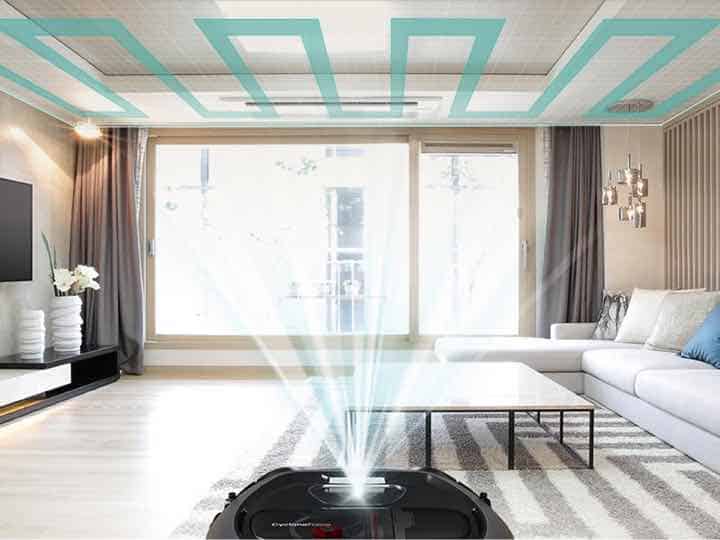 There is an upward-facing camera installed in addition to the acoustic sensors on the POWERbot R7040. That optical advantage makes it easier to navigate around tall objects in your home.
iRobot's proprietary iAdapt 1.0 technology is used on the Roomba 675, allowing it to navigate intelligently around its cleaning path. Some users have reported saying that their Roomba 675 units do not avoid walls and furniture effectively – this is something to consider if you don't wish to wipe off bump marks off your furniture or your baseboards on your walls.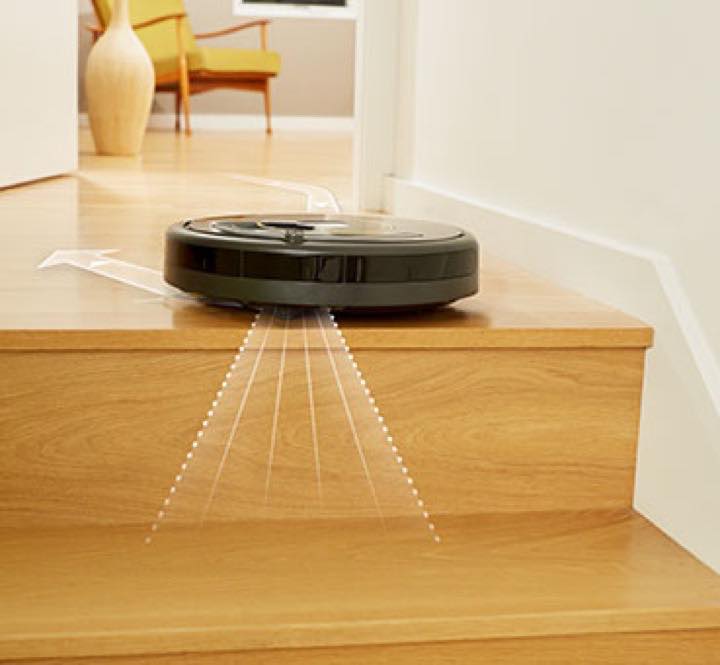 Cliff detection is used in both the Roomba 675 and the POWERbot R7040 in order to avoid hazards such as stairs and drops.
Mapping capabilities are not included in either model, as this is reserved mostly for the higher end models of robot vacuums.
App / Phone Control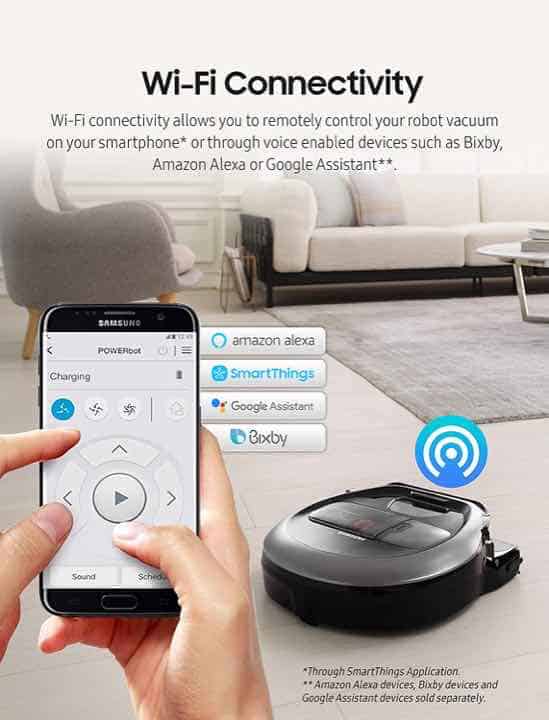 Samsung uses its proprietary home appliances app SmartThings to enable you to connect to the R7040 via Wi-Fi and control it from your smartphone. The app is made by Samsung to connect to its wide range of Samsung home appliances. That ensures connectivity and compatibility across Samsung problems are not going to be an issue.
With the SmartThings app, you'll be able to turn the device on or off, schedule cleaning times, and check the cleaning history of the unit.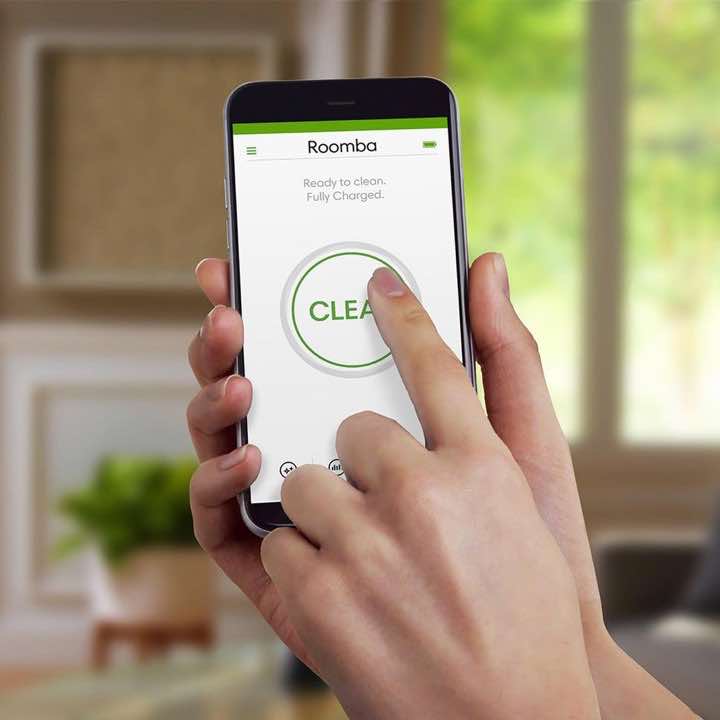 The iRobot HOME app connects the Roomba 675 to your smartphone through a Wi-Fi connection. The app allows you to control the unit by turning it on or off, create cleaning schedules for different days of the week, and also check the activity log for its cleaning history.
Through their apps, both the 675 and R7040 have voice control through Amazon Alexa and Google Assistant. The R7040 also adds compatibility with Bixby devices.
Maintenance
The POWERbot R7040 and the Roomba 675 can both hold 300ml of dust, dirt, and debris. The bins are easily emptied manually.
Additional Features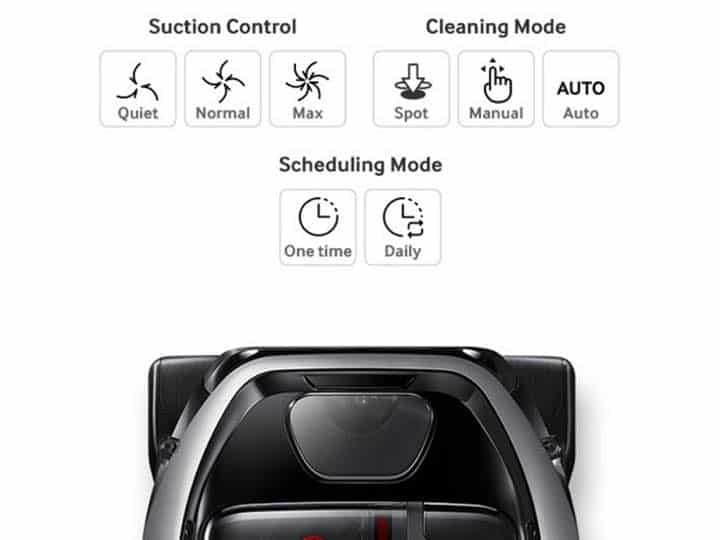 Entry level robot vacuums do not necessarily have the additional features built in, as these are primarily the domain of higher end robot vacuum models. The Samsung POWERbot R7040 and the Roomba 675 are no exception – doing what robot vacuums are programmed to do which is to clean.
Price
The POWERbot R7040 and the Roomba 675 are both budget-friendly models, under $300. Both of them provide great value for the price.
Samsung POWERbot R7040 Pros and Cons
Pros
Flat front design makes it better for cleaning corners
Better suction power with Cycloneforce
Cons
Shorter running time (60 minutes)
Non-HEPA style filter
Roomba 675 Pros and Cons
Pros
Easy to transport (inbuilt handle)
Longer running time (90 mins)
Cons
Bumps into walls and furniture more frequently
Round shape doesn't as effectively reach into corners and edges
Who is Each Robot Vacuum For?
Samsung POWERbot R7040: For those who want a robot vacuum unit with power and have a range of other Samsung Home appliances using the SmartThings app.
iRobot Roomba 675: For those who want a trusted brand name in robot vacuums and reliable cleaning power.
Conclusion
The Roomba 675 is the winner here in the POWERbot R7040 vs Roomba 675.
675's extra half hour of battery life is a major advantage over the R7040. You won't have to come home to a room that missed cleaning because the robot vacuum ran out of juice.
But when it comes to brand name, Samsung's home appliances suite has definitely reigned supreme over most other brands on the market today. If you're looking to find a unit that will fit into your Smart Home – pun intended – then maybe the POWERbot R7040 might be the better choice for you here. The R7040 still has a number of redeeming qualities.
If you're looking for more comparisons of the Winner, check them out below: