iRobot's Roomba 891 and Roomba 960 are powerhouse vacuum cleaners with many desirable features for customers to consider.
Learning what sets the two models apart from one another and other iRobot products ensure that you get the best product to meet your household needs.
When pricing Roombas, you'll find some models are costly while others are not. What is it that makes the price of one model skyrocket when others are more budget-friendly? This review tells you precisely what makes it so.
Quick Comparison: Roomba 891 vs 960
Feature
Filter Type
Scheduling
Remote
Voice Control
#1. Roomba 960
Our Best Pick

Check Price

HEPA
Yes
No
Yes
#2. Roomba 891

Check Price

HEPA
Yes
No
Yes
#1. Roomba 891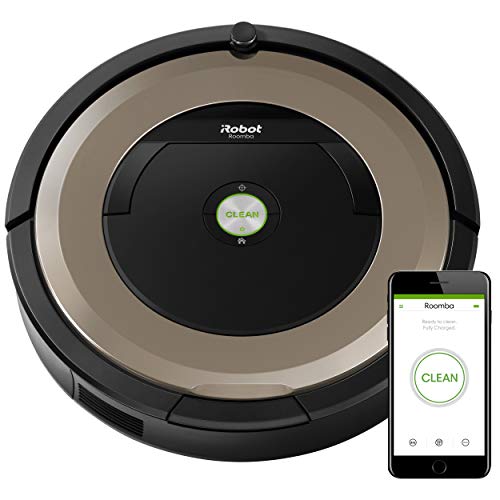 Upon first glance, you'll notice a distinct difference in the color of the Roomba 891. Instead of the all-black exterior, it has a champagne-colored inner ring that helps differentiate it from other models in the iRobot family. It's not all that sets it apart, however.
From the side brush meant to attack the dirtiest, dustiest edges of carpeting up against walls to the outstanding convenience of scheduling from the app while away from home, the 891's focus is on cleaning.
Features
The appearance of the Roomba doesn't change much from model to model. Despite a few differences in color or placement of buttons, they typically measure the same length and width and remain the same height from one model to the next. The 891 and 960 do differ in weight, however.
If forced to pick up and place the vacuum on its docking station, the few extra pounds count. The 891 weighs 12 pounds, and the 960 weighs 8.5 pounds, which could also affect how well each machine moves.
Let's explore what makes the 891 unique.
Side Brush for Sweeping Edges of Flooring
It's impossible to reach the edges of flooring up against walls without using a vacuum attachment. Thanks to the 891's unique side brush, getting all the dirt, dust, and hair that's accumulated on the edge of carpeting and flooring is fast and easy.
You get cleaner floors overall because of the combination of the dual bristle brushes and side brush. It's a winning pairing that works double-time to clean your home.
Three Cleaning Modes for Your Convenience
You don't get just one option to clean. There are three modes to choose from, each making your life easier by bringing convenience to everyday housekeeping.
The first is Auto, which cleans the rooms in your home entirely. The second is Spot, which addresses piles of dirt or debris on the floor. The last is Scheduling. It allows you to conveniently clean while on-the-go through the iRobot app.
Dirt Bin That Prevents Clogs from Occurring
You monitor the removable dust bin from the app, so you know to empty it even when you're not home. There's a button to release it from the Roomba, too, making emptying the 10-ounce bin effortless.
#2. Roomba 960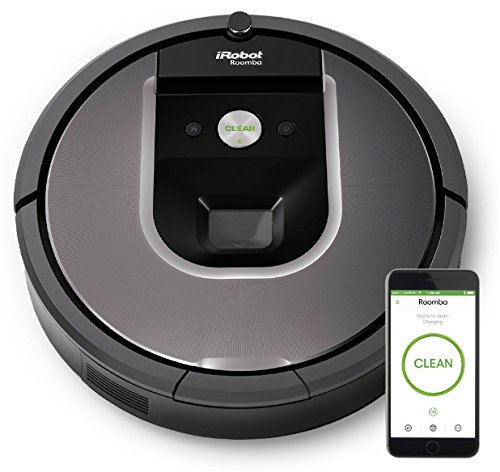 Just like cars have supped-up features, so do Roombas. The 960 doesn't disappoint, either. Despite being significantly more expensive than the 891, there's a good reason why.Dollar for dollar, it delivers outstanding cleaning capability and, more importantly, ease in the life of its busy owners.
Features
Feature-heavy, the 960 provides a lot of value for its price. People who aren't afraid to spend extra on quality find it ideal because of the improved features, long battery charge, and excellent design. It includes a camera that isn't present on all Roombas, which allows the machine to see what's in front of it better.
A front navigational camera makes the 960 stand out. Not only does it change the appearance of the robotic vacuum, it also gives it a chance to clean better with less help from you. You're not stuck telling it where to go and not to go by setting up barriers.
You also don't need to redirect it when it gets stuck on a spot of the floor occupied by feet or pets. If there were ever a new feature to invest in with Roomba, this would be the one.
Three Cleaning Settings
There are three cleaning settings designed to make your life easier. They are One-Cleaning Pass, Two-Cleaning Pass, and Automatic.
The first two are self-explanatory. The last allows the Roomba to determine how many passes it takes to get things clean. Having the option to choose these different settings ensures that every type of mess you're dealing with gets cleaned thoroughly.
Extended Battery Life
With a battery life of 60 to 75 minutes, you're able to get a good cleaning session done before the Roomba needs recharging.
You can get a lot done in less time, but when you're preparing for guests or hoping to achieve a much deeper clean than a One-Cleaning Pass offers, you'll appreciate the extra juice the 960's battery contains.
The Clear Winner
For all the extras that the Roomba 960 has to offer, it is the best option. It delivers a more consistent clean and has a front camera that keeps it from running into your walls and furniture.
It allows you to control how many times it goes over the carpet, so if your kids drop cereal or potato chips on the floor, and you'll suck up every little crumb present. Pet hair isn't a problem, either, the way it is with other machines. The 960 addresses it like a champ and even contains a dust bin that you can monitor from the app like the 891 so you know when to empty it.
These are two popular vacuums and below are other comparisons: