A busy lifestyle can prevent you from staying on top of your housework, so taking advantage of modern cleaning technology is important. A clever time-saving device is an automatic vacuum, such as the Roomba series created by iRobot. What follows is a comparison between the Roomba 805 vs 960 models so that you can determine which features will aid you the most.
Quick Comparison: Roomba 805 Vs 960
Model
Run Time
Recharging Time
Automatic Recharge
#1. 960
Our Best Pick

Check Price

75 Min.
2.0 Hrs.
Yes
#2. 805

Check Price

60 Min.
2.0 Hrs.
Yes
Roomba's General Design
The entire range of automated vacuums is built with a round body. While they are both similar in size, you will note that the 805 version is almost 0.5-inches wider than the 960.
Their bodies reach only 3.6 inches in height, which allows them to get under furniture pieces such as table and chairs without issues.
iRobot's 805 comes with a black body, while its counterpart in this review silver-grey with a black control plate. These products have a bumper technology that allows the edges to absorb contact with furniture and walls without damaging the outside ring.
There are some differences in controls and interfaces that will be noted below.
Each unit weighs nearly eight and a half pounds, with the 960 weighing 0.2-pounds more than the smaller 805.
Automated Vacuum Cleaning
Roomba products make use of iRobot's patented three-stage cleaning system. The three refers to loosen, lift, and suck. Three-stage cleaning works the same on both models.
Two rollers move over the flooring, loosening debris on carpet and hardwood floors. This material is then lifted out of carpet fibers or from cracks along the floor covering edges.
Finally, the motor generates a powerful sucking action that pulls the dust and grim into the dust bin located along the back of the Roomba.
Pet owners will be happy to note the rollers used on these models are designed to be tangle-free. That will help the Roomba take on homes with a lot of pet hair.
960 Suction Power
The manufacturer has included extra suction power with this model, allowing it to provide up to five times more power than standard models.
Detecting Dirt
iAdapt technology is used to guide the Roomba models across the surfaces of your floors and helps them locate dirt. Each has dirt detect sensors, including devices that can discover areas that will need extra attention during the cleaning cycle.
It should be noted that the 960 uses iAdapt 2.0, which is an upgrade to the tech used in the 805 models.
An array of sensors and software work together to allow these automated vacuums to navigate throughout your home. It should be noted that the 960 includes visual sensors for moving as well.
A nice addition to the 805 bundles is two virtual wall barriers. These devices use beams of light to prevent the unit from going into unwanted areas, such as rooms or near stairs.
The advanced optical components on the 960 allow the cleaner to "stop and think" as it approaches obstacles. This prevents it from running into things or near trouble areas.
How Are They Controlled?
The Roomba 805 has sensors that help to prevent unwanted drops down your stairs and includes technology that allows it to adjust between carpets and hardwood surfaces.
It has a Power/Clean button along the top, along with four other buttons that aid controls, such as the dock feature as well as the spot function that indicates extra cleaning should be performed in a three-foot area.
A nice feature found on the Roomba 960 is the remote control technology that is incorporated into its design. It is wifi compatible, allowing you to control it from a distance without bending down.
Batteries And Charging
Both models take advantage of the most recent generation of Lithium-Ion rechargeable batteries. That allows them to run longer than previous generations of cleaners, and each battery will charge faster than older ones can.
While charge times are similar to both models, the 960 will usually run 15 minutes longer per charge.
Each model is designed to automatically return to the docking station when power is low. That will put them into a position to automatically recharge once they are connected.
The Roomba 960 has the added feature of returning to work once it has been fully recharged, starting in the spot that it left off from when it returned to dock.
The charging stations are similar in power to one another, with no stand out features between them. Both models can also be sent back to dock by the operator. You will need to hit the dock button on the 805, while the 960 can be controlled by apps.
#1. Roomba 805
Roomba 805 Pros
Comes at a cheaper price
More button controls
Has surface detection
Roomba 805 Cons
Does not include wifi capabilities
Uses older iRobot technology
#2. Roomba 960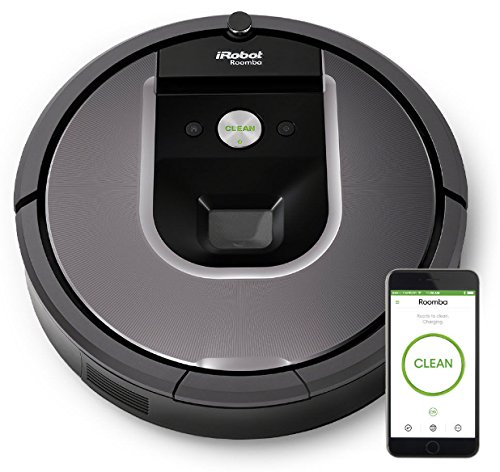 Roomba 960 Pros
Has wifi capability
Uses newest control designs
Has visual navigation
Roomba 960 Cons
Will cost more
Does not adjust between surfaces
Which Model Comes Away Clean?
Simply put, the Roomba 960 stands out here. Wifi controls and the latest navigation technology makes it easy to use. Five times air power equates to more debris pick up, as well as less passes across an area. It is actually a bit smaller in size, which makes up for the small increase in weight.
Finally, the ability to program a cleaning schedule, receiving updates on room status, and its ability to resume work after docking for recharges allows it perform a bit better than the Roomba 805.
Other reviews and comparisons with these two Roomba's: