We have another Roomba here with a model number where you won't find much information on Google – the iRobot Roomba i8+. But don't worry, you've come to the right place to find the information you need on one of the better robot vacuums out there.
The Roomba i8+ is one of the Best Roomba Models in the Roomba lineup, despite it being hard to find. It's been made exclusively for Costco members and that's why it's difficult to find Roomba i8 reviews. Same with the Roomba i4. 
The Roomba i8+ is essentially the same robot vacuum as the Roomba i7+, except for a few extra accessories and a larger battery. Let's go through the details of the standout features and to find the key differences between the Roomba i8+ vs i7+. 
Are these differences enough to make the Roomba i8+ a better buy for the money? 
If you're in a hurry, the answer is "Yes." The Roomba i8+ is worth the price, despite it being one of the more expensive Roomba models. Otherwise, you may want to get the Roomba i7+ or s9+, both available on Amazon. 
Unfortunately, you won't find the i8+ on Amazon, online stores, or other sales channels like most robot vacuums. You'll need to walk into a Costco store to find the Roomba i8+.
Let's get into the details to see if the i8+ has the standout features that beat out traditional vacuums. I've spent 30+ hours testing and researching all there is to know about the Roomba i8+.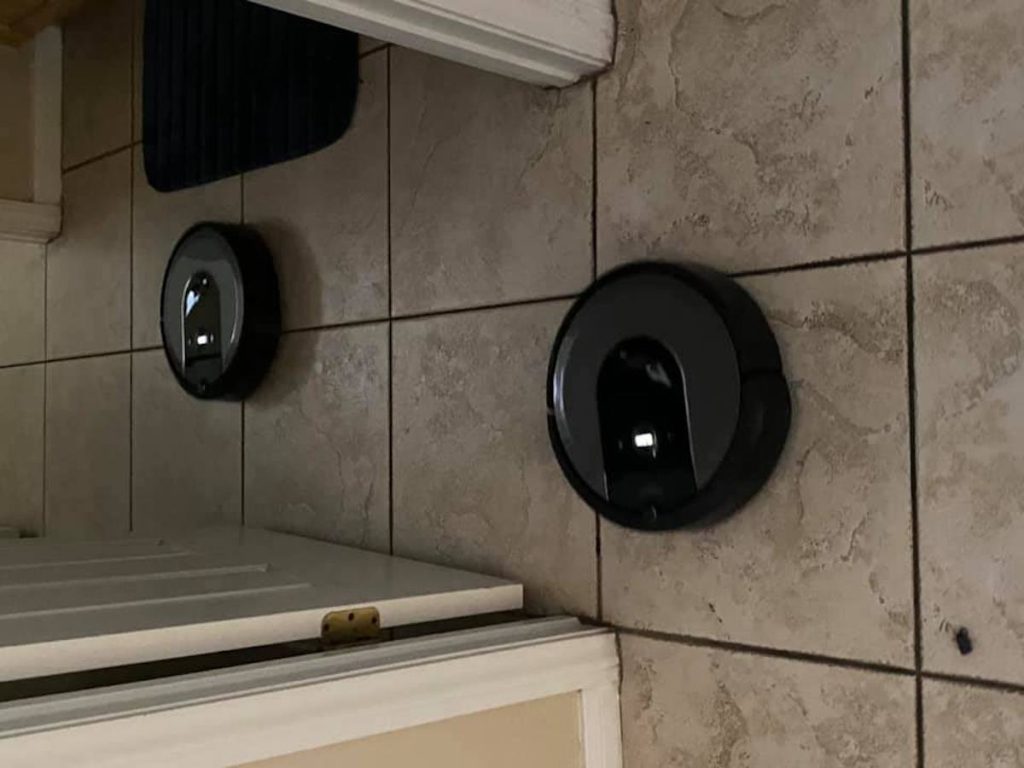 Roomba i8+ Features 
As mentioned above, the Roomba i8+ and i7+ are the same base vacuum for the most part, but there are slight differences that make the i8+ a better choice. I'll get into specifications, features, benefits, and what actually makes them different. 
Size Dimensions and Weight
The Roomba i7+ and i8+ size dimensions are 13.26 in. wide x 13.34 in. long x 3.63 in height. That low height allows it to move under coffee tables and other pieces of furniture without getting stuck.
The i8+ weighs 7.28 lbs, the same as the i7+. It's light enough to pick up and carry to a different room or floor of your home. It's definitely a plus to be able to easily carry it to various spots to clean. My arms didn't get tired either carrying it up or down the stairs.
Battery and Capacity 
The Roomba i8+ has a 2210 mAh lithium-ion battery that's 20% larger than the i7+. The i7+ will run for 75 minutes and the i8+ has 90 minutes of run time. That's measured to be good for cleaning around 2,100 square feet (200 sq. meters) of flat, hard floor surfaces.
The longer battery life is a nice advantage for the i8+ as it allows the i8+ to clean a little longer, before needing to go back to the Clean Base docking station to recharge. 
In reality, the extra 15 minutes can make a difference for how fast the house is cleaned. If the robot vacuum can spend an extra 15 minutes before it needs to recharge, that means less trips to the charging dock, which means more is cleaned on each cleaning cycle, and less time overall.
For high square footage homes, it makes a big difference. Fewer trips from and back to the base station means more time vacuuming and less time traveling.
When battery life is low, they'll both head back to the charging station to recharge automatically. Charge times are around two hours.
This is when the Recharge and Resume feature kicks in. When the i8+ finishes recharging at the charging station, it will resume cleaning from where it stopped. Huge plus and free of any battery life concerns.
Many other Roomba models have Recharge and Resume too, but unless they have a Plus+ next to their model number, you're going to need to get your hands dirty. You'll need to manually empty the dirt and debris out of the dustbin.
If you have a large house, that will quickly get annoying, so that's why you'll want to get a Plus Model. The i8+, i3+, i7+, and s9+ all self-empty. 
The self-emptying, Plus models will give you hands-free, worry-free cleaning for up to 60 days, because you only need to empty the automatic dirt disposal bags when it's full. In testing and reviews, that's up to 30 cleaning cycles worth of debris that the Clean Base bags can hold.
Cleaning Technology System and Suction Power 
The Roomba i8+ comes with iRobot's Premium 3-Stage Cleaning system that offers efficient and optimized performance. Along with 10x times the suction power of the Roomba 600 models, it's one of the most powerful robot vacuums to deep clean homes. 
The 1700 Pa Power-Lifting suction power and 3-stage system picks up the dirt, debris, and pet hair from all types of floor surfaces, from carpets to tiles to hardwood floors. 
Ever have areas of your home that are dirtier than others? Any stubborn dirt? Don't worry because the i8+ has the patented Dirt Detect Technology to find those locations.
The robot vacuum's dirt detection sensor will see dirtier-than-normal spots on the floor and it will know to make extra passes over those locations to ensure the floors are clean. 
Animal hairs and human hair aren't a problem with the i8+ either. But if you do have a lot of hair on your floors, you should check the side wheels at least once a week for any tangled hair in the wheels. 
Tangled hair can cause the wheels not to sufficiently rotate, which could break the wheels and potentially lead to overheating of the Roomba. I've seen a number of people ruin their wheels due to hair entanglements and need to buy new wheels.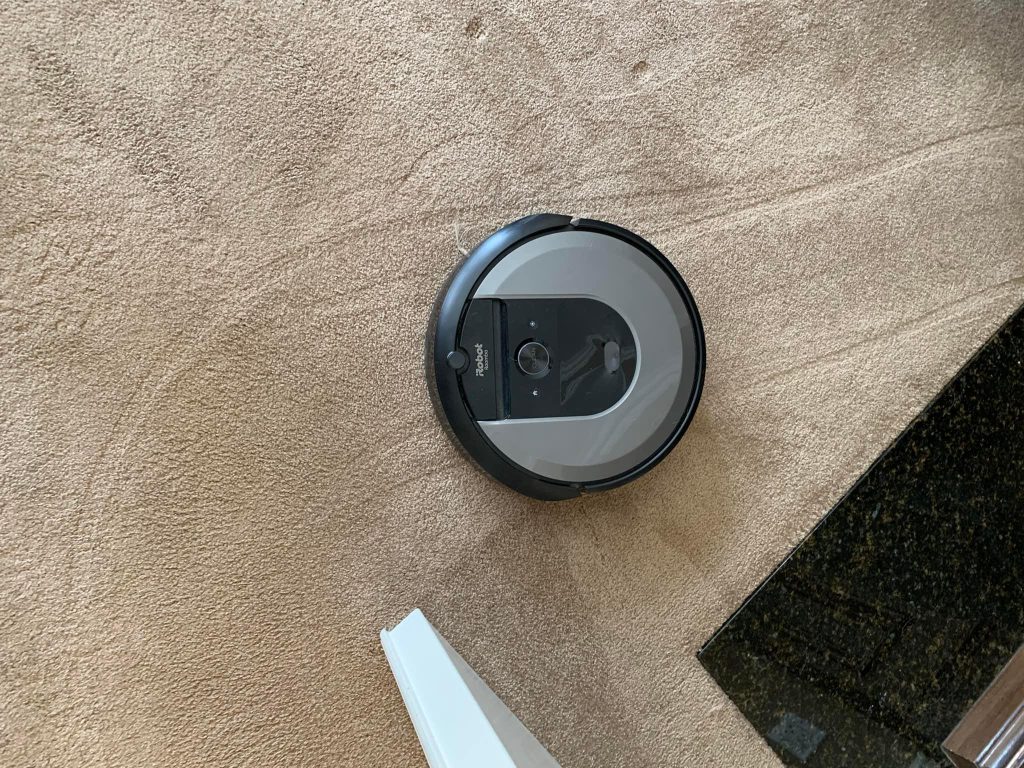 Dual Brush Rollers and Edge Sweeping Brush
iRobot's multi-surface rubber brushes are unique from other robot vacuum brands. Other brands and Roomba's own 600 series models come with bristle brushes. 
The patented brushes are made of rubber and lead to more effective cleaning, as well as less issues with hair entanglements. Bristles will get caught up with hair and you'll need to spend more time manually pulling hair out of the bristle brushes. 
Do you have different floor surfaces at home? The brush rollers on the Roomba i8+ will automatically adjust its height depending on the surface. The i8+ will vary its height for low/high pile carpet, rugs, hardwood, and other surfaces to clean the dirt, debris, and pet hair. 
High-pile carpet and rugs are a tough space for any robot vacuum. The i8+ does a good job, but it doesn't quite match up to the Roomba s9 and s9+, because the s9/s9+ have 40x suction power. That allows them to get a little deeper. 
The i8+ has an Edge-Sweeping Brush to get the edges along the walls and the corners of a room. The Roomba's well-known circular shape doesn't allow the edge-sweeping brush to do an amazing job, but it's still good. You may need to manually pick up of debris occasionally.
If you don't want to pick up debris yourself in room corners, the D-shaped Roomba s9/s9+ will give you that. The D shape allows the s9 to get closer to the walls and corers to allow its edge brush to do its job. The Roomba s9+ is the top-of-the-line Roomba, so it's not a surprise.
Filters
The Roomba i8+ is equipped with High-Efficiency filters that trap 99% of dirt, dust, dust mites, and allergens. They're not HEPA filters, but they're close.
If you have pets, you'll be glad to know that includes trapping the pet allergens from your cats and dogs. For those with allergies, you'll appreciate that. 
The Costco model Roomba i8+ does come with 1 extra replacement filter, so there are 2 total replacement filters in the box. 
The extra filters come in handy because it's a good idea to change the filters every 2-3 months, depending on how often you run the Roomba. If you don't change the filters, and they're full of debris, the Roomba could also overheat because air isn't cleanly flowing through the filters.
I do have a guide on how often to change Roomba filters to get an idea of what factors come into play before deciding to change filters.
Clean Base and Self-Empty
The Self Emptying feature and Clean Base station are what most people will want when they think home automation led by robot vacuums. People want a hands-off cleaning machine and that peace of mind. 
The Plus+ Roomba models provide that to you, because they will empty their own dustbins when the dustbin is full. This is the feature that I love the most. The biggest benefit is that this gets as close to an automated home that cleans itself, without you doing much work.
The auto emptying dock will store up to 60 days of debris, dirt, and dust. When the dirt disposal bags are full, you'll get a notification on the mobile app or the LED indicator on the dock will light up solid red. 
For those with pets and kids, or if your home just gets dirty quickly due to the weather environment you're in, you'll love that you don't need to get involved much at all. The dustbin capacity is 400 ml, which isn't large at all. If you have pets that shed, the dustbin will fill up quickly. That's why you'll be thankful you have a self-emptying Roomba.
You can schedule cleanings and the i8+ will go cleaning on its own, while you're doing anything else. That's what we want with our robot vacuums after all, autonomous cleaning.
If you have a large home, you'll also be glad that the Roomba i8+ will clean until the battery is low, head back to the auto emptying dock by itself, empty its dustbin by itself, and then resume cleaning from where it stopped – all by itself.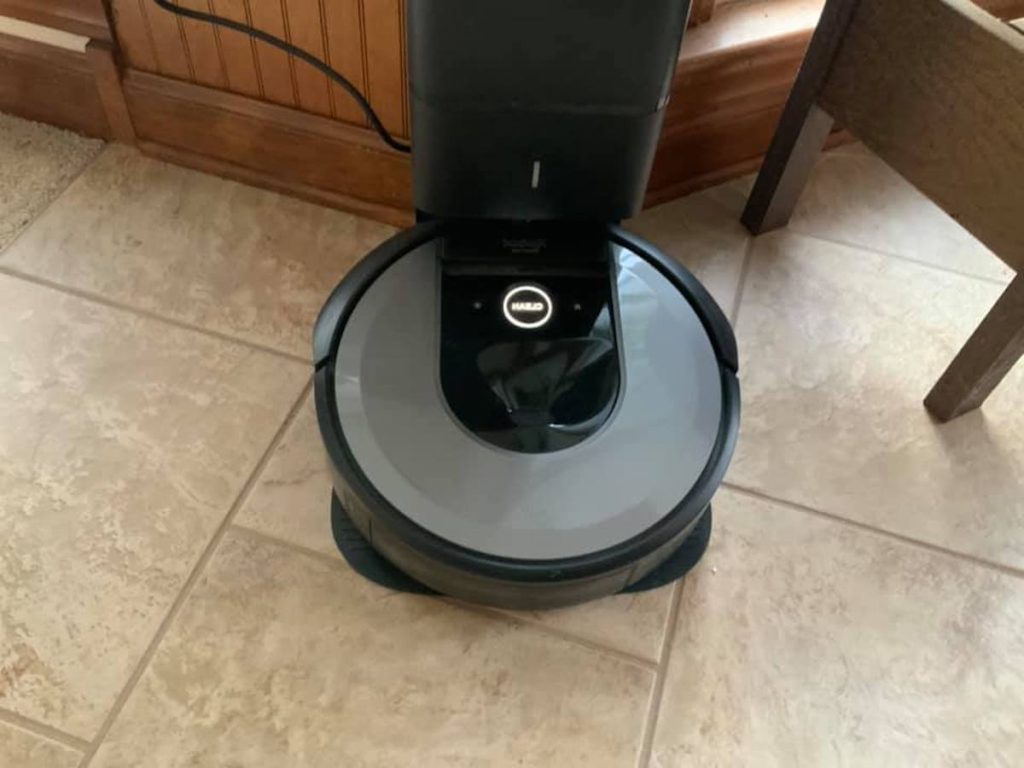 The Roomba i8+ has iAdapt 3.0 Smart Navigation and Imprint Smart Mapping System. That provides a number of advantages for customized cleaning and more importantly, efficient cleaning with straight lines. 
Smart navigation and mapping features give the i8+ camera sensors the ability to learn your home's layout, smart maps for each floor, and adapt to your home's layout for the best cleaning routes. You'll often hear neat rows for efficient cleaning. 
Lower budget models clean in random directions, meaning they'll go in one direction until it hits something, then changes course. Random direction paths are present in the 600 series and e series. 
The i8+ can store up to 10 floor plans, so if your house has multiple floors, you can carry the i8+ to different floors to let it clean by itself. Unfortunately, the i8+ doesn't know how to climb up or down stairs…yet! And don't worry, it does have the anti-drop, cliff detection sensors, so it won't drop down the stairs.
It's very useful, because you're saving lots of time as the Roomba doesn't need to relearn different floor layouts. If you've ever let a Roomba map the house for the first time, you know that can take a while if it's trying to clean and map at teh same time.
Creating and setting names for different areas and rooms of your home is easy. It's also compatible with voice assistants like Amazon Alexa and Google Home/Assistant, so you can tell the i8+ to clean the cereal in the Kitchen. 
The maps are stored in the Home App and you'll easily be able to schedule spot cleanings as needed. I have two toddlers living at home with me, so these spot cleanings are a lifesaver. For example, I can go on the iRobot App and tell my Roomba to clean my son's bedroom. Or tell it to go into the kitchen to clean up the spilled cereal.
You can also create Keep Out Zones in the app's smart maps, they're like virtual barriers, to prevent the Roomba from going into that specific area. These digital no go zones are one of the better interactive mapping features in the mobile app.
Create Keep Out Zones around the cat and dog's food and water dishes on the kitchen floor. Any small side tables where a bump by the Roomba could topple it over or knock something off of it? The zones can be good for many things.
The i8+ does come with 1 Dual Mode Virtual Wall Barrier that the i7+ does not. Virtual barriers are physical devices you place on the ground. It creates invisible barriers in the form of a wall or a halo (semi-circle) around objects or sports. Another use case could be to place it in front of obstacles to avoid, like more fragile furniture.
With Imprint Smart Mapping and Link Technology, it allows the i8+ and Braava jet m6 robot mop to be in sync with what's been vacuumed, so the Braava m6 can start wet mopping. That means more hands-off cleaning and mopping for you thanks to Imprint Link.  
iRobot Home App Powered by iRobot Genius
The Home App that's powered by Genius offers a redesigned and upgraded experience for you, packed with smart features. Your smart phone is turned into a remote control. The Genius app brings customized cleaning solutions and personalized schedules based on your cleaning habits. 
The smartphone app can also grab information on your local area's pollen count and suggest extra sessions if the pollen count is high. Or maybe it's pet shedding season, the app will then suggest additional sessions too. All you need is a Wi-Fi network on either 2.4 or 5 GHz frequency..
Integration with other smart devices on various smart home ecosystems will give you the ability to continue building your smart home for maximum convenience and comfort. 
You'll be able to connect create routines for your smart devices and activate them through voice control and Google Assistant or Alexa. In conjunction with the smart map features, you can tell the i8+ to "Clean the bedroom" through Google Assistant, for example.
The i8+ is Wi-Fi Connected, so you'll be able to connect rather easily. You can also try your hand at creating unique routines through platforms like IFTTT. 
iRobot Roomba i8+ Pros and Cons
Pros
Has all of the best features in the complete Roomba Lineup (except for the s9+)
Smart home integration compatible
Customized cleaning schedules
Personalized cleaning suggestions based on learning habits and your local environment
Great with pet hair
Multi-floor map memory
Self-empty and Clean Base unit holds up to 60 days of dirt
Recharge and Resume
Cons
Higher priced
Costco membership needed 
Here's a fun challenge that Robot Masters on YouTube performed where he drops 5 lbs of cereal on the floor and lets the i8+ do its thing.
Final Thoughts – Roomba i8+ Review
The iRobot Roomba i8+ is a great robot vacuum option and will easily give you clean floors. Costco Roomba i8+ package is a good deal with the extra accessories in the box that's includes: 
2 Extra AllergenLock Disposal bags (4 total bags)
1 Extra High-Efficiency filter (2 total filters)
1 Dual mode virtual wall barrier
1 20% larger battery 
The other comparable Roomba models to look at that might offer better pricing when on a deal are the i7+ and s9+. The s9+ is the top-of-the-line Roomba and definitely worth a look if you have a flexible budget due to its 40x suction power.
These are more expensive models, so if you're looking for cheaper models that are still Wi-Fi connected, have smart features, and great on all types of surfaces like hardwood floors, look at the Roomba i3+. If you're a Costco member and don't need a Clean Base station, look at the Roomba i4 for a great deal.
These all have the same power lifting suction technologies at a more budget friendly price point. If you're looking for the auto emptying dock still, get the i3+.
Check out other these other reviews of other robotic vacuums:
Frequently Asked Questions FAQs
Roomba i8+ vs i7+ (Roomba i7 vs i8)
The Roomba i7+ and i8+ have the same features and the same Clean Base docking station. The i8+ Costco package does come with extra accessories and a larger battery, so the i8+ option does provide a better value.
The Roomba i8+ is built off the base of the i7+ and the only difference in terms of features and functions is run time. The i7 runs for up to 75 minutes, while the i8 has a run time tested up to 90 min. on hard floors. They both have the same cleaning systems and have the same great performance in cleaning your house.
There are two situations where you may want to get the i7+. If you see the i7 plus at a cheaper price on Amazon than the i8+, you may want to consider buying the i7+. I've seen it cheaper occasionally on deal days. Or if you don't have a Costco membership and don't have anyone who could purchase it for you, the i7+ will give you the same cleaning performance.
Roomba i8+ vs s9+ (Roomba i8 vs s9)
The main differences between the Roomba i8+ and s9+ are their shapes, run time, and suction power. The i8+ has the iconic circular shape, while the s9+ brings the modern D-shape that offers better cleaning against walls and corners. 
Their battery run times have a significant difference too. The Roomba s9+ has a longer run time at up to 120 min, while the i8+ is up to 90 min. That's a bit surprising because the s9 also has a much higher suction power at 4 times the suction power of the i8.
I would've thought the extra suction power would use up the s9 battery faster, but iRobot has figured a way to make it clean for a longer time.
The i8+ and s9+ are higher end models, but they're both standouts and well worth the money. You can't go wrong with either, because they're both worth their price points.
iRobot Roomba i8+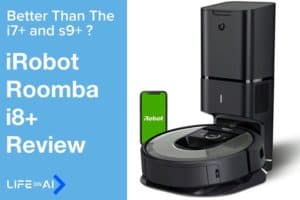 The Roomba i8+ is essentially the same robot vacuum as the Roomba i7+, except for a few extra accessories, a larger battery, and longer run time. Are these differences enough to make the Roomba i8+ a better buy for the money? It's also been made exclusively for Costco members and that's why it's difficult to find Roomba i8 on Amazon and other locations.
Product SKU: i855020
Product Brand: iRobot Roomba
Product Currency: USD
Product Price: 699.99
Price Valid Until: 2022-05-31
Product In-Stock: InStock