The iRobot Roomba is the leader in the robot vacuum industry. Roombas are perfect for people who hate cleaning their floors because it cleans everything automatically. A Roomba will move around your home looking for dust and debris to suck up into its dustbins. 
Depending on the model, a Roomba can be expensive compared to a regular vacuum, so a popular question always comes up – Is a Roomba worth it? 
This article will look into the many pros and cons to help your Roomba purchasing decision. 
Is a Roomba right for you?
Roombas lead the pack when it comes to robotic vacs. They are easy to use and are great for getting rid of dirt and debris. They also cut down on the intensity and frequency of deep cleanings.
If you're someone who works a lot or not at home that much, a Roomba might be a good fit for you. If you have kids, they may love watching them, instead of getting into trouble.
They can be controlled by the iRobot Home App on your phone or through voice commands, making them easy to use. 
If you don't generally like to vacuum and clean, then a Roomba could be right for you. Let's look at the various benefits.
Roomba Benefits
Roombas are robotic vacuum cleaners that use sensors to detect obstacles and clean floors automatically. 
Roomba is a vacuum robot that cleans your floors. There are different types of robots that clean your floor. Some of them cost less than $100. You can buy a new model or get an old one. The brand name Roomba has become synonymous with the function of cleaning your floor.
A robot vacuum cleaner is a device that cleans floors by vacuuming them. It uses sensors to detect obstacles and dirt. It also has a remote control that allows you to clean anywhere in your house.
You can program the robot to do different things depending on what floor it is cleaning. For example, if it is cleaning the kitchen floor, it may stop when it detects something on the floor. But if it is cleaning the living room floor, it might continue until it reaches the end of the room.
You can also make up funny Roomba names for your robot vacuum.
Roomba Models and Smart Technology
Older models have less advanced technology, but were still effective at cleaning floors. They can clean both carpet and hardwood floors. Less smart robot vacuums include these models: 
Roomba 614, 675, 694, other 600 series
Roomba e5, e6
Roomba 960, other 900 series
Newer models have more advanced, smart technology, such as obstacle avoidance, smart mapping, smart navigation, and have more suction power to better clean carpets. You can also get newer models with a self-emptying charging station, allowing up to 60 days where you don't need to empty the trash.
Models with smart technologies include these models: 
Roomba i3/i3+, i4, i6+, i7/i7+, i8+
Roomba j7, j7+
Roomba s9/s9+
Read a full comparison review of all the Best Roomba Models, along with a robot vacuum buying guide.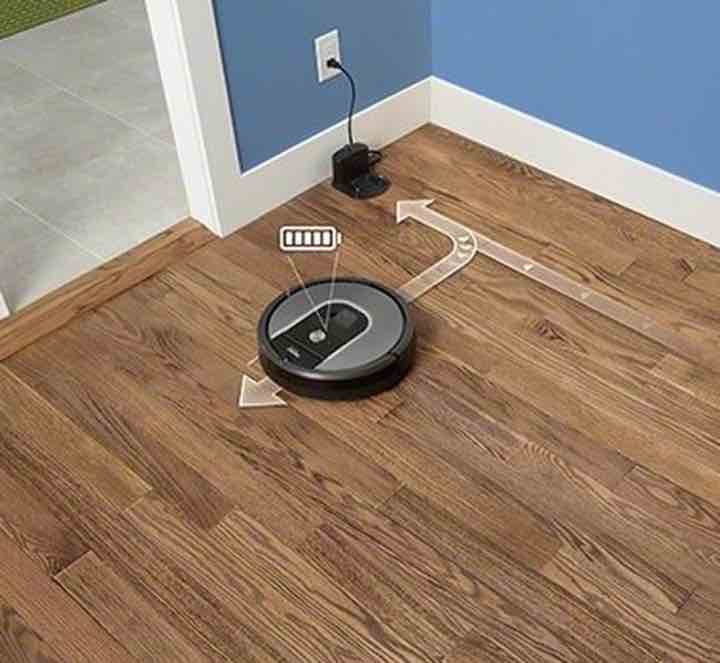 A Roomba is Convenient
Roomba vacuums are useful household appliances that help you clean up messes. The higher end models can be programmed to avoid certain rooms or areas of the floor.
Roombas are designed to move around different surfaces without assistance. They give us our free time back by doing the job for us.
You can also control them using voice commands through smart speakers compatible with Alexa or Google Assistant.
Through the iRoomba Home App, you can send Roomba commands to start and stop cleaning specific rooms or the whole house. 
You can also create a Roomba schedule for cleaning that's convenient for you. Start the cleaning when you leave the house for the day and come home in the evening to clean floors.
A Roomba Will Cut Down on Daily Cleaning
Roombas are great because they help us get rid of the daily dust and dirt that accumulates. We don't have to spend hours every day cleaning up after ourselves.
We can set them to clean once per week or even once per month. This helps cut down on the amount of collected dirt and dust, reducing those one-off big cleaning sessions. 
A Roomba Will Pick Up Pet Hair
Pet hair can be easily removed by using a Roomba. The dual rubber brushes effectively remove pet hair, and the high-efficiency filters will capture up to 99.9 percent of the hair, dust and dirt.
Depending on the Roomba model, they may not be as effective at picking up smaller particles or hair. The mid to high-end models have more suction power than the baseline 600 model series, from 5 to 40 times the power. 
If you have cats and dogs that shed, get one of the i-series Roomba models or the s9/s9+. 
Roomba Cons
There are some negatives with the Roomba though, so see if they are relevant to you.
A Roomba Can Be Costly
Even though the iRobot Roomba brand is one of the best modern robot vacuum providers, but it's also one of the pricier robot vacuum providers for their quality. 
Roomba models can range from as low as $300 up to over $1000 for the expensive model with all the bells and whistles. 
A Roomba Can Occasionally Get Stuck
Robot vacuum cleaners have great navigation and mapping abilities. Their optical sensors help them avoid obstacles like furniture and loose shoes. The Roomba will map those obstacles out for future cleanings. 
Even though they can map your house's floor plan, they still can't find their way out of some tricky situations.
You should pick up any smaller obstacles like toys before starting your robot. Your robot might get stuck on an obstacle while it cleans. 
There is also the potential for it get stuck under low furniture like couches. If you have a higher-end model, you can draw Keep Out Zones, so the Roomba won't go near the furniture.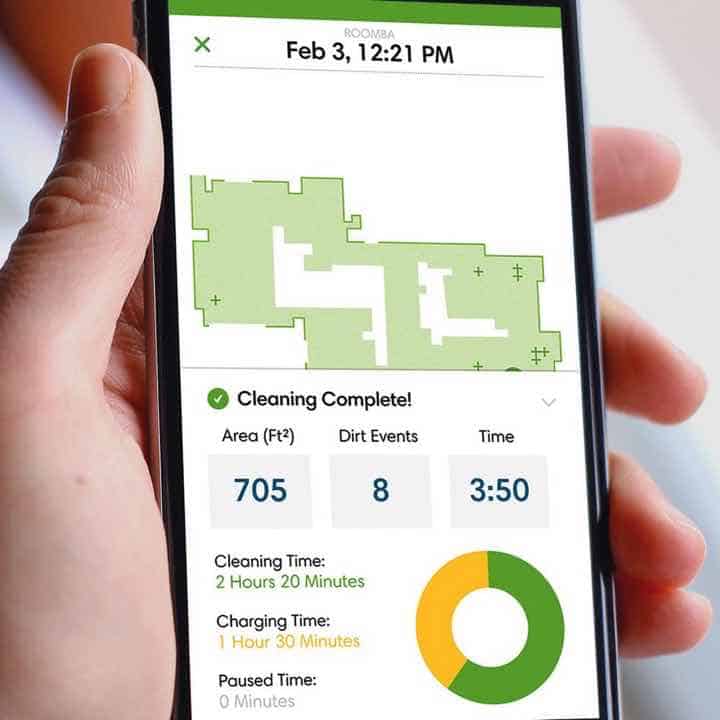 A Roomba Can Get Caught on Cables and Cords
Homes have many wires, power cables, extension cords, shoelaces, and other stringy objects that can trip up a Roomba robot vacuum. These things can cause damage to the Roomba as it gets caught in the brush rollers.
Make sure to check your room for these hazards before letting your robot vacuum run wild. You can also pre-program the Roomba to clean your house by following a set path. You can also program it to avoid certain rooms with the iRobot app. 
You should tell the robot vacuum cleaner to avoid areas with cords. If the Roomba is one of the lower cost models, you can purchase additional virtual wall barriers accessories to make the Roomba avoid certain areas. 
Roomba Needs to Be Manually Emptied 
Robot vacuums need to be emptied on a regular basis, but some models have the self-emptying dock station. The self-emptying Roomba vacuums are the Plus models in the Roomba line-up. 
Roomba i3+, i6+, i7+, i8+
Roomba j7+
Roomba s9+
Emptying a Roomba is easy, but is still a manual process. If you have a large home, it's most likely that you'll need to empty the dust bin in the middle of a cleaning cycle. That's why the self-emptying feature is a favorite of customers. 
If you get a self-emptying Roomba, they are made to sustain up to 60 days of cleaning without you needing to touch the trash. It's really the autonomous cleaning that everyone wants when they buy a robotic vacuum. 
Roomba Can Be Noisy
Robots are noisy machines that can be annoying when cleaning your house. They are vacuums after all. 
The models with more suction power will be louder than the ones with less suction power. They usually range in the 60-70 decibel range (dB). 
For comparison, normal conversation levels are about 60 dB, while washing machines are around 70 dB. 
Read more about Roomba Noise Levels. 
Need to Clean Roomba Brushes
A robot vacuum needs to be cleaned regularly. The brush rollers, side brush, wheels, and filters all need to be checked and cleans.
You should always check how much hair is building up in the brush and bristles before using the vacuum again. Hair can get caught up in the rollers and the wheels, that could cause them to stop spinning. 
Check out these other articles to see how to clean different parts: 
Choosing a Roomba Home Base Location Can Be Tough
You should place your robot vacuum charger in an inconspicuous spot. Your robot vacuum charger should be placed by a flat wall, with around 1.5 feet of space on both sides and 4 feet of clear space in front.
You should place the base station somewhere where people can easily see it and where there is an electrical outlet nearby. Don't put the base station too far away or the robot won't be able to charge up.
Is Roomba Worth It Final Thoughts
Roomba robot vacuums are great for keeping your floor clean, but they aren't perfect either. 
Roomba robots are on the more expensive side compared to other manufacturers, but they also provide the highest quality and reliability. 
Roombas are well worth the money because I don't need to worry about vacuuming the floors. I get my free time back and can focus on other things. 
Here are a few Roomba reviews and comparisons to help you see which Roomba models are right for you: