Small differences between similar products can make all of the difference to you. This might be the case when comparing Samsung POWERbot vs Roomba automated, robot vacuums. Two popular models that appear to be very similar are the Roomba 960 and the Samsung 7065.
So, what are the differences? The information below pits the Roomba 960 vs the Samsung 7065 so that you can see how they differ in an attempt to select the right one for you.
Roomba 960 vs Samsung 7065
Product Brand/Model
Cleaning Path
Running Time
Type Of Filter
Remote Control
#1. Samsung 7065
Our Best Pick

Check Price

11.4 Inches
1.5 Hours
Reusable
Yes
#2. Roomba 960

Check Price

7 Inches
1.25 Hours
Replaceable
No
Build and size
These automated vacuums vary little in size. The Samsung, at 13.7-inches in diameter, is only 0.1-inches smaller than the 960. Roomba's 3.6-inch height offers a negligible low profile of 0.2-inches when compared to 7065.
In regard to appearance, the more uniform silver of the Roomba may appeal to you. Conversely, the black and titanium colors of the Samsung may prove more to your liking.
These products are made from durable plastics as well as metal components. They each provide control options and digital displays along their top surfaces. Roomba is almost a pound lighter than the Samsung product.
Cleaning ability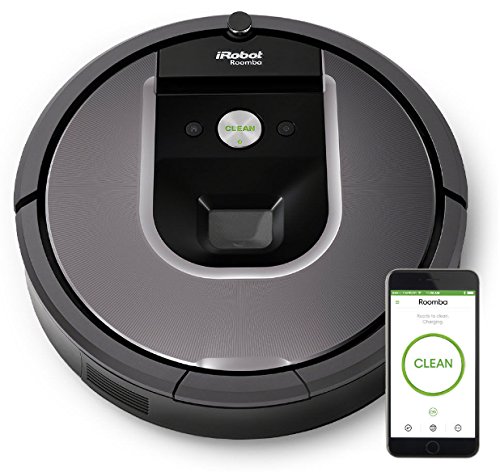 The 7065 has a much wider cleaning path (11.4-inches) when compared to the 960 (7.0-inches). Each product uses multiple brushes, but it should be noted that the Samsung product design is intended to tangle less often.
These vacuums both use filtration, with the Roomba employing replaceable cartridges and the Samsung making use of a reusable filter. They appear to work in similar fashions on multiple surfaces, with each product displaying a small drop in efficiency with long carpet fibers.
Looking at the Roomba 960, we note that iRobot has equipped it with the iAdept 2.0 navigation system that upgrades it over their first-generation programming. Also included in this package is a vSLAM technology that uses visual input for mapping.
Samsung also uses an updated version of their Visionary Mapping navigation systems. Additional FullView Sensor technology provides extra mapping details for smaller items in the path of the unit.
These automated vacuums also include sensors that will prevent them from falling down the stairs in your home. Each product also includes sensors that allow them to detect areas containing heavy dirt and debris. This will navigate either vacuum to concentrate more in these areas in order to pick up the extra materials.
Both manufacturers have included accessories that are designed to block the robot vacuums from entering certain areas or rooms. The accessory that iRobot includes is a Virtual Wall Barrier that uses a beam of light to stop the Roomba 960 from passing the barrier.
The Roomba 960 and Samsung 7065 both use their navigation systems to map out cleaning paths in a room as well as return paths to their docking stations. Both products are designed to return to the docking station before their batteries run out.
Vacuum controls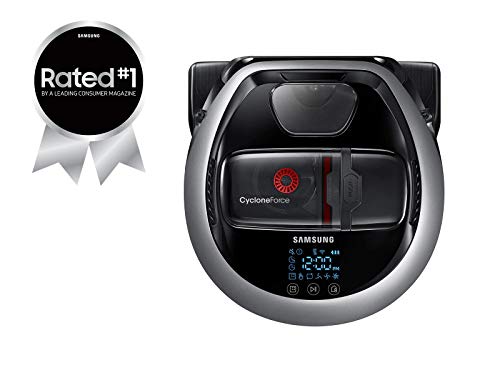 Each vacuum offers surface controls on the top surface of units themselves. These button controls are limited in scope when compared to the other methods used for input, but allow users to power on/off, cycle options, and return to the station.
Neither product provides direct voice control that is built-in to the models, but other remote options are available. Both products can interact with Amazon Alexa and Google Assistant.
The Samsung 7054 does include a remote control in the package. That is a feature that the Roomba 960 lacks. Both systems are WiFi-enabled and can be controlled remotely from apps.
Review - Samsung POWERbot R7065 Robot Vacuum 2020
Battery and power
Both products use Lithium-Ion batteries, with the Roomba employing a 1,800 ma version that generates a maximum running time of 75-minutes under ideal conditions. This is in comparison the Lithium-Ion battery system used by Samsung that provides a maximum run time of 90-minutes under the best-operating conditions.
Battery charge times will differ between these units. The Roomba 960 will take three hours to fully charge, while the Samsung 7065 can take up to four hours for a full charge.
These automated vacuums use a charging station that can be placed on the ground. These stations use power from a standard outlet and provide automatic docking for both the Roomba 960 and the Samsung 7065.
Which One Is Right For You?
For all of the similarities between these two models, the Samsung 7065 does appear to offer a cleaning edge with some of its features. That starts with the cleaning path itself. With a reach that is 4.4-inches wider, Samsung will make far fewer passes to clean the same surface area when compared to the Roomba.
Another feature that stands out on the Samsung is its battery life. The extra 15-minutes that it offers over Roomba's Lithium-Ion will mean fewer trips to the docking station. Remote control is added to the 7065 packages, giving users another form of automated control that the 960 does not provide.
When taken together, these small differences provide potential customers with more control and could save more time as well.
For more comparisons with the 960, check out these posts below: