Both the Eufy Robovac 30c and the iRobot Roomba 675 have been voted some of the best budget robotic vacuum cleaners, but which one is truly the best? Let's break it down and choose a clear winner:
Quick Comparison: Eufy Robovac 30c vs Roomba 675
Vacuum
Price
Height
Suction Power
Cleaning Time
Connects To
#1. Eufy 30c
Our Best Pick

Check Price

Affordable
2.85 inches
1500Pa
100 minutes
Wi-Fi, Alexa, Google Assistant
#2. Roomba 675

Check Price

Affordable
3.5 inches
600Pa
90 minutes
Wi-Fi, Alexa, Google Assistant
The Eufy Brand
When it comes to Eufy vs Roomba name recognition, the Roomba is definitely the one you've probably heard of before.
Eufy is the newer kid on the block. The vacuum maker operates under the parent company Anker Innovations, which is based in China. In addition to vacuums, Eufy makes other smart home devices and appliances.
The Price
One advantage both the Eufy 30c and Roomba 675 have is that they're fairly affordable compared to some other robotic vacuums on the market that can cost you well over one thousand dollars.
Some big box retailers may offer them at a slight discount from time to time, but, as a general rule, the two vacuums cost around the same price, so don't let that deter you from one or the other.
Eufy 30c Pros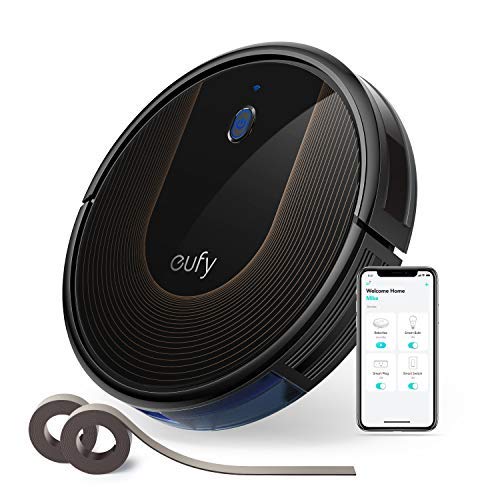 The Eufy Robovac 30c fully integrates with smart home programs, including Amazon Alexa, and Google Assistant. It also connects to Wi-Fi. App and voice control are available for a small fee. That means you can clean your home without even touching the vacuum.
At 2.85 inches, it's known as one of the slimmest robotic vacuums on the market which means it's great for cleaning the floor under low furniture, like beds, chairs, and sofas.
If you're a pet owner, you'll like the vacuum's 1500Pa suction power. It works well on pet fur and small particles, like dust. It cleans for about 100 minutes at a time, and it comes with free accessories, including a remote control and charging station.
The Eufy 30c's motor is quiet, so it won't disturb you while it works.
Eufy 30c Cons
There aren't too many negatives to write about the Eufy 30c. It does what you need it to, and for the price, it's a great deal. That said, it's not perfect.
Users have reported that the app doesn't always work correctly or consistently.
If you're looking for a vacuum to suck up bigger items, it may not be the one for you. When it comes to finer items, like sand, it may take a few trips over the surface to clean it all up
Roomba 675 Pros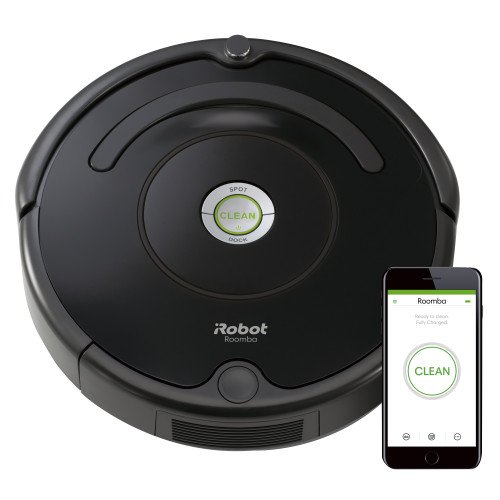 The Roomba 675 also connects to Wi-Fi, Google Assistant, and Alexa, and it has its own app so you can control almost all operations without handling the vacuum.
Its 3-Stage Cleaning System works well on basic everyday messes, like pet hair and dust, and the machine automatically adjusts itself based on the height of the floor or carpet on which it's working at any given time.
It also cleans larger items on both floors and carpets well. Overall, it's easy to set up and use with very little maintenance required.
The vacuum has a protective bumper to prevent it from damaging your furniture should it bump into it,
and it comes with extra parts and accessories, like a charging station, cord, extra filter, and extra cleaning tool.
The Roomba 675 will work for about 90 minutes before it needs to recharge, and its special 27-degree brush helps it remove items from corners and tight spaces. Its Cliff Detector technology prevents it from falling over steps and other drop-offs.
Roomba 675 Cons
While Roomba is the biggest name in robotic vacuum technology, not all of its products are perfect, including the Roomba 675.
First of all, the machine doesn't clean as well as some of the more expensive Roomba vacuums, especially when working on small grittier items, like sand. At 3.5 inches it's taller than the Eufy 30c, so it may not fit under your furniture.
The Roomba 675 doesn't come with any way to prevent it from cleaning in areas where you don't want it to go, and its filtration system is pretty basic. It's not as powerful as the Eufy 30c either at 600Pa.
The Winner
The Eufy vs iRobot matchup has a winner. While you can't go wrong with either vacuum, our favorite is the Eufy 30c. Its pros outweigh its cons by far It's not only more powerful, but it cleans better most of the time.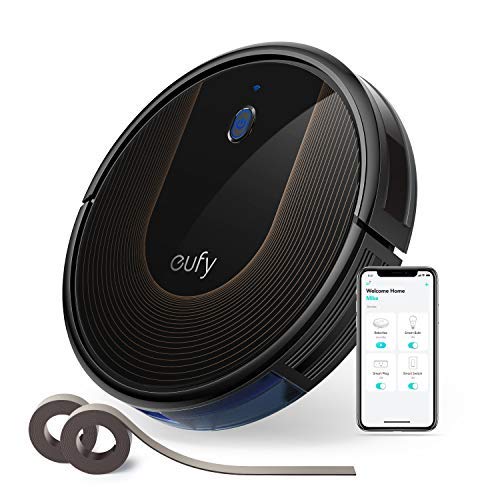 It's also smaller, so it will fit into tight spaces, and it offers barriers to prevent the vacuum from going where you don't want it to. Best of all, it's quiet — you'll never know it's working unless you're sitting next to it.
If you're willing to take a chance on a brand you may not yet be familiar with, consider purchasing the Eufy 30c.
Looking for other Roomba comparisons with the iRobot Roomba 675? Check out these other posts: