The Roomba 960 vs 890 pits two similarly priced, mid-tier Roomba robot vacuums against each other. The 960 and 890 have more similarities, but also significant differences. Which one will be declared the winner in this matchup and get our thumbs up?
Spoiler: The Roomba 960 wins this comparison matchup against the Roomba 890. The features of the 960 simply overshadow what hte 890 brings, even though there areas where they're both identical.
Features
Size Dimensions
The Roomba 960 stands at 3.6" tall by 13.8" wide. It's design is fairly simple and what you'd expect out of a Roomba robot vacuum – with 3 buttons on the top that can be used to manually control it named CLEAN, SPOT CLEAN and HOME.
The color scheme is space gray with black detailing all around the robot vacuum and a black highlight in the middle.
The Roomba 890 however is a little wider at 13.9" wide and 3.6" tall, b. The design on the Roomba 890 is sleeker in my eyes, with a copper-brown highlight all around with a black circle in the middle where the CLEAN, SPOT CLEAN and HOME buttons are located. It looks more pleasing to the eye than the duller colors on the Roomba 960.
Like most Roomba robot vacuums, a protruding knob is attached to the front of the Roomba 890 and the Roomba 960 that prevents it from going under furniture it may potentially get stuck under.
Weight
The Roomba 960 weighs 8.6lbs and the attached carrying handle makes it easy to transport around the house.
The Roomba 890 weighs 8.4lbs which is really – you could call that similar to the Roomba 960. There is an attached carrying handle that makes carrying it around the house an easy, one-handed operation.
Battery and Capacity
75 minutes is the max runtime on the Roomba 960 before it needs to recharge its batteries.
With the Recharge and Resume feature, the Roomba 960 can automatically find its way back to the dock for a recharge when the battery is low. The 960 will recharge back to about 90% before continuing its job right where it left off.
A full recharge will usually take about 3 hours from an empty battery to full, except for the first charge, which should be overnight.
The Roomba 890 offers only 60 minutes of maximum runtime before needing to be recharged. This is lesser than the Roomba 960 but this is understandable because it is an older model of Roomba.
The Roomba 890 automatically finds its way back to the dock for a recharge when the battery is running out too, but there's a big difference with the Roomba 890 vs 960.
The 890 does not have the Recharge and Resume feature, so after recharging, you'll need to manually tell it to start cleaning. You can restart it through the mobile app or manually pressing the Clean button at the top. Unfortunately, it won't remember where it's been.
Filtration
On the Roomba 960 and the Roomba 890, high-efficiency filters come as standard with every purchase.
High-efficiency filters will trap 99% of harmful airborne particles from dust and cat and dog allergens in the air. Both these robot vacuums will keep you and your family safe at home.
Brushes, Suction, and Cleaning Technology
The AeroForce 3-stage cleaning system on the Roomba 960 gives it up to 900 Pa of suction power and this means that the cleaning performance is fantastic.
It tackles anything from hardwood to carpet easily and cleans effectively on all terrain. That's thanks to the dual rubber brushrollers that do a great job of cleaning. They'll pick up pet hair and human hair with ease.
Hair can often get tangled up in the brush roll of robot vacuums, causing blockage to the unit that might cause it to work less effectively. But the 960 has less conerns with that happening.
The Roomba 890 also uses AeroForce technology in its cleaning system and the cleaning performance is seriously up to par with that of the Roomba 960 – although the Roomba 960 has a power boost function – which works especially well on high pile rugs and heavy carpets. This function knocks the Roomba 890 back down to second place.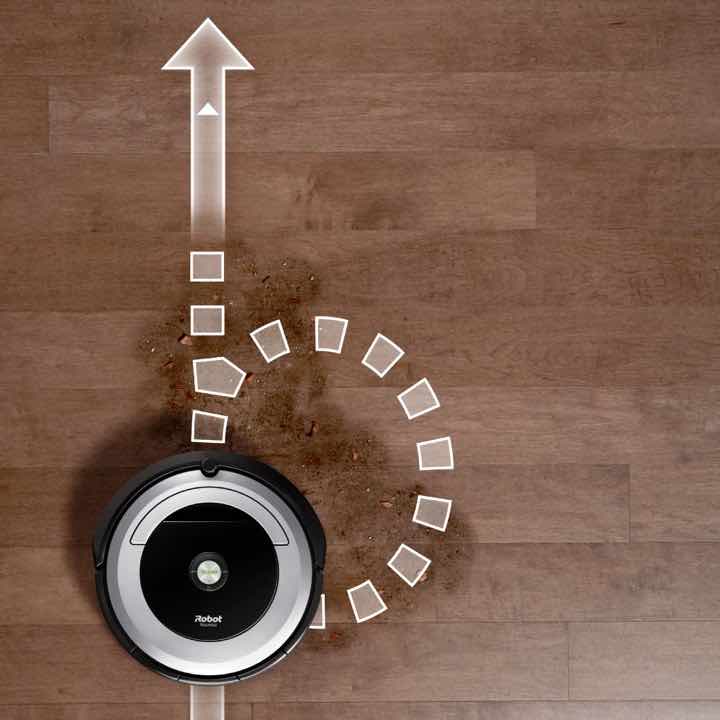 The Dirt Detect Technology is present in both Roomba models and this makes for more effective cleaning of the areas of your home that are especially dirty.
The Roomba 960 uses the iAdapt 2.0 navigation system to work out a path around the surroundings of your home, and prevents it from knocking into walls or obstacles in its path.
Optical and acoustic sensors help the 960 to create a virtual map of the floor plan that it uses to clean more effectively.
There's a Cliff Detection sensor that ensures the Roomba stays far away from cliffs and stairs in your home to prevent falls. You wouldn't want your Roomba falling down any stairs and breaking.
The Roomba 890 the outdated version of iAdapt software – iAdapt 1.0. This leads to random cleaning paths that may seem a little funny when you observe your 890 in action.
Mobile App and Voice Assistant Control
The Roomba 960 and the Roomba 890 can be controlled through your Android phone or iPhone through the iRobot HOME app.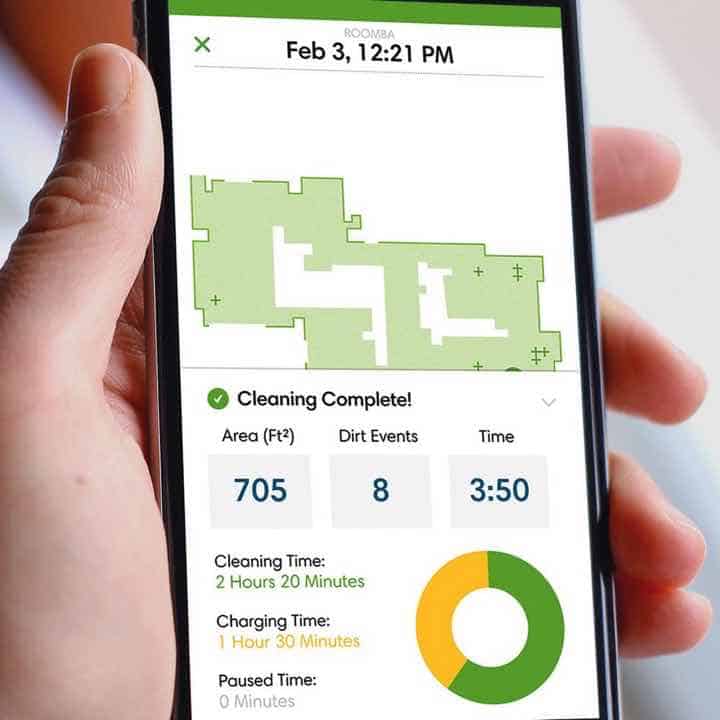 Basic functions such as turning it off and on, setting it to clean, scheduling cleaning times and seeing the cleaning progress can be done through the app.
If you wish to use voice commands to control your Roomba you are able to connect Google Home and Alexa to your Roomba and make for a completely hands-free cleaning experience.
Maintenance
The 600 mL (21oz) dustbin on the Roomba 960 is quite large compared to the others in the market. It might take about a week or so to fill up. It'll fill up faster if you run it every day for a good amount of time.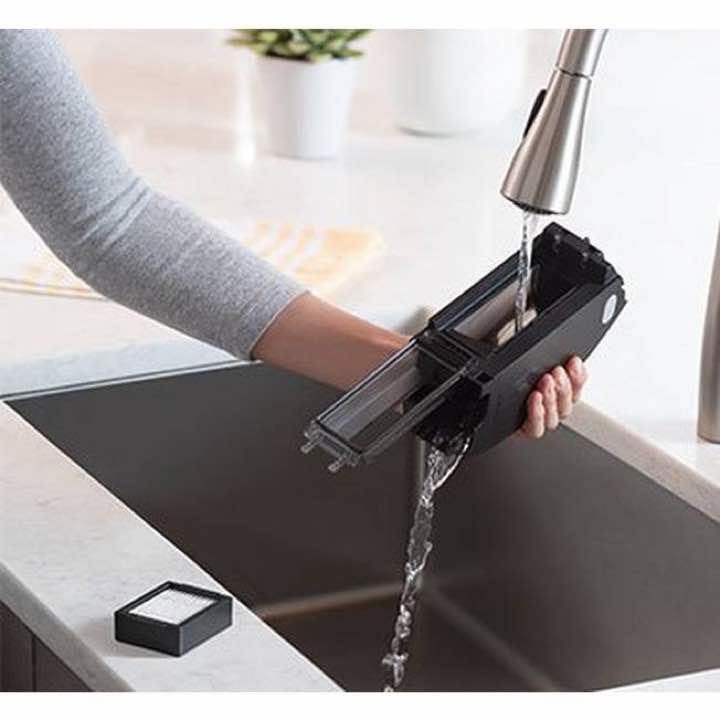 The app will notify you when it is full, so empty the dustbin when it does and you're all set to go again.
The Roomba 890 can only hold about 300 mL (10oz) of dirt in its dustbin – which is half of what the Roomba 960 can hold. This will result in more frequent emptying out of the dustbin – so it's worth keeping that in mind.
Additional Features
A dual-mode virtual wall device comes with every purchase of the Roomba 960 and the Roomba 890 if you buy either on Amazon as of this writing.
Using the virtual wall, you can deny entry to certain rooms or areas of your house for your Roomba with two different modes – a wall and a halo.
The wall mode is a virtual wall that you can put in the doorway of a room. The device will give out infrared rays that a Roomba will see as a solid wall.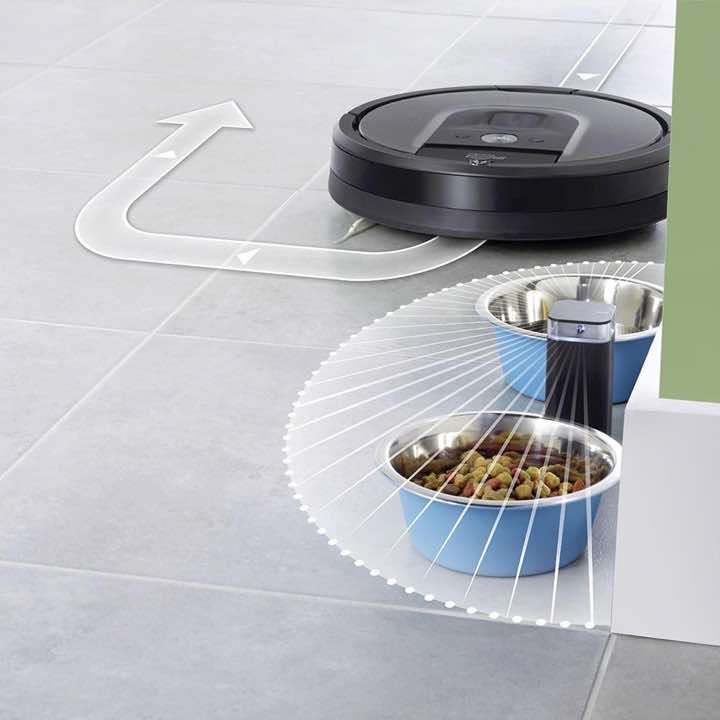 Similar to the virtual wall mode, the "Halo" mode creates an infrared no-entry barrier, except it's circular. You can set it around pieces of furniture in your home that you want your Roomba to stay far away from.
Pros and Cons
Pros
Superb cleaning performance
Bigger dustbin capacity
Cons
🔥 iRobot Roomba 960 Review 🔥 Best Robot Vacuum Cleaner 2020?
Pros
Simple and gets the job done
Cons
No Recharge and Resume

Smaller dustbin capacity
Can it Beat Dog Hair? | iRobot Roomba 890 Review & Demonstration
Roomba 960 vs 890 Who is Each For?
Roomba 960 : For those who want to spend some money and invest in a great robot vacuum that can clean well.
Roomba 890: For those who are content with spending less on a lower-performing robot vacuum for their homes.
Final Thoughts
The technology on both the Roomba 960 and the Roomba 890 are equally great in its own right and effective at cleaning homes – as is what it was made to do.
But for this Roomba 960 vs 890 round, we recommend the Roomba 960 because of its better performance and all-around capabilities. The 960 frankly outshines the Roomba 890.
If you're looking for more Roomba 960 or Roomba 890 comparisons, check out one of these: