There are several ways to store your Roomba vacuum. Some people prefer to put their vacuum cleaner in a closet or under the bed. Others hide it behind furniture or under the sink. Still others place it in a cupboard or even in a drawer.
There are other places to store your vacuum cleaner, such as under the kitchen table, in a corner of the living room, or in a cabinet. These locations are less likely to get dirty and they won't take up much space.
Roombas need to be stored properly. You can't simply put them wherever you want. You must store them in an appropriate location.
Let's take a look at what's first needed for Roomba storage ideas and how to hide a Roomba. 
Store the Roomba on a Level Floor
To make sure your Roomba functions correctly, place the Roomba and charging station on the floor. Your Roomba can't jump from a tabletop to the floor.
You can always place the Roomba on an elevated surface, but you will need to pick it up and place it on the floor each time you want to clean. You will also need to pick it up to the table or other surface whenever the Roomba is low on battery and/or needs to self-empty its dustbin. 
Choose a Location with Space 
A Roomba robot vacuum cleaner needs a place to store its base. This location must be big enough to hold the base while the robot vac cleans. Also, the base must emit a signal that tells the robot where it is. If there isn't enough room around the base, then the robot won't know where it is.
An ideal location for the Roomba and charging station is one that has 4 or more feet in front of the station, 1.5 feet on either side, and 1 foot of clearance above the station. The dock should also be at least 4 feet from a staircase.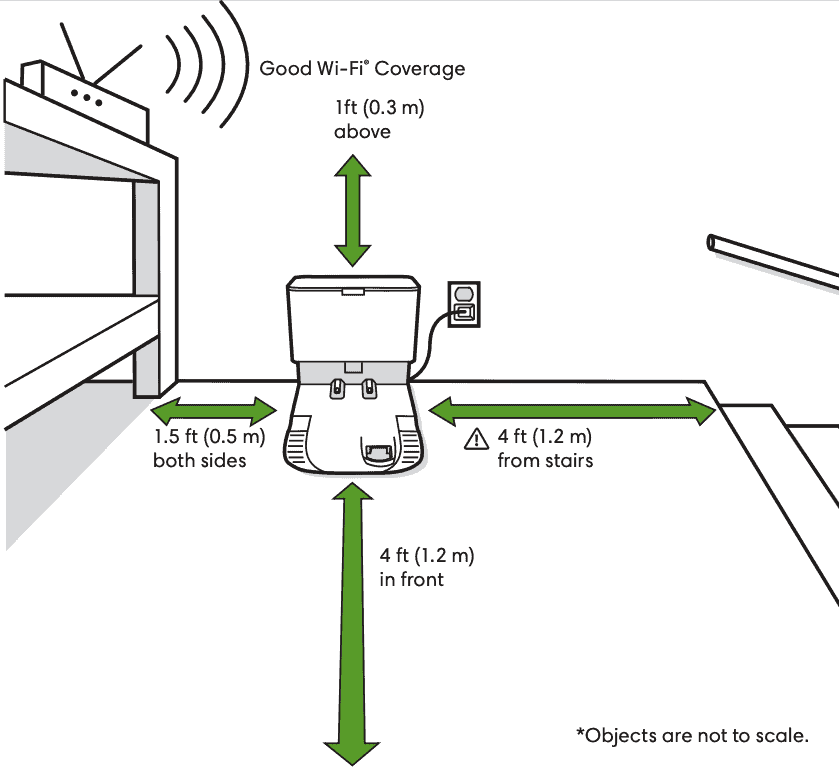 Store the Roomba Against a Wall
Since the Roomba returns home to charge, it must plug into an outlet. Placing the device near a wall is a great organizing tactic to declutter your home, while keeping the charging station charged.
Keeping the dock against the wall will also help when the Roomba returns to the station to recharge. As the Roomba backs into the station when it returns, the dock can move. Keeping the dock against the wall will keep the charging station from moving and make it complicated for the Roomba to recharge.
Store Roomba Away From the Stairs
All Roombas have cliff detection sensors, but you shouldn't put them near stairs where they can fall down. It's best to make sure that your Roomba is stored at least 4 feet away from a staircase.
The Roomba will make its way to and from the station to clean, so the further away from the stairs, the better. You don't want the Roomba to accidentally fall. It will also help prevent you or someone else from tripping in the dark. 
Top Roomba Storage Ideas
These are the top storage ideas for a Roomba and how to hide your Roomba. 
1. Store the Roomba Under the Staircase
If you have an open staircase that doesn't have a wall right under the staircase, this is a great way to take advantage of the open spaces under staircases. 
There are several things that you must keep in mind when placing your Roomba and docking station under a staircase. 
First, make sure there is sufficient lighting in the area. Second, make sure there is a working power outlet on the wall. Finally, make sure that your Roomba and the docking station are note obstructed with any furniture or other items. 
If you're using a WiFi-connected Roomba, also make sure the Wi-Fi router or extender is close by. This will help ensure stable Wi-Fi signals in that area, so your Roomba is always connected to Wi-Fi.
2. Store Roomba Under Furniture
You can consider hiding your robot vacuum cleaner under your furniture, like a bed, sofa, or table to save available space in a room. 
This will only work with a Roomba that doesn't need a charging station as it's rare that furniture will have the height clearance. The Roombas that don't require docking stations are the older ones like the Roomba 561 and 562. 
Any furniture you have will need at least 4 inches of clearance at the bottom of it. You'll also need a wall outlet nearby to charge the Roomba. 
3. Store Roomba by the Kitchen Trash Bin
Your Roomba should be placed next to your kitchen trash can. Placing your Roomba near your kitchen trash can helps you clean up after your Roomba without having to move it around.
If your Roomba has a Clean Base docking station or not, you can easily empty the dust and debris in the Roomba. If they were far from each other, there could be debris that falls out of the dustbin. 
4. Store Roomba in a Closet or Under a Cabinet
You can use a regular closet or cabinet to store your Roomba vacuum. Either of the options will help keep your Roomba out of sight from your visitors and even the pets. 
For cabinets, make sure there is enough clearance under the cabinet, at least 4-5 inches. Also, make sure that there is nothing blocking the path of the Roomba around the cabinet. This includes furniture, boxes, and other items.
If you want to store the Roomba in a closet, make sure the closet has enough space around it and has Wi-Fi reception. Ensure there's 1.5 feet on each side of the docking station and 4 feet in front. 
Of course, you'll also need to leave the closet door open if you want the Roomba to automatically clean on a schedule. Otherwise, you'll need to open and close the closet door whenever you want Roomba to clean. 
5. Make a Custom Roomba Cabinet
You can make your own custom cabinet for your Roomba. This makes it easier to hide your Roomba, as well as be an aesthetic piece in your room. 
You can prevent your WiFi from being cut off if you install an extra router near the cabinets. Leaving gaps in the cabinet door will also make sure that your WiFi signals can pass through.
6. Hide the Roomba Under a Planter
Find a planter stand that fits the dimensions of a Roomba. Then place a planter over it to hide the custom Roomba. Make sure there's a working power socket near where you locate the planter stand.
Double-check that you get Wi-Fi reception at the planter too. You can match the planter stand with your room's decor to make sure that everything looks nice and matches together.
 7. Store Roomba in the Garage 
The garage connects to other rooms in many houses, making it a great choice to store and hide your Roomba. 
It's best if your garage entryway is on the same level as your kitchen or other room that's connected to the garage. If there's a bump over the door threshold, make sure it's not too high or the Roomba won't be able to go over it. 
Similar to closet doors, you'll need to leave your garage entry door open if you want to allow the Roomba to automatically clean and recharge. 
Roomba Storage Ideas Final Thoughts
Storing your Roomba vacuum isn't difficult and there are a number of good options. You just have to find a good location for it in your home.
The first step is finding a spot that's convenient for you. After that, you can start thinking about how to hide your Roomba.
For more Roomba-related articles to help you enjoy your Roomba, check these out: