In this head-to-head matchup, we pair the eufy 11s vs 25c. Both of them provide some good features, along with features that may not be as useful. Let's take an in-depth look at both of them to find which one is the better option.
If you're too excited and want to know the winner, it's the eufy Robovac 25c. Continue reading below for the details of why I picked the 25c as the better vacuum.
Product
Filter Type
Scheduling
Remote
Voice Control
#1. eufy Robovac 25c
Our Best Pick

Check Price

Triple-Filter System
Yes
Yes (EufyHome app)
Yes
#2. eufy Robovac 11s

Check Price

Triple-Filter System
No
Yes
No
Features
Size Dimensions
The Robovac 11s has a small, compact build similar to that of the Robovac 25c. They both possess a diameter of 12.8 inches and height of 2.8 inches.
This small size is particularly helpful in getting under low furniture but could also become a problem when it comes to climbing carpets or rugs.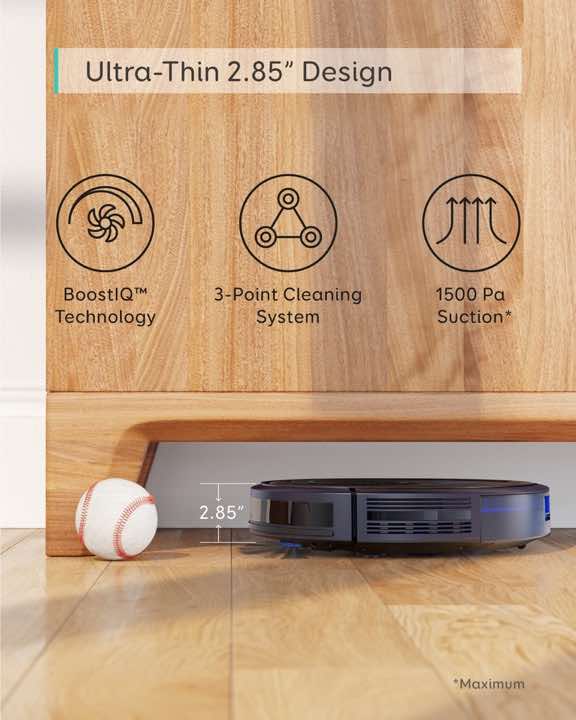 Eufy previously experimented with varying sizes early on and soon stuck with the smaller size for subsequent designs.
Battery and Charging Capacity
Eufy ensured they spared no cost in the battery design of both the Robovac 11s and the Robovac 25c. Eufy equipped the 11s and 25c with the Lithium-ion battery that has a capacity of 2600 mAh. That implies you get a lot of run time from your vacuum robot, which is approximately 100 minutes of vacuuming before it gets low and you need to recharge.
Charging from a low charge to 100% takes about 5-6 hours and Eufy recommends you charge your Robovac fully before using it.
What Kind of Filter Do They Use?
The 11s and 25c are both equipped with high-performance filters and a foam filter. With this combination of filters, Eufy designed two robots that can trap smaller dirt particles like dust that would otherwise escape when using other products.
Eufy also includes another filter that traps larger dirt, it functions to protect the high-performance filter and the foam filter from dirt that could clog it.
Yes, that's three filters altogether.
Types of Brushes, Suction Power and Cleaning System
The brushes of both the 11s and the 25c are similar. Both robots come equipped with 2 side brushes, one on each side that moves by counter-rotating and sweeping up dirt and dust.
They also have a brush underneath that digs into tough rugs and carpets to remove deep-rooted dirt. To complete the triple brush system, they are also equipped with roller brushes that also help in sweeping different kinds of surfaces.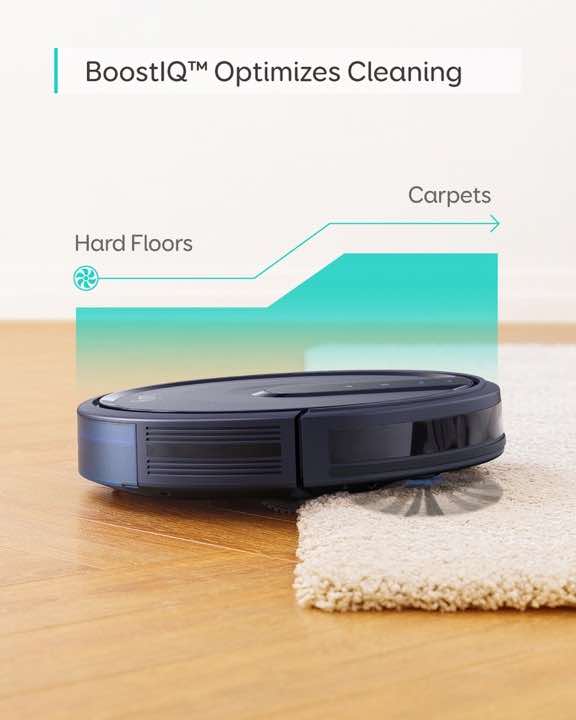 The difference between the two vacuum robots is in the suction power. While the 11s has a suction power of 1300Pa at maximum level, Eufy went a step further with the 25c giving it a suction power of 1500Pa at max level.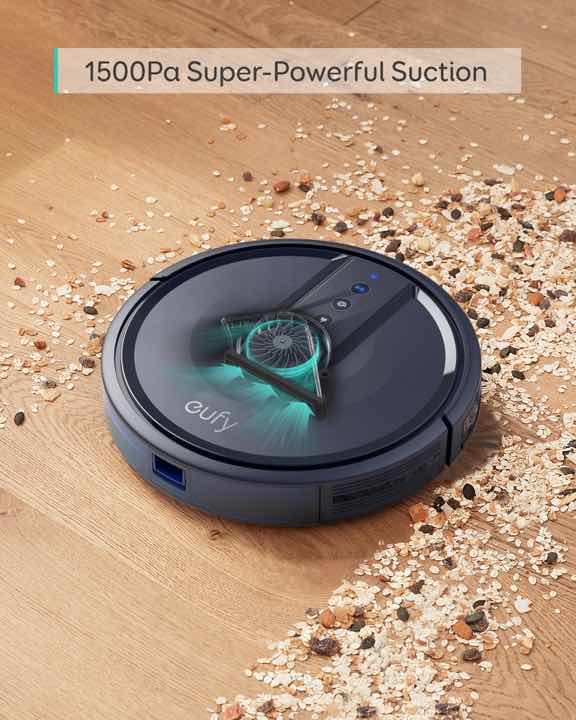 That means the 25c can increase its suction power when it needs to, making it more suitable to clean tough carpets and rugs.
Eufy equips both the 11s and 25c with Infrared sensor technology that enables navigating their way around the room without bumping into obstacles or falling downstairs.
The movement for the 11s and 25c is random, so there is no specific planned path to clean. The robots move randomly and still find a way to clean every inch of the room.
The Robovac 11s and the 25c move easily from one surface to another without wobbling or turning over because of its smaller size and low center of gravity.
Controlling the Robot Vacuums
The Robovac 11s has a power button at the top of the robot and a remote to control its movement and functionality. It doesn't support voice commands nor the EufyHome app.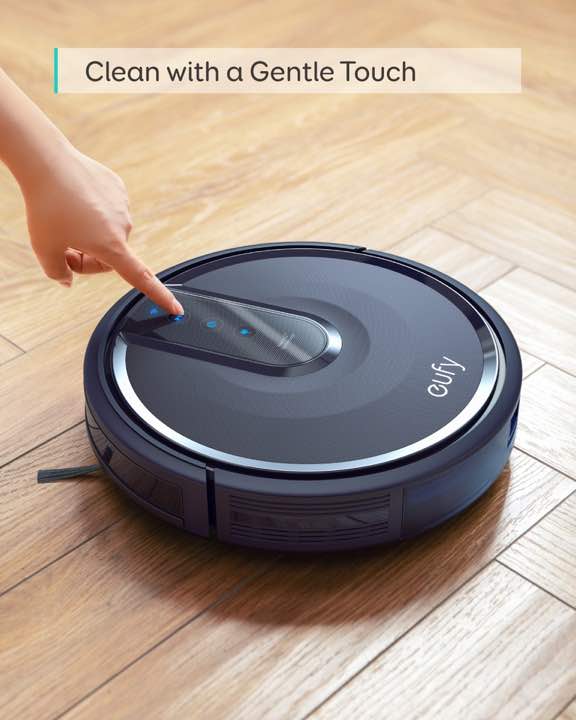 With the Robovac 25c, it has several alternative methods of control. With the backlit controls on the top of the vacuum, you can start and end cleaning too.
The new WiFi technology Eufy added enables you to control the robot from your phone once you install and connect to the EufyHome app. There's also a function to control where you want it to go as well, like a remote control car.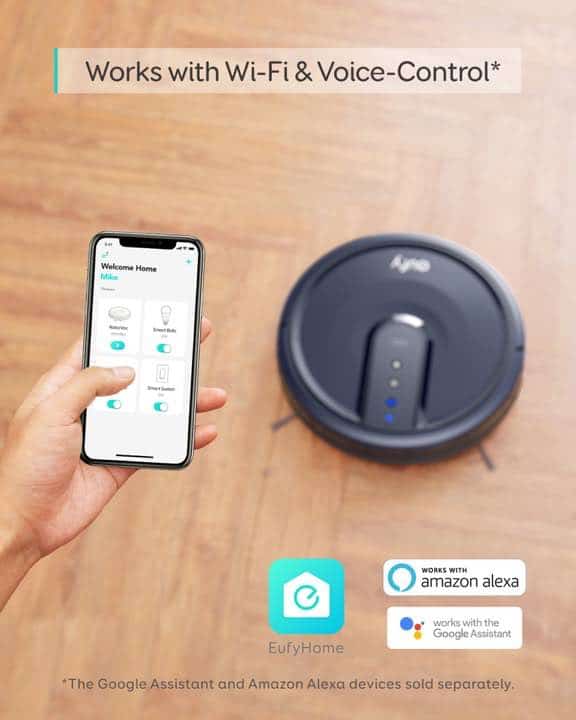 The 25c is also compatible with Alexa, Amazon's digital assistant, giving you voice control ability. This means you can control your vacuuming without even being in the same room.
Maintenance of the Robots
Eufy recommends certain cleaning and maintenance measures that promote the shelf life of both the 11s and 25c. These measures include periodic cleaning and maintenance of the detachable parts that make up the robot and emptying the dust collector after each vacuuming session.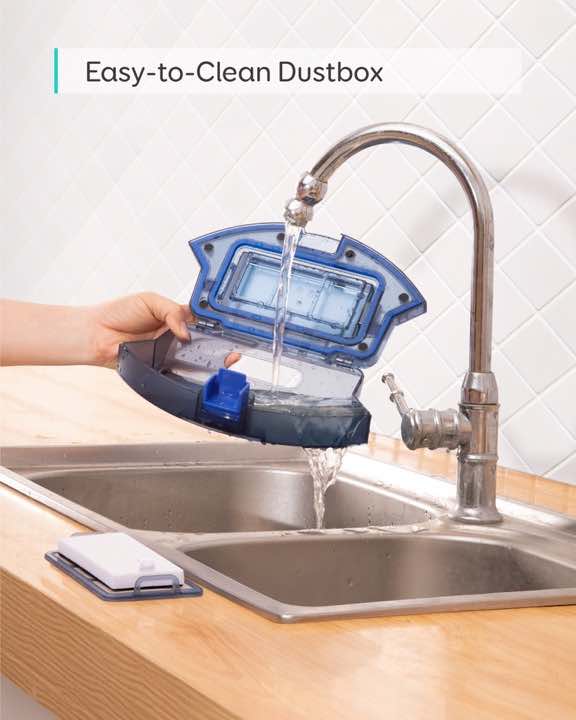 These detachable parts include; the side brushes which should be inspected for deformity in the shape or for damage and should be replaced accordingly. Underneath the vacuum robot is another brush design that is used for much deeper cleaning of tough rugs and carpets.
The roller brushes should also be inspected for anything that could hinder its movement. The entire robot is cleaned with a dry napkin or dust vacuum. You'll want to clean them to avoid the accumulation of dust. This is true for any robot vacuum too.
Other Features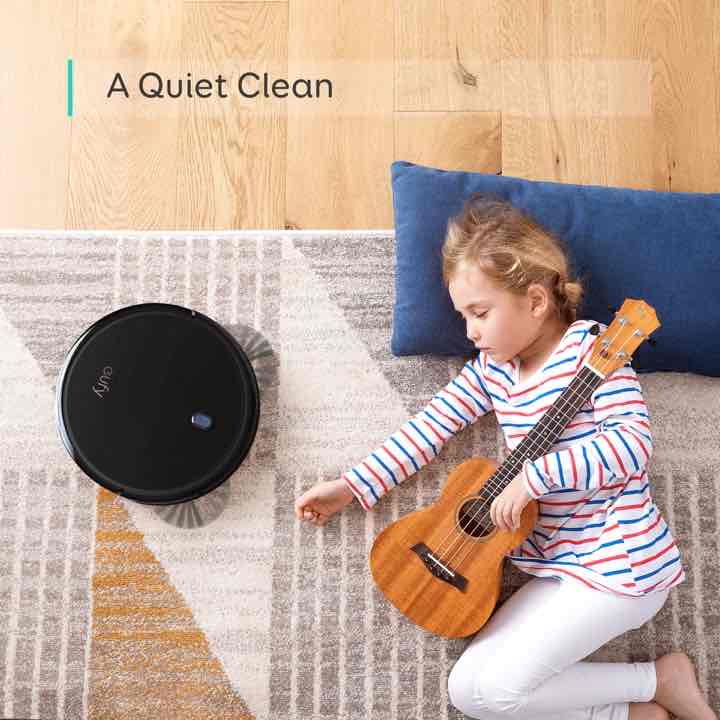 The Robovac 11s is designed to be as noiseless as possible while vacuuming. This is to improve your vacuuming experience and allow you to do other things while the robot cleans.
The Robovac 25c offers various modes of cleaning. The auto mode which involves moving the robot randomly with no specific pattern to clean your entire house while Quick-clean mode includes vacuuming your house for approximately 30 minutes at a time, making it perfect for just one-room jobs. Spot mode spins the robot in a circular motion for 2 minutes, and finally, Edge mode which involves cleaning along the walls for 20 minutes or more.
Eufy incorporated its BoostIQ technology in both the Robovac 11s and 25c, which means they can vary its suction power. They'll go from low power on hard floors to high power on rugs and carpets.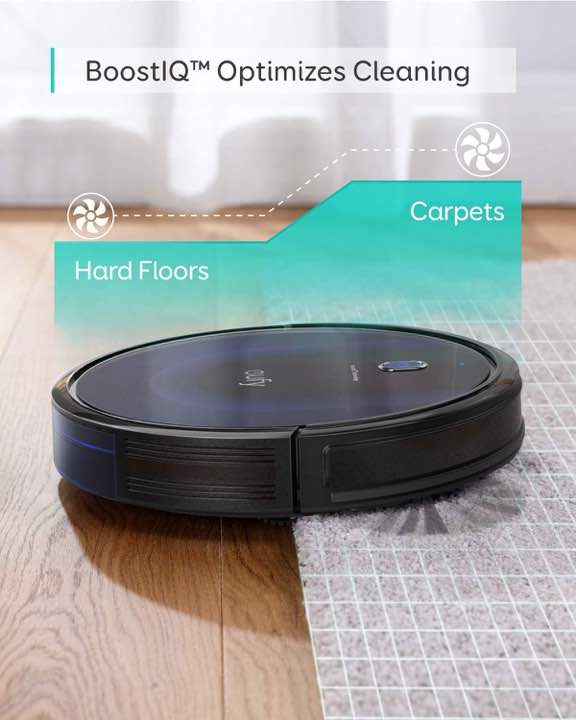 Eufy BoostIQ Robovac 11s Pros and Cons
Pros
Quiet
Cheap and affordable
Simple and easy to operate
Reliable Li-on battery
Compact, smaller build capable of going under different pieces of furniture
Various cleaning modes
Cons
No voice control
Limited options for scheduling
Cannot be controlled from the EufyHome app
Eufy BoostIQ Robovac 25c Pros and Cons
Pros
Equipped with app control
Various cleaning modes
Quiet
Variety of scheduling options
Impressive suction power
Long battery run time
Equipped with BoostIQ technology
Cons
Not enough run time for the suction power
Who Should Buy the Eufy 11s?
Want a slim robot vacuum that can go under low furniture.
If you have a tighter budget.
You don't need the smart features that come with higher-end robots
If you want good suction power-to-price ratio.
Who Should Buy the Eufy 25c
Like to control the robot through a mobile app.
Want a relatively quiet robot.
If you're looking for a variety of cleaning modes.
Want to be able to schedule the robot.
Conclusion
In the 25c vs 11s head-to-head matchup, the eufy 25c comes out on top. Its various features help make cleaning feel more automated between the two.
The higher suction power on the Robovac 25c also means it can easily vacuum rougher surfaces and still get desired results. If you don't mind a slightly higher price point, I recommend the Robovac 25c.
Below are more eufy Robovac matchup comparisons if you want to read more: