When a company creates a new model of an existing machine, it's hard to know what makes it different without comparing every small detail. The iRobot Roomba 891 and Roomba 890 have strikingly similar names. Upon first glance, they could be tough to distinguish from one another. Fortunately, you won't be forced to do that because our review of the two models offers the pros and cons of each, so you're able to determine for yourself which is the best deal for you.
Quick Comparison: Roomba 891 vs 890
Feature
Weight
Filter Type
Scheduling
Remote
Voice Control
#1. iRobot Roomba 890
Our Best Pick

Check Price

8.4 pounds
HEPA
Yes
No
Yes
#2. iRobot Roomba 891

Check Price

8.4 pounds
HEPA
Yes
No
Yes
#1. iRobot Roomba 891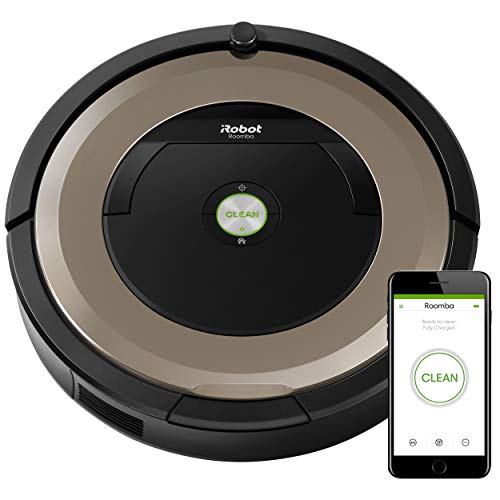 When placed side-by-side, it could be challenging to determine the difference between a Roomba 891 and an 890. Both have similar technology and features.
The 891, the newer of the two models, has a few surprises worth looking into. The higher expense is less of a factor because of the value it brings. Having access to a machine capable of doing a far better job of cleaning because of enhanced features is well worth the extra cost you spend on the robotic vacuum.
Features
What sets the 891 apart from the 890 may be what helps you finalize your purchasing decision. Here, we'll explore what makes the 891 stand out. Once you've been able to read more about the convenience, ease, and high level of cleaning its capable of doing.
The better informed you are about why it's ideal for you. Let's explore the vacuum's Champagne-Colored Ring, Dual Mode Virtual Wall, and Voice Control.
Champagne-Colored Ring
Outstanding in appearance, a champagne-colored ring makes the 891 look significantly different than the 890 despite being the same width and height. People who prefer that the aesthetic of their household tools match the rest of their décor may be looking for a robotic vacuum with more visual appeal.
Certainly different than the standard black model that most companies produce, having a secondary color on the machine could be very appealing because it's not the standard.
Dual Mode Virtual Wall
Making a wall or halo helps keep the vacuum from running into things as it cleans. It's one way to prevent the Roomba from getting dinged up by hard objects. It also prevents the vacuum from damaging the paint on walls or finishes on furniture that it would strike without extra guidance.
It's a feature that many people will full homes appreciate because they're able to get a thorough clean with each vacuuming session without destroying the contents of their homes in the process.
Voice Control
Having hands-free capabilities is crucial, especially during those times when your hands are full. You can't always access your phone conveniently.
Using a connected Amazon Alexa or Google Assistant device allows you to locate and command the 891 to clean with great ease. It can be done anywhere within the home that is close enough for the smart speaker to hear.
#2. iRobot Roomba 890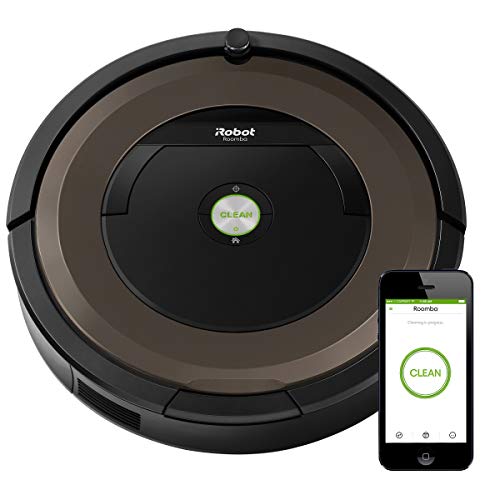 Equipped with iAdapt technology, the iRobot Roomba 890 is all about convenience. Like the 891, it's meant to clean a variety of flooring surfaces and has signals that keep it on track while it does. Some features keep it from dropping off ledges or falling down stairs.
It's also made to run a long time with over 90 minutes of cleaning time in a single charge of the vacuum's battery. If that wasn't enough to be excited about, the fact that this model comes with an extra filter, which usually costs an additional sum, is!
Features
The features offered by the 890 shaped the design of the 891. There's very little difference apart from the solid black coloring on the older model and the champagne-colored ring on the newer model.
Most of the features are identical, too, with an extra filter supplied with the 890 and the Dual Mode Virtual Wall being an option that only the 891 supplies. Below, we'll explore the AeroForce Filtration Cartridge, 90-Minute Run Time, and Self-Charging Feature.
AeroForce Filtration Cartridge
Designed to filter the smallest particles of dust, debris, and pollutant, so it doesn't negatively affect the air quality inside your home, the AeroForce filtration cartridge works well.
It's able to capture 99 percent of what it sucks up as long as it is 10 microns or less. To empty the dust bin, press a button to release it, and dump its contents into the trash.
90-Minute Run Time
One charge of the battery supplies the robotic vacuum with over an hour and a half run time. That means that, without interference, the 890 cleans your home without a voice prompt or mobile phone prompt from you.
If you're using the app that works with the machine, you're scheduling an hour and a half of cleaning time before the vacuum returns to its docking station to power-up once again.
Self-Charging Feature
When the battery runs low, the Roomba 890 returns to its docking station so it can recharge. Considering that it vacuums continuously for over an hour and a half and can clean your floor and recharge itself while you're not even home is pretty incredible.
If you're a fan of automation, you'll love the freedom that this model and other iRobot products provide. You can set up a schedule for cleaning while away through the Roomba app.
The Clear Winner
Considering there isn't much of a difference between the two models and their cleaning or scheduling capabilities, it's safe to say that the lower-priced Roomba 890 is the best deal. That is, of course, unless you require the Dual Mode Virtual Wall.
It prevents wear and tear to your home and furniture if you feel like that could be a potential issue for you while you're using the robotic vacuum to clean.
A difference in color between the two machines isn't enough to make you want to spend extra on the upgraded model because they're similar in almost every way. Plus, you get an extra filter with the 890 and not the Roomba 891, which saves you additional expense.
Looking for more comparisons? See the reviews below with these two vacuums: