This cross-brand comparison of two budget-friendly robot vacuums, the eufy Robovac 11s vs iRobot Roomba E5 (5150), will give us insight into differences between eufy vs Roomba. They have a number of differences in features, but in the end, their job is to clean your home.
Will both the eufy 11s and the Roomba E5 get the job done? Will one stand out more than the other?
If you don't have time to read through all the details, the Roomba E5 is the stand out here. It's more expensive, but the E5's features will prove to be better value for your money.
Product
Filter Type
Suction Power
Remote
Voice Control
12. iRobot Roomba e5
Our Best Pick

Check Price

High Efficiency Filter
1700Pa
Yes (iRobot Home App)
Yes
#2. eufy Robovac 11s

Check Price

Triple-Filter System
1300Pa
Yes
No
Features
Size Dimensions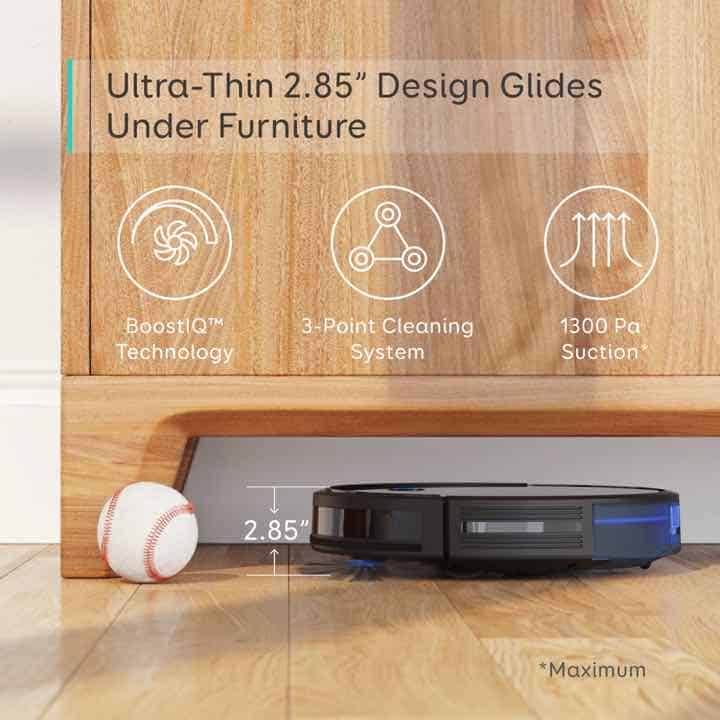 In measuring diameter, the Robovac 11s measures 12.8 inches in diameter and 2.8 inches in height. The Roomba E5 is larger and measures 3.6 inches in height and 13.3 inches in diameter.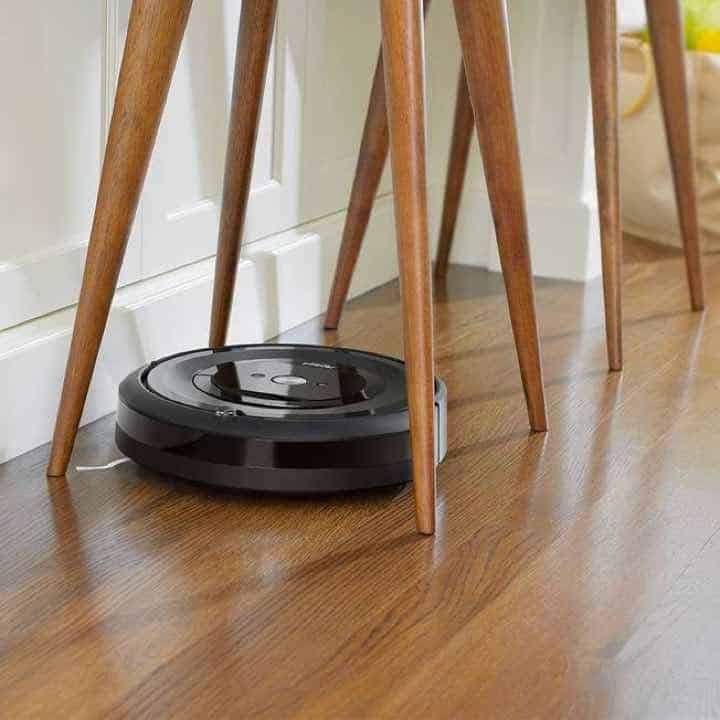 The Robovac 11s is impressive when it comes to getting under particularly low furniture because of its relatively smaller size. The Roomba E5 can go under relatively low furniture too, like tables and couches. But obviously, the Roomba E5 is a larger device.
If you a lot of furniture that will not support the extra 0.8 inches in height of the E5, you can stop here and get the eufy 11s. Otherwise, let's continue on.
Battery Capacity and Charging
The eufy BoostIQ Robovac 11s is equipped with a 2600 mAh lithium-on battery with about 27W of rated power, making it one of the longer-lasting vacuum robots out there. The 11s boasts 100 minutes of run time when fully charged.
The Roomba E5 uses 12 NiMH batteries put together to create a nickel-based battery. It has a run time of 90 minutes, so it has less run time.
Both robot vacuums will return to their docking stations when running low on battery power. The 11s and E5 both take about 300 minutes to be fully charged.
Neither the eufy 11s nor Roomba E5 have Recharge and Resume, so you'll need to go for one of the mid-high range Roomba models for that feature.
Filter Systems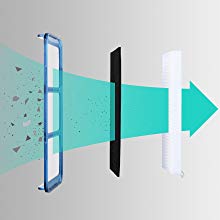 The Robovac 11s vacuum has a triple filter system made up of a high-performance filter and a dual-layer filter, which includes a foam filter. Together, they're good at vacuuming and trapping strands of hair, spilled cereal, sand particles, dust, debris, etc.
The Roomba E5 also has a foam filter for trapping dust particles. You can remove accumulated dirt from the foam filter simply by washing with water.
They will both do the trick with it comes to trapping dust and allergens. What you don't want is for your robot vacuum to kick out particles, especially if you have allergies.
Brushes, Suction Power and Cleaning System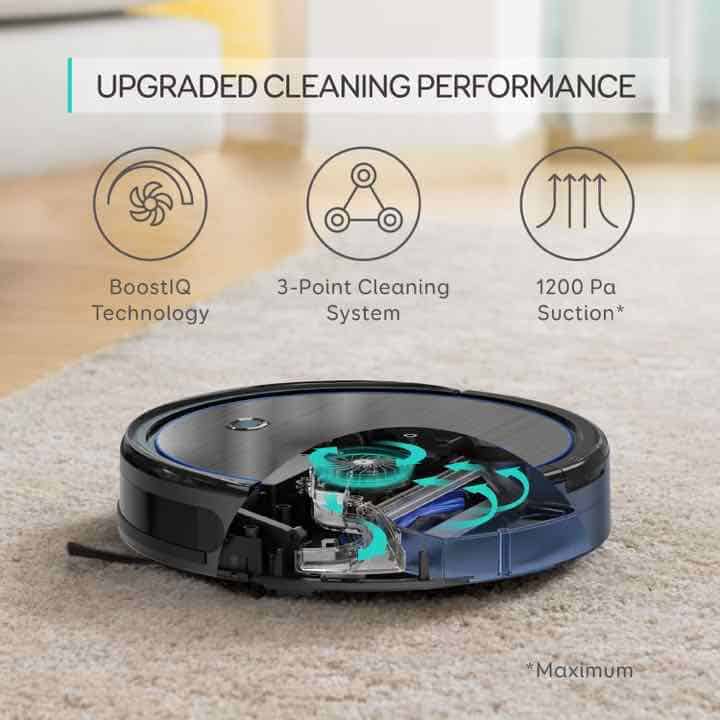 The Robovac 11s comes with similar brush designs as the Roomba E5. They're both outfitted with two side brushes, a revolving brush, and brush rollers underneath the robot.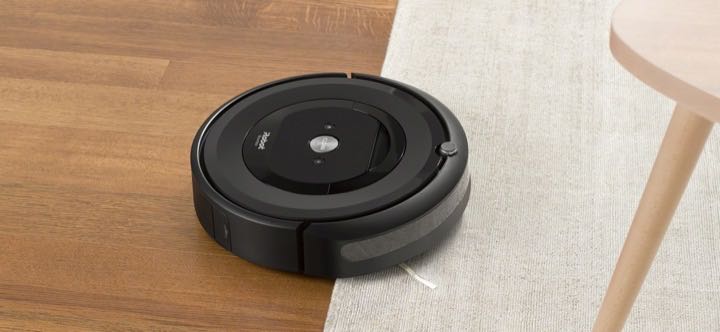 The 11s and E5 are both good on hard floors and low pile carpet. If you have medium to high pile carpet or rugs you'll want to look at higher-end vacuums like the Roomba s9+.
The suction power is where the Roomba E5 starts to grab the advantage. The E5's suction power is rated at 1700Pa, which is 30% more powerful than the 1300Pa. That proves useful when it comes to cleaning because it'll need fewer passes over dirtier areas.
The cleaning system for the Robovac 11s is a 3-point system of cleaning that includes 2 side brushes and the brush rollers underneath the vacuum.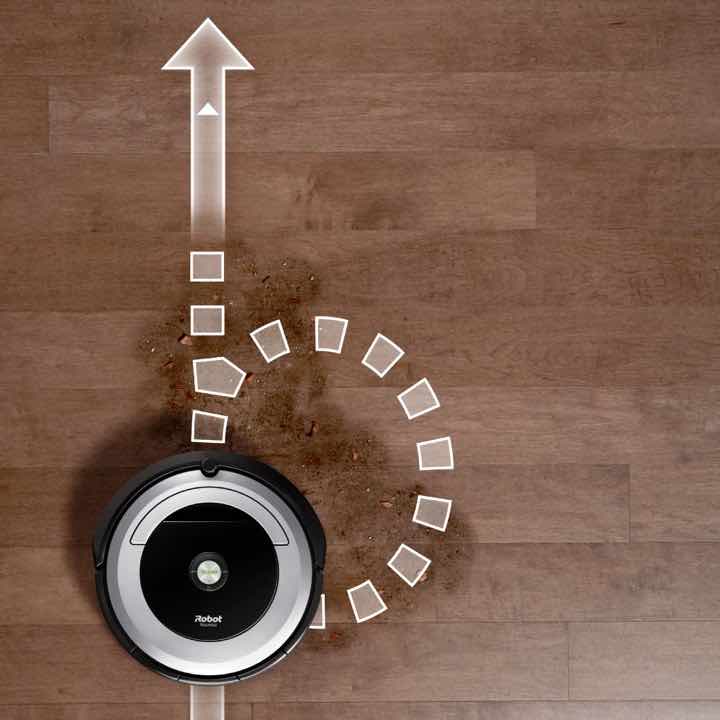 The E5 has Roomba's Dirt Detection Technology that tells the E5 there is more than a normal amount of dirt in an area. The E5 will then continually clean that area until the sensors detect it to be clean.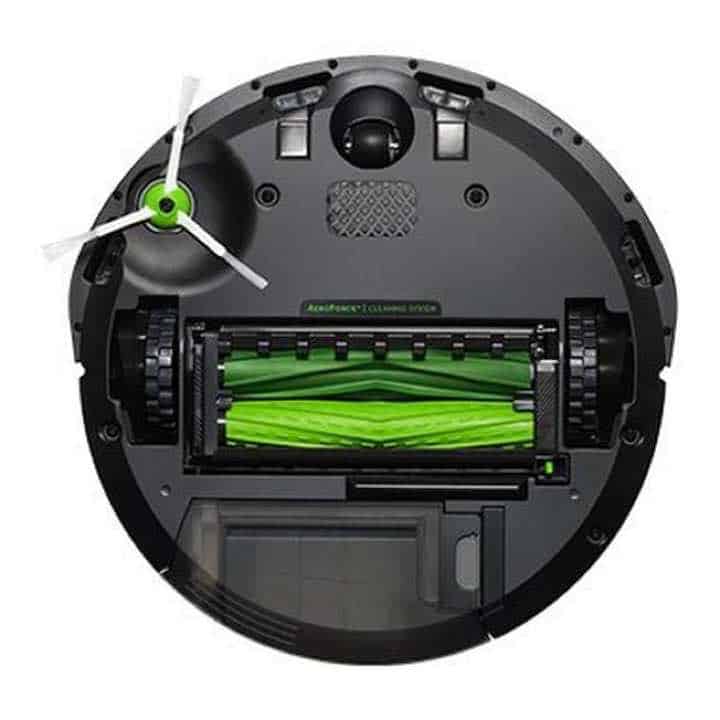 Roombas also have their premium 3 stage Cleaning System. It cleans the dirt and pet hair you see, while also taking care of the allergens and dust you don't. To clean, you simply take out the washable dustbin and rinse away the dirt or debris left behind.
When it comes to carpets, the E5 is better than the 11s. It's not perfect and won't work well on high-pile carpet, but it does a good job still. If your home has high-pile carpet, you'll want to look at higher-end models.
The Robovac 11s uses infrared sensors to navigate around the home. The movement of the 11s is random throughout the room and the sensors help the 11s elude obstacles.
The Roomba E5 is similar in that it moves randomly because there's no mapping capability.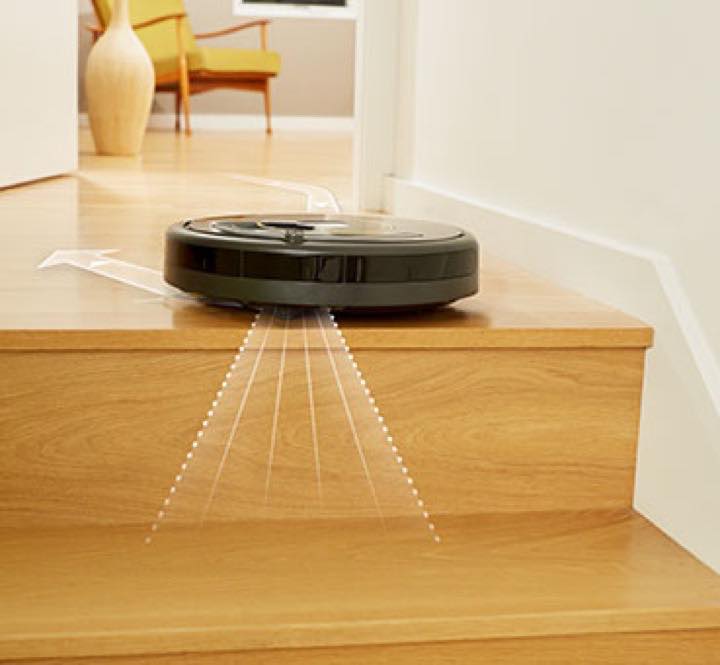 Both vacuums have cliff detection sensors to avoid them falling down any stairs. ensures it avoids obstacles or cliffs.
How To Control the Robot Vacuums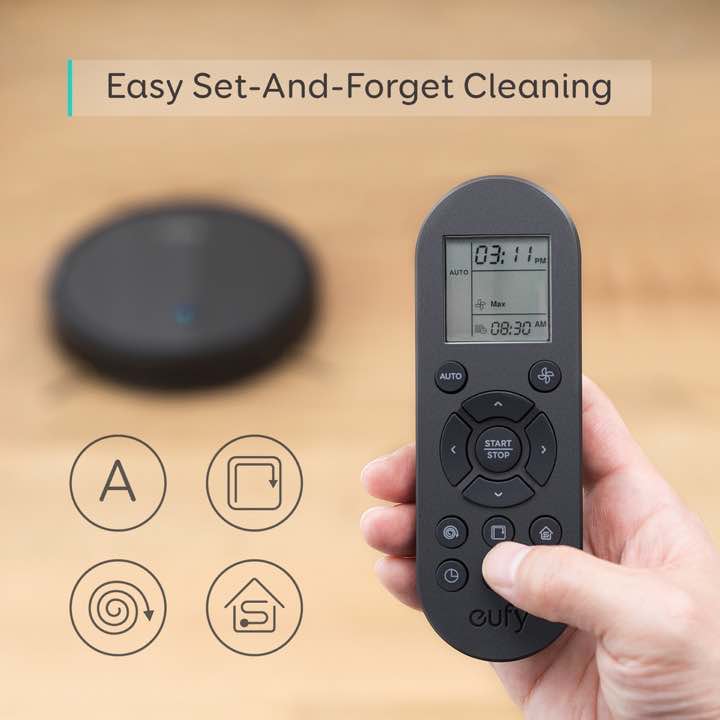 The Robovac 11s is controlled with a physical remote control device. The 11s doesn't have WiFi connectivity, so you won't be able to use the eufyHome mobile app nor your lovely voice to talk to Alexa.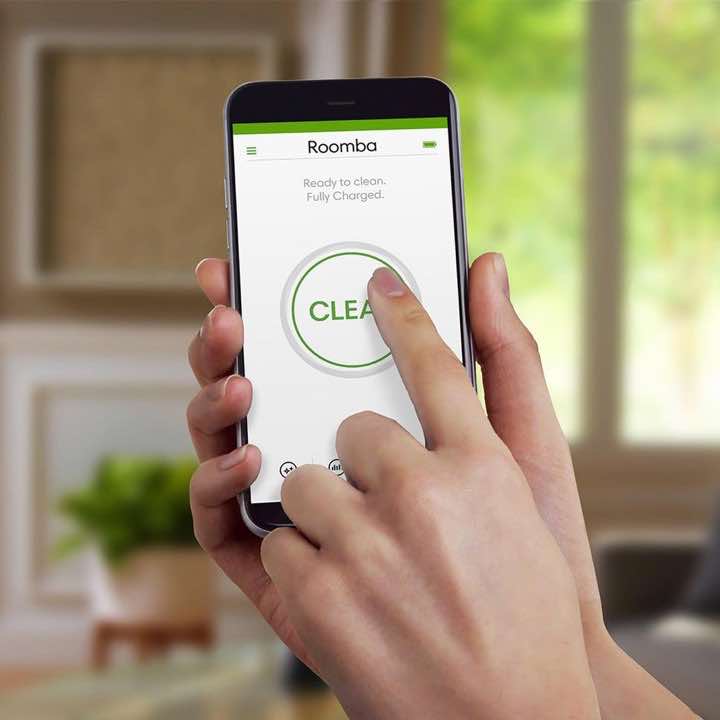 The Roomba E5 in contrast has WiFi connectivity, so it also has access to Roomba's Home mobile app and voice control. Voice control is through Amazon's Alexa and Google Assistant.
Maintenance
All robot vacuums should have regular maintenance performed to keep them running for a long time. Maintenance suggestions for the Robovac 11s and the iRobot Roomba E5 are similar.
Empty the robot's dustbin after every use to avoid clogging and potential malfunction. eufy recommends cleaning their robots weekly depending on frequency of use. This is the same for the 11s robot.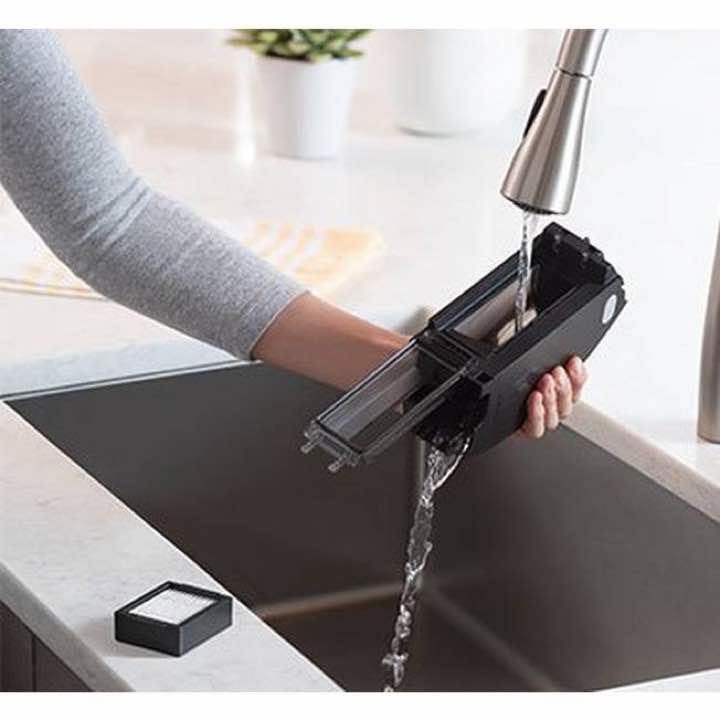 The brush rollers on both robots should be removed and cleaned. You can do that by lifting the open side of the brush and detaching it from the robot. The side brushes should also be cleaned and detangled of any hair from pets and humans.
It's also a good idea to replace filters every few months depending on how much you use it and/or your surrounding environment.
Replacement parts for either the 11s or E5 aren't that expensive on Amazon. Here's a 3rd party kit of parts for the eufy 11s. iRobot's parts are more expensive, but they're made and sold by iRobot themselves, like the above kit on Amazon.
Double-check the sensors and charging contacts as well, so the robot vacuums will be able to navigate, clean, and recharge.
Other Additional Features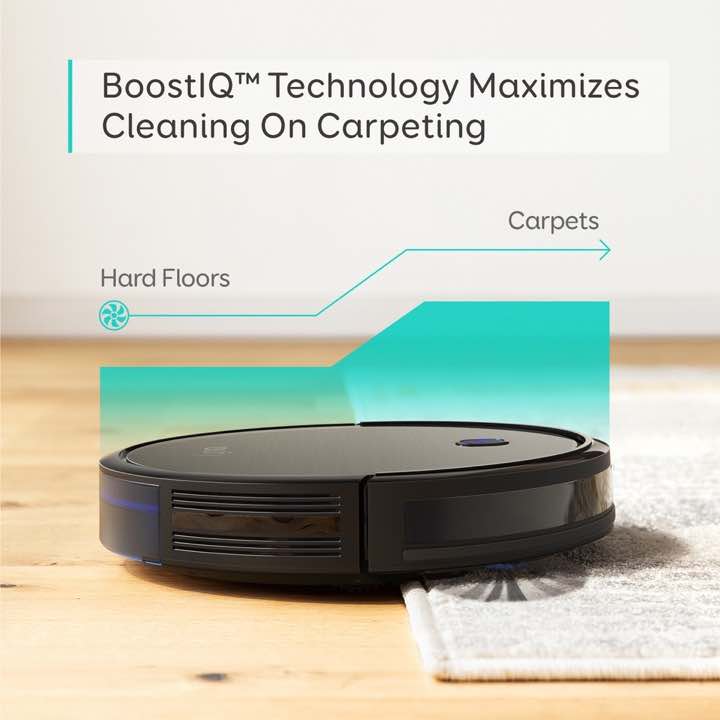 The Robovac 11s comes with eufy's highly-rated BoostIQ technology. BoostIQ will automatically increase or decrease suction power depending on the type of surface it's vacuuming. When it senses carpet, the suction power will increase to get dust, dirt, and debris hiding away in the carpet.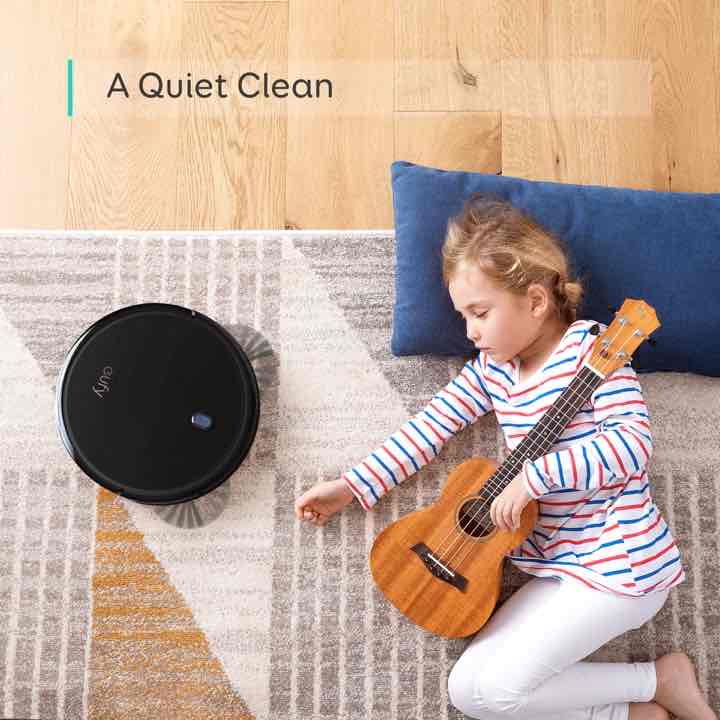 eufy robot vacuums are made to be as quiet as possible. So that while vacuuming, the device doesn't disturb unnecessarily. The amount of noise generated is just 55db. In contrast, the E5 comes out to about 64-65 decibels in testing.
11s Pros
Budget-friendly
Small in size
Quiet and convenient
Impressive battery power and run time
Comes with different cleaning modes
Easy to set up and operate
11s Cons
Can't be controlled via the eufyHome app

Not equipped for WiFi or voice control
Less suction power
E5 Pros
Well-known and trusted brand
Impressive suction power
Good battery life
Able to clean under low furniture
Equipped with Virtual assistants and voice control
Great wireless connectivity capabilities
E5 Cons
If you need a smaller vacuum robot
Looking for a quieter robot
If you have a tighter budget
Don't need the smart features of a mobile app or voice control
If you prefer to use your phone and/or voice commands to control cleaning
Have more carpet at home, so you'll need the extra suction power
You are looking for a robot with great connectivity
Conclusion
The Roomba E5 is superior to the eufy 11s and provides more bang for your buck. The extra suction power and WiFi connectivity for the app and voice control makes the E5 feel more of a robot. You'll have a more automated feeling when running the E5 than if you ran the 11s.
The eufy 11s is still a good robot vacuum and provides a lot of value for the lower price. If you have a tighter budget, the 11s will still save you from walking around your home holding an upright vacuum.
The eufy vs Roomba battle of the brands hasn't ended though. There're many more models to compare!
Find other Roomba E5 and eufy 11s comparisons below to learn more about either robot vacuum.