iRobot and Eufy are two of the biggest manufacturers of robotic vacuums. They've created two of the best budget robot vacuums in the market and we pit them head-to-head in this comparison matchup: Roomba 675 vs Robovac 11s.
In a hurry and just want to know who comes out the winner?
The Eufy Robovac 11s wins this round. Continue on below for the details of why we chose the 11s.
Many see iRobot as the pioneer of the robot vacuum industry with their Roomba. Eufy is a brand that's part of Anker Innovations, one of the leading consumer electronics brands in America. You've probably heard of Anker with their mobile phone accessories and portable power banks.
Feature
Filter Type
Scheduling
Remote Control
Voice Control
#1. eufy Robovac 11s
Our Best Pick

Check Price
HEPA
No
Yes
No
#2. Roomba 675

Check Price

HEPA
Yes
Yes (Through Mobile App)
Yes
Features
Dimensions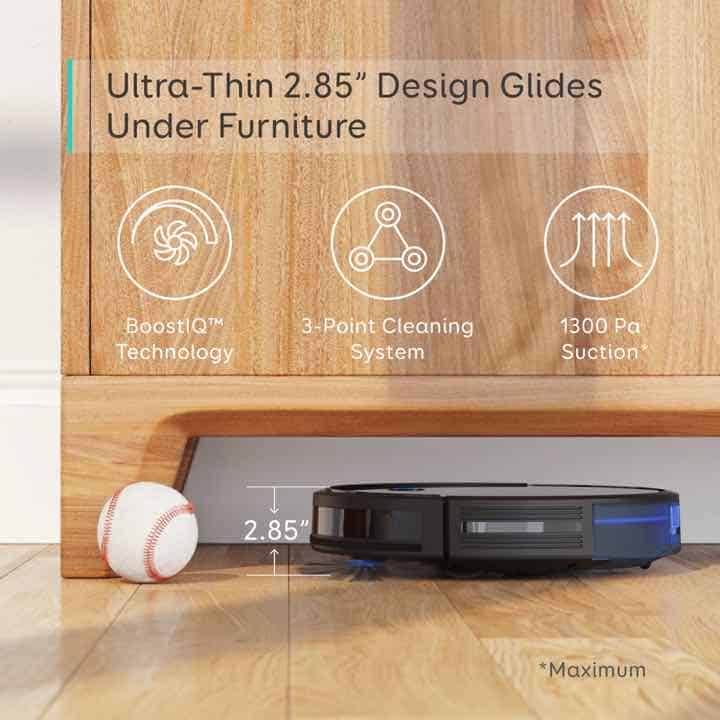 The Eufy 11s measures up at 2.85" tall by 12.8" wide in diameter. It's smaller than the Roomba 675 at 13.4" wide and 3.54" tall.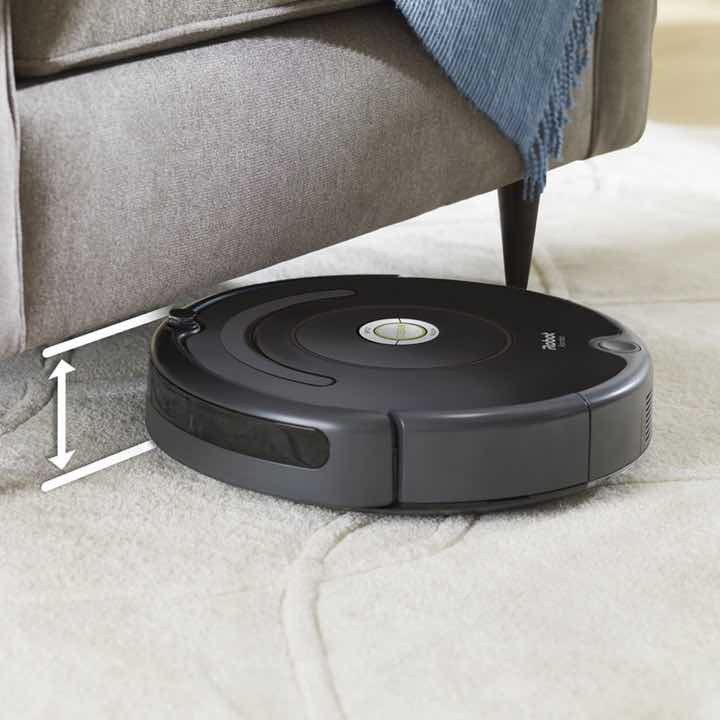 Right off the bat, we can see a slight disadvantage in the 675 as it won't be able to reach into corners or under furniture as effectively as the Eufy can.
Weight
The Eufy Robovac 11s weighs 5.73lbs. This is about as heavy as a standard building brick, making it light enough to carry and transport around different areas of your house. There is no carrying handle built into the 11s, which is an inconvenience for some people.
Unlike the Eufy, the Roomba 675 has a carrying handle included – which frees up an extra hand when moving the unit around. The Roomba 675 weighs 7.8lbs, so it's two pounds heavier than the 11s.
Battery and Run Time
A high-capacity lithium-ion battery gives the 11s enough juice to power through 100 minutes of non-stop cleaning.  The batteries used in the units are replaceable and according to Eufy, lasts for about 3 years in standby mode.
They suggest to maintain and preserve battery health, the unit should be used at least once every 3 months. That shouldn't be a problem though as you'll probably be running Eufy weekly, if not every day or two.
The 675 also uses a lithium-ion battery, but it has a slightly lower runtime of around 90 minutes. 10 minutes isn't a major difference, however, it's still worth making note of it for comparison.
Both the Eufy Robovac 11s and the Roomba 675 automatically go back to the charging dock when it senses the battery is running low.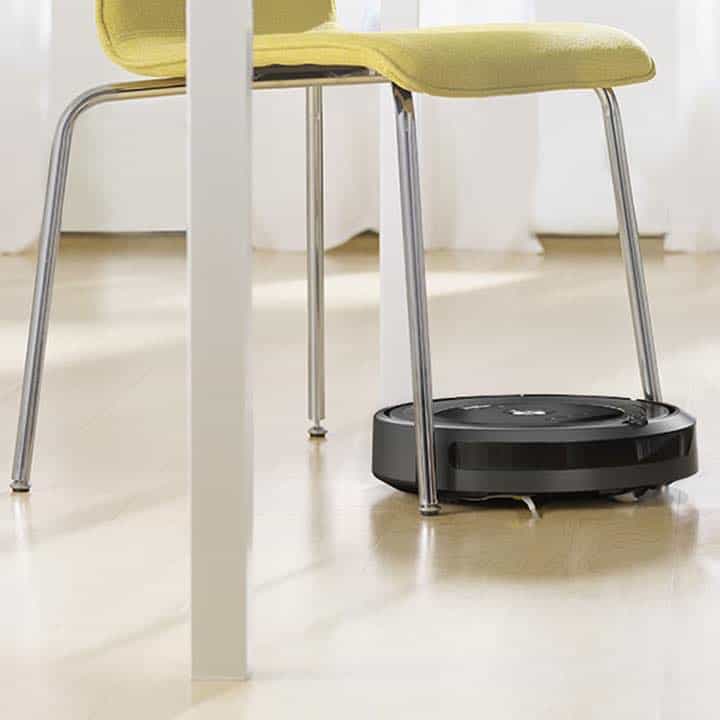 The recharge process then starts and you should expect to see the 11s at full charge after 300 mins and the 675 after 120 mins. The 11s takes twice as long as the Roomba 675 for a full charge so we'd say for recharge time – Roomba 675 wins this round.
Filter System
The Eufy 11s uses a triple-layer filter system that keeps your home clean and safe from dust and airborne allergens.
A filter system called Aerovac is the Roomba 675's star feature. This system is based on the HEPA filter (commonly used in leading air purifiers) to ensure that 95% of dust mites, allergens, and harmful airborne particles are removed from your home.
Brushes, Suction Power & Cleaning Technology
A full 1300 Pa of pure suction power brings the Robovac 11s to the top spot when it comes to cleaning performance. The Pa number represents the vacuum pressure, and a higher vacuum pressure means better cleaning performance.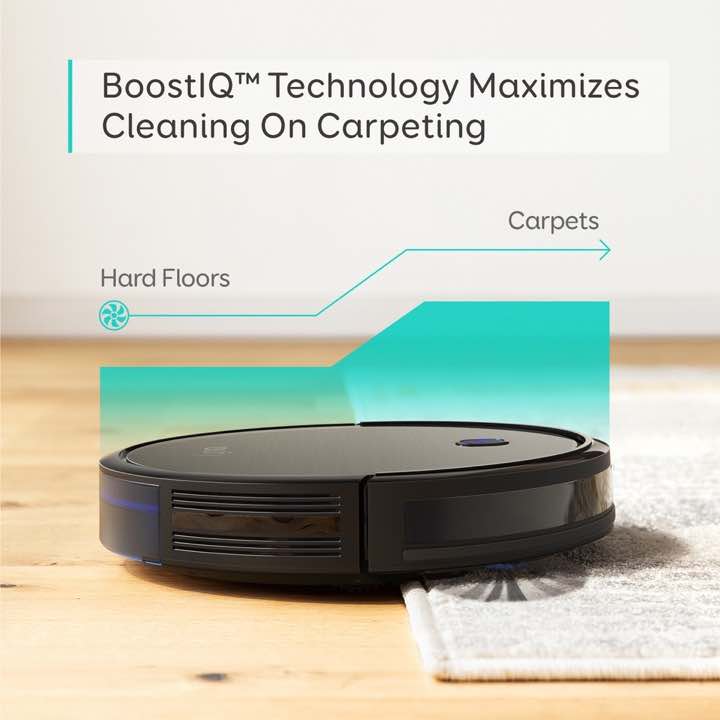 By switching on its Intelligent BoostIQ function, the 11s easily makes short work of bigger pieces of debris, pet hair, and stubborn dust on both carpets and hardwood floors.
The 11s also runs pretty quietly, at a reported noise level of 55dB – great for those with pets or babies in the house. The 675 is tested at around 62dB.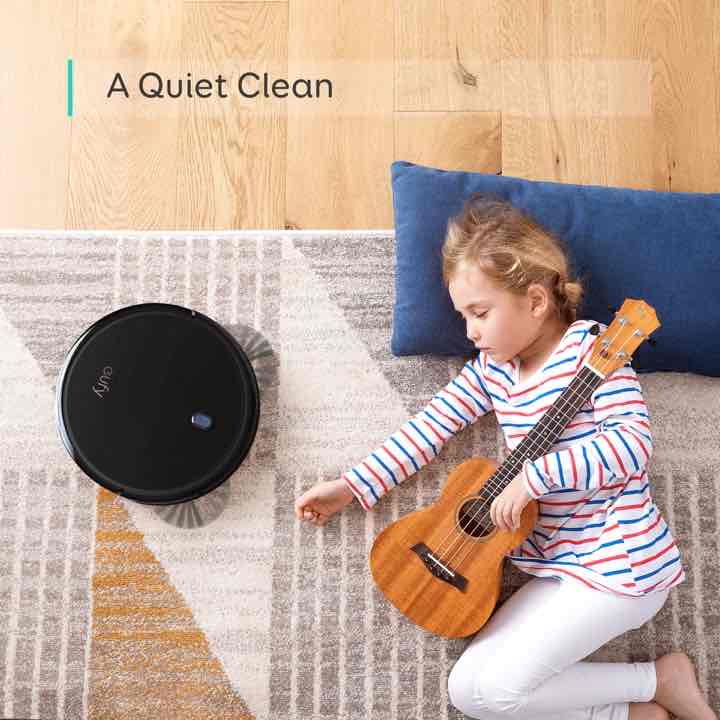 With less than half the power of the Eufy at 600 Pa, the Roomba 675 still gets the job done. But has to work a lot harder than the Eufy to clean up the same amount of debris in a room.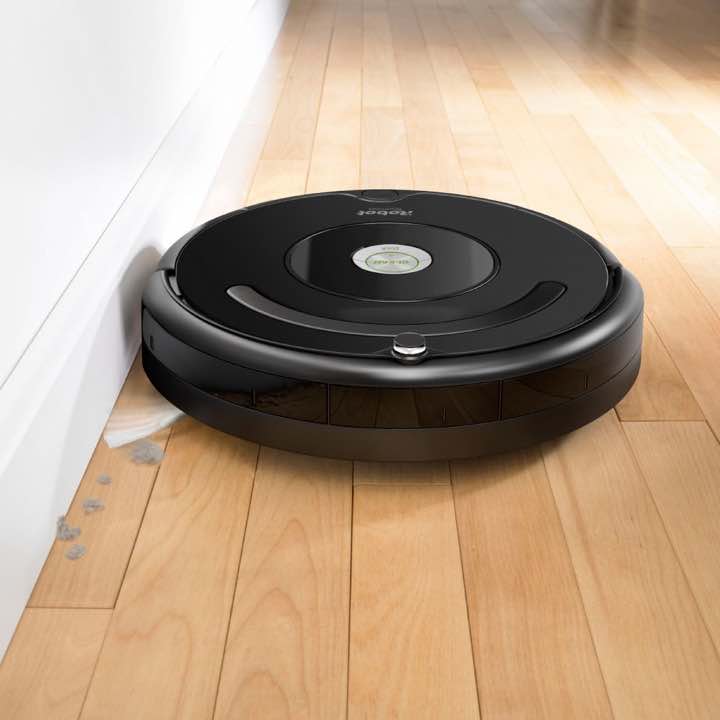 Roomba's Dirt Detect Technology is used on the 675 while the Eufy Robovac 11s has built-in dirt sensors to locate sections of your home that require more attention and intensive cleaning.
The 675 also comes with iRobot's patented Dual-Brush rollers that's able to clean carpet effectively. it'll get that pet hair that's buried in the carpet.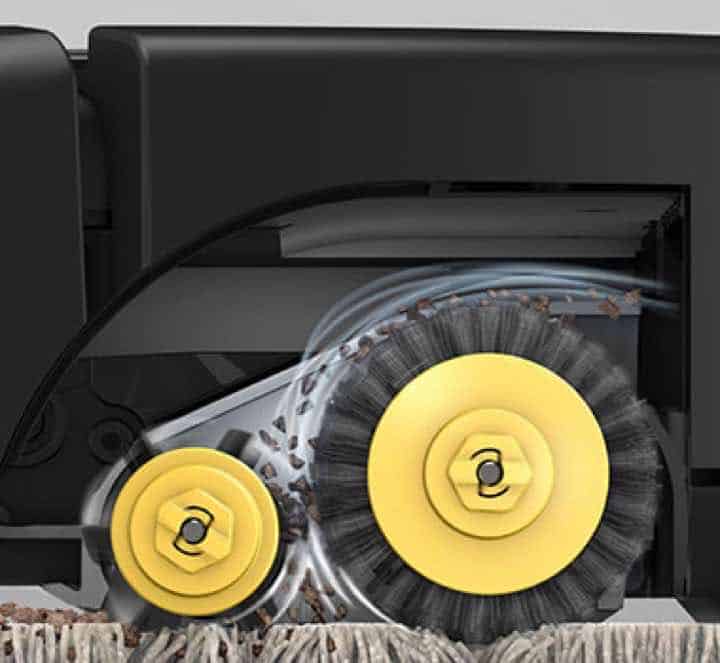 Intelligent sensors are equipped on both the Eufy 11s and the Roomba 675 that allow the units to move around your house or room without bumping into walls, furniture or delicate items.
These sensors also program the robot vacuums to recognize when they're moving across hardwood floors or carpeted floors to change their settings accordingly.
The Roomba 675 uses iRobot's proprietary iAdapt 1.0 technology to smartly navigate around obstacles in its path. This technology allows it to follow along walls to clean edges and corners. There's also a soft-touch bumper that minimizes the risk of damage to the Roomba and your home.
Both of these robot vacuums have cliff detection capabilities. Ledges and high drops are detected early and avoided so as to prevent the units from potential fall damage that may cause severe malfunction. You don't need to worry about it falling down any stairs.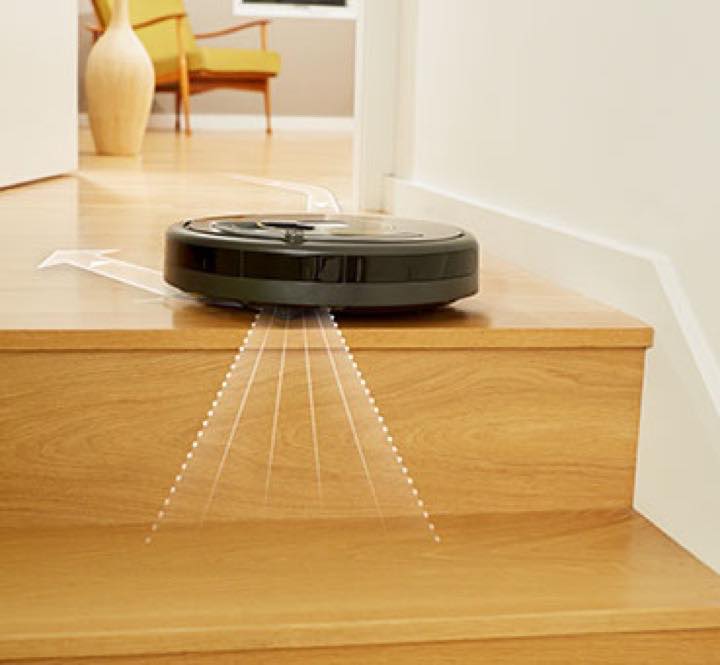 Mapping capabilities are not included in either model as such features are mostly only available on higher-end versions of robot vacuums (which also means they're more expensive).
The cleaning path each one takes is random. Although it might look like they're wandering aimlessly around your house, the cleaning does get done.
App / Phone Control
The Eufy 11s is controlled via remote control only. This basically means that you have to be in the vicinity of your robot vacuum in order to control its functions.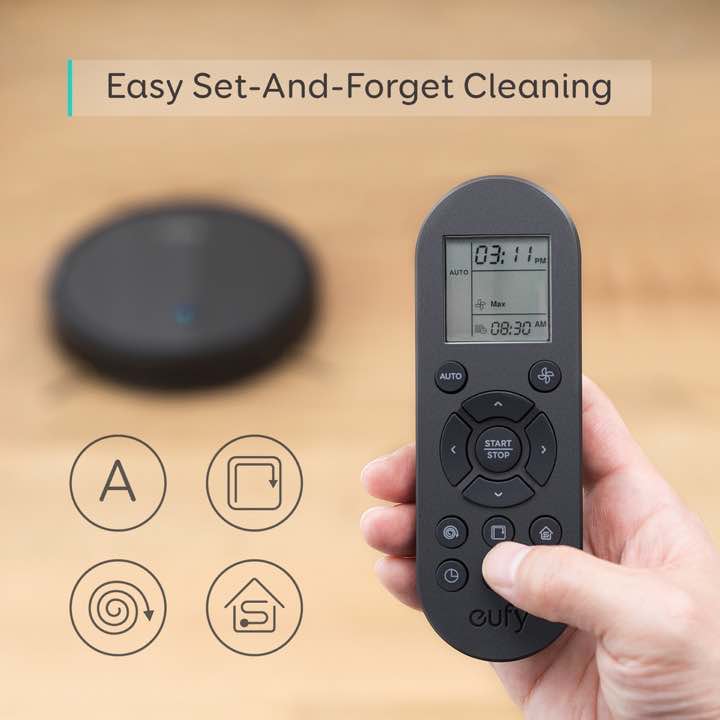 The remote is attractively designed and is easy-to-use, but there's just something slightly outdated about having a physical remote still. In light of today's technologies and the IOT (Internet of Things) standards for smart home devices, I would've expected Wi-Fi capabilities.
The Roomba 675 is easily controlled through your smartphone via the iRobot HOME app as long as there is an available Wi-Fi connection in your home. The 675 also comes with voice control to Amazon's Alexa and Google Assistant.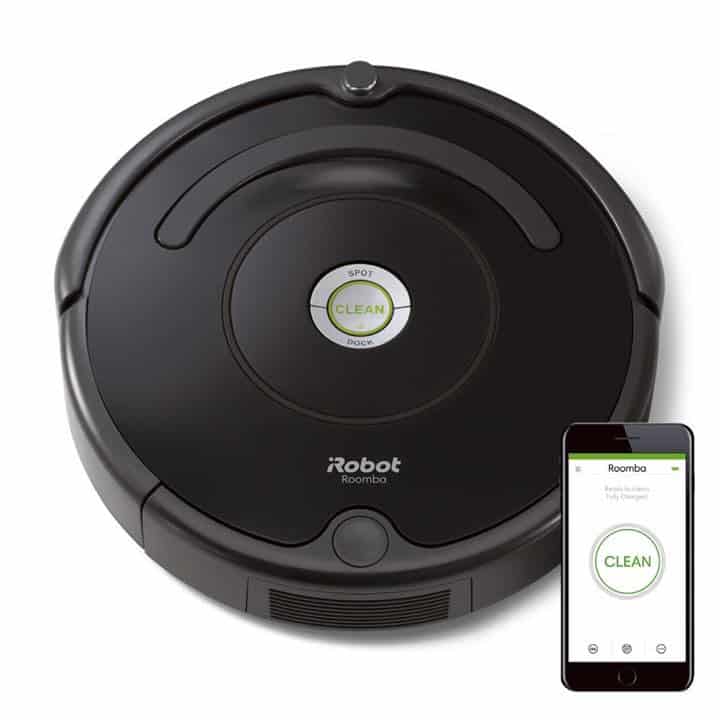 Through the app, you are able to access the basic functions. You can turn the device on or off, schedule cleaning times, and pull up the unit's cleaning history from the activity log which is updated every time the unit does a job.
Maintenance
The 11s has a bigger dust bin capacity than the 675 – twice the size, in fact. The 11s dust bin has a 600ml capacity compared to the 675's 300ml. The larger bin ensures that more cleaning can be done with less time spent trying to empty out a full bin.
Additional Features
The Eufy 11s and the Roomba 675 are both accessible entry-level robot vacuum units that do what a vacuum should do without the need for additional bells and whistles.
Therefore there's not much in the way of additional features for these two – the main differences only lie in their individual specs.
Price
Budget-friendly robot vacuum units like the Eufy 11s and the Roomba 675 hit a price point that is under the $300 mark. These units are of great value for the money.
Eufy Robovac 11s Pros and Cons
Pros
Stronger suction power (twice the Roomba)
100-minute runtime
Quieter operation (55dB reported noise level)
Cons
Longer charging time (300 minutes)
No smartphone connectivity
Roomba 675 Pros and Cons
Pros
Wi-Fi and Mobile app connectivity
Easier to carry (top lid handle)
Google Assistant and Alexa compatible for voice control
Cons
Less suction power
Smaller bin capacity
Who Is Each Robot For?
Eufy Robovac 11s: For those who want an affordable robot vacuum unit with strong suction power, bigger bin capacity and don't mind an old school remote control.
Roomba 675: For those who want a simple, fuss-free way to control a reliable robot vacuum unit that gets the job done with less effort from wherever you are.
Conclusion
Our Eufy 11s vs Roomba 675 matchup concludes here. Drum roll please….
The Eufy Robovac 11s is the Winner!
Even with its relatively outdated tech, this unit absolutely shines in the way of cleaning performance – which is the primary function of any robot vacuum.
But if you find that you prefer controlling all your home devices through your smartphone, then the Roomba 675 is for you. It still has enough power to do a good job of cleaning your home.
If you're looking for other 11s or 675 comparisons, check out these below :